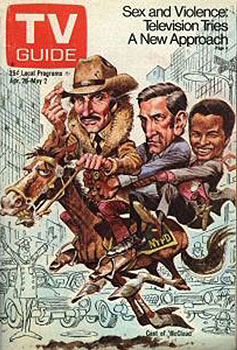 Dennis Weaver
Deputy Marshal Sam McCloud
J.D. Cannon
Chief of Detectives Peter B. Clifford
Diana Muldaur
Chris Coughlin
Terry Carter
Sgt. Joe Broadhurst
Ken Lynch
Sgt. Grover
Ken Scott
Det. Polk
Sidney Clute
Det. Simms
Tracy Reed
Carol Broadhurst
Teri Garr
Sgt. Phyllis Norton
Coleen Gray
Mrs. Clifford
Della Reese
Sgt. Gladys Harris
Dee Timberlake
Maggie
McCloud Production Staff and Crew
Deputy Marshal Sam McCloud of Taos, N.M. is sent to the 21st Precinct of the NYPD to study local police methods and stay close to his girl, Chris Coughlin, a journalist. McCloud is a keen and brilliant investigator who garbs his talents in a Stetson and a sheepskin coat—"there ya go" is his byword.
Chief Clifford's disregard of his manner frequently puts him in unavailing positions, but his original view of the city allows him to follow difficult cases to often far-reaching conclusions.
President Theodore Roosevelt appointed Bat Masterson as Deputy Marshal of New York City in 1905. Masterson called New York "America's biggest boobtown."
McCloud is a variant of Coogan's Bluff (Don Siegel, dir.), and features elaborate writing, bold action, and the quintessence of high comedy.
Dennis Weaver was nominated for an Emmy in 1974 and 1975.