The Adventure of Sherlock Holmes' Smarter Brother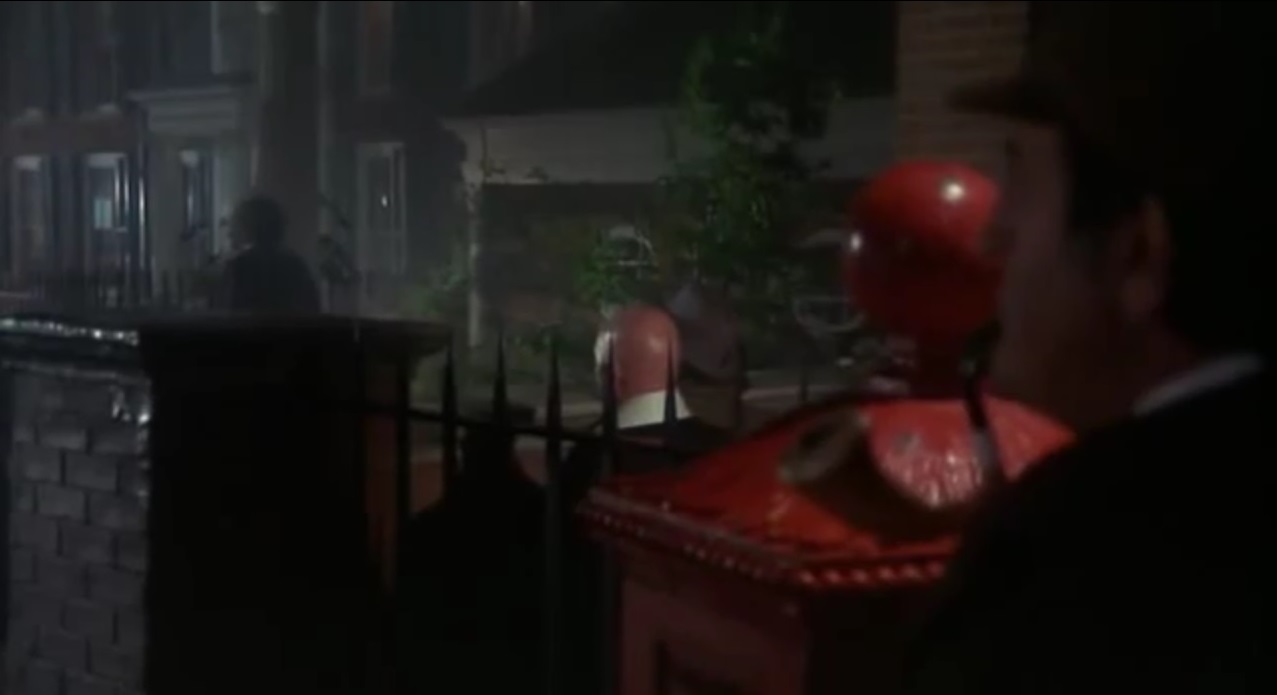 Precisely, and that is part of the joke, the film to be expected from the original author of Young Frankenstein. "Holy Jesus Christ," exclaims Dr. Watson, the original Robin.
Halliwell has a way of dismissing a certain type of film as something Hitchcock wouldn't touch, and that's what this is, a case fobbed off by Sherlock onto Sigerson and not directed by Mel Brooks (admirers of his To Be or Not to Be will note the choreography by Alan Johnson), at all events a stratagem. The MacGuffin is a blue-ribbon document presented by Queen Victoria to her Foreign Secretary, a widower engaged to his children's governess, a talented young lady blackmailed by Signor Gambetti the opera impresario (The Masked Ball in English is his latest, cf. Nicolas Roeg's contribution to Aria), Professor Moriarty has bidders for the dingus, a rolled-up bit of writing to prevent "a devastating war". A simple question of the lady's affections, "the fate of England" and so forth.
Vincent Canby of the New York Times, "an impressive debut as a comedy director." Variety, "in that elusive pantheon of madcap humor." Pauline Kael (The New Yorker), "has mouth-watering possibilities, but they aren't developed." Time Out, "hit and miss." Dave Kehr (Chicago Reader), "amateurish". TV Guide, "a portrait of delightful mayhem." Catholic News Service Media Review Office, "morally offensive... spectacularly tasteless visuals, double entendres and a love scene that goes beyond comic intentions." Halliwell's Film Guide, "infuriating", citing Howard Kissel (Women's Wear Daily), "the kind of numbers actors like to do at parties," John Simon, "more than he can chew or I can swallow", Sight and Sound, "stray chuckles", and Kael again, "there's no mystery."
The World's Greatest Lover
Imperishable scenes attended by Carl Ballantine, as though vaudeville could be nonplussed. Fellini with a bit of flavor, not out of Cinecittà but Hollywoodland.
The real tribute is to Alberto Sordi, of course, a truly great progenitor.
The Woman in Red
The particular demon invading the peace of Ted Pierce's mind re-enacts the famous scene from Billy Wilder's The Seven Year Itch in an underground garage, and dressed all in red. She (Kelly LeBrock) even does it twice, so our boy can't miss the point.
He's an adman, she's an agency model. He telephones her across the office but gets the very aggressively plain Ms. Milner (Gilda Radner) by mistake without knowing it. He sets up a date that rather than going awry doesn't come off at all.
That little contretemps has its revenges, and meanwhile Wilder branches out in a wide view of Pierce's coterie, three chums (Joseph Bologna, Michael Huddleston, Charles Grodin), a married philanderer, a married woman's lover, and the other other man. Pierce is a married man all the way, so his steps toward straying are crafty and clumsy. He changes his look and is received in the boardroom with a staring POV like Buddy Love. Caught shaving fully-dressed for a nighttime rendezvous, he replies backwards from Humbert Humbert that his wife's not crazy, so he is.
In the clinches there is the betrayal of the noisy water bed, like Emerson in Welles' The Stranger, "when you commit a crime..." The scene has amusing lyrics,
Baby let's just take off our clothes
and get naked from our head to our toes.
The photo session (model as Bo-Peep) has another song with another singer (Dionne Warwick) in three or four of her finest minutes. Wilder's best shot has him perched on a high ledge in a bathrobe as a news crew sets up a camera in a long shot that zooms right in to a close-up seen on TV around the dining room table in his home. The conclusion puts down a vaudeville five for Blake Edwards' 10 and doubles it with the superb final jest.
Haunted Honeymoon
"Humor and horror make an uneasy combination," according to Walter Benjamin of the New York Times. A film that sorely tries the intellectual capacities of the Times is, you will surely agree, perhaps such a commonplace as to be truly frightening, yet there's something funny about it for all that, but why equivocate? Byron felt so strongly that the Quarterly Review killed Keats, he wrote verses proclaiming the deed. And who, now, reads the Quarterly Review?
The strange, bizarre murder at the outset is an error revealed near the end. After the credits, during which John Morris rises to new heights, Wilder effortlessly re-creates a New York radio broadcast, this week's episode of Manhattan Mystery Theatre also bears the title "Haunted Honeymoon". For once, the sound effects man is not a figure of fun. He's an artist like all the rest, the deep-voiced announcer, the well-trained actors (Radner's dramatic voice is a skilled attunement, added to her Thirties character voice). The script takes on a life of its own.
The main framework is established as radio at its highest. The cinematic equivalent is built of several well-known models, and some unfamiliar. The bed panel from Frank Strayer's The Monster Walks, the arm-holding-candelabra from Cocteau's La Belle et la Bête, his passage through glass, Dreyer's Vampyr (the viewing window in the premature coffin). There are jokes that are not jokes. Wilder mentions a widower. "Widower than what?" asks Bryan Pringle as Pfister, the butler. "A widow man?" The psychological component is rather breathtaking in its virtuosity and fulfillment on any number of levels, of course it's all gag material finally, but played so expertly. The direction hews close enough to its models to diligently give one a start on occasion, but is also modern and flexible enough to allow Dom DeLuise as Aunt Kate to relieve his excruciatingly funny number with an occasional hoot. All of the performances are very carefully rendered, and then filmed to give a nuance of freedom. Peter Vaughan's Transatlantic accent is a welcome touch.
It consoles one in a way to see a work of genius savaged like Elliot Silverstein's Nightmare Honeymoon, considering the caliber of the critics and the wispy tastes of the public. So many times over the past twenty or thirty years, films advancing the art of cinema have met with sheer incomprehension, it's no wonder the Oscars are given out in a shopping mall, with every respect due to Paul Mazursky.
The radio drama is a vital thing, and in a certain sense Wilder may be said to have fashioned a dithyramb expounding its imaginative mysteries. The impressive set is a well-filmed castle, in which the classic psychological situation of pre-nuptial jitters is explored from every possible angle. This is the real source of the comedy and of the film (as it is of Maté's D.O.A., for example) and not, as the critics supposed, a satirical impulse toward films that knew exactly what they were doing.
There is a werewolf, and a plot to scare the bridegroom out of his stammering w's, and a changed will, with plenty of bizarrerie solidly formed and yet transparent as nicely-observed comedy. To describe it at all is to diminish the evanescence and resonance of it. In the end, the happy honeymooners depart the broadcast, and the werewolf turns to look at the camera, then walks down the road after them as double doors slowly shut behind him like a slitted version of an iris-out.
It's a good thing to see these heebie-jeebies pooh-poohed as trite, old hat, etc. That is partly Wilder's position toward them as well. He pursues his floating bride to an open grave with an arm and a veil protruding from it, and later finds the arm a detachable prop, the ever-present lightning a stage effect. But he sees more than the critics, and the public overlooked in its haste a film it will come to admire.
The simple truth is that Wilder understands more about the cinema, is far more learned in its precedents and modes, and has a much better sense of humor than the critics. It shouldn't have to be said, but in the age of communication there is still much that is little understood. Postmodernity is unmistakably a step to the rear, and that's why even in this latter day the columnist Anne Taylor Fleming lamented her son becoming an artist, since after all Van Gogh failed to sell but one measly wee picture.