Play It Cool
Sir Charles sends runaway daughter to Brussels far from pop star, thither Billy Universe and the Satellites for a Golden Goblet, they have a hope.
A very efficient satire, Anglo Amalgamated Airways out of Gatwick. Smashing film, scads of technique. "Engine's on fire, shall we dial 999?"
"Better not make a fuss." The echo of Capra aboard, "I Think You're Swell", sample ditty. "Well, it's better than playing cards for matchsticks."
"I don't know, I've won four boxes." In the event, it's a tour of London nightspots frequented by the pop star, "I read that in the New Musical Express."
According to Time Out, this is "frippery".
First stop, "sort of beatniky, but it swings." Presley, Mathis, nearly. The twist, a specialty. "I say, Robin, they're rather small."
"Well, after all, they are the lower classes." Some of this rubs very happily off on the beach pictures, well-studied, returning the favor. As in The Man Who Had Power Over Women (dir. John Krish) and Global Heresy (Rock My World, dir. Sidney J. Furie), the pop star is a lout and a boor. "She's in the upper bracket, that's what our frog-throated friend wants to be."
"Must be a terrible thing when a girl puts you off your grub." Spot of success, spot of bother. The Glasgow train, another road not taken. Richard Lester borrows (from, say, A Run for Your Money, dir. Charles Frend) and repays. A fine technique, using a delicate zoom lens among other things (a notable refinement), Hitchcock's opening of The Pleasure Garden occurs to it very naturally. "Who would have thought an idiot like that could have written a song like this?" Which, of course, is the argument of Shaffer's Amadeus (dir. Milos Forman). And so, It Happened One Night in Jolly Olde, as later The Big Sleep (Hitchcock went to America, Losey went to England), our band is left on the tarmac singing the title number.
Evidently an inspiration for The Purple Pit (The Nutty Professor, dir. Jerry Lewis) is The Lotus Club, where the Chinese cook is a German formerly at an Indian establishment.
Britmovie (Iain McLachlan) disprizes the film as a poor job generally and cites The Young Ones (dir. Sidney J. Furie) as a precedent. Rossen's Mambo is perhaps at the head of the procession.
West 11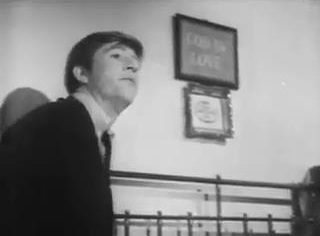 A morning walk across the neighbourhood to begin.
The same milieu as Ken Russell's The Debussy Film, same sort of party, same sort of indulgent boredom as Desmond Davis' Smashing Time, Tirez sur le pianiste (dir. François Truffaut) without the merriment, Fellini's La dolce vita very much in view and Antonioni's Blowup not very far (here is David Hemmings in a bit part as a young ruffian) .
The dramatic pivot is right from Auden & Kallman's libretto for Stravinsky's The Rake's Progress (of which this film is a capital analysis), chevalier d'industrie with antifreeze "going cheap" and Customs to pay.
A visit from Mum. "It's years since I was here last. I brought you here when you were a little boy. We'd been up to see your Aunt Alice at Hammersmith and she was out."
"Nobody knows why they do things."
"Silly thing to say. I know why I do things. I'd think it very peculiar if I didn't." A harangue from the Britain First Party, keenly watched by police. "I fought a bloody war against bastards like you!" Plot to freeze out Auntie, "one of the richest women in Hampshire," and collect the customary inheritance. "Has it never occurred to you that the only perfect crime is when one stranger murders another?" Cp. murder by contract (dir. Irving Lerner), Strangers on a Train (dir. Alfred Hitchcock).
"The sin of pride, it's still the sin of Satan." Old Mr. Gash's flat piled high with books recalls Stravinsky's visit with T.S. Eliot in London, "mustn't cut the critics' cake for them," who when shown the libretto in manuscript introduced one word, "fluvial".
The wrecking ball, sad news, l'acte gratuit of a self-described "emotional leper". A startling resemblance to Auden in the lead sets the seal on it. "It's like war, old boy, it's an adventure."
"Nice day for it."
"Yeah. Marvelous." Pocket chess set, vertiginous helicopter views, the death scene a swift citation of Psycho. "Bloody broad daylight they're doin' 'em in now." The ending manages to suggest Godard's Breathless and Fellini's "Toby Dammit" (Poe's "Never Bet the Devil Your Head").
Variety, "the writing team of Keith Waterhouse and Willis Hall have done little to uplift this adaptation of a novel called The Furnished Room.
"This is only hackneyed drama..."
Adrian Turner (Radio Times), "the film's sole virtue nowadays is the location camerawork of Otto Heller". TV Guide, "never is any sympathy given... and there is little or no audience involvement". Halliwell's Film Guide, "dingy but not very convincing 'realist' melodrama with a jazzy style which induces weariness."
The System
The game is tackle the tourists, "it's a system, girls," at the seaside, in season.
One of them turns the tables, on her level.
The beach photographer recognizes the dilemma, sects, coteries, provincialisms, all set against each other, his knowledge avails him nothing, a Winner trademark.
She's off to Rome, a fashion model, maybe they'll meet in London (she departs with a Kafkaesque yawning sort of stretch).
Cinematography by Nicolas Roeg, screenplay by the author of I'll Never Forget What's'isname.
Released in the United States as The Girl-Getters (American-International), under which title Howard Thompson of the New York Times said it "leaves too much unanswered."
Variety followed along rather well ("bright direction, lensing and acting") but considered it "needs a strong sub-plot to sustain interest."
"All very unattractive," says Halliwell's Film Guide, "but smoothly directed in a number of imitated styles," by which is probably meant a trace of Citizen Kane and an ounce of Un Chien Andalou.
Halliwell quotes John Simon, "to be enjoyed and deprecated in roughly equal measure."
You Must Be Joking!
One of those Army initiative tests, for the purposes of which after a nuclear war England is devastated, various items of memorabilia must be brought back to base in 48 hours.
Probably the greatest English comedy, owing so much to Stanley Kramer's It's a Mad Mad Mad Mad World because he put everything into it.
Richard Lester is another big influence.
Blake Edwards for the transitions (High Time), The Great Race is on the screen, Burton and O'Toole in Becket.
There are some comedies, some films generally, that critics cannot describe, therefore they are missed. This is one of those, quite apart from a general inability among film critics with their material.
The excessively brilliant performances achieve the note, one takes the French pop star on a well-deserved holiday, the Lutine Bell is returned to Lloyd's of London, and Hitler has only got one ball.
The Jokers
Shaw did his best, genius and ability are only perceived in England when the public is advised a) ahead of time, b) during, and c) afterward, he said.
Genius has the trumps, but the two go together.
Critics have always tended to admire this film, so very brilliant, without quite getting its point.
I'll Never Forget What's'isname
Let us imagine the whole world run by an advertising agency in self-defense against the muckheap, which here is identified with massed bodies of gas chamber victims in a large pit. Peradventure, there is art and literature, plowed under by the megalopolis.
It takes a long time and considerable effort for a Cambridge man to find this out, even if he does "verge on genius" in the firm. And then he crosses the road and joins the competition, regaining his wife.
Variety thought it ended in "a final image of stunning vulgarity", that must mean chucking the Creative Advertising Award into the Thames one morning.
Hannibal Brooks
The structure has Oliver Reed tending an elephant during the war, and Michael J. Pollard leading the partisans.
The key critical misunderstanding was to miss Pollard's brilliant performance, Variety especially did this.
Reed's lance corporal is glad to be out of it as a prisoner of war, Lucy is charming. Pollard's American private is a go-getter for escape and resistance, after his fashion.
They unite irregularly on the trip to Switzerland, and combine forces in the Alps.
Canby's absurd review speaks of "Lassie in elephant drag".
Lawman
Winner's film is a fairly straightforward analysis that has confused and riled the critics no end.
Every stage of the proceedings is carefully, logically and patiently explained as far as possible, and where Winner does not, Peckinpah suffices.
Nothing but to explain the man with the star to a town of weasels under the thumb of a cattle baron.
The Nightcomers
An analysis of Clayton's The Innocents to remove any doubt. The cutting satire now has a solitary structure as before yet multiplied in appearance.
Fielding's score goes well as the key, a jingling British tune for the house, Bartok for passion, and then a solidly English turn for the last rencounter.
It goes amiss, the masterless house, it goes for nothing.
Quint's anecdotes of the parents' accidental death whilst touring Africa in a 1901 French motorcar, and of his father selling a tricked-out nag to the gypsies, are all the tale.
The exquisitely beautiful cinematography adds a pang in perfect conjunction with the other departments on the set.
Brando's work antedates The Godfather, Last Tango in Paris, and The Missouri Breaks. The acting is all that it should be throughout.
Elgar's box kite, sustained by two balloons, puts in an appearance. As for Canby's review, "get yer rude ass out o' here," says Peter Quint.
Chato's Land
Winner has a curious shot, a 180° track-and-pan beginning on a man scrubbing up at a washstand in his corral, with his wife beside him, and ending on their point of view, people at a table outside the corral in the middle distance.
It's an essential shot, the film is distinguished by two viewpoints. Chato's wife fills her crock at a thin waterfall close to their adobe home. He himself (Charles Bronson) gradually sheds his half-breed Western garb for a loincloth, it's a Tarzan film more or less. The posse, a mixed breed of ranchers, shopkeepers and desperadoes led by a former Confederate Army officer (Jack Palance), run out of water and muddy a small spring by wallowing in it.
The opening is a man standing at the bar of a saloon and asked to quit the place because it's for whites only. The town sheriff does the asking, he threatens to fire but the man wheels and fires first. Out in the desert, the posse crumbles (one of them, a young hothead, can't even stand their Indian tracker). They kill each other, for one reason or another, and those left standing are picked off by Chato.
The strangeness of it is the degree of philosophical speculation achieved in these dismal cranks, their very situation is lucidly described by their leader, but they can't help themselves.
The theme was stated in Arthur Penn's Little Big Man only as dialogue, and later carried to a mocking degree of finish by Anthony Harvey in Eagle's Wing.
The Mechanic
Canby and Ebert hooted, which is what reviewers do to meet a deadline, editors being what they are.
The first fifteen minutes give one half of the working method, a terseness derived from Hitchcock or Bresson. Only at the end of the sequence is it clear what the precise significance is of the hit man's studied actions (a delayed gas leak in a stovetop, drugged tea bags, plastic explosive inside a book, the sniper rifle with telescopic sight on a tripod).
The other half is a determinedly pointed surrealism. After killing this elderly man evidently on the lam in a cheap furnished apartment in downtown Los Angeles, the hit man receives another assignment, his similarly aged associate. Next, the assassin takes in tow his associate's son. They witness a karate demonstration where the student injures the teacher by craft and is bloodied in return. The final assignment is given in person by an elderly man who keeps a leopard chained on his lawn so as to paint its picture. The assignment is in Naples, the two (hit man and disciple) go there to blow up a pleasure boat, it's a trap. They escape, disciple kills master (an independent assignment), is killed in a booby-trapped car at the master's house, thinking to move in.
These two artistic approaches are the glory of this film apart from its inherent virtues of crystal-clear rationality and technical perfection. They work together in intense compression that makes possible a great deal of expression with no waste of time or film. When the hit man gets that final assignment, he's in the client's living room, an up-angle shows him standing before a full-length portrait of a lady in a white gown, the reverse shot of the client on a sofa has a mirror behind him reflecting the hit man and the portrait in a hierarchical structure. Again, after his father's death, the disciple holds a "yoof" party at the mansion, but takes the master to his own quiet apartment where a girl holds up an empty glass, the disciple brusquely seizes a long-necked bottle of wine and fills it, then offers some to the master. The framing of this shot has the hit man diminutive in the background, behind the bottle and the glass. Later, he's killed with a poisoned glass of wine.
The high-class hooker visited by the hit man has movie posters on her wall, Elmer Clifton's City of Missing Girls (with H.B. Warner) and William Desmond Taylor's Johanna Enlists (with Mary Pickford), etc. After the graveside service, a crypt is seen with the name of Rowland. There's a striking similarity to certain scenes of the boat in the Bay of Naples in Huston's The Mackintosh Man. An attack of vertigo at Marineland of the Pacific experienced by the hit man after the yoof party prefigures Fellini's Ginger e Fred in the Roman hotel (with a deep sea diver on the monitor). There is a give and take with Frankenheimer (compare 52 Pick-Up and Ronin). The hit man's cultivation of photographs (shot with a pair of binoculars or even a telescope affixed to the camera) for study is an assimilation of Antonioni's Blowup. He reads the Wall Street Journal and The New Yorker.
Jerry Fielding's score is continually inspired (the hit man likes the Grosse Fuge).
Scorpio
The CIA hires a contract killer for a political assassination (the nuances of this are explained by the agent), the hireling wants in, the agent is out.
"Be Careful, The Regime You Change May Be Your Own" (CIA wall sign, Mort Sahl).
The blurry edges of the screenplay are deliberately contrived to represent the action effectively, and still more to set into sharp relief the nightmares contained within the film. Critics are like children, plot is a meaningless peg to hang action on, they want characters to believe in. The latter notion is directly mocked in the film.
Several reasons are suggested for the CIA's action against one of its top operatives, Cross, he's one of Donovan's boys, he's a double agent. It's his nightmare that counts.
Scorpio is in another nightmare and doesn't know it. The contract killer is offered Cross's Beirut appointment.
So where the reviewers left off in angry vituperation is where Winner begins, in a masterpiece closely related to The Mechanic (as one noted) and Neame's Hopscotch, but also to the Harry Palmer films (Russell's Billion Dollar Brain for Zharkov, Furie's The Ipcress File for the working girl, Hamilton's Funeral in Berlin for the false defection).
The hireling's sister is adduced for the Howard Hawks Scarface theme.
Webern and Berg are mentioned, Fielding evokes Prokofiev's Third Piano Concerto for Zharkov's feinting moves.
The agency hires a contract thief as well. Sun Tzu is a kitten nearly all white. The Czech courier bites the dust before Cross.
The Stone Killer
This superb masterpiece, finely-etched in rapid scenes, went by rather too fast for critics at the time, what with Sight and Sound deprecating it as an outline, "painting by numbers", and Variety at a touching loss.
The Sicilian Vespers of 1931 linger in a don's memory, 42 years he's waited for his chance. He assembles an army of stranieri like Luciano's "Jew guns from Lepke" to wipe out a mob council in New York and mop up around the country.
The assassins train in the desert, which makes for a nice calculation on the side of Frankenheimer's Seven Days in May, not too finely pointed.
Det. Torrey is a hard-charging officer who's always going up San Juan Hill in some building. A shootout with a gunman gets him bad press, he takes a lieutenant's post in Los Angeles. A drug bust in a downtown hotel nets him a top New York hit man on the needle.
With a single name to go on, and the odd junkie in his backyard, Lt. Torrey works the case from the moment his prisoner is gunned down at La Guardia. There are no Wextons "of any interest" in New York, two in Los Angeles. One is a hippie girl at an ashram in the hills out of Smight's Harper, the other is a Black Panther indicated by the FBI. "I've never balled a cop," says the girl. "Some other time," says Lt. Torrey, "some other place, some other cop." Overeager colleagues led by a Southern bigot bring the Panther in through a mob, Torrey trades for his release with friends on the street, a tenuous suspect has tenuous plans in the desert.
And so it goes by fits and starts to a roundup in the Mohave and a firefight in the New York parking garage below the council boardroom (and the capo di tutti capi). Two cameras typically catch the action, a helicopter shot shows the line of houses and scrub, an ironic epilogue casts the whole matter in doubt of a kind, with a punchline like a New Yorker caption addressed to the camera.
Death Wish
Flicker in The Troublemaker had already delineated the gross corruption and graft in New York, and that was ten years earlier.
The essence of Winner's film is a building development in Tucson, the investors want a rich return, the builder wants his hills and "space for life", the Frank Lloyd Wright ideal. Kersey engineers a successful result.
The best commentary is Ritt's The Molly Maguires, where a certain cost must be paid to rid the community of criminals, one must pay taxes for one thing, and also do without criminals.
Winner's masterpiece leaves no stone unturned in its examination, "concentration camps" and lebensraum are part of the picture, so is Old Tucson and the crime rate and everything else, no ounce of labor has been wasted.
"Despicable" (Canby), "poisonous" (Variety), "scary" (Ebert). Hancock's brilliant score is a mark of the film's inspiration.
The Sentinel
The comedy of faith in a mannequin. She stares out from magazines and commercials, her blind eyes keep watch over the city (Statue of Liberty in view), she quells all ugliness in a brand new apartment building on the site of her first faltering steps through the labyrinth of arty lesbians and the party host with a cat and a canary (it's the pussy's birthday, she gets the bird).
Many films are cited, including Repulsion. Variety detested it, Time Out too, but the latter has a synopsis worth noting, "fashion model finds her apartment is over the gateway to hell".
The Big Sleep
Almost certainly Winner's best film, the purity of technique is the central focus, with jimmied-in flashbacks to supply lacunæ.
The Sternwood girls, Charlotte and Camilla. Rusty Regan, Arthur Gwynn Geiger. Eddie and Mona Mars.
Quite a panoply, a constellation (cf. Sirk's Written on the Wind), you have to "believe in miracles" to see it sorted out.
Borges on Dürer's Ritter, Tod und Teufel gives you Marlowe in a Mercedes.
Janet Maslin of the New York Times stamped her foot against "high-priced vulgarity".
Variety, "beyond the point of really caring."
The Catholic News Service Media Review Office, "a disastrous mistake".
Time Out echoes Maslin almost word for word.
Halliwell's Film Guide, "curiously and ineffectively set in London."
Firepower
This is what it takes to get the bastard, cushioned and well-guarded and unpunished as he is.
A hundred and four minutes of pure genius, sometimes rounded off to ninety-nine by chiselers for the public.
All Janet Maslin could make out was Sophia Loren and clockwork noise (New York Times). "Lurid", said Time Out Film Guide, "tiresome". Variety as much as admitted it was all a blur, so much material, so many films to watch, really a virtuoso performance by Winner, as refreshing as a trip to the Carib Isles.
The grand design is only revealed in the last scene, and where is the critic with so much sitzfleisch he doesn't mind?
Death Wish II
The structure of Death Wish II very amusingly recalls that of Albee's play Tiny Alice, in that it all depends on an architect's model. Kersey, now practicing in Los Angeles, offers KABC Radio a new building in three alternative exteriors that figure as a Three Little Pigs motif, reflective glass, wood, or concrete, with attendant costs. The station demurs, asking him for an angelic portal on the last.
A brief shot overlooking the Hollywood Roosevelt Hotel recalls Schrader's Hardcore, and a later glimpse of Grauman's Chinese with Excalibur on the marquee completes the image (Excalibur being a satire of Star Wars, on the marquee for Schrader).
There is a very interesting use of a wrong lens in the first sequence at Kersey's home to elongate the view. This is repeated at the mental hospital where Kersey and his journalist fiancée arrive to cover the last of the perpetrators and are met by a top dog of the institution. Later, when the reporter learns Kersey's secret, it's utilized one last time.
Canby in the New York Times exhibited precisely the sort of baloney one has come to expect from the Razzie Awards.
The Wicked Lady
A very wonderful thing set up to regard the misadventures of a wayward lady as leading to her just deserts for folly and stupidity.
Canby even more than Variety was puzzled by a comedy that wasn't in his view funny enough.
Scream for Help
Your ten-gallon Texan asks, "Paul Revere? Ain't he the feller that rode fer he'p?"
You see, the perspective is that of a joke comparable with The Sentinel (teenage girl thinks her stepdad's a killer), but it has its serious angle.
Representations won't do, the thing itself is to be preferred. Dead or alive is something of a challenge, legally speaking.
Pure Winner, the cream of his work in the singleness of purpose, the same material earlier worked by Terence Young in Wait Until Dark, from Wyler's The Desperate Hours and before.
Documentary evidence is unavailing, and besides, the murderer is deluded by his partners, a beautiful analysis of the power play.
The girl critiques the dupe and monster in her diary as "an incompetent murderer", adding, "he's also a total asshole."
Music by John Paul Jones, to complement the Death Wish scores by Jimmy Page.
Death Wish 3
The question is raised whether or not Death Wish figures as the death of liberal rationalism. The material had already been handled six ways from Sunday, and at this level Winner took the critics to school with a comic book. Some of the critics had not read comic books before. What they probably read as children was the New York Times Book Review, or the Times Literary Supplement (the London Review of Books once published a Harvard grad's thesis to the effect that Superman was nothing but a Golem from the shtetl).
Of all the essays at cinematic comic book style, Winner's is the winningest. It's a matter of style, after all. His punks are punks in a generalized sense, as they would be in a comic book. Everything else is more or less realistic, within the bounds of the pen-and-inker's apparatus.
Mr. Arkadin's upturned camera is brought into play for instant service. The elements of plot appear neat and whole as frames in a strip. Nothing stands between reader and hero, so Winner keeps it clean. Style is attended to for its own sake, as, properly speaking, the director's concern.
The lesson, which above all in light of the critical response should not be lost on anyone, is that a good education will get you farther than a bad one.
The performers all lend themselves to Winner's close-ups and gags, Ed Lauter in particular as the original New York cop, and Deborah Raffin as the original willowy blonde. All the villains take direction well, and Martin Balsam is worth a thousand critickins.
This is the war proclaimed in Death Wish II, which of course is set in Los Angeles.
The great battle takes place in East New York, Brooklyn, but was filmed in Lambeth, according to report.
It's a tour de force of the stuntman's art, among other things.
Appointment with Death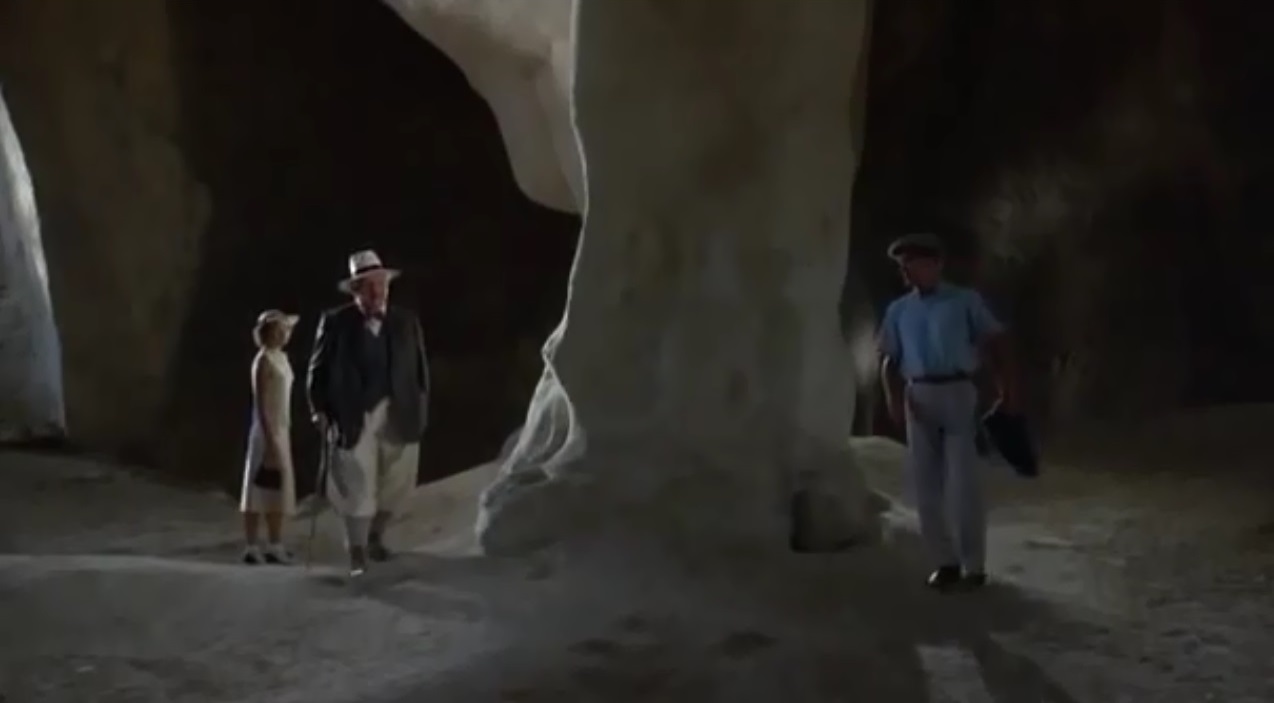 Qumran on the Dead Sea, before ever the Scrolls were found. "Well, I thought that man Weizmann put it rather well the other day before Lord Peel's commission here in Jerusalem. 'There are six million Jews,' he said, 'for whom the world is divided into two parts, places in which they're not allowed to live, and places they cannot enter. It will have to be solved.'" Like the Prince and the Genie, tyrannous Mrs. Boynton and ambitious Lady Westholme cancel each other out. "A task for Solomon."
"The Arabs wouldn't think so." The major themes are Palestine and the coronation of George VI. The young people must be allowed to get on with it, Poirot must solve the troublesome case of a blackmailed shyster etc. "How is it you're always in the right place to hear threats and plots. M. Poirot? Hm?"
"Put it down to a gift, if you will." It begins in New Jersey, takes the Grand Tour and ends in the Holy Land. "We work along the same lines," says Michael Sarne to Peter Ustinov. Homage to David Lean (A Passage to India). "May I raise my glass to Criminology, the easiest of all sciences."
Vincent Canby of the New York Times, "the scenery is exotic, the unraveling of the murders most perplexing, and the actors in enthusiastic form." Variety, "little more than a routine whodunit." Hal Hinson (Washington Post), "even the pretense of going through the motions seems to have been too much for the filmmakers." Michael Wilmington (Los Angeles Times), "this director doesn't have the easy, deceptively graceful style that a project like this needs." Time Out, "mind-numbing inertia." Jonathan Rosenbaum (Chicago Reader), "consummate hack Michael Winner...." Catholic News Service Media Review Office, "an effort that may bore diehard mystery fans but please those who enjoy travelogues." TV Guide, "offers a tangled web to delight mystery lovers."
A Chorus of Disapproval
"The words of Mercury are harsh after the songs of Apollo."
The major theme concerns a perfidious land deal and an amateur production of The Beggar's Opera, in Scarborough.
The play produces the theater, even at the Royal Opera House.
Winner may have succeeded beyond his wildest hopes, Vincent Canby led the critics in thinking himself Addison DeWitt for the nonce.
There is Room at the Top.
Bullseye!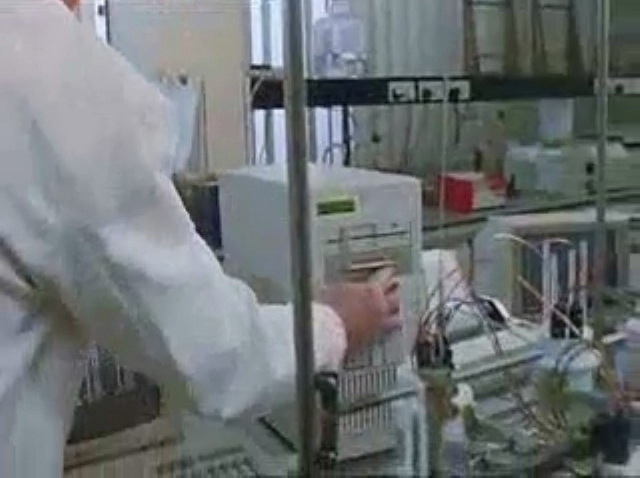 Winner's gioco delle coppie has a right Shakespeare at its rere, The Comedy of Errors.
A charming citation of Rowland V. Lee's Son of Frankenstein h'escaped the more than h'estimable criticks, h'it may be presumed, the Keaton gag as well (Caine the gangster is a disciple of Cagney, Moore of Magee).
The ideal Winner style of the later films finds here a comic perspective slightly more geometrical and on the perpendicular, a case of "atom boffins" aped by lowlifes after some dough, an "Autumn Tour of Stately Homes of England and Scotland" aboard the Orient Express.
The director of You Must Be Joking! not funny? So says Radio Times. Time Out, "stinker." In the U.S. they might have gotten it if they had seen it, who can be certain about a thing like that? TV Guide, "ranges from mediocre to tasteless." Hal Erickson (All Movie Guide), "doesn't quite hit the... oh, you know."
Dirty Weekend
Ugly Little Britain fobbed off with Lenin's "greasy cup no more".
It can't even afford bars on the windows, Liverpool Mary's a homeless old broad nearly incinerated.
Nothing to do but do them in.
A distaff Death Wish.
Parting Shots
A perfect movie, in Winner's true best style.
The conclusion of Death Wish 3 was filmed at Lambeth, this is a variant of the Death Wish theme laid in England, as certain critics have noticed.
In that vein, the British Film Institute's reviewer described it as "this latest dog's dinner from Michael Winner," which is certainly institutional criticism.
A nice guy told he's dying whacks every shit and son of a bitch who's hacked him up since school days, also the impossible ex and a millionaire con man who swindled them both.
He finds true love and whacks a famous phonybaloney chef behind his snobby restaurant after a real dog's dinner for the couple.
He hires a hit man to end it all, a Petruscan emissary is killed on a state visit amid protests against the regime, our man was the intended target, not dying at all.
The punchline is sublime, the hit man goes to prison as a national hero, all guilt falls on him for the killings, he has a favor to ask the nice guy.