Man with the Gun
Sheridan City is a farming and mining town, a fat cat wants grassland.
A town-tamer (Robert Mitchum) passing through takes up the defense. His estranged wife (Jan Sterling) supervises the dance hall girls at the fat cat's Palace saloon.
A great Western. Wilson's town is old and new, a nineteenth-century city slowly coming into existence.
The Big Boodle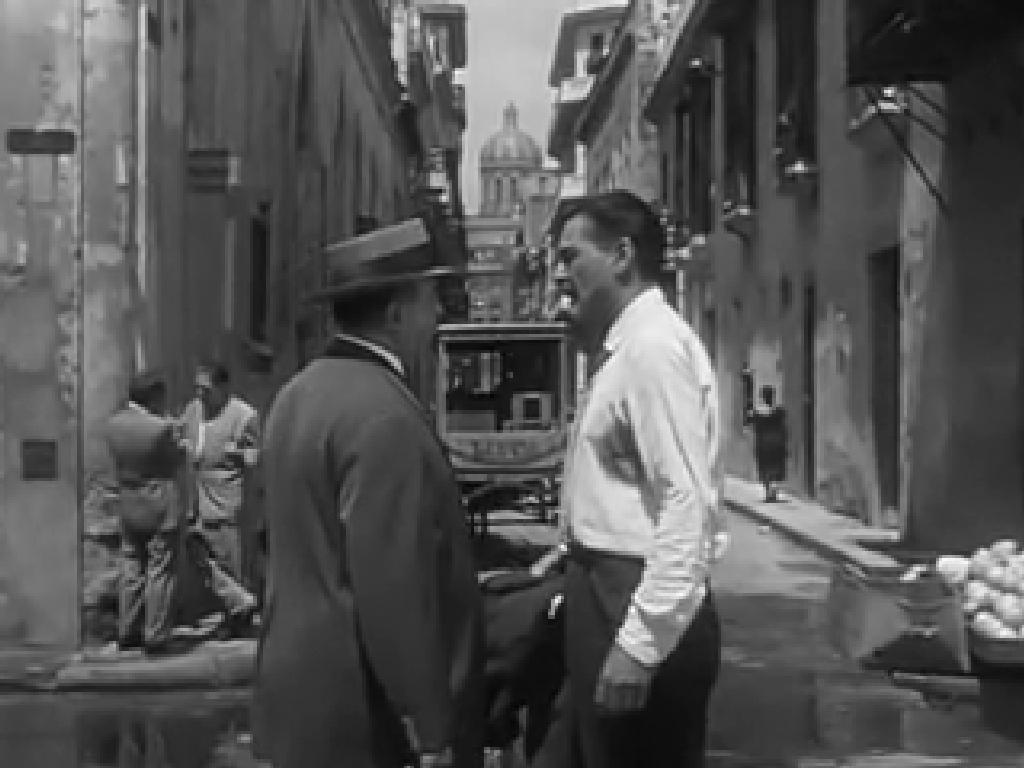 Croupier handed the queer finds scheme to defraud the Bank of Cuba.
The significant factor is filming on location, perhaps influenced by Andrew L. Stone, to give the modern, beautiful, intelligent city of Havana its due, from the author of We Were Strangers (dir. John Huston) and The Joe Louis Story (dir. Robert Gordon), Hitchcock is reflected in the finale at Morro Castle.
Another is Raymond Chandler's The Big Sleep (dir. Howard Hawks or Michael Winner) for the bank director's daughters, the sequel being Assault of the Rebel Girls (widely known as Cuban Rebel Girls, dir. Barry Mahon) or Bananas (dir. Woody Allen).
Jo Eisinger screenplay, cinematography Lee Garmes, score Raul Lavista, Flynn as Sherwood.
New York Times, "an adventurous stopover". Leonard Maltin, "tame caper... seedy programming". TV Guide, "a sad film". Halliwell's Film Guide, "undistinguished".
Raw Wind in Eden
Wilson's Shakespearean masterpiece (the beached yacht is Perdido) on the American fashion model in Rome downed in a plane crash with a wealthy recluse holed up on a Mediterranean isle (she has a hundred-million-dollar deal in view, on Majorca).
Bosley Crowther of the New York Times found this "haywire and obscure" and thus "a thoroughly garbled film."
Halliwell's Film Guide determined that this is a "wish-fulfillment woman's picture", so you know where you stand.
Al Capone
The press cannot be relied upon, the cops do their best in the political circumstances, Federal action is the fear of the mobster.
Wilson's Richard III, with a dollop of Dickens in Capone's Marley, a great forerunner of Lumet's Network and above all a direct account for Brecht's The Resistible Rise of Arturo Ui, and that's enough.
One of Raksin's genius scores illuminates the shenanigans.
They never made a better film.
Roger Corman picks up the admonitory conclusion with that much more to go on.
"Should interest but not inspire the average Joe," said Bosley Crowther of the New York Times.
Variety saw it as "tough, ruthless and generally unsentimental".
Invitation to a Gunfighter
No end of idiots will tell you what a monster was D.W. Griffith and how gross The Birth of a Nation, of which this is an analysis.
Howard Thompson of the New York Times sidestepped the issue, "it hops the track... a misguided reach for something different and worthwhile."
Suffice it to say with Godard that the best film criticism is a film.
Halliwell's Film Guide finds it "rather self-satisfied".
three in the attic
The "sexual revolution" under the sign of three, conveniently placed at a college where everything is eventually unearthed.
"The whole thing is thrown at the young like a shower of scrounged and discarded lettuce leaves" (Renata Adler, New York Times).
"A frustrating movie" (Roger Ebert, Chicago Sun-Times).
"Apparently starts out to be a tragicomedy" (Variety).
Jonathan Rosenbaum of the Chicago Reader speaks of a "quasi-feminist theme", Halliwell's Film Guide doesn't think it "particularly funny".