The D.I.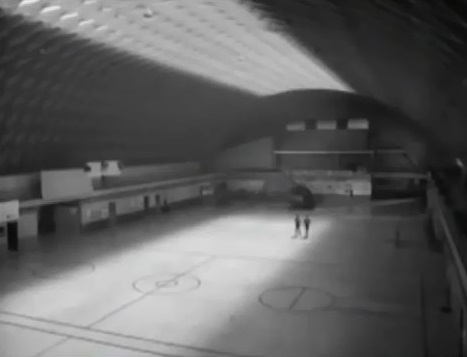 Whatever it is that makes a Marine is the decisive point.
It means a wit, a central understanding, a light if you will.
This is enough, you might even call it a sense of humor if you're of a mind to, civilians.
The New York Times didn't have it.
It's the mysterious region of rationality beyond reason, you either get it or you don't, it's no laughing matter, either. "Didn't I tell you people you had your last laugh the first time you laid eyes on me?"
Consequently you have a masterpiece acknowledged by Peckinpah in The Wild Bunch and significantly analyzed by Kubrick in Full Metal Jacket and Eastwood in Heartbreak Ridge (Kubrick and Eastwood take these idiots into combat).
"Twelve weeks to make a man outta Junior." There is a certain lady, and something very like "the playing fields of Eton" (cf. George C. Scott's Rage).
Richard Brooks' Take the High Ground! is the key work in its construction, Huston's Heaven Knows, Mr. Allison concerns itself with these matters as well.
Andrew Sarris in The American Cinema describes Webb's technique as "visual shouting combined with verbal whispering" and considers his style "possibly... too controlled for the little he had to say," his great disciple is Peter Yates in Bullitt.
"You're awfully strict, aren't you."
"Oh, I don't know. What makes you say that?"
"I just think you are."
"And if I am, is that bad?"
"No! I didn't mean that."
New York Times, "a rather one-dimensional close-up of a fairly monotonous fellow." Leonard Maltin, "a wonderful exercise in high camp." TV Guide, "uncompromising portrait of Marine training on Parris Island". Halliwell's Film Guide, "noisy".
Pete Kelly's Blues
The structure is Huston's Key Largo.
There is a very brilliant introduction in three parts on Kelly's silver cornet, fallen in the Mississippi mud, won in a crap game after the Great War, swung in a Kansas City "gin bin" under Prohibition.
A racketeer horns in, thrusts his melancholy boozehound baby on Pete Kelly's Big Seven, he's cornering the market.
A very able director, especially painstaking in grand interior effects. Probably not even Penelope Houston (who speaks of "straining") has taken notice of the actual workings, very simply analyzed for straight detail.
The major shift is the Lost Generation's flighty flapper, a woman of wealth in the fleshpots of the Midwest, who travels the world to please herself and settles down with none other than Kelly, "an itinerant musician", after the colossal shootout in an empty ballroom very late at night.
The review by H.H.T. in the New York Times is an emptyheaded catcall.
The Last Time I Saw Archie
A memoir of the war that takes as its text Ephesians 6:12, "for we wrestle not against flesh and blood", the two fronts are a couple of girls in Denver, one known from a previous engagement or nearly, now a blonde or always, the other a Nipponese agent to all appearances, cf. Cassavetes' Husbands.
Also an account of the title character as head of World-International Pictures, from the standpoint of the writer William Bowers, who wrote this picture.
Altman's MASH picks up the note and takes the prize at Cannes.
"Standard comedy about the foibles of military life," says Eleanor Mannikka (All Movie Guide).
TV Guide has "Jack Webb... his only comedy". Radio Times says "Mitchum doesn't really have the light touch." Mitchum picks up the note in The Last Tycoon (dir. Elia Kazan).
"Patchy", says Halliwell's Film Guide.
The Last Time I Saw Paris (dir. Richard Brooks) is the source of the title, "of course, that was only this morning."
D.H.Q.: Medical
Dragnet 1970
A day on hospital detail, three years along.
The retired Englishman, a "sitter" in downtown hotel lobbies.
The artiste who flopped and died, rejected more generally than Albee's Bessie Smith.
The Camarillo mental patient gone missing and the new Mental Health Act, no shock therapy without the patient's signature.
Last words of a murder victim, shot at his door by someone who may have been a woman, even his disaffected wife.
Teleplay by Robert C. Dennis.