The Front Line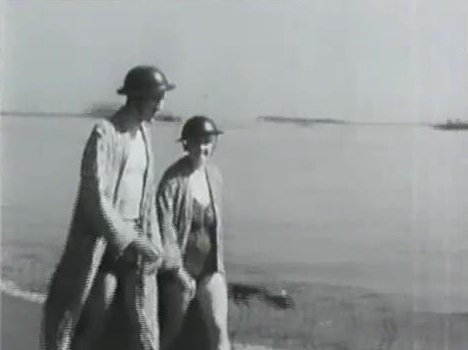 Dover, 1940.
"Whatever happens, they'll carry on." View of "Calais, for the moment part of the Greater German Reich." Attack on a convoy in the Channel.
Bomb damage. High morale. Mrs. McEwan on "that rat Hitler."
Target for To-Night
It drops from the sky, an "irrefutable negative", goes right to the photographic arm for analysis. The main area is elsewhere, a formation is diverted for it.
Oil barges fed from forest tanks, Wellingtons paste the place. A complicated drama ensues upon this, all a second pilot does is pump oil, ours minds the plane while the first pilot sees to the wireless operator's leg, hit by flak, oil pressure drops, the first pilot resumes his seat and lands in fog at night with a rough port engine and no wireless at all.
None of the actors is not what he appears.
Nine Men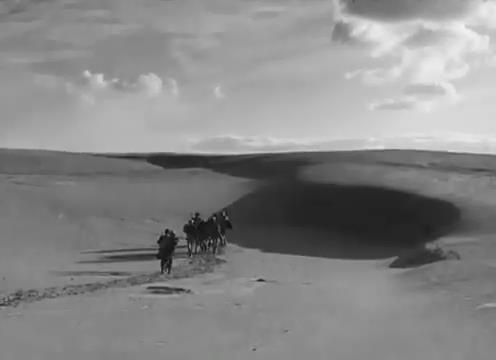 "Moonfaced paralytics" in battle training get "un petit peu" from the sergeant, "out in the Middle East in one of those desert shows..."
John M. Stahl's Immortal Sergeant is concurrent, just ahead of Zoltan Korda's Sahara (cf. John Ford's The Lost Patrol).
From the author of Night and the City (dir. Jules Dassin or Irwin Winkler), associate producer Charles Crichton, cinematography Roy Kellino, score John Greenwood, producer Michael Balcon, Ealing of Oxford Street.
"Since when do they have saints in hell!"
"Delirious."
A tight spot. "Live and learn, chum. It's like something else you don't think's important till you leave it off."
"Aye."
A slim chance. "Well, every little helps, the girl said to the sailor."
Right up against it. "Always got to be on the think in the desert or they'll get you."
Defense against the Italians, loading and firing at a steady pace, a soldier's business, stores nearly empty. "Don't forget to push the boat out, Booky." A resemblance to Farrow's Wake Island in the final battle will be noted. "In the name o' the wee man!"
Mark Duguid (British Film Institute), "stirring propaganda". TV Guide, "intelligent, gripping". Hal Erickson (Rovi), "produced by Ealing Studios, which after the war forsook melodrama for comedy and social satire." Halliwell's Film Guide, "sharp semi-documentary of the war which paled against the mightier epics to follow."
George Perry (Forever Ealing) finds it "relatively straightforward".
The Overlanders
It had to be created on the hoof. "Producer Michael Balcon sent director Harry Watt to Australia with a mandate to make a picture representative of that continent" (Variety).
The major analysis is by Hawks in Red River, Watt's associate producer Ralph Smart clarified the structure in Bitter Springs.
"It is not only an impressive picture of Australia but it is an exciting and captivating entertainment as well" (Bosley Crowther, New York Times).
"Epic reconstruction of a 1942 cattle-drive" (Time Out Film Guide). "Attractive," says Halliwell's Film Guide, "easy-going".
Great score by John Ireland.
George Perry (Forever Ealing) has "basic to the point of banality," but admired the scenery.
Where No Vultures Fly
The East African game warden thinning out breeds where great herds roamed, in the opening shot he walks onto an empty plain, he is under orders, "feeding the vultures."
He quits to form a national park, and Watt is just the genius to see him do it, a director of great speed who can tell an hour-long story in ten minutes.
This is needed, because the manifold interests in the country "couldn't even agree where to put the new public lavatory." The vexed former game warden writes a Swiftian letter to the editor espousing total eradication of the "verminous" wild animal population, to be carried out by the military, and signs a foreigner's name to it.
In the shadow of Kilimanjaro, the park is founded.
George Perry (Forever Ealing) sees "flat spots that could have been eliminated by tighter editing."
Dr. Wendy Webster, writing for the British Film Institute, argues against it and its premise.
In an unusually poetic and perceptive review, A.W. of the New York Times concluded the film was "wholly interesting and often exciting," Ivory Hunter was the American title, he made a point of mentioning the original.
Variety could not follow it, "plot is of little consequence," Time Out Film Guide likewise. "An inspiring story with humane values," opines the Catholic News Service Media Review Office, "entertaining family fare." It is necessary to defend the park. "All right, I say, take it, take a table, but once you've taken it, what you going to do with it? Once you've got hold of it, where you going to take it?"
"You'd probably sell it."
"Wouldn't get much for it."
"Chop it up for firewood." And this is the main drama. When the game warden's new staff celebrate "no vultures" with a bit of singing and so on, it's a John Ford (who knows Africa) photographed by Geoffrey Unsworth in Technicolor. Trees full of waiting vultures are a sight for Hitchcock's The Birds.
Kubrick probably remembers the bushbaby in 2001: A Space Odyssey.
Watt even may be said to have taken into account Clarence Brown's The Yearling, and that is a tall order given the circumstances.
Hawks (Hatari!), Ford (Mogambo), Huston (The Roots of Heaven), Nicholas Ray (Wind Across the Everglades), Ritt (Hud, where the rinderpest solution is applied).