Raggedy Rose
Mabel Normand for Fanny Brice, so "second-hand" she makes like cats to collect the junk people throw at them. Ragpicking's steady work. "——Who stole my lunch? ——" It's on her behind.
The wealthy and eligible is sought by Anita Garvin, his manservant's James Finlayson. "—Stop quarreling with yourself——and bring my pajamas——".
Titles by H.M. Walker. Directed "in collaboration with Stan Laurel". A Pathécomedy.
It goes into Life Stinks (dir. Mel Brooks). "The Ritz-Carlton was crowded so she slept in the annex." Max Davidson is her partner in the business. If you're hit by a car, they tuck you in bed at the hospital and feed you. She can't make a go of it, her behind again.
Nevertheless, unconscious she's taken to the wealthy and eligible's nearby and put to bed. Mrs. Crab wrestling her out of her clothes goes into Howard & Asquith's Pygmalion. It's the hospital, she thinks, and he's a doctor in his white robe, "——The Prince of her dreams——", they met in the alley when he threw a boot at the "cats" and knocked her out. "—Oh Doctor—I feel so terrible—I'm so hungry—I must have a dozen ham and eggs——". Garvin's mother says, "—I know all about these cases—I've been struck by several cars——". A masterpiece of comedy. "—Drive the ladies home, Jerry—And order me a new car tomorrow—".
Thunder Below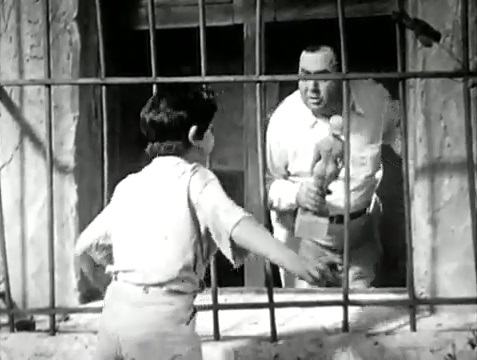 Petroleum-scouting very far south of the border, cf. Mervyn LeRoy's Oil for the Lamps of China. The little Spanish town of Huston's The Treasure of the Sierra Madre is just the same, right down to the Shinola.
From Pinter's Tea Party (dir. Charles Jarrott) to Renoir's Woman on the Beach (again with Bickford). "'I admit Beatrice' he said kindly 'and the brothel, Beatrice after the brothel or the brothel after Beatrice, but not Beatrice in the brothel, or rather, not Beatrice and me in bed in the brothel."
Then there's the man from the Continental. "Listen, I could outsnore any six Gordon Highlanders." Los tres jinetes at the village fiesta.
Mordaunt Hall of the New York Times, "monotonous... Ken is moderately well played by Paul Lukas, who might better have been cast as Davis, impersonated by Ralph Forbes. And Mr. Forbes would have fitted the part of Ken admirably." Leonard Maltin, "melodramatic". Nicole Gagne (All Movie Guide), "romantic-drama weepie." Halliwell's Film Guide, "dreary", citing Variety, "dull".
Wedding Present
The fine line between genius and madness, a bride and a bromide, Gotham and Gomorrah. The greatest emergency ever faced by New York, bigger than bankruptcy, more absolute than Arabs steering jets into skyscrapers.
Went over the head of Variety, right past B.R. Crisler of the New York Times and into Halliwell's Film Guide with an asterisk.
How Milestone's The Front Page became Hawks' His Girl Friday.
The Young In Heart
Children and confidence tricksters ("card-sharpers... fortune-hunters") can be observed as charming and generous in certain ways, also as "rotters... parasites... hard as nails" and so forth. The game is a mother's love, or more precisely that of a foolish woman whom sorrow has made wise through the years, and the playing of it is explicated in Mackendrick's The Ladykillers up to a point, also Ulmer's St. Benny the Dip (cf. Malle's Crackers).
Critics follow Variety, it seems, "beautiful and deeply touching".
Bombardier
It has one and only one point to make, dramatic or otherwise, and that is the new role of the man at the bombsight, he wrests command of the plane for the bomb run, a matter of "thirty seconds" or even twenty, a notion elsewhere accepted but here found controversial, so that (as in Preminger's The Court-Martial of Billy Mitchell) it must be tested at the outset. The scenic effect of representing the months before Pearl Harbor and an early bombing raid on Japan is to give a terrible picture of aerial warfare, both on the ground at Nagoya and above.
Crowther's table was set on a roar, "a cheap, fictitious film," he considered it, "RKO, John Twist and Richard Wallace, the writer and director, should hang their heads in shame" (New York Times). For Halliwell, "totally routine".
The Fallen Sparrow
A film in the form of a dream, an analysis of The Maltese Falcon (dir. Roy Del Ruth or John Huston) or Satan Met a Lady (dir. William Dieterle) set in November 1940, the beauty is that liberation from torture and imprisonment two years after "the Spanish war" doesn't mean the end of strife, on the contrary.
There is an objet, and a gang, but it's set in New York among the Park Avenue set doing refugee work, there's a famous Norwegian historian who knows all about "scientific torture", and a dead detective, and femmes who might be fatales, and an old prince with a strong sense of heritage and tradition down to banners and crests. The MacGuffin is a brigade battle-standard sought by a vengeful Nazi who goes back to "the beer-hall days".
The ending and other details also recall Casablanca (dir. Michael Curtiz).
T.S. of the New York Times found it well-directed and led by Garfield satisfactorily, and but for that "merely far-fetched and macabre".
It's in the Bag!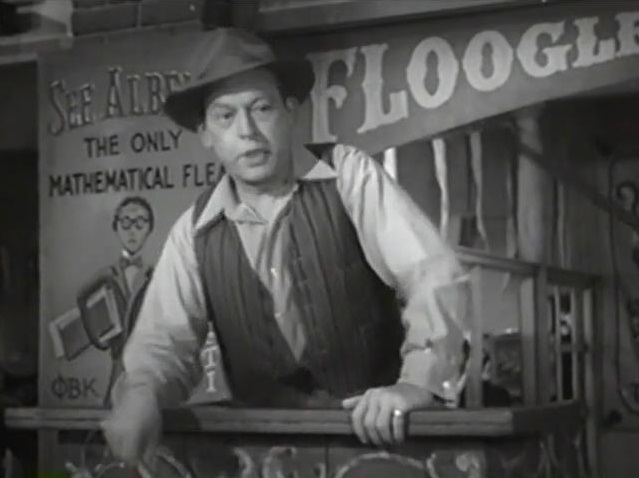 Fred Allen, "in Hollywood all a producer produces is relatives," this picture is directed by "Mr. Skirball's father-in-law, another relative," on The Twelve Chairs and a flea circus. After that brief prologue, Wallace takes over in the grand style to which his genius is accustomed. The influence of Keep Your Seats, Please! (dir. Monty Banks) on the same subject is apparent. Woody Allen, son of Fred.
Shades of Hamlet, a murdered granduncle (cf. Roy Del Ruth's Topper Returns). Mrs. Nussbaum, Jack Benny, a psychiatrist, Zombie in the Attic, Phil's Naughty Nineties with Victor Moore and Rudy Vallee and Don Ameche ("times got tough"), a gangster whose birthday party goes into Robin and the 7 Hoods (dir. Gordon Douglas), the real plotters... Wedding of the exterminator's son and the flea king's daughter.
Bosley Crowther of the New York Times, "a dizzy, bewildering picture... rat's nest of nonsense... defies the sober description of a comparatively rational mind... catch-all of Allen witticisms, wisecracks and comedy routines... sack of silly salad... story of sorts... just a crossfire of gags." Leonard Maltin, "plot soon goes out the window in favor of unrelated but amusing episodes." TV Guide, "a small but lively comedy." Hal Erickson (All Movie Guide), "any number of hilarious tangents." Halliwell's Film Guide, "patchily amusing", citing Richard Mallett in Punch, "untidy... doesn't make the most of itself...full of fun."
Sinbad the Sailor
The Eighth Voyage of Sinbad, a masterpiece of masterpieces in a pure, continuous style often approached but never neared, emulated but not equaled.
The poisoned water on a salvaged vessel, the fair maid, the foul ruler who besets the hero (telling it all in Basra), the gold of Alexander, the blessing of the Prophet, are too much for the likes of anyone, let alone Bosley Crowther of the New York Times, "the somewhat bookish writers who prepared his lengthy script were no Scheherazades at telling an engaging tale", followed by Dave Kehr (Chicago Reader), "campy swashbuckler". The script is of the utmost brilliance ("obscure", said Variety). "Humourless" (Halliwell's Film Guide).
The discovery of the Aga is an effect achieved later on by Michael Anderson in Logan's Run (the forsaken Capitol).
Framed
The Fallen Sparrow analyzed and refined to a still abstraction, almost a schematic layout. A banker's son-in-law falls out of the nest into an embezzlement plot with a pretty mistress employing a ringer (cf. Boetticher's "Point Blank" for Maverick), she takes the ringer for a ride instead.
He's a mining engineer, he assays the ore. A mirror arrangement, embezzler and ringer, she feathers her nest with their plumage.
It made A.W. (New York Times) think of Garnett and Wilder, he saw the layout and thought it too pat. "Script doesn't have too much finesse", Variety said.
Tycoon
He had been an engineer in his youth, the film gives a picture of his transformation, dividing him into the title character (Sir Cedric Hardwicke) and a young engineer (John Wayne) building a railroad for him, thus also the unfinished tunnel and the bridge threatened by flood.
This structure and arrangement seems to have been confusing to critics, even audiences. Claude Berri's Manon pictures were a long way off, the engineer stays one, the tycoon takes a holiday, the titanic struggles were described as "slow and overlong" by A.W. of the New York Times, a "boring, studio-set action saga with too many stops for romance" in Halliwell's Film Guide (the engineer marries the tycoon's daughter).