The Big Parade
War fever, patriotism. A riveter, a Bowery barman, and a rich kid enlist.
It was two and a half hours long when Variety praised it, time has reduced its fame and duration.
Before the action, and for half its present length, a great service comedy.
A bayonet advance through the woods, snipers in trees, machine-gun emplacements, then the open bare field of the trench fighting.
The whole war in a single night. Return of the soldier (Renoir has him in The River).
Attenborough has the long line of vehicles in A Bridge Too Far, Donald Sutherland borrows Karl Dane as Slim for Aldrich's The Dirty Dozen, to name a couple of derivations (Altman remembers "a helluva army" in MASH).
The credited score by Dr. William Axt is obviously to be preferred.
The Crowd
Nowadays, played too fast and with a false orchestral score, the film's slim chances are what they always were, Variety hated it, the New York Times found it sympathetic.
The sharpest analysis comes from Preston Sturges, who makes Sullivan's Travels a critique with reference to Vidor's revelation. Then there is Cromwell's Made for Each Other or Stevens' Penny Serenade, followed by many others. Vidor's unstinting melancholy, tied to epic views of New York by day or Coney Island by night and a certain comic persona very characteristic, is all the backdrop to an initiation so abstruse that few there are who can know it, so he shows what a loss there is in prizes rather brusquely, and then as abstractly and remotely as he can arrange it in the final scene, what the real rewards are.
The Patsy
Such a doll (Une Gamine charmante as it's given in French), her mother is Marie Dressler.
Can't get a tumble, Ma's favorite has that coming and going, Pa's favorite acquires a personality and when that fails, Pa puts his foot down.
Cinderella "for a rainy afternoon," Mordaunt Hall said in his New York Times review, very funny, "the audience was frequently thrown into gales of laughter."
Variety agreed, "a dandy laugh picture".
Punch (cited by Halliwell), "Filmland's Funniest Female."
Not So Dumb
"By a process of reduction and illumination," Connelly & Kaufman on the screen.
A weekend salon out West, a rich man, a scenarist, the boss in a prospective merger along with his young wife and her stepdaughter.
Million-dollar gags are sometimes coupled in sequence, twenty-four of them at least, possibly a hundred.
Piles of ignorance and insanity are displayed, a happy dénouement works out the title, describing a Mrs. Malaprop of our time.
Street Scene
Elmer Rice's screenplay offers an enervating New York heat wave as a sort of laboratory for the study of the nerve-shattering effects of city life, Vidor's establishment of this with a montage and crane shot is exemplary. The whole film's technical wizardry is uncanny in itself, but for 1931 is almost beyond belief, years before Dead End and decades before The Man with the Golden Arm.
Our Daily Bread
Vidor's dramatic style has been ignored for the splash and pace of his irrigation scenes. Andre Sennwald in the New York Times was pressed by his deadline and could not spend the time needed to read the language. This remarkably intimate and immediate constructive sense is really neither compressed nor elliptical, but it does account for a persistent report that the film was shortened by ten minutes after its first showing in Chicago. Vidor could have dilated another ten or twenty or fifty minutes and added nothing, the work is very fast and pushes dramatic elements in extreme abutment so that the image exists that carries the scene and establishes the discourse.
So much matter is conveyed in the seventy present minutes, and the film has lain so long under the misapprehension even of critics who, like Sennwald, regard it as beyond praise, that it is necessary to isolate major and minor themes and see the action of all parts and not merely those the critic agrees with.
Louie, the wanted criminal on the farm, turns himself in to save it with the reward. He asks the Minnesotan Swede, Chris, who refuses. He asks the New York blonde, Sally, who agrees. This is the Whitman proposal that is close to the center of the film and reflects its main action. Comradeship is only half the principle of democracy, inspiration of love is the other. Cummings has his "kumrads" ("they do not know how to love") to express a one-sided proposition.
So, while Mary Sims is the central image of farm and earth, only by leaving with Sally does John Sims hear "the old powerhouse" and return to dig the irrigation ditch.
That's sufficiently clear, and for the better part of a century critics have spoken of that ditch. The direct influence is on Ivens' The Spanish Earth (and the roadmending sequence in Rosenberg's Cool Hand Luke). A dubious print suggests a shadow forming a cross with the first sprouting furrow that would anticipate both the final image of Ray's King of Kings and the miracle in Roeg's Cold Heaven. A shot of the first-chair violinist gives Jewison's Fiddler on the Roof, John and Sally figure together in Capra's It's a Wonderful Life.
Vidor has very astutely observed his drama, which is partly that of rural and small-town life after The Crowd, his style serves him to convey it directly. Mary's "can I get you anything" as John restlessly prepares to leave is one of the countless examples of the apposite technique.
Stella Dallas
Lang's mediatrix, not Stella but Laurel Dallas, after a fashion. Above and below are stable, immutable but for accidents such as the senior Dallas's suicide and young Stella's fleeting craze for the social whirl. Two intermediary zones define conflict in the itching powder scene aboard the train, these are prurience and censoriousness.
Cassavetes in Love Streams supplies all the critique that shows a complete analysis.
The Citadel
Of all films, one most vital for critics to understand because the current of film criticism is an open sewer only the miracle of Elisha can avert, and then it is a clique and a charlatanry that costs your right arm to marry, finally a sham and the shadow of a profession.
Northwest Passage
The significance is "no royal road". At its center a study of melancholia (Konkapot disheartened), at the periphery a much more entailed look at various academic and legalistic problems, first and foremost an account of the raid on St. Francis even before Thirty Seconds Over Tokyo.
Vidor is well ahead of everything else, as is his wont, fifteen or twenty years in style and technique. So much has been observed, the absolute value of his treatment was noted at once. Nabokov's artist was a gorilla who "drew the bars of his cage", Vidor dispels the notion entirely by the most dogged effort, and if Fuller pays homage to Rogers' Rangers in Merrill's Marauders, Huston in Report from the Aleutians gives evidence as well.
The fine point is personal initiative threatened by Crown or hostilities in the French and Indian War, a clear-eyed and sanguine grasp of the situation.
The Fountainhead
Vidor shows his hand at the quarry, but the lightning strikes at the redesigning of Cortlandt Homes, insofar as this type of travesty is a common sight fifty years after, as often as not brought about by remodeling an existing building.
Whatever is entailed in the great work is symbolized, and above all the futility of certain received notions built on sand that are simply refuted by the plain sight of a competent building.
Those who are led by the nose or lead others that way are empty shells, there is nothing to contain that windy bombast of theirs, "form follows function".
Gary Cooper's inflections give such a convincing explication of Frank Lloyd Wright without any seeming effort that the case for the film is as self-evident as the architectural projects shown, that often come close to his work.
The New York Times review by "dear, dimwitted Bosley" is a real prize culminating in his parenthetical comment on the critic Toohey, "a character which carries fantasy to the extreme."
Beyond the Forest
Beyond the Forest is how Madame Bovary turned into Who's Afraid of Virginia Woolf?, a close study repaid with interest.
The inner line of an American parody, from Patrick Henry speeches against small-town life to a Boston Tea Party with a divorce lawyer, is a vast course of amusement.
The great calming effect of the structure is deliberate and mainstaying, the tale of death by poshlust has a magnificent score by Max Steiner.
Man Without a Star
Wyoming by way of Kansas City. How to ride the rails (Emperor of the North, dir. Robert Aldrich), what to do when you get there, how to wear an Army Stetson flat.
Big spread, open range, little spreads. The man from the East who has it indoors (The 'Maggie', dir. Alexander Mackendrick).
Title song (Frankie Laine), a parlous position, cp. The Tin Star (dir. Anthony Mann) or Lawman (dir. Michael Winner).
No fixed star is the meaning, only a loathing for Texas barbed wire (Lonely Are the Brave, dir. David Miller), a position and no position. The lady owner, no absentee. By stern degrees, then, to the elemental Western, The Sea of Grass (dir. Elia Kazan) or The Big Trees (dir. Felix E. Feist), cp. Forty Guns (dir. Samuel Fuller).
A.W. of the New York Times, "not the greatest Western to emerge from the Hollywood manufactories." Variety, "basic western... writing variations keep it fresh and the action high". Dave Kehr (Chicago Reader), "sexually askew... a mad film, of harsh Technicolor and spatially impossible camera angles... unlimited leeway". Tom Milne (Time Out), "fine, edgy Western." Halliwell's Film Guide, "conventional but entertaining".
Elemental as a poem by Robert Frost, and quite as much fun. The title character, no Bonaparte he (cp. the director's War and Peace).
War and Peace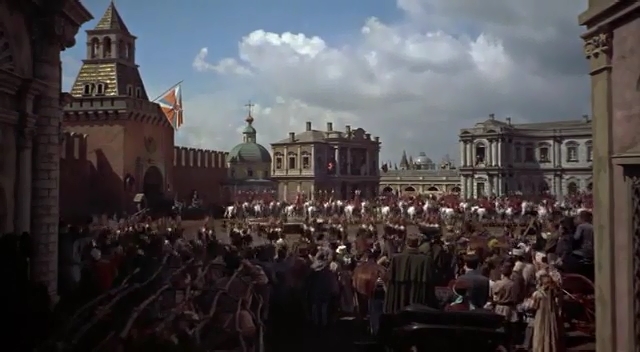 "It's so unfair," says frolicsome Natasha, "men are the only people permitted to have any fun." And a moment later, sad, "all those handsome young men marching away to fight—to be killed!"
And thus in five minutes the work is stated as a poem, starting with the ambivalent Napoleon of Sacha Guitry, depending on the point of view. A Tale of Two Cities (dir. Jack Conway or Ralph Thomas) for drunken Pierre (cp. Great Catherine, dir. Gordon Flemyng). The youthful outlook of Dmytryk's Raintree County. Homolka as Kotuzov (cp. Billion Dollar Brain, dir. Ken Russell), the defeat at Austerlitz.
"Men like Dolokhov are only good for wars. In between wars, they ought to be locked up in cages."
"Well, I found glory, I stopped the retreat of a hundred men for five minutes, I was left for dead in a lost battlefield in a lost war."
The carriage at night that drives on past in Madame Bovary (dir. Vincente Minnelli or Claude Chabrol) and The Heiress (dir. William Wyler), with a difference. The Battle of Borodino from The Birth of a Nation (dir. D.W. Griffith) to Love and Death (dir. Woody Allen), with a cue from Olivier's Henry V for the French emperor's tent beforehand, a notable memory of The Big Parade and Our Daily Bread in the infantry advance to steady drums, met by artillery at close quarters answered again with a full-tilt cavalry charge.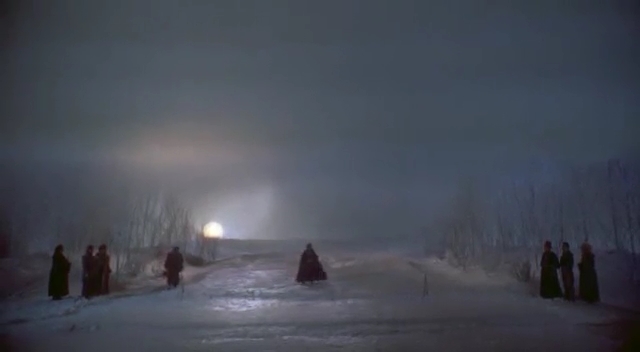 "There is no-one, Sire. The city is empty, half of it on fire. There is no government. No-one to surrender to you." The extraordinary stretto of the final third begins on Fleming's Gone with the Wind and Wyler's Jezebel and Borzage's A Farewell to Arms and Wyler's Mrs. Miniver, continuing in Wyler's Ben-Hur and Ford's Cheyenne Autumn and McLaglen's Shenandoah and Penn's Little Big Man and Roeg's Cold Heaven.
Screenplay Boland-Westerby-Vidor-Camerini-De Concini-Perilli, cinematography Jack Cardiff (second unit Aldo Tonti), score Nino Rota (conductor Franco Ferrara). A feeling for Russian painters, a close study for David Lean (Doctor Zhivago) in turn.
Bosley Crowther of the New York Times, "big and beautifully photographed spectacle." Variety, "three-and-a-half hours of vivid cinematic magic." Tom Milne (Time Out), "essentially hollow". Leonard Maltin, "overlong, oversimplified... clumsy script... some profound miscasting." Adrian Turner (Radio Times), "as a spectacle, it's still impressively humane, though not particularly Russian, and the casting is decidedly odd." Film4, "halfway decent movie". Catholic News Service Media Review Office, "episodic". Hal Erickson (All Movie Guide), "a commendable attempt". Halliwell's Film Guide, "the human side drags a little," citing Philip T. Hartung of Commonweal, "pictures in an art gallery" (Rota echoes Mussorgsky at Borodino).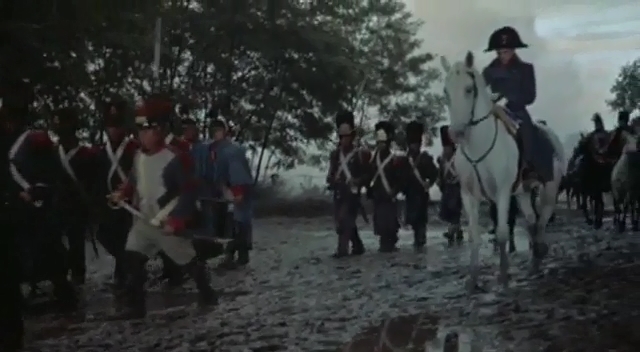 Solomon and Sheba
The main character is God, who shapes these events. The screenplay analyzes the story in three main aspects, the political alliances against Israel (Moab, Chaldea and Sheba combine with Egypt for a surprise attack), an expanded rendition of the accounts concerning the Queen of Sheba with a consideration of King Solomon's error, and lastly a rendering of the whole thing as a marriage parable.
A gong is heard when Sheba is to perform her devotions. She has just closed the curtains in her quarters at Jerusalem, because "my people would stay and stare at you, the fabled Solomon," to which the king replies, "the way I stare at you?" Then the gong, she's wearing a silver gown, it's a gag from Jet Pilot and is repeated later as she's standing in a doorway onto the blue, in a white gown with her back to the camera.
She attends his court of law where the case of the two mothers is decided. The canticle is spoken to her in a small boat amid overhanging foliage. A reflection of DeMille's The Ten Commandments inheres in her desire to leave the kingdom so as to carry out her pagan ritual. She is allowed to stay.
Victory is won when God strikes down the idol, smashes the temple, and pronounces against Solomon. "I have betrayed a great man who trusted me, who loved me beyond all else," says Sheba.
Nathan breaks the symbol of unity, twelve jewels on a golden tablet. "That which has been done is that which shall be done," muses Solomon, "all is vanity."
Adonijah scurries to Egypt for the throne. "All Israel knows," Solomon observes, "that God has abandoned the son of David." Sheba prays to God on the ruins of the temple, adhering to the covenant. Solomon wakes up in the night with an inspiration, his vanished armies rally to him. Their shields are "burnished like mirrors" to reflect the sunrise and blind the Egyptians, who fall into a deep gulch.
Adonijah is slain, Sheba is carried unconscious in the arms of Solomon before the ark, where God speaks and heals her after the people have stoned her at Adonijah's command, part of his deal with Egypt. "Now you will be Queen of Israel," Solomon says, "and our son shall rule after me." No, she counters, and they entreat God to keep faith between them as they part.
Henry King's David and Bathsheba is a very close influence, and Ben-Hur is evoked at several points (the low cave where the lovers repair before the lightning, the Egyptian chariots clashing hubs in the battle, the healing). There is a subtle foretaste of Fellini's La Dolce Vita in Abishag's prayer as well.
Naturally, so vast and complex a structure requires a detailed commentary. Joab and a confederate land on Solomon's terrace like two ninjas in Peckinpah's The Killer Elite. Solomon counters the prophets like King's David, "my ears are closed to cackling priests and mumbling old men, I will show you I am king in Israel." The temple, an impressive edifice, is blasted like City Hall in Byron Haskin's The War of the Worlds.
The performances are in the rhetorical style, leaving Gina Lollobrigida a superb opening for "is he—among the dead?" after the rout of the Israelites, and making the single finest shot not the angled view of soldiers in their ranks with shields on a rise, nor a medium long shot of the battle in full swing, but one of her in light blue walking at an angle from the ark over the rubble and out of the temple.
So close is the identification with The Ten Commandments that Yul Brynner has the line, "as it is written, so let it be done." George Sanders as warlike Adonijah is a night at the Old Vic. Finlay Currie as David mimes extremity, the two mothers are excellently well-played.
Adonijah and Solomon are "my two halves," says King David, "the soldier and the poet." The one looks down on the other as "a weaver of words" and "a hypocrite," and forfeits the throne by anticipation, chafing under the constraints of a defensive posture. Altman's Countdown has a similar equipoise between the civil and the military, resolved inscrutably.
Reverberations resound. Paul Newman's Harry and Son has a parrot taught by Joanne Woodward like the one Lollobrigida toys with during her sojourn in Egypt, proposing to "teach Pharaoh too" when he complains.
Wisdom, says Solomon, resides in determining what is true and what is false. Sheba confesses, "my love is not a lie."