Et Dieu... créa la femme
There is an exact congruence in the film of Saint-Tropez and Bardot, a surprising homeliness with a new allure, that makes it invariably exciting. That and the simmering decelerated version of Far from the Madding Crowd on the Côte d'Azur.
The fool who stands to inherit prefers Toulon. The millionaire thinks to make a killing on the docks. The innocent marries the girl and prevails.
This outward structure is rather like a Western, inwardly it's full of witty and cogent observation, magnificently filmed in widescreen and color. Vadim's compositions sometimes effectively divide the image into two playing areas right and left, the American television edit of the fine Bellucci dub cuts from one side to the other. The second-best analysis is by Ken Russell in French Dressing, after Vadim's And God Created Woman.
Godard and Truffaut highly praised the film, but the latter in particular does not seem to have grasped it, their esteem for the director slipped a bit. The New York Times felt it was being exploited merely.
Even on a small screen, the beauty and variety of the filming is remarkable, careful attention pieces together those compositions. "There is no plot," said Crowther, but on the contrary there is one of the greatest significance, an analytical view of the old fishing town realized with perfect understanding and the highest art.
Les Liaisons Dangereuses 1960
A theme very dear to Carné, and with a similar result.
Critics were mainly vituperative, Vadim's analysis of a marriage in name only fell among thorns. "Film is somewhat long and tightening would help" (Variety). Bosley Crowther, who tells us in his New York Times review that it followed on the heels of Fellini's La dolce vita, proclaimed it "this dull exhibition of boudoir chess."
"Silly" (Jonathan Rosenbaum, Chicago Reader). "Bounces along as if it were a great film" (Desson Howe, Washington Post). The "weakest" of all the film versions (Time Out Film Guide). "Showy" (Halliwell's Film Guide, citing John Russell Taylor in the Monthly Film Bulletin, "a woman's picture par excellence").
War is declared, as later in Nichols' Who's Afraid of Virginia Woolf?, here it is waged around a cocktail party with trumpet and drum.
Et mourir de plaisir
A Germanic vampiress strikes in Italy and perishes, leaving the new bride under her power.
A subtle joke, not too subtle as it entails unexploded Nazi munitions going off in a fireworks display at a fancy dress ball, but one quite beyond the grasp of small-town critics like Howard Thompson of the New York Times.
The title, construction, and several of the many details are used later in various ways for Metzengerstein and Barbarella, the technique of filming is a transition from Et Dieu... créa la femme.
The slight reorganization of the American version, Blood and Roses, elides a kinship to Buñuel (Cet obscur objet du désir), reportedly.
le Repos du Guerrier
A full-scale analysis of Lubitsch's That Uncertain Feeling, carried out in the spirit of scholarship and exhaustive inquiry, everything that masterpiece deserves.
Directors make the best critics. What is owed to La dolce vita is repaid to Giulietta degli spiriti (Vadim's film passes from Dijon to Paris and Florence). Sight and Sound admired the drama but regarded the work disdainfully, calling it "undistinguished as cinema", a perfect tribute since Lubitsch met the same reception.
La Ronde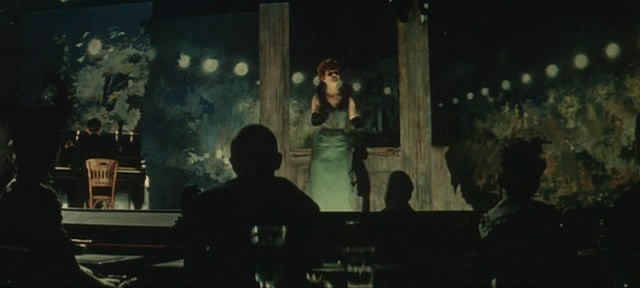 Anouilh's Schnitzler, Paris (Maurice Binder), Henri Decae.
The whore and the soldier... Déroulède's revenge.
Germaine et Rose... Quite the classique, Vadim, and ever the accomplished technician.
Rose and the scion... studying administrative law intermittently.                  
The scion and Sophie... and Stendhal.
Sophie and her husband... "we live in an era decidedly without history."
Henri in a private dining room... with the sister of the man who does Madame Réjane's hair.
The girl at a renowned nightspot... with a man who drives an automobile and keeps a Chinese valet at his admirable æsthetic lodgings that include the divan from Wyler's Funny Girl ("isn't this the height of nonchalance"), a writer, "I could have won the Nobel Prize, if they'd thought of me," he writes plays and discovers talent, "mais zut alors c'est des vers," Molière's Psyche.
The author and (after a joke from Citizen Kane) his leading lady... at Maxim's, love she believes in only when there's music, "I could learn to play an instrument," he offers, "it's only at Maxim's that you really feel at home."
Jeanne (her real name) and the young Count in uniform... "I positively detest nature."
The Count and the whore... 1914, "I didn't like you much, but I'm a patriot."
Eugene Archer of the New York Times saw it dubbed as Circle of Love and pronounced it "a total debacle... dull, pointless, ineptly acted", etc., he did not stop there.
"Insouciant, elegant, witty", said Variety.
Andrew Sarris (Village Voice) saw it with subtitles and agreed with Archer. Various reviewers professed to be scandalized, though Vadim makes plain that it is "the love in a life, the life in a love."
Halliwell's Film Guide plumps for Sarris and Archer.
La Curée
This time on Zola, a very intensive study of the themes in Les Liaisons Dangereuses 1960, especially the jeune étudiant is aggrandized for satirical analysis.
Critics had no use for this either, "worse than nothing" (Bosley Crowther, New York Times). "This melodrama is sleek and elegant if sometimes short on motivation" (Variety). "A tedious and ridiculous film" (Roger Ebert, Chicago Sun-Times).
The title is what the dogs have after a hunt.
The spectacular surfaces are the crème de la crème, pictures by Claude Renoir.
The material is at the same time more abstract, diffused, even inconclusive, thereby gaining on the schematic layout of the earlier film in subtlety and force without loss.
Metzengerstein
Histoires extraordinaires
Spirits of the Dead
Tre passi nel delirio
An obscure feud in Hungary, quite transposed in context to Brittany and the seacoast.
The joke was lost on all, it would seem, except Canby.
Barbarella
Aldrich's Sodom and Gomorrah is the "essence and truth" of the matter (thus Sogo, the City of Night), with Woody Allen's Sleeper following on (for Dildano's revolutionary forces).
On a mission from the President of the Republic of Earth, a perturbation crash-lands her Alpha 7 spaceship, the twin nieces of the Great Tyrant shanghai her to a children's lair with menacing dolls, the Catchman takes them away like the Child Catcher in Hughes' Chitty Chitty Bang Bang and repairs her ship ineffectually, sending her deep underground by terrascrew to the angel in the labyrinth outside Sogo, this complex prelude mirrors and sums up the action.
The scenic troubles, exhaustingly filmed, go back to Cocteau and Méliès and look sideways to Kubrick's "Manhattan Project" for 2001: A Space Odyssey (not to mention Alfie the faggot computer), from a vantage point encompassing Fleischer's Fantastic Voyage and Roddenberry's Star Trek and Pal's Atlantis, the Lost Continent, as well as a direct citation of Hitchcock's The Birds ("this is really much too poetic a way to die!").
The Excessive Machine and Barbarella's response to it ought to have been self-evident from the start (cf. Rex Beans in Russell's Tommy), but critics have been woefully recalcitrant with this science-fiction masterpiece (Renata Adler went to see it for the New York Times, "it has no poetry or logic," she reported dutifully). However, if the Catholic News Service failed to see the point, one must hardly be surprised at Variety ("isn't very much of a film") or Tom Milne of Time Out Film Guide ("typically vacuous titillation"), not to mention John Simon ("a flaccid, jaded appeal to our baser appetites").
Et mourir de plaisir is significant for the theme. The Laurentian style is that of Hodges' Flash Gordon, subsequently, and is concurrent (in Barbarella's spaceship) with Resnais' Je t'aime je t'aime.
Rauschenberg and Italian art deco are among the influences on the décor, also Dali's Corpus Hypercubicus ("decrucify the angel! Decrucify him or I'll melt your face!"), and Michael Powell's Herzog Blaubarts Burg for the Queen's Dream Chamber.
An endlessly artful, ceaselessly beautiful work of genius.
pretty maids all in a row
Vadim in L.A., which he recognizes as the Côte d'Azur, like Schoenberg before him.
The dilemma is clarified out of Molière and Milton, Paradise Lost for the young swain and Don Juan for the teacher.
The precise formulation of this is left to the spectator's understanding. Critics who could not perceive the comedy were naturally at a loss for its implications.
And God Created Woman
In the first half, Vadim does the difficult immediately. He can direct impractical actors, non-actors, and children. He can also direct women. Whether this is the foundation of his art or the supreme expression of it is a little hard to tell, because his technique is so well-engineered it always has several things going on at once, effortlessly.
It takes a bit longer to do the impossible, so he leaves it for the second half, when it serves its dramatic purpose. And then, in the last frames, he throws in a little joke to make light of his accomplishment.
The critical and public reception of this leaves one lank with dizziness. Critics saw no relation to Vadim's original, despite the fact that nothing is so clear as the formulation De Mornay-Spano-Langella/Bardot-Trintignant-Jurgens. The box office receipts were laughable.
With an actor like Frank Langella of Broadway, Vadim is able to provide a rare setting for the display of his art. Vincent Spano, who was a game stooge in Creator, is actually quite a good actor. Rebecca De Mornay is set free to handle all the complex problems of a difficult or even impossible role as if acting were really a worthwhile occupation that requires a great deal of skill and ingenuity to be successful at, and which provides a great deal of enjoyment to the performer and the spectator.
Saint-Tropez is now Santa Fe. De Mornay is an ambitious slut who escapes from prison and meets a gubernatorial candidate (Langella) who helps her slip back inside unnoticed, and later helps with her parole, which she wins by paying a carpenter (Spano) to marry her in name only. She wants to be a rock-and-roll songwriter, leading a band.
Vadim doesn't miss a thing, but he has no axe to grind. His characters are recognizably human, and so is what happens to them. This constitutes drama, in his view. His sangfroid and his wit sustain him through the barrenness he finds as his proper ground for preparation and planting, whereas the critics were lost after fifteen minutes.
New Mexico receives the startled vision of its ancient and modern dwelling-places (not the landscape) like a burden relieved. His Santa Fe is not a tourist trap nor a cultural Mecca but a small town in a unique place where people live their lives, and one of them was Randall Davey, the painter whose house is now a museum where a crucial scene was filmed.
A rock promoter says of De Mornay, "Can't sing, but she's got a great ass." Another one agrees. "I feel the same way about that. Great ass! Can't fucking sing!" Vadim is nothing if not economical.
Like a classical drama, this attains the farmost of various eccentric orbits, then settles down to the music of the spheres.