The little man, all of six, is told by his father with a great loudspeaker to pile up books so as to reach the title from inside the vault at the South York branch of Crown Canada Bank in Toronto, alas, this is unavailing, vanity, saith the preacher.
Long efforts against the short supply of air bring in policemen and an expert and work crews, Thornton Wilder has this to say in The Bridge of San Luis Rey, "writer to reader".
"Many happy returns of the day," says Astronaut Poole's father, it's the little man's birthday.
Film4, "an efficient little thriller". Hal Erickson (All Movie Guide), "a textbook example of how a talented director and cast can do a lot with a little."
The first call for help is to Dick Hallorann (Kubrick's The Shining). The assistant general manager explains, "a modern vault like this is virtually impregnable." A splashback burns a welder's face, cutting through. "He'd better have a magic wand, expert or not, that's the only way he'll get in."
"One more thing, there's no pay." Mallarmé's navvies, "shift after shift of workmen has moved in to maintain a feverish pace in their efforts to break into this apparently impregnable vault."
Halliwell's Film Guide, "acceptable".
The Vicious Circle
A positively electrifying experiment to outdo Hitchcock, and one that works. It's all up and down in the air from a number of sources that can be reckoned, and they don't matter a damn (Capra has the chum on the phone in It's a Wonderful Life).
Hitchcock repays royally in Torn Curtain, etc. The old friend who flunked medical school has it in for a physician on Harley Street, strictly a matter of business involving fake passports and blackmail, the heat is on. But it's all about the good doctor and his patients and his long-put-off fiancée.
Exquisite technique in the screenplay and the direction is more than the actors can handle, or nearly, for it fairly jumps from the very start, wasting not a second throughout.
Poor Bosley Crowther thought it was all rather British, for the New York Times. "Entertaining whodunit", says 'Alliwell.
Carry on Sergeant
Ten weeks in the National Service, the full course of training.
It is mainly a downward slope toward the absolute zero of imperfection, at which point a remarkable change occurs, this is expressed in a sudden grasp of the circumstances, and the fastest psychiatric cure in the cinema.
"Without being the least bit original or inspired," Howard Thompson wrote in the New York Times, it promised "no pain" and "absolutely no harm."
Variety observed "no attempt to develop a reasonable story," and yet "by no means sloppily produced."
Time Out Film Guide uses the occasion of "this waggish army farce" to pronounce against its successors, "bogged down in a preoccupation with tits and bums."
Halliwell's Film Guide sums up this view, "shabby farce with humdrum script and slack direction, saved by energetic performances."
Carry on Nurse
Men's surgical ward, overseen by student nurses, staff nurses, sisters, and matron.
American critics were alarmingly unable to find any significance in it, "this film has been a vast success in Britain," Bosley Crowther wrote in the New York Times, "don't ask us why."
Variety understood the filmmakers to have "merely dreamed up an anthology of hospital humor."
Carry on Sergeant is relatively simple and even that was too much for critics. The characteristic move by Thomas is to seek ever greater complexity and subtlety and be hanged for a sheep.
Carry on Teacher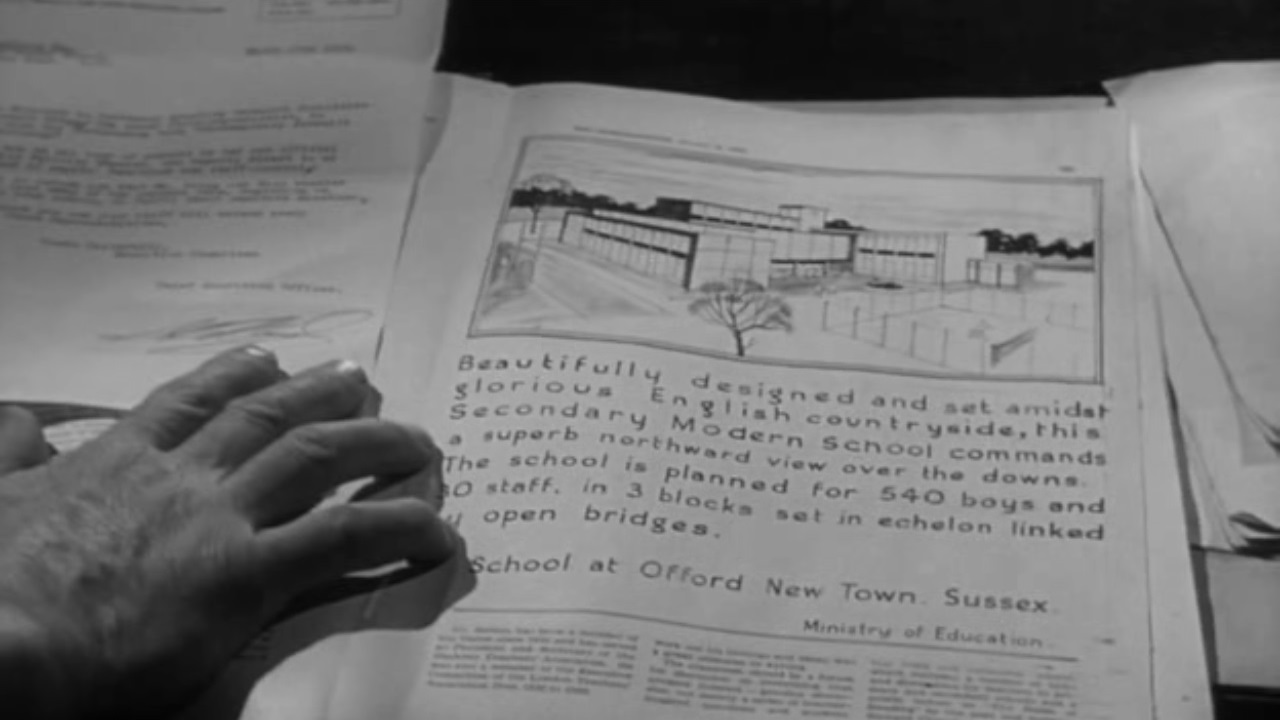 "Think of a psychiatrist loose among these children," author of The Angel Behind the Cosh, and with him an inspector from the Ministry. The kiddies have a strategy ("good generals take advantage of setbacks, turn them into victories"), but love strikes home in the persons of Miss Allcock (her whistle's out of whack, "they've taken the pea!") and Mr Adams (cf. Gilliat's Left Right and Centre).
Question of a veritable posting nearer to home for the Acting Headmaster, placed in jeopardy by the two authorities on a tour of the realm (cf. Gilliat's Only Two Can Play). There is also The Class of Miss MacMichael (dir. Silvio Narizzano). The grand itching-powder scene ends in a Three Stooges conga line (Mutts to You, dir. Charley Chase), cp. The Big Job. Romeo and Juliet accompanied by the school orchestra, a shower, "if music be the food of love, belt up."
In its view of educational sanity imperiled at every hand, practically the original of Resnais' La Vie est un Roman.
Robert Ross (Carry On Companion), "a delightfully naive vision of the education system". Variety, "cheerful impudence". David Parkinson (Radio Times), "Ray comes across as something of a prig and a cloying sentimentality dogs the whole affair, but it's still fun." TV Guide, "with such an easy target, it's impossible to miss."
Please Turn Over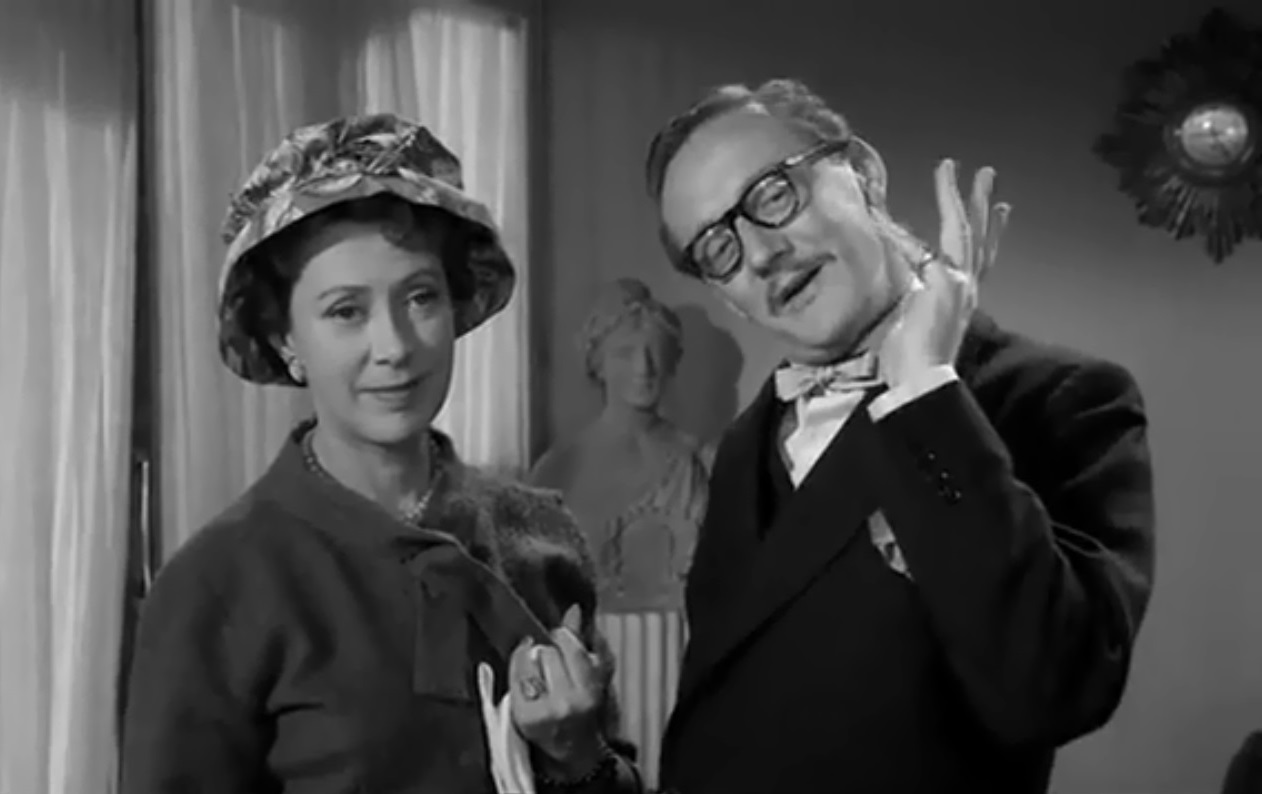 Suburban life seen as at peacefully deranged loggerheads suddenly upended by an authoress scarcely out of school whose "sensational best-seller" is called Naked Revolt, a work of fiction. "Hello! Who? Pinewood what? Story department?"
Louis Malle of course famously follows a line of thought in this direction from Zazie dans le Métro to Black Moon. "Madam," says the trainee hairdresser, "it's just a story, I made it all up, honestly." Then there is "the angry young man", a playwright who's "not in the least angry! He's a delightful young man..."
And so, it's not so very far from Preminger's The Moon Is Blue after all. More loggerheads... "a place where respectability is built in with the plumbing" and Thomas films it as written, "but we were a living lie..." And damned if the girl hasn't a surrealistic grain of truth that leavens the whole lump, which is what makes this a masterpiece from the land of Alice in Wonderland, "my torment was nearly over. I suddenly saw no need to hide my head in shame..."
Last in the know are her parents, the main characters of her roman à clef. "What's happened to your cool aristocratic demeanor now?"
"You leave my family out of this!" The angry young man has a West End play, Decay... "I write what the public wants because it pays off, not because it's me."
Norman Hudis on the job from another called Book of the Month, Carmen Dillon on the set, Ted Scaife cinematography, Alan Hume camera, Bruce Montgomery score.
Britmovie, "winsome suburban comedy". Leonard Maltin, "OK froth". TV Guide, "consistently funny... a witty and insightful look at suburban paranoia and morals." Halliwell's Film Guide, "acceptable but uninspired".
Carry on Constable
Further reaches along the Hudis line from Carry on Sergeant, police officers out of training school learning the ropes with a fine surrealism carefully modulated to give the proper result in subsequent films.
Gordon Parks translates the lot to New York in The Super Cops.
Carry on Regardless
The very definition of muddling through, chimps at a tea party, birds of a feather, brides and bachelors, much differentiation of language in the stress of circumstances, the lot.
Raising the Wind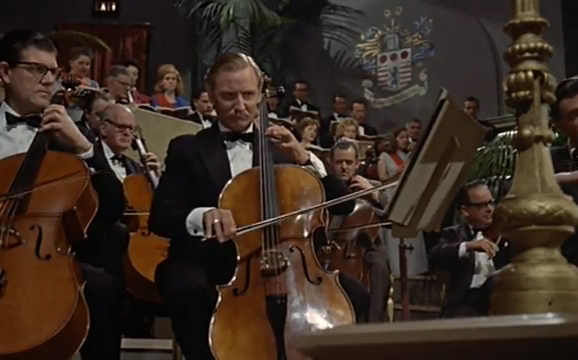 Boulez at Ojai handed out a local scholarship, "it's a difficult career, but a very rewarding one." The entire musical construction of the film is centered on "the greatest living English composer" and his teaching method, along with the rudiments of training in the performers to reach his diapason, as it were.
The secret of musical composition, which is not a matter of personalities (cf. Hawks' Twentieth Century) nor of formulaic phrasings that might sell crisps or soap and are anyway old hat but something else again (Gershwin's lesson with Ravel is explicated), the element of performing that is not a celebrity appearance nor working a fiddle but hard work and no mistake, the art of conducting as anything but an imposition (cf. Powell & Pressburger's The Red Shoes).
Bogdanovich certainly seems to have made a difficult but very rewarding study for What's Up, Doc?. The abstraction and urgency and vicissitudes of a musical life are conveyed first and last.
Screenplay by the composer, sets Carmen Dillon, cinematography Alan Hume, score Bruce Montgomery, sketches Hoffnung.
Film4, "successful formula". Time Out, "like a museum piece". Britmovie, "lively... a little thin... rather limply..." Eleanor Mannikka (All Movie Guide), "funny, sometimes slapstick". Halliwell's Film Guide, "good moments... dross."
Watch Your Stern
A perfectly symmetrical comedy, HMS Fox, a Scotsman, a woman, HMS Terrier, somewhere in the middle an American with ice cubes and the sunken bicycle.
"Sink me," as Sir Percy Blakeney says.
Carry on Cruising
An essential film (Carry on England), built up from several elements, the psychology of girls at sea, two weeks in another ocean, Truffaut on tact, HMS Ulysses, quite mogadored, a bit of Askey, a touch of Formby, and a continuous run of Raymond Roussel's Impressions d'Afrique, in which everything but everything turns out nice for Captain Wellington Crowther of the S.S. Happy Wanderer, his staff and crew and passengers.
Carry on Cabby
The neglectful cab magnate finds that idle handmaids are the devil's playground.
Formby has something like the taxi roundup from silent comedy or the end of Crichton's Hue and Cry, Marshal Sam McCloud quite precisely in "The Great Taxicab Stampede" (dir. Ivan Dixon) around New York.
Carry on Jack
The Royal Navy against Spain, Captain Fearless mistakes Cadiz for Le Havre, Midshipman Albert Poop-Decker is not himself, HMS Venus sinks the Spanish Armada, a splendid historical re-creation, and the long lost Roger is a pirate on the high seas, sea legs and desk jobs are the sum and substance of it.
Carry on Spying
Enter the milkman, agent of STENCH.
He is only a tool of man-woman Dr. Crow, first of his and her "super-race", whose Automation Area only those with "charmed lives" escape.
A Robbe-Grillet thriller at Hakim's Fun House in Algiers (Cribbins warbles and Windsor shimmies).
The 39 Steps but most importantly Dmytryk's Murder, My Sweet (Richards' Farewell, My Lovely) and Furie's The Ipcress File, establishing the connection.
Vadim's Barbarella defeats the Brain Disintegrator or nearly, Gilbert's You Only Live Twice is envisaged (rails, corridor).
An agent of SNOG saves the day.
Variety had no more a clue than the latter-day BFI, but Carry On Companion pronounces it "vintage."
Carry on Cleo
The Romans in Britain, the Britons in Rome.
"Now for heaven's sake relax, stop playing with your thing," the Imperial Sceptre (cf. Roy Del Ruth's Du Barry Was a Lady).
What a stretto concludes the piece.
The Big Job
The married state, as considered vis-à-vis a life of crime, tout simple.
A Three Stooges feature and no mistake, displaying a great deal of erudition that gives a name to Anglo Amalgamated like the Amalgamated Association of Morons, Local 6⅞ (cp. Carry on Teacher).
Carry on Cowboy
British drainage engineer cleans up Stodge City.
Title song, saloon number.
With Charles Hawtrey as John Gielgud as Chief Big Heap, and Kenneth Williams as Raymond Walburn as Mayor Burke.
Carry on Screaming!
A particularly brilliant horror film and quite a carry on, which confused Variety a bit.
Electrically undead Watt and vamp sister Valeria turn beautiful girls into shop dummies, henpecked Det. Sgt. Bung and his assistant Slobotham fend off Oddbod the revived extinct Homo gargantuoso, Dr. Jekyll's potion thrills several, lightning strikes and Watt goes into the vat with his mummy Rubbatiti.
Don't Lose Your Head
A mighty comedy, for "men and women of both sexes." Same old entertainments, if you like, "same old balls." As they say in America, Carry on Pimpernel (here it's "two digits rampant").
Variety, "passing nonsense".
Richardson's Tom Jones at the "lit et petit déjeuner". The old pepper-in-the-snuffbox trick. "That sort of thing is bound to happen with those low-cut gowns." Aristos. "There is a beautiful spot in the arbour."
"Oh, really? I had no idea we were so near the sea."
According to Carry On Companion, "a rip-roaring romp" twice over. "A silly Ffing" is the Black Fingernail, "with two Fs." Duc de Pomfrit, "I haven't tried death but I've tried the other thing, it's not half as bad as they say." Increasingly, a cartoon (duel, gunpowder trail, tree catapult). "What you tryin' t' do, make a play of it?"
Citizen Camembert of No. 9, "one of the finest collections in France! Ruined! Gone forever!"
Follow that Camel
An exquisite Geste. "With your permission, I think I'll go mad." Colour Sergeant Nocker with a chestful of medals from "many an old fiddle played on a good dune," to him B.O. West lately ejected from his cricket team, also Simpson his valet, a volunteer. "Well, why don't you take off your clothes and pull up a chair?" This to Corktip, a new addition. "Ah, Egypt, land of mystery, home of the mighty fairies."
"You mean pharaohs."
"I know what I mean." Legionnaires against a raft of Riffs, "and peace on you, too." Your white woman is a rara avis, "there's an old Arab saying, 'the whiteness of the snow is as the blackness of the coalhole, when there's no light.'"
Carry On Companion, "a disappointing historical parody". Variety, "adequate excuse".
Midnight in the Street of Many Fools, No. 10, "yoo-hoo, it's me, the desirable one." Trapped in the harem tent, "bo to you, too." The voice of Abulbul, "quiet, let's hearken." Lady Jane at the Oasis El Nooki, Defence of Fort Zuassantneuf, à bas le coq gaulois! Hotel Miramar, now that's a mirage.
Carry on Doctor
or
Nurse Carries on Again
or
Death of a Daffodil
or
Life Is a Four-Letter Word
or
A Bedpanorama of Hospital Life
The National Health.
Carry On... Up the Khyber
or
The British Position in India
Mainly a question of tiffin.
Also underpants amongst soldiers of the 3rd Foot & Mouth, guarding the Pass in kilts.
The Burpas are revolting, as Mel Brooks would say, led by Bungdit Din and his ally, the Khasi of Kalabar.
Carry on Camping
or
Let Sleeping Bags Lie
As T.S. Eliot would say, "who is that Muggins who walks always beside you?"
Typical situation, mens wants womenfolk nude as can be, the lasses aren't having it what with mum and all, girls seems a likely way out but they're off with a rave-up squelched in the neighboring field, that leaves things open.
"O Nature, green unnatural mother."
Carry on Again Doctor
or
Where there's a pill there's a way
or
The bowels are ringing
or
If you say it's your thermometer I'll have to believe you, but it's a funny place to put it.
Rothwell on Hudis once more, transcending the scheme with an island cure for overweight, the alternative is too horrible to be contemplated.
The very fine technique of script construction and filming is a cumulative effect.
Carry on up the Jungle
Lady Evelyn finds her long-lost son in a loincloth whilst on safari with Boosey and Chumley and Tinkle, also her husband Walter, now King Tonka of Aphrodisia.
The Nosha tribe nearly do the safari in stewpots, rescue comes from the Lubby-Dubbies of Aphrodisia, who are sore in need of men.
The son, barefoot in the City (cp. Carry on Camping), sets up housekeeping with Lady Evelyn's maid amidst the branches of a suburban tree
Carry on Loving
or
It's Not What You Feel, It's The Way That You Feel It.
or
Two's Company But Three's Quite Good Fun Too.
or
Love Is A Four Letter Word
or
It's Just One Thing On Top Of Another
Like the man said, "it's all done by computer nowadays."
An extremely masterful comedy that ends in a Laurel and Hardy pie fight extraordinaire.
Carry on Henry
or
"Mind My Chopper!"
He's had his six or nearly, Marie of France is next, the garlic-eater with a cousin on the throne, then Bettina of Bristol.
Cromwell and Wolsey are in it, the right bloody end of Fawkes is a feature.
Carry on at Your Convenience
or
Down the Spout
or
Ladies Please Be Seated
or
Up the Workers
or
Labour Relations Are the People Who Come to See You When You're Having a Baby
The boss's son and the union rep at Wm. C. Boggs & Son, toiletmakers, established 1870.
They quarrel over a doxy. The works foreman has a system on the races, a bird tells him everything, his wife's.
The artistic design of a bidet has a market, hither and yon, requiring a capital investment, and there's tea for the workers. "Union business." The annual works outing, in the midst of a strike, takes place at Brighton, a mixed affair beside the seaside.
The finale is On the Waterfront and then some, "Fair Do's for All!"
Carry on Matron
or
"From Here to Maternity"
or
"Familiarity Breeds"
or
"Womb at the Top"
or
"The Preggers Opera"
They appear to be wanting the pill rather badly in foreign climes, therefore thieves plot to rob the Finisham Maternity Hospital of its supply.
Again Rothwell on Hudis, this time back as far as Carry on Sergeant for the extended analysis of hypochondria that is the essence of the plot construction (cf. Bergman's Nära livet for the military life and motherhood).
Ross (Carry on Companion) drops the mickey in, forestalling the Press. "Contained no hint of political comment or dubious materialistic ideals... a complete and utter wallow" etc.
Carry on Abroad
or
What a Package
or
It's All in
or
Swiss Hols in the Snow
A lengthy weekend on the isle of Elsbels in the Med.
The seventeen quid group tour.
As the Italian impresario says in Renoir's Le Carrosse d'or, "it'll be nice when it's finished."
Carry on Girls
Rainy seaside Fircombe holds a beauty pageant.
There is a very striking resemblance to Charles Frend's Barnacle Bill, very important but perhaps a way of saying it never rains but it pisses.
Anyway you know where you are, between the corporation and the women's lib bunch.
Carry on Dick
Creation of the Bow Street Runners, Sgt. Jock Strapp is detailed to capture "Big" Dick Turpin, alias Rev. Flasher, rector of St. Michael's, parish of Upper Dencher (cf. Delbert Mann's Fitzwilly).
The Old Cock Inn... Captain Fancey on the case.
Carry on Behind
The structure is geological and archæological, a caravan site built atop a Roman bivouac with adjoining bordello.
A bit of rain, and holidaymakers fall into it.
Experts on the site include a Slavic lady professor, an authority on the subject.
Carry on England
A veritable work of genius on Sergeant Major Willy, who's had no luck with 'em, and Captain Adolf the new C.O., taking a mixed anti-aircraft battery of R.A. and A.T.S. to task.
Robert Ross, no friend of the work, writes in Carry on Companion of "poor material" and a "woefully poor reception from the public", of which he is most certainly a member.
Variety said, "it's not funny!"
Radio Times says, "woeful effort".
Film4 says, "weak script."
Empire has "realms of the unwatchable."
Carry on Emmannuelle
The point, which is rather grand, is passed through the comedy vortex of the skydiving French ambassador impeded by a church spire, so his wife regales England whilst he builds his body relentlessly.
Russell picks up the nuances and the punchline (from Annakin's Miranda) in Crimes of Passion and The Insatiable Mrs. Kirsch.
Carry on Columbus
To commemorate his voyage five hundred years on, this masterpiece.
Cinematography by Alan Hume, score by John Du Prez, "additional material by John Antrobus".
A comprehensive history, Turk to Torquemada, the Bar Mitzvah Triangle, American Indians (a great work of ethnographic scholarship), and so forth.
In that year, the Smithsonian Institution told the children of America that Columbus was a bum, and then it went home.