L'École des Facteurs
The postman's bicycle knows his rounds,
It stops at the café,
And when he catches up to it
It speeds him on his way.
To the airport, to meet the mail plane.
Tati's bristled galoot, newly graduated from the P.T.T.'s institut des hautes études.
A brilliant reel et demi with a Keaton flurry at the finish.
jour de fête
Arrival in the little town of the even littler carnival, which nevertheless brings news of the outside world, the "rapidité" of the United States Postal Service, which sets off a remake of L'École des Facteurs.
The film gets drunk with François halfway through, at the height of the festivities.
Fellini is a great beneficiary of this, Satyajit Ray borrowed the old woman for Pather Panchali.
The soundtrack is very fulsome, more than anybody's.
"A poem is a jour de fête in the world's eternity," wrote Borges.
A film universally praised and admired.
The "version couleur" goes a long way toward redressing a misadventure, in color the film is fauve, that is to say wild.
Tati's affinity for les Britanniques gives rise to something very like Spike Milligan or Monty Python's Flying Circus, his imperishable postman.
He knows better than anyone how to regulate a film, for a hundred minutes he shows this. For one second François back at the post office stops the film ("this is starting to drag") while he freshens up, then it's off to the punchline, "if it's good news, it'll keep" (Robert Frost has his version, "Why hurry to tell Belshazzar / What soon enough he would know?").
"With him," says Godard, "French neo-realism was born. Jour de Fête resembled Rome, Open City in inspiration."
Les Vacances de Monsieur Hulot
The great Keaton went to France and did not come back emptyhanded, the opening scene of holidaygoers and passing trains at the depot proves it (with a bit of Mercier and Camier's mixup over the horaire).
From Chaplin the loudspeaker and the horn on Hulot's rattletrap, etc. Something of Octave about him, somewhat in the Renoir genealogy, Boudu...
Les foules, a great study of the crowd, as Baudelaire has it from Poe. Tati's strongest resemblance in this role is to Laughton as The Hunchback of Notre Dame (dir. William Dieterle), another great study.
A technique exactly akin to Ozu takes the measure of the scene with the camera quite still for a moment on the tableau before it.
Hulot's service, thrust and slam. His riding crop and spurs are too much for the Hôtel de la Plage, but it's a matter of keeping the salt water taffy from hitting the sand, merely. The Minister of State, "de quoi s'agit-il?"
Robbe-Grillet takes up the continuous soundtrack. The refreshing and illuminating fireworks-finale is a feature of Stevenson's Mary Poppins.
"The best French director of comedy since Max Linder" (Godard).
Bosley Crowther of the New York Times would have lopped it off somewhat, "most of it is good, fast, wholesome fun." Variety, "a load of yocks." Halliwell's Film Guide is of two minds, Penelope Houston's and the Monthly Film Bulletin's.
Mon Oncle
The subject is very Baudelairean, it begins with "Les bons chiens" and ends there as well. "Le soleil" properly applied has the same effect as in the poem. "Paris change! mais rien dans ma mélancolie n'a bougé!"
The nature of the enemy, the enemy of mankind, the enemy of M. Hulot, is Tati's great discovery or invention here. M. et Me. Arpel live in a fashion world more severe than Versailles, he extrudes hoses in an endless stream of Plastac products, she administers the kitchen like a clinic.
Outside of their world is PARIS, nothing less. The natural hostility of Arpel toward his brother-in-law is increased to rage by his son's liking for Hulot. "What does he want to do, take my place?"
The Baudelairean position par excellence. Kafka's Die Verwandlung conveys the uncle off at the airport, where a certain joke is, in spite of all, imparted to the wisdom of Arpel, whose brand-new tricolor car is Baudelaire or Rimbaud pink-and-green and purple. Hulot is to be a traveling salesman for Plastac. Workmen are busy dismantling the city right in front of the camera as Tati films them at it.
"Quarter after quarter the liquidation of the world goes on without interruption, without distraction," says René Char in the poem called "Common presence", and he continues with a word of counsel that certainly explains something at the very least about Tati's preternatural calm in the face of complete disaster, well before the alarming and terrible histoire of Play Time, at the summit of his art, headed him toward the ranks of failure on the order of Rembrandt and Whistler, no less. "Swarm the dust," Hypnos concludes, "naught will manifest your union."
Baudelaire's own version of the little joke is told by him at some length in "Une mort héroïque".
"Tati, like Bresson, invents cinema as he makes a film," says Truffaut, "he rejects anyone else's structures."
Play Time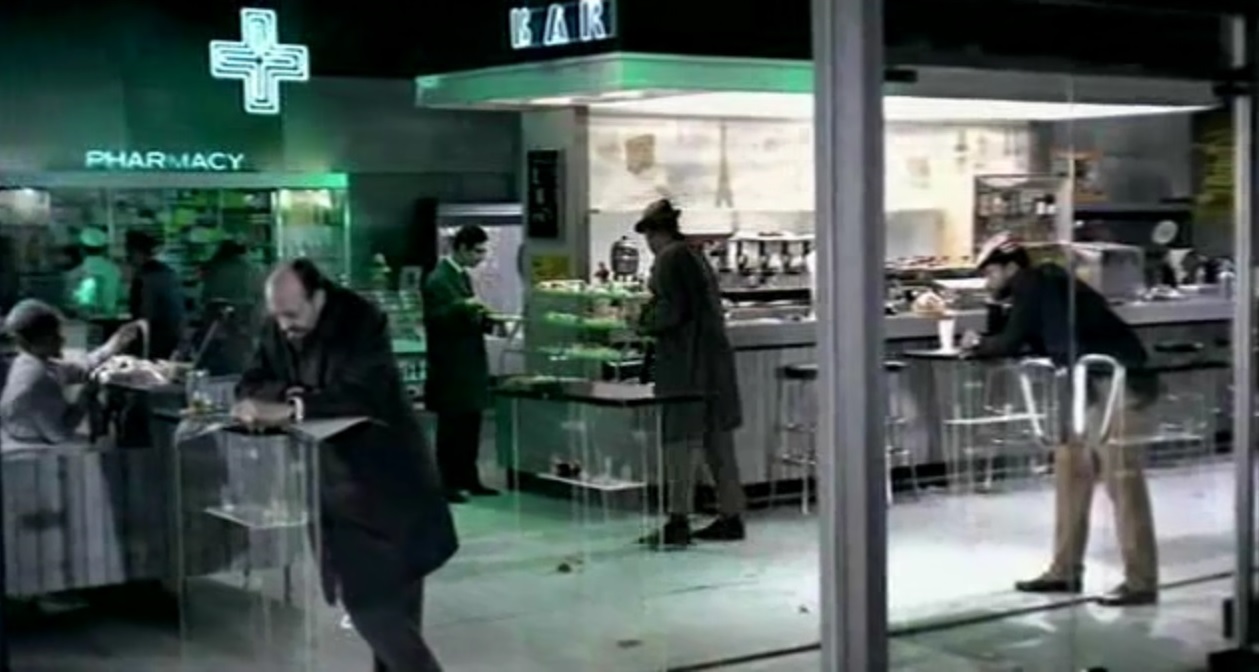 "Il faut être absolument moderne." Tati, heir of Chaplin (Modern Times), Lang (Metropolis), Welles (The Trial). The jour de fête theme in Schneller ("time is money"), vieux copain from the Armée.
An exacerbation per terribilità of Mon Oncle, Paris is subsumed, gone without trace (cf. Godard's "Laviamoci il cervello" in Rogopag), but there are various monuments reflected à la The Magnificent Ambersons, cities and whole nations have gone the way of La Ville Lumière...
A wealthy American is instrumental in the Liberation, but first blood to M. Hulot.
The filming is very close in style to Hitchcock, from Torn Curtain and The Birds to North by Northwest. Fellini is in evidence (and Keaton, of course). The conclusion is reached along with Antonioni (L'Eclisse), streetlights that are lilies-of-the-valley... and the next year, Blake Edwards filmed The Party.
It did not occur to critics that a point was in question, therefore it was not even reported missing. Vincent Canby of the New York Times praised the film in spite of that, in spite of everything, like Petruchio he'd buckler it against a million, "Jacques Tati's most brilliant film, a bracing reminder in this all-too-lazy era that films can occasionally achieve the status of art." Variety, "funny and constantly inventive." Desson Thomson (Washington Post), "we can use as much sophistication as we can get." Elliott Stein (Village Voice), "the tiniest plot ever filmed in 70mm." Roger Ebert (Chicago Sun-Times), "a species already extinct at the moment of its birth." TV Guide, "Tati's most ambitious and costly film." Dave Calhoun (Time Out), "genius." Ronald Bergan (Radio Times), "left him virtually broke. No wonder." Peter Bradshaw (Guardian), "fascinating, flawed". Halliwell's Film Guide, "needs control," citing Stanley Kauffmann of The New Republic, "Tati still seems the wrong distance from his audience," and Brenda Davies of the Monthly Film Bulletin, "how sad".
The glory of the French cinema is reduced by numérisation to a runny blue cheese, not M. Hulot but Mr. Smith. That is particularly galling for a contemporary of Fellini, Jerry Lewis, Hitchcock of the cameo surprise, and Buñuel. Above all else, it's ironic that Tati should be the butt.
Capra's Meet John Doe janitor and Kienholz's The Art Show are perhaps explained in this latter representation of the work by Resnais' Mon oncle d'Amérique, some way or other, after some fashion of a kind.
Trafic
The moon and turnpikes. You can get there from here, M. Hulot's camping-car has twin beds and a small television that swivels over to show the moon landings, there's a very efficient factory turning out cars all day long for a drive where you please, but human frailty being what it is, you can't get the Altra camping-car to the Amsterdam International Auto Show in time, what with breakdowns and running out of gas and great nose-picking traffic jams.
The belle of the ball is a spiffy public relations gal for Altra, she too shares the roadway's dream and danger, M. Hulot lands on the moon in rainy Amsterdam and walks off with her (avoiding the trap of mass transit) through a maze of stationary automobiles.
Parade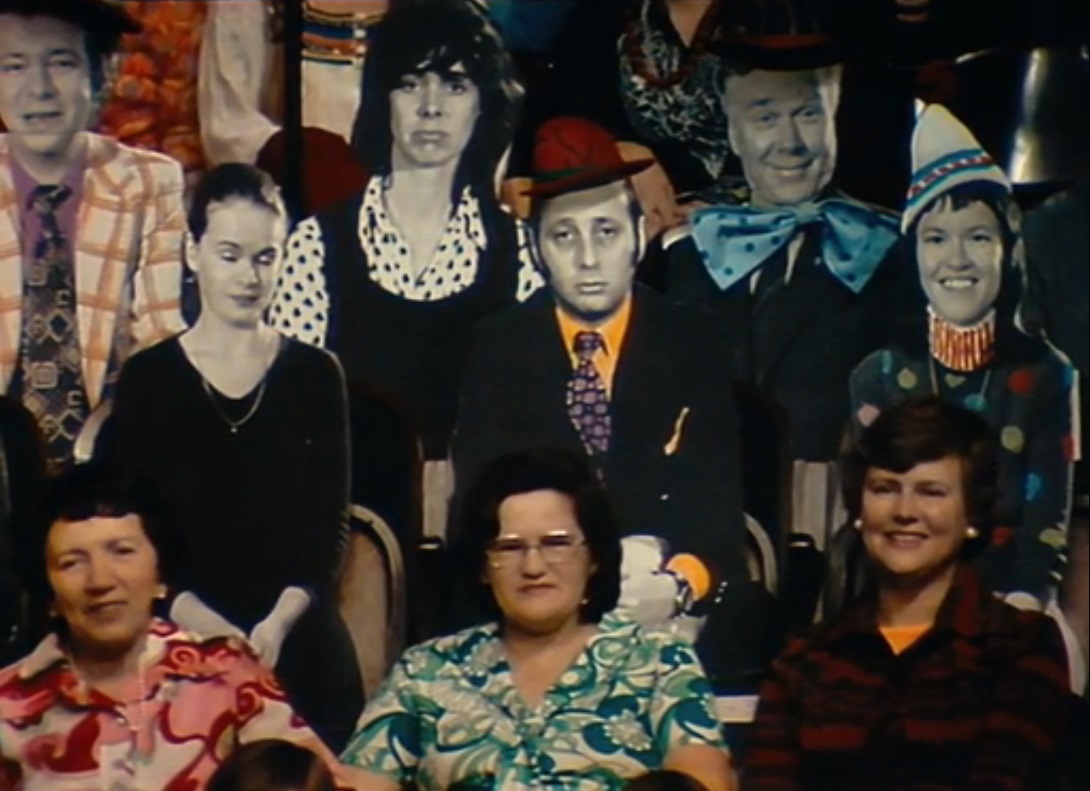 Rimbaud, "j'ai seul..." Tati in Stockholm, where they hand out the prizes. Spectators who are a troupe of wandering players, clowns, gypsies in bright habiliments (cf. Lindsay-Hogg's The Rolling Stones Rock and Roll Circus).
Vigo's audience of authorities (Zéro de Conduite).
"In improvised costumes..."
"Sports of all sorts." Circus of roustabout-saltimbanques, Calder's celebrated circus.
Around the ring the circus rider runs... Goya's mule, that can't be rode or throwed save be one only...
Intermission, when fruit juice spouts from the barman's head...
Antonioni's Blowup with contortionist photog... Fellini-number with orchestra... you are on my foot... Maurice Chevalier and Jerry Lewis combined in "No Age for Rhythm", with a bit of the television camera on its crane (Gunnar Fischer and Jean Badal directors of photography).
L'après-show, Sousa's Liberty Bell.
Roger Ebert (Chicago Sun-Times), "slow, offhand and meandering, and not Tati at his best." Time Out, "an eccentric slice of light entertainment". Film4, "not up to much." Jonathan Rosenbaum (Chicago Reader) "a far greater achievement than most accounts would lead you to expect." Catholic News Service Media Review Office, "genial family fun." Hal Erickson (All Movie Guide), "fascinating but monotonous". Halliwell's Film Guide, "pleasant, sometimes boring", citing the Monthly Film Bulletin, "curious, unresolved", as well as Sight and Sound, "moments... and flashes".
Forza Bastia 78, ou L'île en fête
A Corsican team goes to the European Cup final, faces inclement weather and loses to the Dutch. This is not a comedy but a documentary filmed by Tati and assembled by Sophie Tatischeff. Brilliantly comic in any event, and for all that providentially satirical.
The fans are ecstatic, parading around town. The muddy field is laboriously sopped. The first game is a scoreless tie. After the second, also held at night (a player limps off the field), quiet. The litter of the seats next day, "Una antra matina".
All the rumor anguished sore
Still to reckon loss persists
Snow accumulates in drifts
Upon these empty spaces
Winter's stubbornly galore
Sharpening its knives
Our feasting is no more
In this empty speechifying
But Monte Cintu wears a crown anew of another dawn