Air America
The screenplay has Richard Rush's signature, and if it isn't quite correctly filmed (cp. Freebie and the Bean), it's filmed according to its lights, with nonpareil aerial effects and gags to beat the band.
What causes all the excitement is the metaphor (what has any of this to do with Laos?). Rather than work it out on the ground, better to get it up in the air. It flies, after all.
Stop! or My Mom Will Shoot
There ought to be an aptitude test for critics, except that nobody cares. That is a great saving of labor, no doubt. Fortunately, the structure of this film is so simple, elementary and self-evident even Dr. Watson might apply unaided, that great Boswell of detection.
You see, ladies and gentlemen of the press (to use the term as it is commonly understood, representing those whose profession it is to keep us in the know), the Los Angeles police detective played by Sylvester Stallone is visited by his mother from Newark, played by Estelle Getty. The criminal mastermind (Roger Rees) has collected insurance on a gang of weapons burned in a fire but secretly removed beforehand.
The mother wit of all our top critics was found sorely lacking, not in evidence at all, and so this great comedy languished in the shopping malls and city streets and cineplexes like Apple Annie. And so, Schumacher made Falling Down to illustrate the dilemma.
Mesmer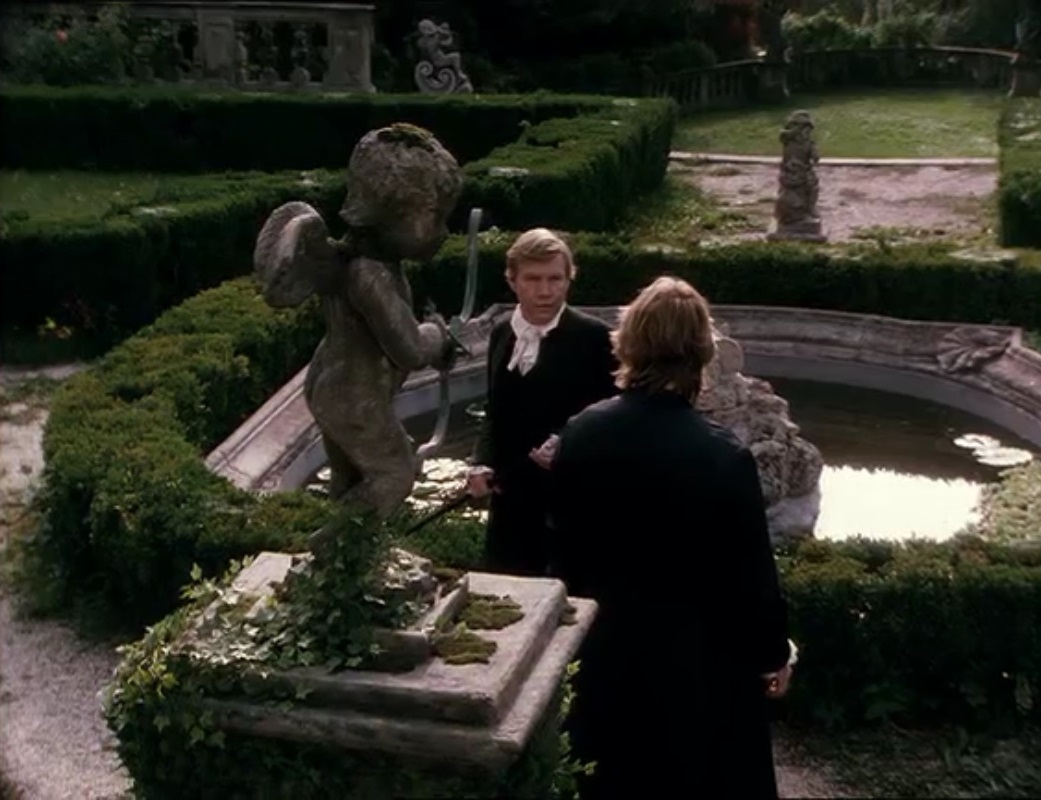 Before the Royal Society of Medicine at Paris for a consideration of his art, with reference to the sickroom scene of Welles' Citizen Kane for starters, and thence to Dennis Potter's reflection of his theme in Brimstone and Treacle (dirs. Barry Davis and then Richard Loncraine), the reviving power of love, cp. The Barretts of Wimpole Street (dir. Sidney Franklin). Russell's priest had quacks to contend with and civil authorities to boot, it will be remembered (The Devils).
Herzog is a mainstay (The Mystery of Kaspar Hauser, Stroszek). "A universal unseen force", tierische Magnetismus, so called by the layer-on of hands and player of the glass harmonica, applied to the treatment of mental patients in a time of great cruelty, "poor, sick, pitiless world." The eminent model is Paracelsus (dir. G.W. Pabst). A cue from Potter may have been overlooked, anyway Telemann's great Hamburger Ebb' und Fluth was not used, instead there is rather a tendency toward Forman's Amadeus. Robert Frost famously lamented to Robert Lowell that his own health had never been the cause of health in others, "you have to look in," says Potter's Mesmer to a blind patient, "before you can look out." Then there is John Barrymore's Svengali (dir. Archie Mayo), but that is Pygmalion and so forth, another artistic principle that sets off the one in evidence here, to some degree.
The case he stumbles on is a bedrock psychological problem, the story of Saint Dymphna practically (vd. Wiseman's Titicut Follies). Mesmer's mind is more than once shadowed forth after the manner of Beckett's great Chapter Six in Murphy, Mesmer the anti-bleeder.
"Gullibility, gentlemen, I speak of gullibility." The miraculous cure recalls Huston's Let There be Light and Freud. "I deal with most derangements," banished. At the court of France, shooting fish in a barrel. Harold Lloyd has such another case in Doctor Jack (dirs. Newmeyer & Taylor). The image of a running horse in the streets, probably from The Seven-Per-Cent Solution (dir. Herbert Ross), disperses the assemblage sitting at night like the Sanhedrin in the Gospels, which certainly brings to mind Bergman's The Magician (Ansiktet).
Leonard Klady (Variety), "wild, impressionistic view".
Tomorrow Never Dies
A remake à la chinoise of Lewis Gilbert's The Spy Who Loved Me, with a press magnate villain (who has "an edifice complex"). The overture states Terence Young's Thunderball and From Russia With Love. "Let's stay undercover," says Bond, when he and Wai Lin are hailed by HMS Bedford, cf. Burt Kennedy's The Trouble with Spys.
The ideally-realized sequence in which he first summons his BMW like Roy Rogers whistling for Trigger, then climbs in the back seat and maneuvers it by remote control around a parking garage full of well-armed villains, finally depositing it at the Avis rental office, begins with the car's impermeable and electrified skin, first seen on the Nautilus in Fleischer's 20000 Leagues Under the Sea. It's the inevitable division of any total spectrum, and a nice turn out of Welles' Citizen Kane. The Dantean perpendicular assigns paradise to a kind of enduring rapprochement taken as a sequel to Henry King's Love Is a Many-Splendored Thing. The purgatory of governments is an accident-prone superstructure. Hell is a spy ring from outer space that literally thrives on disaster, the kingmaker. Historiographers of the future lay out a game plan that is "the launch of a New World Order", a brief flurry of war to secure business interests for a century. The scheme is brought unexpectedly to light. Carver sinks HMS Devonshire to set up a battle he wins by starting it, the British fleet gets sunk, Beijing bombed, Gen. Chang makes peace (the Nobel Committee gives him a prize), Carver receives broadcasting rights in the Middle Kingdom for the next hundred years, exclusively. His delusive persona strongly resembles that of Connie, the roving correspondent, at the start of Hitchcock's Lifeboat.