Stützen der Gesellschaft
Pillars of Society, the great shipyard builder, the American rider, various fortunes and misfortunes.
TV Guide, "a Douglas Sirk melodrama". Geoff Andrew (Time Out) speaks of "lucid detachment and acute psychological detail". Jonathan Rosenbaum of The Soho News, "a dull adaptation of Ibsen."
Between Hitchcock's The Manxman and Reed's The Stars Look Down, with a technique akin to Michael Powell's.
An extremely accurate prediction of the war, formulated with reference to the First World War.
The most beautiful Atlantic crossing in films (bits of fog from the darkness). The Norwegian settings and characteristics are valuably played as elements of a self-evident masterpiece, one of the best Ibsen films (cf. Losey and Schaefer).
Das Mädchen vom Moorhof
She's had a child by her employer and now takes another job as maid to a young farmer with prospects.
The film, from Selma Lagerlöf, suddenly bursts into poetry when the camera takes flight around the barn interior where Helga (a ringer for Kathleen in Kazan's The Last Tycoon) has brought ashes from home to strew on the hearth and quell her homesickness, there are those who have unseen eyes for such things, she says, the camera runs an inventory on the place for mystical senses, and it's quite evident that this was around the time Auden was writing such things as "The Two".
As in Pillars of Society, the Scandinavian representation is notable. The low-angle views of Helga leaving the farm (the bride-to-be has taken umbrage) are in advance of Figueroa's work for Fernandez on precisely the same line (and it might be, who knows, that Buñuel has a memory of this film in Susana).
A bride with a dowry, a maid from the moors with none to help her, an extraordinary incident decides the matter amidst some very advanced work (the score is remarkable for evoking an American Western, to be sure).
Schlussakkord
New Year's Eve, a dead man seated on a bench in Central Park.
In Berlin, an orchestral conductor rehearses Beethoven's Ninth, he has a bit of a moustache.
Cf. Wyler's Counsellor at Law, from another point of view essentially similar.
The comparison is to Interlude, certainly.
Sirk's very advanced technique is to be noted. The swastika, as seen in a quick down-angle, is a child's whirligig.
Tchaikovsky's Der Nußknacker at the Opera is another line.
Nevertheless it has the same structure as Stützen der Gesellschaft, the tables are turned, a transatlantic voyage settles the matter after a fight, and so on.
Typically for the New York Times (H.T.S.), "while this excellently photographed and ably directed musical film contains no surprises for the average spectator, it moves along smoothly and is well-acted by a first-rate cast."
The death at the end of Lang's Die tausend Augen des Dr. Mabuse is already understood by Sirk to be a suicide and no mistake. There is even the famous Fokker from Riefenstahl's Triumph des Willens, actually a Junkers signed H.J. Buddecke. "Erich hat mir eins gesagt, ich wär' die schönste Frau von der Welt," Dagover in a glass. This has consequences for Hitchcock's Rebecca.
"See, the Conquering Hero Comes". Mutter und Kind, angelic trumpets.
La Habanera
An echoing response to Henry King's Marie Galante from inside the Third Reich, adding (as in Schlußakkord, to which this film is closely related) a Rebecca motif and an Ibsen theme (cp. Stützen der Gesellschaft).
"What I've suffered here! What I've had to put up with! ... I've been abandoned by everyone, left all alone. Everything that seemed so charming ten years ago has turned repulsive, this eternal summer, the stupid gaiety that gets on my nerves, the Habanera that drives me crazy. I thought this was paradise, but it's hell. I feel the fever wind days in advance. This is the tenth season that I must endure it. Don't you understand that I'm wasting away here?"
"Kitschy fun" (Jonathan Rosenbaum, Chicago Reader). "Interesting only as a precursor to the brilliant melodramas Sirk would later produce in the U.S." (TV Guide). "Time, if nothing else, will vindicate Douglas Sirk" (Andrew Sarris, The American Cinema) "as it has already vindicated Josef von Sternberg."
Kurosawa's The Quiet Duel famously regards the matter from a medical viewpoint, here the ailment is "Puerto Rico fever". This all happened before, Sirk explains, the Lambert Commission from the Rockefeller Institute failed to extirpate the menace. "It feels great", says Dr. Nagel of the Tropics Institute in Stockholm, "to track down murderers like these and find the remedy to finish off the beasts," meaning the bacilli... "Don Pedro de Avila has dug his own grave."
Zarah Leander (Zu neuen Ufern) is given the title number.
Hal Erickson (All Movie Guide) has it taking place in Spain with a "caddish aristocrat" and "no evidence of the then-raging Spanish Civil War" at all.
Zu neuen Ufern
Between Pabst's Die Dreigroschenoper and Hitchcock's Under Capricorn on several points, with material later reappearing in Hathaway's Nevada Smith and elsewhere (the liebesparade), also Richardson's Joseph Andrews (decline of a stage performer), the tale of a scandalous London singer who marries an Australian rancher over the dead body of a captain after a term at Parramatta following transportation, the gentleman falsified a cheque, she took the blame.
Prudes objected to her stage performance, loud obstreperous persons haranguing the citizenry, some of whom beset her from the audience at the Adelphi in her revealing costume, the captain defends her from the stage.
He sails for Australia with his regiment, the original writer of the cheque is only a boy, his father prosecutes.
"There are many highly interesting scenes," wrote Frank S. Nugent in the New York Times, "and Detlef Sierck's direction is smooth," otherwise he couldn't have cared less, To New Shores was the title.
Hitler's Madman
Sirk has a transcendent view, St. Sebastian covers the Reichsprotektor as well, dying and done with the Führer "nonsense". Millay opens and closes the film on Lidice.
Losey begins M. Klein at a point reached by Sirk nearly halfway. The Nazis are a mailed fist and dealt with accordingly, no accommodation can be made.
The world cracks open to reveal it, a turgid romance on one side and a brusque comedy on the other are somewhat compressed, compartmentalized, separated by the main action, which is scarcely fit for human consumption.
The anecdote was told to Schoenberg in another setting and became A Survivor from Warsaw.
T.S. of the New York Times badly misgauged the work in a very trite manner, "tritely constructed and badly played." Don Druker in the Chicago Reader notes that it is Sirk's "first American film", Geoff Andrew (Time Out Film Guide) finds it "surprisingly powerful".
"Cheapjack sensationalism" in Halliwell's Film Guide, giving two authorities (New York Herald Tribune, Theodore Strauss in the New York Times) on its "certain raw power."
Summer Storm
The analysis, which was not available to critics at the time, is from Losey in Accident (and The Servant), Sirk having just made Hitler's Madman.
The most Chekhovian of all films.
"Too meticulous concentration on mood and character delineation", complained A.W. in the New York Times.
"Particularly effective despite details of character and carefully-etched situations which consume plenty of footage and tend to slow up the tempo," complained Variety.
Time Out Film Guide is at a loss, "collapsing into compromised mainstream ordinariness," Halliwell's Film Guide likewise, "an interesting failure."
A Scandal In Paris
How M. Vidocq became Chief of the Paris Police.
Much more than a masterpiece, a continually startling work of art on the conversion of a thief born in prison who for a time takes the name of Rousseau.
Sadly it went for nothing at the New York Times, nothing at all.
Lured
"What any girl wants."
The ideal husband is English and knows nothing about business but runs a fashionable London nightclub, The Silver Dove. The archfiend is his partner, who knows nothing but business, strangles girls and writes bad poetry, both these latter under the inspiration of Baudelaire, "one of the most fantastic madmen that ever lived", and he resembles Stravinsky.
The nature of the satire is thereby indicated, and she is an American, needless to say.
"Minor murder mystery" (Halliwell's Film Guide).
Between the two are enough red herrings for a dozen films.
Lord Alfred Douglas is partly responsible for the English verses given as Baudelaire's, the archfiend's name is Wilde, Julian Wilde.
"You don't understand women, old boy."
Sleep, My Love
The family portraits on the wife's side in the home of an architect who builds nothing tell nearly all the tale in its minute particulars, which is where it is to be found. Critics have on the contrary looked at "the big picture" and seen "a fairly obvious chapter in cinema psychology," for example (A.W., New York Times), that "adds up to okay melodrama" (Variety), "a fine thriller in the Gaslight mould" (Geoff Andrew, Time Out Film Guide) or "thin suspenser" (Halliwell's Film Guide).
Shockproof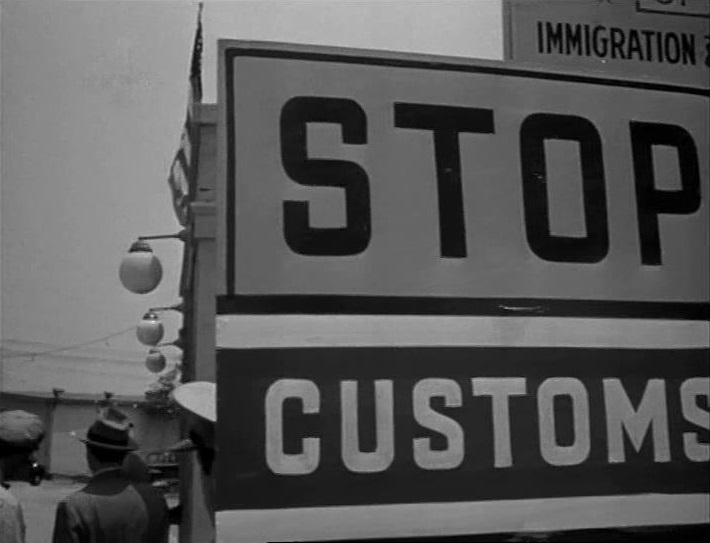 The postwar dilemma of a dog and its vomit (cf. Seaton's The Big Lift, Fuller's Verboten!), "you even killed for him."
A film noir adumbration of Huston's The Maltese Falcon, the temptations of Rouse's The Thief, at a settled remove the basis of Green's A Patch of Blue, a wisp of the war in Wilder's A Foreign Affair, Ozu's self-determination at the close (Dragnet Girl), Pinter's truculent "we got them beat" (The Quiller Memorandum, dir. Michael Anderson).
Matt Zoller Seitz of the New York Times, "potboiler... will inspire more groans than gasps." Variety, "never credible." J. Hoberman (Village Voice), "a cheap 79-minute time-waster". Film4, "apparently the ending was imposed on the creators by the studio." TV Guide, "excellent until its hokey finish." Dave Kehr (Chicago Reader), "a minor film". Time Out, "none too sophisticated." Halliwell's Film Guide, "predictable programmer".
"...excellent little films, which Parisian film lovers know well: Summer Storm; Lured; Sleep, My Love; Shockproof; Thunder on the Hill; Mystery Submarine; and Captain Lightfoot" (François Truffaut).
Slightly French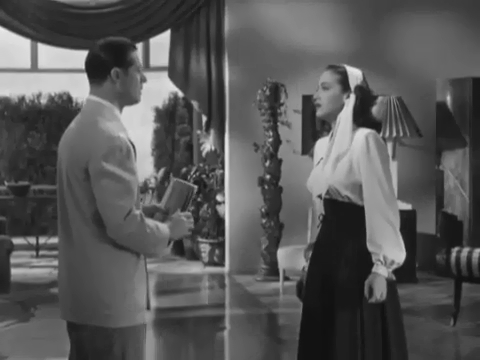 Pygmalion (dirs. Leslie Howard & Anthony Asquith) set in Hollywood (part of the joke is the resemblance of Willard Parker as the junior executive to Sirk). The interrupted production is Ten Days in Paris, a musical on the order of Irma la Douce (dir. Billy Wilder) in some ways, perhaps. "Didn't I warn you I was not going to let you browbeat her?"
"Have I? I've been as gentle as a—butterfly's burp, you've watched me for weeks."
"That's right, and I was beginning to think you'd gone human but you can't say she seems to be having fun."
"May I remind you I'm not working my brain to the bone for that girl to have fun!" The original is nonetheless Let's Fall in Love (dir. David Burton), where the girl is Swedish.
Cf. David Butler's It's a Great Feeling, also and by all means Michelangelo Antonioni's La Signora senza camelie. Andrew Sarris (The American Cinema), "Sirk's taste is exquisite, and hence, inimitable."
From the start, all but lost on critics. T.M.P. of the New York Times, "on a modest level as entertainment." Leonard Maltin, "sassy musical". TV Guide, "director Sirk was far from home with light entertainment of this nature, but he still approached the project with an earnest professionalism." Dave Kehr (Chicago Reader), "a minor though enjoyable divertissement by the great melodramatist... if you wanted to push things I suppose you could say that this story... embodies Sirk's theme of the universally ersatz. But why bother?" Hal Erickson (All Movie Guide), "Sirk's love of cinematic esoterica was kept in check". Halliwell's Film Guide, "rather tedious".
Mystery Submarine
The analytical model of which, for example, Terence Young's Inchon is made.
A real submarine, a great cast, the superb command of filming exhibited by the director right across the skeletal elements of the analysis.
U-64 is thought to have been lost in the war, her husband perished therein, is he alive? Only a ruse to reach a Dr. Guernitz who can be sold to a foreign power.
U.S. Navy maneuvers and a treason investigation complete the picture, among other things a tense one of submarine warfare.
Thunder on the Hill
The murder of an English pianist-composer is solved at a convent hospital during a great flood.
A play turned into the libretto of a cinematic opera in every respect save the one, like Wyler's The Letter, a grand opera in the contemporary setting.
The resolution of the theme, which even has consequences for Hitchcock's Vertigo, has celestial harmony in its purview.
Village jealousy is the plain key, humility is the greatest virtue, Sirk explains (cf. George Pollock's A Stranger in Town).
The Lady Pays Off
The gag is getting the Teacher of the Year married. No fewer than three directors explicate the matter, Albert Brooks (Lost in America), Norman Jewison (40 pounds of trouble), and David Swift (The Parent Trap).
Leonard Maltin, "fanciful drama".
Hal Erickson (All Movie Guide), "simple, unassuming comedy."
Halliwell's Film Guide, "flat and unprofitable romantic comedy-drama."
Week-End with Father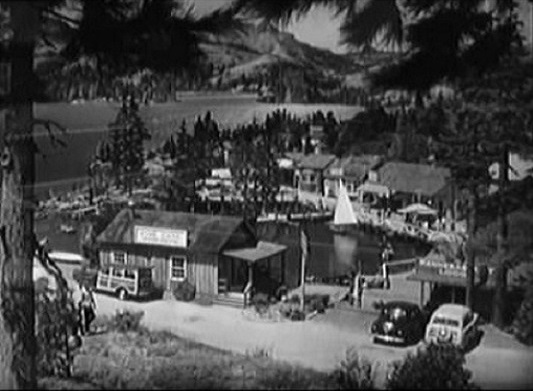 Widow with two little boys meets widower with two little girls.
It occurred to Gilliat to make Left Right and Centre, and Swift to make The Parent Trap (Wilder begins The Seven Year Itch with the departure for summer camp, where Kubrick picks up a scene for Lolita).
Annus mirabilis, fourth film in a year.
She might marry a health food fanatic, he a television star.
Leonard Maltin, "pleasant frou-frou". Film4, "a slight film." TV Guide, "charming tale". Hal Erickson (All Movie Guide), "directed with lots of efficiency but little style".
"The trouble with you," says father, "Phyllis, is you don't know what it means to be a mother! I do!"
"Oh," says the TV star, "really!"
Frank Skinner owes his theme to Mendelssohn's violin concerto, gladly. The screenplay by the writer of No Room for the Groom rises to "a brand-new, big-league, soccer ball!"
An all-out search in the Maine woods concludes the thing, more or less.
Halliwell's Film Guide, "mechanical".
No Room for the Groom
He gets chicken pox on his honeymoon, ships out overseas and comes home to find his house full of relations on the wife's side, his vineyard threatened by her employer, whose cement plant is transforming the town, and whose hired psychiatrist and lawyer are gunning for the sap.
A masterpiece of comedy, Buster Keaton by Sirk, with an intense consideration of skill in every shot, Spring Byington as the merciless mother-in-law, Don DeFore the affable ape of a rival, Piper Laurie the innocent bride, and Tony Curtis the bedraggled groom.
A.W. of the New York Times stared at the screen, "tedium over comedy... limp yarn."
Has Anybody Seen My Gal
Who preferred love over money, and drove a rejected suitor to the gold fields and the oil fields, he puts her daughter's family in his will and tests them with a little money.
Sirk's evocation and analysis of "The Late Twenties" (Wyler's Anybody Here Seen Kelly? and Flynn's Hold Your Man are on at the pictures), ending at Christmas, 1929.
Small-town gossip makes a hundred thousand into a quarter-million, half a million, soon the family are millionaires in the public estimation, then comes the Crash.
A Douglas Sirk musical, a miracle of comedy, perfectly worked up ("rather solid", said Variety). Though H.H.T. of the New York Times expressed his view that "the average customer may rue his contribution at the box office," Halliwell's Film Guide finds it "very agreeable... satisfying".
Take Me to Town
Timberline after a fashion, Pine Top's the place.
A Douglas Sirk musical of the Wild West, "the tall, tall tale of Vermilion O'Toole".
This will be recognized, after the desert opening and escape ("it's got so I hardly use doors at all"), as the very theme in the broadest sense of Losey's Figures in a Landscape.
O.A.G. (New York Times), "unfolds with ponderous dullness".
Variety, "unpretentious".
Dave Kehr (Chicago Reader), "nightmare vision of the birth of the middle class and its attendant spiritual horrors."
Tom Milne (Time Out), "a charming slice".
Russell Metty cinematography, Harold Belfer choreography, screenplay by the author of The Unsinkable Molly Brown (dir. Charles Walters) and Thoroughly Modern Millie (dir. George Roy Hill).
"She may have feet like riverboats, but wait'll you see her meat pie!" The major themes quickly stated, "a woman gets a man pretty well trained in ten years... You know, it wasn't easy for a woman to make out up here twelve years ago. It's not easy now."
TV Guide, "pleasant".
"Men are what women expect them to be." Zu neuen Ufern, in other words, "Miss O'Toole and the prea—oh, no."
More thematic material, "I try to make my personal concerns Christian ones, Edna, as we all should... I know how we can get us a bucket o' gold in one day, enough to build a whole church and put a bell and pigeons in the steeple... I once considered very seriously going on the stage... I thought there was a bit of the devil in you."
And so, while critics were looking the other way, civilization came to Pine Top.
"Oh, that's the way women do things, boys, you're going to have to get used to it." An outdoor production of "The Ladies Good Name, a Melodrama in 3 Scenes", the virtuosic conclusion.
Halliwell's Film Guide, "schmaltz".
The three boys reappear in Bergman's The Magic Flute. The title number rhymes on "my new gingham gown."
All I Desire
The artist's apparent position, "descending the old evolutionary ladder" on the circuit after a time on Broadway, back where it started.
The actual position is complete, triumphant victory.
This was understood to be a "soap opera" (Variety, Halliwell), subsequently it dawned on critics as "subversive" (Time Out Film Guide, etc.), which is how criticism operates with this director.
Sirk is Sirk, the language is all his own. High school principals (even future school superintendents), high school drama teachers, high school actresses, various and sundry types in any small town are addressed.
Taza, son of Cochise
The great chief dies, bequeathing peace, it is kept with considerable difficulty.
Sirk's arrangement of the Whitman formulation, democratic principles have a crux, a vertical and a horizontal, one is a tribal chief at home and a citizen abroad, this is the realization of the film that most critics could not see (thus Taza, an Apache chief, wears sergeant stripes on his blue coat as a tribal policeman).
The glory of the Apache nation includes Geronimo, whose war dance is a memorable exultation after the mourning for Cochise.
The intensely poetical 3-D camera places all this in American landscapes of the Southwest, a great debt to Ford is paid off richly as it is incurred by Sirk.
Magnificent Obsession
The magnificent obsession is altruism, contrasted with a millionaire sportsman's selfish pursuits, the East and West whose ends never meet.
The construction of this premise is very detailed and swift, the rich man despairs, the doctor's second wife buys "half the town" on a shopping spree to celebrate their six-months' wedding anniversary, when he dies she and her stepdaughter are broke by virtue of his secretive charities.
The rich man secretly helps the widow, returns to medical school and operates on her successfully, thus by a life of good works and medical skill he saves her life and restores her sight.
This is altogether an extraordinary work (omitting here the well-known superfices of the plot), particularly remarkable for the widow's unawareness and the rich man's instinctivity, as played by Jane Wyman and Rock Hudson.
Critical understanding has been very slow or nonexistent, the sweetness of the pill has generally been taken to conceal a nostrum or worse, nothing at all.
Lubitsch's Ninotchka played with infinite reserve and no laughs goes a long way toward describing it, however.
Sign of the Pagan
"The way of death", Mongols in Germania, the Huns, Attila.
The weak emperors, Valentinian at Rome and Theodosius at Constantinople, the latter practices costly appeasement.
Advent of Marcian, centurion. Defense of Rome, collapse of Attila (with implied reference to Pietro Francisci's film).
The Christian empire, Rome "a Christian temple".
To Variety, "an interesting action story." Tom Milne describes it as "an immensely interesting though finally unsuccessful film" (Time Out Film Guide).
Halliwell's Film Guide has "historic horse opera."
Captain Lightfoot
A bogtrotter highwayman for the cause meets the cream of Dublin society in 1815.
For sheer mastery of the métier Sirk has no rivals, only peers, a decade ahead as he is.
And more, Lean picks up the beauties of Ireland on location for Ryan's Daughter, echoing Sirk in another key, and the great monuments appear to Schepisi the same way in St. Petersburg for The Russia House.
Criticism has been altogether blind to this film, which is one even the most minuscule reviewer could not miss, but there it is.
Such bravura acting, costumes, general technique and the exceptionally fine CinemaScope pictures are all a function of the director's genius, as effortless as you please.
All That Heaven Allows
Ah, to be an American, and leave behind the village mentality, the Old World traditions, and fight the savages of the Country Club among the big trees.
It has its humorous side, too. Are you going to live in a greenhouse? "No, he's going to restore the old mill!"
There's Always Tomorrow
The absolute feint is on Dreiser's An American Tragedy, what's meant is Carrie, a near thing in Sirk's film, which finds its point of interest in the pivot of a daughter's debut, this triggers the old flame, diverts the wife and so forth.
It comes with a moral, said Bosley Crowther of the New York Times.
"The dangerous illusion that happiness is still possible," writes Dave Kehr (Chicago Reader).
Time Out has the prize package here, on Sirk's "mastery of lacerating irony. In demolishing the social fantasy of the 'happy home', the embodiment of the complacent surface values of '50s America, Sirk simultaneously exposes its tragic pervasiveness," and so on, ecstatically (TV Guide rides this beam, "another of director Sirk's melodramatic, bitter attacks on the values of middle-class life in the 1950s").
Halliwell's Film Guide, "basically a dull drama" (citing Variety, "attractive screen material").
Written on the Wind
The circus of Sirk has lions and tigers and bears and trainers and tamers and clowns and trapeze acts and sideshow attractions galore. In spite of the highest critics (Truffaut) it is highly artistic (those colors are American and wouldn't faze a painter here). It falls into the lap quite easily, Sirk's commentary adds no illumination, there is a very bitter portrait of a certain constellation, bitter because true and unavoidable. The marked resemblance to The Big Sleep has Lauren Bacall, Rock Hudson is Shawn Regan and Philip Marlowe in one, or he and Robert Stack undergo the vicissitudes of the household, but the ending is the same.
And so, Chandler's novel is effectively transferred back to America from its abstract consideration of England.
Truffaut's painters would admire the unequaled portrait of Dorothy Malone in black pants and a white silk blouse, seated with one leg on the arm of a chair beside a low table with white chrysanthemums and an alabaster figurine, the whole set before an Oriental painted screen.
"... I could just barely see some of the old wooden derricks of the oilfield from which the Sternwoods had made their money. Most of the field was public park now, cleaned up and donated to the city by General Sternwood. But a little bit of it was still producing in groups of wells pumping five or six barrels a day. The Sternwoods, having moved up the hill, could no longer smell the stale sump water or the oil, but they could still look out of their front windows and see what had made them rich. If they wanted to."
Battle Hymn
This is the film showing at the movie theater in Rod Serling's consideration of Whitman for The Twilight Zone, "Where Is Everybody?" (dir. Robert Stevens), Sirk receives the best analysis there, a far cry from Bosley Crowther's frank disregard in the New York Times, echoed by Halliwell's Film Guide.
It is to be noted that children are a weapon of the enemy under certain circumstances, and that the hero never thinks twice about that.
He is to some extent a casualty, but that is of no consequence, either. Having struck an orphanage in World War II, he saves all he can save in Korea, no longer the fighter-bomber pilot he was, quite.
A pure biographical premise, played non-dramatically as far as possible, almost unconsciously, naturally, so that the critics' confusion may be excused.
Interlude
Munich, as if the war had never been, only a nightmare interlude (Fuller's House of Bamboo has this in Japan), Mozart's Geburtshaus, Salzburg.
For Sirk, the structure is a combination of Stevenson's Jane Eyre and Wilder's A Foreign Affair. The complicated balance of these elements is the major work of the director, who sees the madwoman treated properly and the girl from Washington married to a doctor back home.
A typically misunderstood Sirk masterpiece ("not one of Sirk's masterpieces," says Film4, "but still a more than adequate melodrama about a Continental love triangle").
The Tarnished Angels
The Lafayette Escadrille pilot, his wife, their young son, and a mechanic, barnstorming at New Orleans in 1932.
The author is William Faulkner, with prime reference to Willa Cather (My Antonia).
A reporter from the Times-Picayune sniffs a story in them, the one about the Iowa farm girl and the air ace on the Liberty Bond poster.
She is a trick parachutist now, he races around the pylons for prize money.
His plane goes down in the lake and is brought back up without him, she is scooped up by the sponsor but sent back home by the reporter.
This presumably was not susceptible of understanding at the time, the strange dramatic style aping the period in black-and-white CinemaScope compositions that are perfect made the drama seem very vague and remote, it might be supposed, "a dull story, very boringly presented" (Halliwell).
A Time To Love and A Time To Die
Godard hit the mark when he spoke of the realism, a German film in English set in 1944 on the Eastern Front and back at home. Sirk polishes this beyond all eeriness, a common soldier in the circumstances.
On furlough he comes face to face with Nazis, he has served in Holland and Paris and Africa as well as Russia. He also meets a girl and marries her.
The ruin of Germany, its damnation, and whatever abides at the same time, or nearly.
Riefenstahl's Tag der Freiheit—Unsere Wehrmacht observes these soldiers before the war, Peckinpah's Cross of Iron takes the note from Sirk.
Crowther (New York Times) missed it by a mile.
Imitation of Life
Sirk's meditation on art is built of all the superfices one by one, provincial standing, social circumstances, commercial exigencies, the nature of things.
In New York, an actress has "empty arms", in Hollywood she's one of the girls.
What is this to the finished work admired and contemplated?
The structure is a mirror, the star and the showgirl, with all other considerations taken in tow as reflections of the theme.
A supreme masterwork, blasted by Crowther in the New York Times because he hadn't an inkling.
Bourbon Street Blues
Tennessee Williams auf Deutsch at the Hochschule für Fernsehen und Film München, where they lay on the French Quarter for The Lady of Larkspur Lotion, in which beset by flying cockroaches she is aided by Anton Pavlovich Chekhov, Chez Mrs. Wire.