Watch on the Rhine
"I fight against Fascism, that is my trade."
At the time of filming, millions could say as much. Said in April, 1940, the words have a different ring (the speaker is a veteran of the Spanish Civil War).
What Hitler does in the morning is forgotten every evening by guests at the German embassy, a Wehrmacht officer observes, and the ambassador is a clod.
"Ribbentrop did not send him here to amuse people."
"Then he's doing very well."
Dashiell Hammett serves up Lillian Hellman's play to a very fine, observant, well-studied director who remembers the American desert reflected by the window of a train in Wellman's Thunder Birds the year before, among many other things, and who works assiduously with his actors, several of whom speak pseudo-English to avoid the necessity of subtitles.
"Stirring play," said Bosley Crowther in his New York Times review, "distinguished film," he was stirred to his depths and perhaps never wrote more distinguished prose.
The border crossing exhibits Shumlin's mastery, what the U.S. meant to a refugee is expressed with the greatest skill imaginable and very briefly.
Variety agreed, "a distinguished picture."
The terrible scenic depiction is truly difficult as a cinematic proposition, the threads drawn together on the stage from so many interesting locales are largely replaced by the one realization in Washington, D.C., that it can happen here.
That being said, Crowther saw it another way, "the fundamental clash in civilization is between those bent on self-aggrandizement and those who are not", to which an Englishman sizing things up might have said in reply, "quite."
The fundamental accuracy of the portrayal is secondary to the dramatic action, remarkable as it is. Certainly the times demanded it.
The view from the Washington Monument.
"There's something insane about a Rumanian diplomat, pure insane."
Opposition to Nazism was bootless, at the time. "You understand what I mean, styles in wit change so."
The Fascist mystique. "What wonderful work Fascists have done in convincing people they're men from legends... We don't like to remember, do we, they came in on the shoulders of some of the most powerful men in the world. That makes us feel guilty, so we prefer to believe that they're men from the planets. Well, they aren't. They're smart, and they're sick, and they're cruel, but, given men who know what they fight for, and will fight hard..."
There is more to say on this subject. "Please don't describe me to myself again..."
"There is a deep sickness in the German character, a love of death, a love of pain..."
"All Fascists are not of one mind, one stripe. There are those who give the orders, and there are those who take them, they came late. Some of them were, up to a point, fastidious men, for these we may someday have pity. They are lost men..."
Nazis are not to be reasoned with. "Unlike you, I am not a gambler, I do not take chances."
Academy Award, Paul Lukas.
"Yawn." (TV Guide)
According to Halliwell's Film Guide, "it made a prestige point or two for Hollywood."
Confidential Agent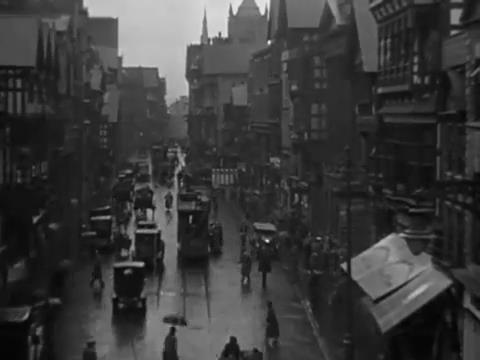 The man from the Spanish Republic, by boat-train to London, pursued (cf. Lang's Man Hunt).
What's England full of in October, 1937? Fox terriers elatedly and Daddy's money sulkily, over Scotch.
The artist and his connoisseur on either side of the fence, punchy with the air raids and Fascist thugs on one side, the rebarbative Government the other.
Echoes are throughout Pinter's later work, culminating in Voices. It's Daddy our man has come to see (cf. Asquith's The Demi-Paradise), bringing the Civil War with him ("perhaps I ought to wear a bell, like the old lepers").
And from Graham Greene, the journey across London to the Entrenationo Language Centre (cf. Preminger's The Human Factor), "I've arranged that your lesson—I hope I shall be able to say, lessons?—will be given by one of your fellow countrymen—that is always, if possible, our system, i-it induces sympathy and, er, breaks the new... world order slowly, mmmmm?"
A bullet in a back street. Shumlin's dreamy camera movements here and there describe curves around Bacall, whose performance, incredibly, was disprized. "After they'd beaten you up last night, I was sick. Currie thought it was the drink, but it was your face." He is ten years ahead of the time and more, there are distinct signs of an influence on De Sica in Umberto D. with the little maid of all work ("I'll be up at seven with yer breakfast") and the avaricious landlady at the "Strand Palace", the confrontation with Paxinou and Lorre is remembered in Terence Young's From Russia with Love, "The Very Thought of You" at the roadhouse with Boyer and Bacall and Coulouris ("here, you know, we get—well, I don't mean to be snobbish, but only the best people") goes into J. Lee Thompson's CaboBlanco.
James Wong Howe, Franz Waxman. The Hindoo peeper is from Hitchcock's The Lodger (Hitchcock repays in Frenzy). "I've been beaten, robbed, shot at, betrayed, I failed in my mission, I've had enough." Question of coal from a year-old peer, for the lamps of Spain.
"I don't seem to be able to do anything correctly."
"Interesting people one meets in your work."
"You know, there's a passage in your Bible, 'God hath chosen the foolish things of the world, to confound the wise.' I must tell Mr. Singh what you said, a most profound remark."
"The righteous—voice—of the little—people—who wish to inherit—the earth."
"I'm not sure it's wise for England to do business with that crowd." The two detectives play a fine little trick on The 39 Steps, Hitchcock repays ihe recurring couple in The Man Who Knew Too Much.
Bosley Crowther of the New York Times, "generally engrossing melodrama". Variety, "the story attempts to show how in 1937 the success of Franco adherents was to become the prelude to an even greater conflict. The yarn's development is inept, and the link of the romance with the basic story is too pat, at the expense of the major story line. " Leonard Maltin, "engrossing spy yarn". Leonard Quart (Cineaste), "fails to capture the novel's moral essence." Tom Milne (Time Out), "striking, literate adaptation of Graham Greene's novel." TV Guide, "a plodding film under Shumlin's unimaginative direction... The dialog rings false in a pat story... There are some powerful scenes in this film nonetheless... this contrived film... the murk and gloom of a muddled story... an unsatisfying conclusion." Halliwell's Film Guide, "heavy-going simplification... all at sea", citing James Agee, "the best attempt yet... to make the best of a Greene novel."