Peach-O-Reno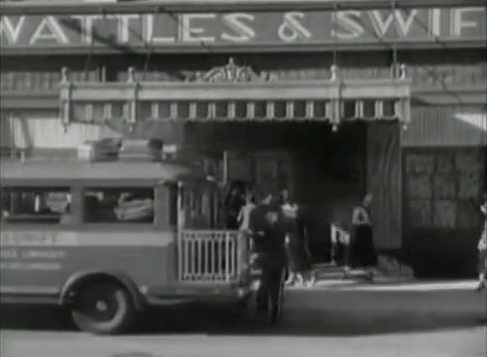 You'll find it between Ogden and San Francisco.
"Well, you see, times are tough. Instead o' getting new wives this year, most men are having the old ones overhauled and repainted."
Wattles & Swift, legal emporium doing land office business with motor coach service from the railroad station, they give you a number...
"Nowadays, Mr. Bruno, everything has changed. Even at a wedding no-one gives the bride away."
"No-one gives the bride away?"
"No. They keep their mouth shut."
The author is Tim Whelan, director of The Divorce of Lady X.
"I could never pass for a woman, I don't look masculine enough."
It's where The Misfits (dir. John Huston) begins, and that's not all, the convertible offices are a feature of Robin and the 7 Hoods (dir. Gordon Douglas), complete with Wattles & Swift 10 Alimony Jumpers jazz band. "Unh unh unh, now, mustn't speak rudely o' my joint!"
Ahead of Some Like It Hot (dir. Billy Wilder), "know him, I sleep with him!" Still more, ahead of Charley's Aunt (dir. Archie Mayo), "ain't I grounds enough?"
"Joe, you're a whole coffeepot, and a saucerful besides." Two or three famous English witticisms take Arthur Askey in stride to boot (dir. Walter Forde). "Whaddya want me to do, big-hearted?"
The dance team of Wheeler and Woolsey. "I promised the folks that we would render them a number."
"Render? Why, we'll tear it apart" (cp. Airplane!, dirs. Jerry Zucker, Jim Abrahams, David Zucker). "You've changed since I saw you last."
"Oh, thank you."
"What's wrong with ya?"
"Mayb-maybe it's the heat."
"Oh, it isn't the heat, it's the stewpiditea."
"I smell punk."
"Well, go over and stand by the window, nobody'll notice it." As in The Blue Dahlia (dir. George Marshall) and Thieves' Highway (dir. Jules Dassin), a cop who minds the parking amid murder and mayhem.
Now once when a preacher tied a knot
a couple could not get free,
although a knot is still a knot,
it's not what it used to be.
Oh, oh, from Niagara Falls to Reno
used to be far away,
Niagara Falls to Reno
is only a step today.
Radio announcer in the courtroom, "Mr. Wattles is wearing a high hat herringbone two pants suit, and Mr. Swift's clothes are getting louder and funnier."
"And remember, folks, this entertainment comes to you through the courtesy of the International Hammer Handle works, Julius Jennifer Swift speaking, station GIN, the breath of Reno."
Leonard Maltin, "typical Wheeler and Woolsey vehicle." Hal Erickson (All Movie Guide), "one of the best". Halliwell's Film Guide, "thin stuff," citing Variety, "for the minor spots."
Girl Crazy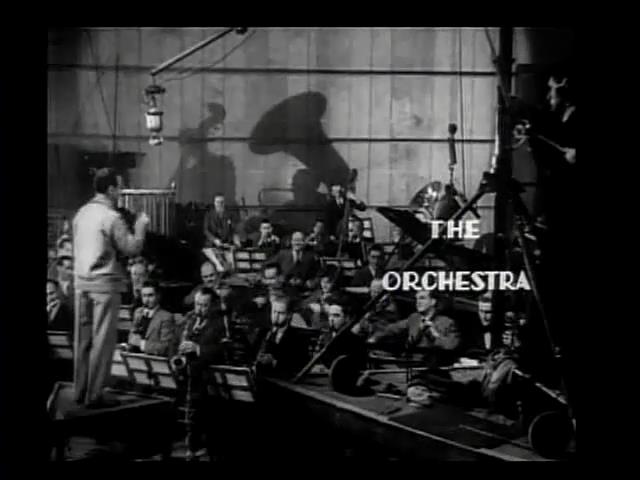 The show arranged for cinema by Herman J. Mankiewicz (screenplay Tim Whelan), "additional new music" George Gershwin.
Custerville, Ariz. for the ailment in the title. The director of Borderline has the journey out West from Chicago by taxicab.
The Arizona Heavy, just ahead of Buck Benny Rides Again (dir. Mark Sandrich), "why, the West—is like my mother, we love every cactus bush that blooms on the proud bosom of her sweeping plains, and every sun-kissed peak of her everlasting hills."
To which the Gambler, "I gotta buy that record."
The Gershwin genius (Max Steiner musical director). "For a minute I thought you were a real Indian!"
The New York Villain, strictly from San Luz.
"Can't you two arbitrate this case?" The Sister's imitations, "But Not for Me". An original of the Alaskan Polar Bear Heater, the Arizona Snake Charmer.
The Taxi Driver, sheriff of Custerville by a vote of 800 to 1. "How did that one get in there?"
"I dunno, but I've demanded a recount."
Mordaunt Hall of the New York Times, "fun of the boisterous kind abounds... the melodious side of this adventure is unimportant... a brand of humor that few could resist." Leonard Maltin, "it's not bad." Craig Butler (All Movie Guide), "amusing and sometimes riotously funny." Hal Erickson (Rovi), "very funny throughout". Halliwell's Film Guide, "weak vehicle", citing Variety, "too silly."
Diplomaniacs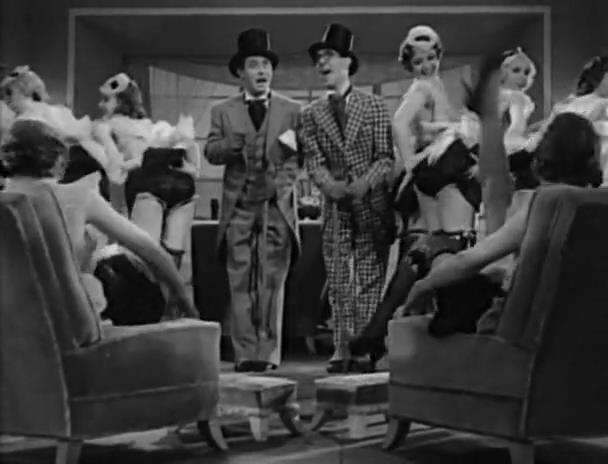 On behalf of the Indian Nation, oil-rich and bewhiskered neither on the right nor on the left, two reservation barbers strictly from starvation accept a million dollars to sue for peace in Geneva, failing which a female gorilla awaits them.
There is a memorable halt in Paris, "On the Boulevard".
Joseph L. Mankiewicz devised this entertainment, the stock of arms manufacturers is dipping, one of them goes after the emissaries.
Louis Calhern even before Duck Soup (dir. Leo McCarey), Hugh Herbert a Chinaman full of witty sayings such as this,
FIFI: Let's all neck.
DOLORES: Yeah!
WINKELREID: This is no time for sex.
FIFI: That's what you say.
WINKELREID: Ye-es.
CHOW CHOW: Well, it's sex of one and half a dozen of another.
and Wheeler whose "Annie Laurie" is a thing of tears and gobbets, and Woolsey who sleeps with a lighted cigar.
M.H. of the New York Times, "insane affair." Leonard Maltin, "genuinely odd but endearing nonsense". J.R. Jones (Chicago Reader), "memorably surreal moments." Halliwell's Film Guide, "fatuous", citing Variety, "a baddie."
The Oxford-educated Chief is a genuinely endearing joke, later ("The Night of the Double-Edged Knife", The Wild Wild West, dir. Don Taylor) it's Princeton, or rather Dartmouth.
"'We promise not to make no more war on nobody at no time.'"
"Uh-huh."
"'Yours truly, England, France, Germany, Russia, Spain, Abyssinia—'"
"A' be seein' you sometime, too."
"'—Italy and et cetera.'"
"Et cetera? Where's that?"
"At the end of a sentence, I always see it there."
"Well, et cetera will have to sign it too."
Just before the finale is the birthplace of Dozier's Batman and Brooks & Henry's Get Smart. "Hey! Where's your cigar?"
"She swallowed it."
It's De Lawd's Prayer at the Peace Conference chaired by Edgar Kennedy, then back to Hoklamona with the goods, a cruel forgery. DIPLOMANIACS BLAMED FOR WORLD WAR, says The Evening News, "GET DIPLOMANIACS!" CRY PUBLIC, the Evening Dispatch-Gazette.
War, with a chorus in Heaven.
Sons of the Desert
There's nothing better than Leo McCarey's raw and striking treatment of We Faw Down except Seiter's illumination of it in six reels. He has a gag here later borrowed by Richard Lester, the duplex shared by Laurel and Hardy that Mr. Laurel mysteriously traverses, entering at one door to open the other. The direction is pitched just slightly higher, so that long and complex gags like the washtub sequence not only show the unutterable precision of the cast, but how effortlessly the style is managed, and something more. When Mrs. Hardy stumbles backward into her husband's footbath, Mr. Laurel is leaning over it and she plunks down into the water sitting on the back of his head, so that Stanley is face down underwater, and when he's finally extricated he comes up with a soggy ice bag in his mouth, an example of pure clowning harking back to his auguste days.
The plot has all the members of their lodge sworn by the Exhausted Ruler, as Stanley calls him, to a mission of great urgency, a convention of the order in Chicago. Their wives rule the roost so completely, Mrs. Hardy at the point of a kitchen knife, and duck-hunting Mrs. Laurel with a shotgun, that the husbands are reduced at one point to hiding in the attic.
They go to Chicago on the pretext of Ollie's "nervous shakedown" necessitating a rest cure in Honolulu, but the ship sinks on their supposed return passage, with loss of life and a panicked search for survivors. And there they are, grinning at the newsreel camera in Chicago, where they meet another Son of the Desert (Charley Chase) who greets newcomers by placing a wallet on the floor and thwacking their bottoms with a slapstick. He calls his sister in Los Angeles and puts Ollie on the phone, whose voice is recognized by Mrs. Hardy.
The pure hilarity of it all is expressed by Ollie guffawing mightily over a conventioneer's silly jest. The entertainment in Chicago is a line of dancing girls wearing Hawaiian outfits, so that, like Huysman's Des Esseintes, they've had their fun without the inconvenience of a sea voyage, as Mr. Hardy justly observes.
Roberta
The film has been analyzed to some extent by other directors, and there is a direct line through Lubitsch's Ninotchka and Chaplin's A Countess from Hong Kong, the essential work is Ritt's Paris Blues (Kelly & Donen ape the French lesson for Singin' in the Rain, the two bouncers at the Café Russe occur in Kelly's Invitation to the Dance).
The height of French fashion is Aunt Minnie, known as Roberta, whose fashion house is run by a Russian princess in exile (the doorman is a prince). The American nephew, a halfback, inherits.
Huck Haines and His Wabash Indianians ought to have feathers on, Countess Scharwenka is Lizzie Gatz, the girl next door.
The surrealistic construction seems to have defeated even Broadway critics, and down to the present day.
The halfback's girl is a snob from back home.
The numbers are generally accorded as masterful.
Room Service
"A Pharaoh who knew not Joseph" tries to throw a theatrical troupe out of the White Way Hotel, queers the deal with a backer, and is about to shut down opening night when the vision is revealed to him, the sick and dying playwright emerges from the suicidal grave in evening dress, another suicide in the cast is one who died toiling in the mines of the play, carried out to a curtain call.
The Oswegian author, only four hours and forty-five minutes from Broadway, calls his play Hail and Farewell, an even better title than the original Godspeed.
Time Out Film Guide thinks this is dull, why, it even has Chico spouting Latin! What Binelli says beside the playwright's hotel deathbed