Puzzle of a Downfall Child
Various suspensions, "shocking falls", two feet on some sort of ground, the Schatzberg theme.
The indomitable goddess of the rotogravures comes quite undone, recoups as an artiste of sorts, redeemed by Schatzberg's art.
Nabokov's "Ode to a Model" treated cinematically.
The Panic in Needle Park
Under the dabbling Eloi of Greenwich Village are the Morlocks with their insatiable demand.
Twenty years after Benedek's Port of New York, the city is awash in smack or mopping up between crashers. Some fastness of human affinity remains inviolable to the last in the romance of a Village girl and a Needle Parker.
Passer's Born to Win, an essentially similar variation, was made around the same time.
scarecrow
The car wash at the end of the rainbow can't be reached so directly, the sailor all at sea loses his girl to Joey the Banana King and goes catatonic, the partner invests the capital in his recovery.
There are further incidents that explicate the dilemma, the showfolk fag on the honor farm, for instance, met by sleeping with a girl who has an admirer.
The very complicated texture of the screenplay was meat and drink in France and won the Palme d'Or, American critics stumbled all over it (Vincent Canby, Roger Ebert, Variety, Stanley Kauffmann), also English critics (Time Out Film Guide, Halliwell's Film Guide), even disprizing the cinematography in their confusion.
Sweet Revenge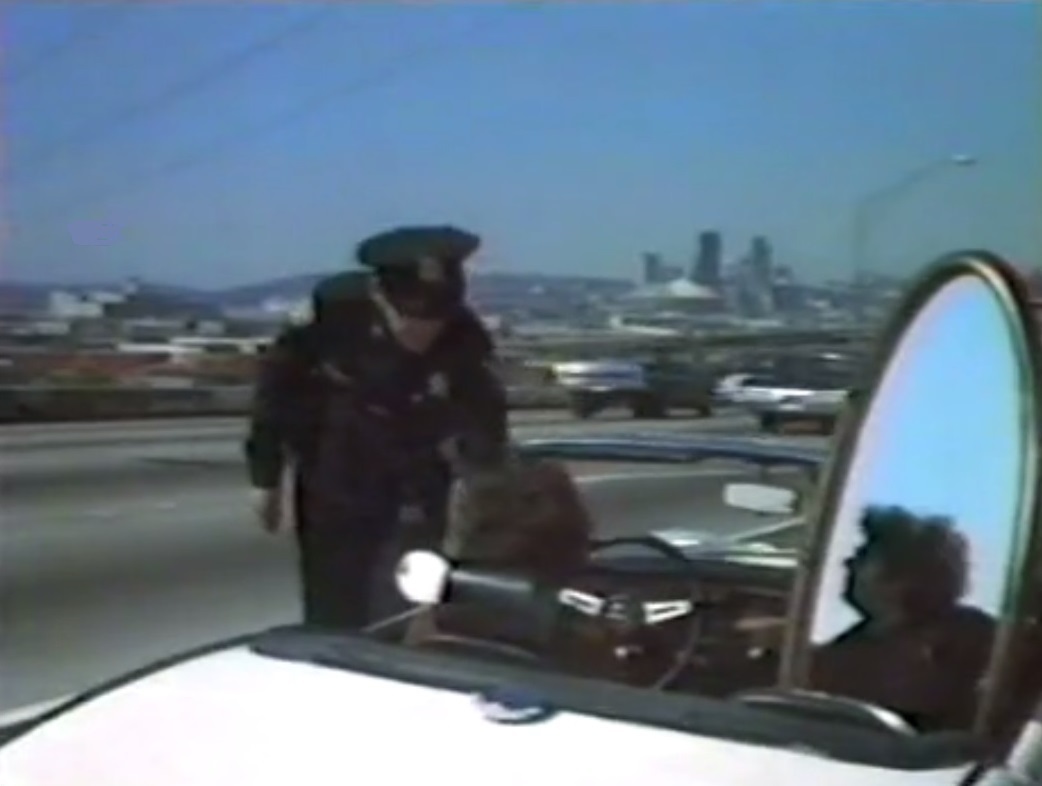 The girl who steals cars and a mirror to buy a Dino Ferrari and look good. "Vanity," says her public defender, "is not much of a defense."
"I'm gonna make a bunch o' cars legal, so I can get enough money together to buy me the most respectable machine in the world."
"Like what."
"Dino Ferrari."
"Sweet revenge, yeah!" The effect of a great photographer in the city is subsequently emulated by Lumet (The Morning After with a score again by Paul Chihara). The purloining of a police radio out of a squad car "before the law is through drinkin' their coffee" is undertaken on a bet, using "nothin' but this church key," sc. a can opener. By Volkswagen to Porsche (cf. Bogart's Skin Game) to cash on the barrelhead. "I'm gon' be the cut-rate wholesale bargain-bustin' supermarket o' key thieves without even leavin' this car, can you dig it?"
"I hate it."
"Why?"
"Used to be an art, Edmund. There used to be more to stealing cars than just driving them away."
"Oh shit, I wouldn't know about that, V., I'm just a child in the garden."
"Oh boy, the whole world is turning into one big chain restaurant, all you can eat is one shitty burger."
"Ya gotta modernize, V., ya gotta keep up with the times!"
"Why? Stealin' and dealin's gettin' to be like everything else." It lost the Palme d'Or to Scorsese's Taxi Driver along with Losey's Mr. Klein, Polanski's The Tenant, Bolognini's The Inheritance, Mazursky's Next Stop, Greenwich Village, Rohmer's The Marquise of O. and so forth at Cannes where it was billed as Dandy, the All-American Girl. Schatzberg has Fritz Lang's calm smile at the folly of crime, it just doesn't pay (You and Me).
A thing of beauty is a Dino Ferrari, a certain kind of art goes into the acquiring of one by such means. Schatzberg has the screwball cue for his resolution. "I know exactly what you mean—like fishing—ya just try to put the right bug in the right spot—don't think about anything else. Just concentrate on that. Trout live in really beautiful places, you know."
"What is the best way to steal a car?"
"Have a key." A sort of Viking funeral at dawn ends the thing (cf. Mulligan's Inside Daisy Clover, Rafelson's Five Easy Pieces)...
Vincent Canby of the New York Times leads the various mistaken impressions, "it's easy to understand why it failed to find an audience. It seems unsure of itself. It wants to sympathize with the ambitious, disturbed, inarticulate heroine but can't make her appear to be sympathetic..." Geoff Andrew (Time Out), "indulgent, directionless." TV Guide, "suffers from poor writing." Hal Erickson (All Movie Guide) found it hard to follow, "producer/director Jerry Schatzberg... feels a coherent story is unnecessary." Halliwell's Film Guide still more lost, "the American dream gone sour again, this time offering in its wake a curious stream of moral values."
The Seduction of Joe Tynan
The brittle assholes who make up the Senate are brought up for review right down to the wire of a keynote speech at the Convention and left there, every man jack of them, in the light of Capra's State of the Union.
Janet Maslin of the New York Times, "an uncommonly well-meaning movie". Variety, "joins that list of exemplary Washington-set pic, including Advise and Consent [dir. Otto Preminger] and The Best Man [dir. Franklin J. Schaffner]." Time Out, "still seems to want the system to work." TV Guide, "a fine political drama with lots of comedy". J.R. Jones (Chicago Reader), "these days it seems positively dainty."
Misunderstood
The Spielberg syndrome and other allied phenomena can't be dealt with in ignorance, certainly this type of study is a useful addition to the field. A film for every father who truly can say he is in love with his boys (Redford's Ordinary People identifies this coterie).
With Rip Torn as Strother Martin as Truman Capote as the brother-in-law. Michael Hoppé does the Johnny Williams honors, truly a travail and no mistake.
Mr. and Mrs. Jack Benny are in Palm Springs, there's Phil Harris on vacation, "sure miss the boys!"
Very advantageous cinematography on location in North Africa, on the understanding that black-and-white means value or tone, color means hue, lighted accordingly.
To Janet Maslin (New York Times), "a mélange of vague texture, interesting scenery and sad emotions... instead of getting to the heart of things."
Variety reflected that it was "somber and largely unsentimental".
"Pleasant enough" (Catholic News Service Media Review Office).
The ending is played by José Ferrer as father and son in Huston's Moulin Rouge. "What marks you as a repressed as well as a practicing pervert", says Prof. Butley, "is your disgusting sentimentality over children"
No Small Affair
A film that proves love is deaf as well as blind. A very young photographer falls for a club singer whose voice could never shatter a glass but is nonetheless made of shards and shrieks, though this is particularly noticeable later on. She walks into his seaside shot, arguing with her lead guitarist. His pursuit of her leads him ultimately to make her famous after a fashion by putting her face and phone number on San Francisco taxicabs. The publicity wins her a record contract.
There is a good deal of congenial humor, flashes of style, fine cinematography by Vilmos Zsigmond and amusing performances to carry the essential dullness of the preparation, which is so protracted that a reserved player like Demi Moore is called upon to bring certain scenes to a point. The punchline comes in a flurry of images at the very end, pertaining to another lady entirely.
Martin Ritt had the original production with a saloon singer. In the completed version, at least, old age and treachery are said to beat youth and enthusiasm every time, "a word to the wise", and said by a wino in a downpour.
Street Smart
You can't keep Schatzberg down. NY construction cranes collapsing, phonybaloney journalism, phonybaloney sources protected by journalists in jail, he's seen it all.
And it's the same structure, though built on prostitution, as The Panic in Needle Park.