Earl Carroll Vanities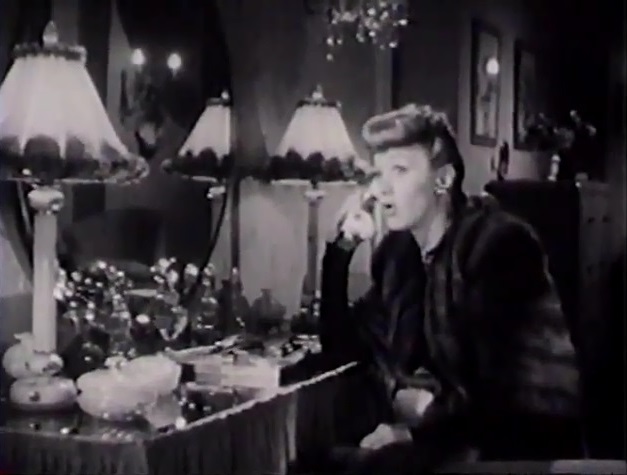 The boogie-woogie princess on lend-lease, up to her ears in a show when the star breaks an ankle. A musical tone surpassed only in The Monitors (dir. Jack Shea). "Bach? My dear Dashek, a princess of the blood plays nothing but Mozart!" The piano lesson is one of innumerable sources for Malle's Au revoir les enfants, the rest of it goes right into Ken Russell's The Boy Friend. "After all, I'm a lady, it says in my lease." A remarkable allusion to Man's Castle (dir. Frank Borzage) states as it were the royal position. Woody Herman and His Orchestra are part of the act (he sings "Who Dat Up There?"), with Dennis O'Keefe as "the poor man's Victor Herbert", composer of "Endlessly" and "You Beautiful Thing, You".
O'Keefe and Pinky Lee parked on the princess's doorstep are already Wyler's Roman Holiday. "You're just like all the other haughty-naughties, you put up a No Sale front while the right guy rings the cash register."
"I'm gonna make that obnoxious genius squirm."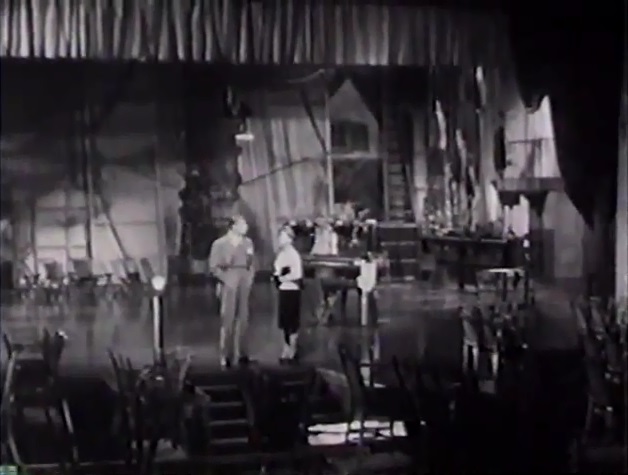 "... a rough dress rehearsal of the 'Rockabye Boogie' number, we're gonna do it without the blackface makeup," a Harlem bit on a set to recall Murnau's Sunrise, cf. Leigh Jason's Carolina Blues.
The glass of Turanian courage is also pivotal in The Sin of Harold Diddlebock (dir. Preston Sturges) and The Nutty Professor (dir. Jerry Lewis), here it puts the kibosh on a Mozart evening remembered with a difference in The Benny Goodman Story (dir. Valentine Davies). "Understudy? She sure puts in a full day." Eve Arden and Pinky Lee, "The Last Man in Town" (Spring, 1945). "Be with you in the twinkling of a zipper." A bowl of chili at The Chili Bowl, "behind me I got the Constitution and the Bill of Rights, and what have you got?"
"I don't know what I've got."
"You got two orders of meatballs," Parkyakarkas, prop. Jeopardy to the loan, cp. Raising the Wind (dir. Gerald Thomas). Mary Forbes' nobility as the queen is matched by O'Keefe given the boot, Alan Mowbray drunkenly unfolds a very large map from his back pocket and points out his tiny native land with a large magnifying glass from his side pocket to disbelieving Arden at Tex's Wolf Club, "don't you think that's carrying patriotism too far?" Lee to the rescue, "her honor hangs upon your histrionic genius!"
"That's a heckuva place to hang a girl's honor." So you have D.T. and B.O. securing the deal. "Well, uh, shall we be off, old man?"
"Like rockets, old man." Constance Moore as the princess incognito, "oh sure, a real live princess, gimme a drag o' that before ya step on it, willya?" Out of this John Ford made Donovan's Reef on the war in the Pacific. Friedkin emulates the finale in The Night They Raided Minsky's.
A certain Lubitsch touch in the mise en scène is calculated from a milieu or a mindfulness of the composition, or a tribute to the founder of the feast, "twice a week he goes to the zoo, just to see sump'n ugly for a change."
New York Times, "merely an innocuous, unimportant entertainment". Leonard Maltin, "zest and production values are lacking." Hal Erickson (All Movie Guide), "rather threadbare." Halliwell's Film Guide, "nit-witted musical with no style".