The Gay Divorcee
Sandrich's direction is a freshness unheard-of, partly by the lens and angle, partly as in the opening scene by introducing a spectator in the foreground (as Wyler does in Ben-Hur), mainly because he was a prop man, before he became a genius. His sets have a reality, and this with rear projections of the seaside, that is the naked truth. For that reason, when Fred Astaire on vacation in Paris dances in his monkey suit to prove his identity against l'addition and a wallet in his other suit, the orchestra stops playing for a few bars to hear him galumphing on the floor.
He meets the girl in Southampton, her skirt hiked to 1940 by her aunt's steamer trunk. Where oh where in London is she, he finds out by looking. She's married, his chum's her lawyer.
A correspondent is needed, Tonetti. A chance phrase confuses the two, they all dance "The Continental". And so... the husband is a bigamist, married to a frog.
"You can't have a clandestine affair between three people," says the lawyer. "Oooh, that's what you say," says the aunt.
Top Hat
A London impresario engages an American showman and very soon is reconciled with his own valet, who uses the royal "we".
The girl downstairs and the showman fall in love, she mistakenly believes him to be the impresario and marries an Italian dressmaker whose clothes she has been promoting, in Venice.
The wedding is conducted by the valet in disguise, therefore all ends happily when the misunderstanding is reconciled.
This is the plot no critic has observed. The dances and settings are much praised. Kubrick adapted the London-to-Venice plane ride for a joke in Lolita.
The dancing upstairs that awakens the girl also occurs at the beginning of Hitchcock's The Lady Vanishes.
Follow the Fleet
She wouldn't marry because of her career, now he's in the Navy and she has a job in a chop suey joint, his ship docks at San Francisco, they resume their dancing partnership, Astaire & Rogers.
The mirror is Harriet Hilliard as a frump who gussies up and lands a sailor (Randolph Scott) to skipper what she's inherited.
Carefree
Ginger Rogers must be crazy not to love Ralph Bellamy, he sends her to Fred Astaire, a psychiatrist. The two fall in love, that gives you the title and the bunk about psychiatry.
Variety thought there was no script, the New York Times that there was a good one, better even.
The exact nature of the satire has eluded some writers, rationalized lovelessness is probably the answer. Then it all makes sense.
The dream (induced by a Dickens diet), "The Yam", Astaire teeing off ahead of Pat and Mike, and dancing with Rogers by the pull of his mesmeric fingers, Aunt Cora and the orderly, and to begin with, the Medical Foundation plaque floating in space through Bellamy's drunken lovelorn eyes.
Buck Benny Rides Again
Buck Benny has to pretend to an existence on Andy Devine's ranch in Nevada, or else the girl won't have Jack.
Turns out Buck has a lively little life of his own, stopping a girl on a runaway horse because his has bolted and meets her halfway, also there's Carmichael the bear to nose badmen up a freezer wall, so it all ends happily.
"There's a bird singin' outside the bunkhouse..."
Love Thy Neighbor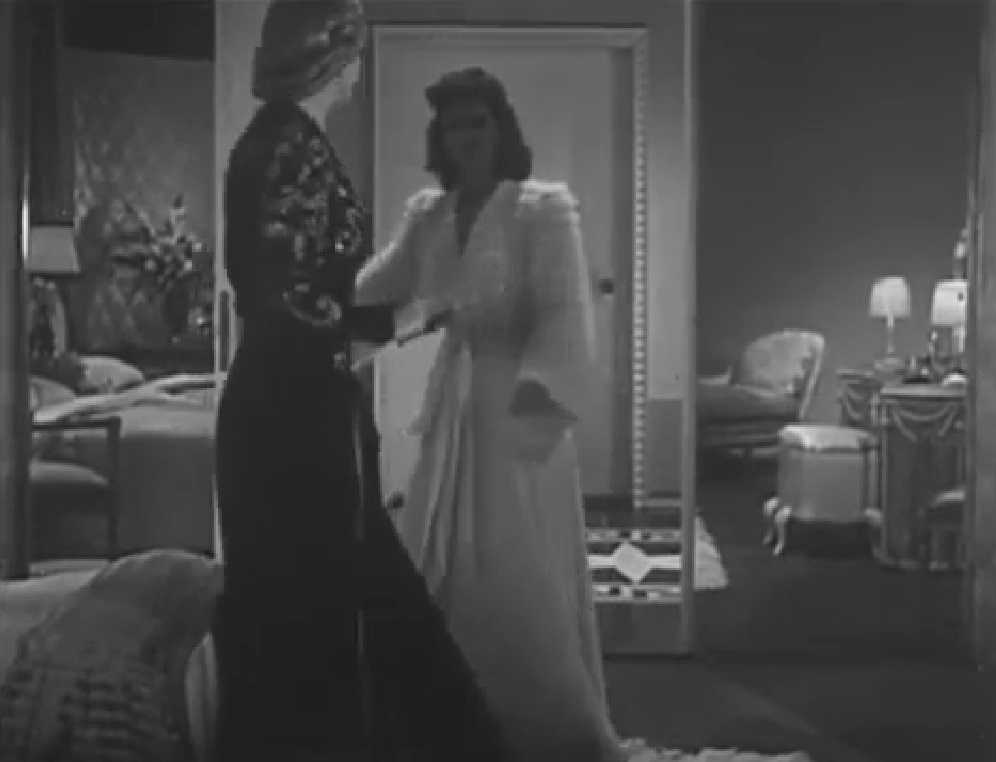 Benny & Allen, Benny and Allen's niece, mistaken for a chorus girl. The patent Sandrich medicine, down at the pier for her arrival with Rochester's belle (The Gay Divorcee), the perplexity of Top Hat, the resort hotel of Buck Benny Rides Again, Miami.
The Harlem Social and Come-What-May Club on New Year's Eve. The shushed argument goes into Get Smart, Again! (dir. Gary Nelson). Edith Head in positive excelsis.
Rod Serling's conscience, the only thing funnier than Rochester is more.
Bosley Crowther of the New York Times, "awfully monotonous." Leonard Maltin, "contrived". TV Guide, "weak story line." Hal Erickson (All Movie Guide), "an uninspired attenuation of a threadbare premise."
Holiday Inn
A vindication of the holidays, from Christmas to Christmas.
T.S. of the New York Times seemed not to perceive the drama of Lincoln's Birthday, Valentine's Day, Washington's Birthday, Easter Sunday, the Fourth of July, and Thanksgiving. Naturally, British film critics do not like it, but there's Variety, "a compact 100 minutes of tiptop filmusical entertainment... Mark Sandrich's production and direction are more than half the success of the picture." Marcel Ophuls finds it at the center of Veillées d'Armes.
I Love a Soldier
Barry Fitzgerald is a motorman on a San Francisco cable car, the girls work for the war effort and dance every night with G.I.s passing through.
"Don't say goodbye, it's G.I. to say so long." Sandrich on location. "Well, it has up to now but if it doesn't it wouldn't surprise me, oh send us all to our deaths. Stand back everybody now and hope for the best." Dog tag, class ring and wristwatch, "that's all that's left o' Richie." Over his dead body, a romance. "Can't you say anything but swell?"
"Look, Miss, I've been out for fourteen months and haven't been able to say anything was swell. I kinda like to say it. Swell. You're swell."
In about a quarter-hour, Sandrich is firing on all cylinders, like nothing else. "When you haven't seen a light in fourteen months, a single bulb is more beautiful than the biggest diamond, just a plain naked bulb."
The estranged Fascist wife is a slight impediment. Rationing means confetti instead of rice and old shoes at a wedding. Getting married in wartime seems a chancy proposition, the bride is opposed on principle. Who you know is important, as in Cukor's Keeper of the Flame, only now the shoe's on the other foot, a miserable attic overpriced at that is a find for a soldier's wife, she takes it. Adultery is laid at her feet, the heroism of the home front is letting a man go fight.
Not all of them are killed, or even wounded. "Swell," says she.
T.M.P. (New York Times) nixed it, "heaven forbid that the home front should ever be so thoroughly mixed up!" His professional assessment? "Only fair at its best moments." Variety tediously missed the point, "little suspense induced... tedious overabundance of twists and turns." Halliwell's Film Guide has "glossy, insubstantial".