Knights on Bikes
The fate of one not on horseback but astride Keaton's velocipede (Our Hospitality, co-dir. John G. Blystone, vd. Stoppard without wheels).
Amelia and the Angel
Here the grand theoretical basis of all art gets its turn in lines of thought rather like Renoir's La Carrosse d'or and looking ahead to Malle's Zazie dans le métro.
A little girl plays an angel in the choir that night, after school she takes her wings home pridefully and her beastly brother wears them to the playground where they're smashed. She prays to her saint and guardian angel, goes to her shop, examines the stalls of a London street. A leetle pair of "beetle wings" from a barrow won't do, neither will the décor on Rock the Wonder Dog (Mike Sniver, trainer), nor yet the stone wings bestowing laurels in the park.
A pre-Raphaelite artist's model with lute is similarly accoutered, but the artist himself in saint's robe and sandals has to ascend the cherub-ornamented ladder out of frame and back again to equip Amelia with the very article she requires (artist and model are pictured on the wall of her room earlier, when she prays).
All of this is filmed very brilliantly right outside one's door in London, Amelia herself is repeated for Women in Love as the girl with the rabbit, the camera technique includes a POV down the slide and on a swing and scampering along a deserted train platform into Sniver's loving arms, the editing is very brisk and adroit, very expressive, post-synch music and narration crown it, a silent film of genius with a bit of Alice and Browning's feather as well as Ernst's La Femme 100 têtes (à la Bergman later on in Fanny and Alexander).
Peepshow
Newly-graduated "bogus beggars" (Die Dreigroschenoper, dir. G.W. Pabst) lose their custom to an old-man-and-dancing-doll act. They attack en masse but one has a change of heart and gets bashed on the head with a banjo by a confrere, the rest try to drown the showman in vain, his magic flute (a soprano sax) pipes them away on dancing feet.
A film comparable to Welles' Hearts of Age, and also to Russell's much later video work (The Fall of the Louse of Usher). A silent film with titles written in chalk on the set producing a most unusual result (cf. Charles Crichton's Hue and Cry).
Variations on a Mechanical Theme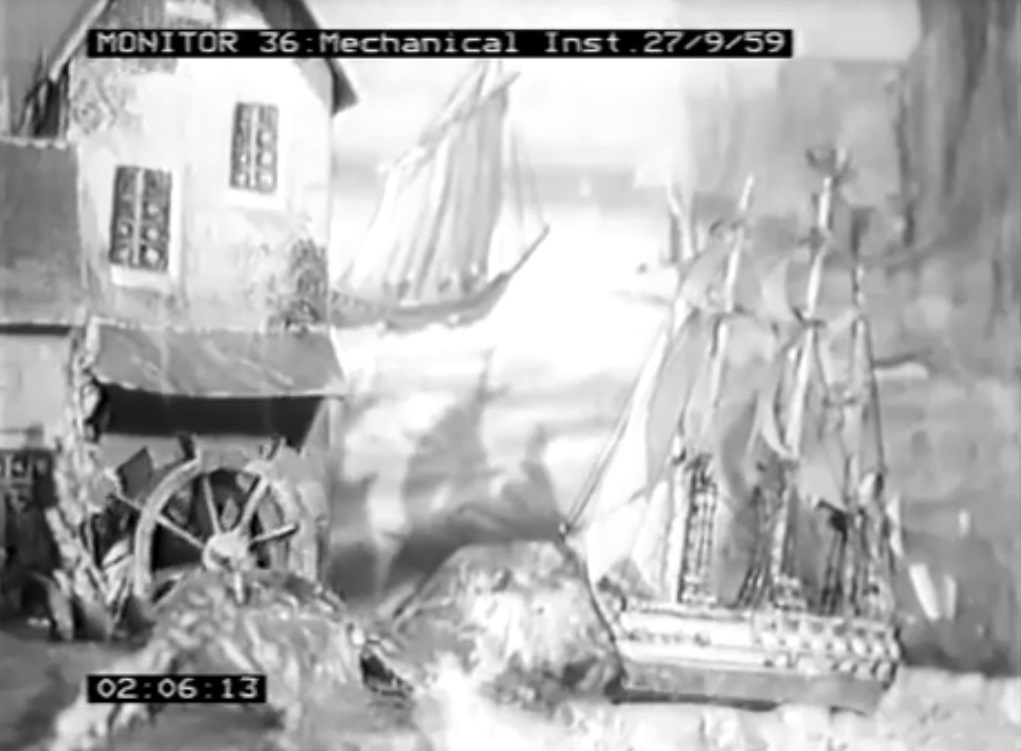 From Victoria's loyal bustle (cf. McGrath's The Bliss of Mrs. Blossom) to Muss on English organ-grinding (cf. Huston's The List of Adrian Messenger) and beyond the beyond (cp. A Kitten for Hitler), an exercise for Monitor. Schlesinger without any doubt whatsoever remembers it most particularly in Far from the Madding Crowd.
Michael Brooke (British Film Institute), "delightful... kitsch it may be..."
The Miners' Picnic
Dramatically, John Ford represents Wales in How Green Was My Valley. Russell simply covers the ground in a composed documentary at Bedlington (Northumberland). The brass bands compete for musicianship and smartness of uniform, prizes are given, beauty queens each earn her salute en masse. Dull and daft labor speeches are endured and rained upon, the miners adjourn to the evening merry-go-round.
The opening shot of Truffaut's Les Mistons, which figures at the very start of French Dressing, occurs here almost verbatim.
A House in Bayswater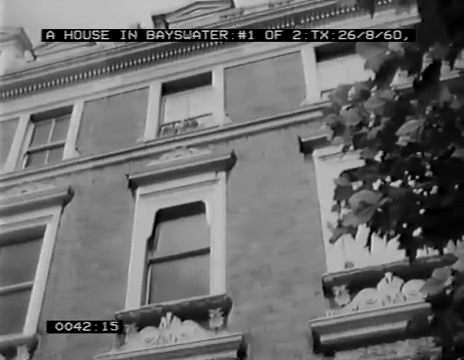 It might easily have been made twenty years earlier by the GPO Film Unit to document the Blitz, rather than in 1960 for the BBC.
For there is the house and its tenants from bottom to top, sleeping in their beds, describing their lives, seen at work, artists some of them, there is a story about a wedding party that is quite remarkable, Russell takes a prismatic sort of dreamlike stretto and then it's all rubble, picked over by a workman.
Shelagh Delaney's Salford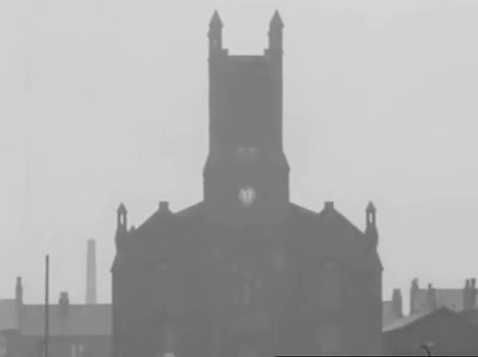 Russell was there before Tony Richardson.
He takes stock, a very healthy slice of English roast beef, Delaney points out the destruction, great churches for sale and the like.
The Light Fantastic
A rather particular London enthusiast demonstrates and joins a guided tour of dancing in the United Kingdom, which Russell patiently records and then puts to music (cf. Mahler, The Planets, etc.).
Lotte Lenya Sings Kurt Weill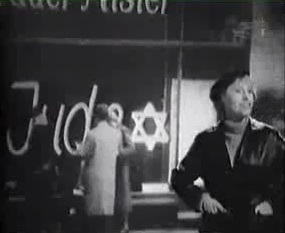 "Mack the Knife", "Surabaya Johnny", "The Alabama Song" and "Pirate Jenny", expertly presented in four separate vignettes, the first with German film footage directly pointing out Hitler as Mackie, interspersed with astute commentary from Huw Wheldon.
London Moods
The great city, eating and slimming, the spiritual city, in a technique comparable to The Planets.
Antonio Gaudí
Gaudí, supremely intelligent as a Stoppard hero, borrows all his inspiration from the works of Russell.
Teshigahara follows in these footsteps with color stock and more reels of it, to the same effect.
Pop Goes the Easel
British artists on the tide of popular culture, surf or swim, they do both with equal facility.
Pauline Boty's dream of running along a curving corridor turns up in Wise's The Andromeda Strain (and Kubrick's Dr. Strangelove).
Russell's Tommy has a partial source in Peter Blake, Peter Phillips, and Derek Boshier.
The title dates from Del Lord's epochal Three Stooges short.
Preservation Man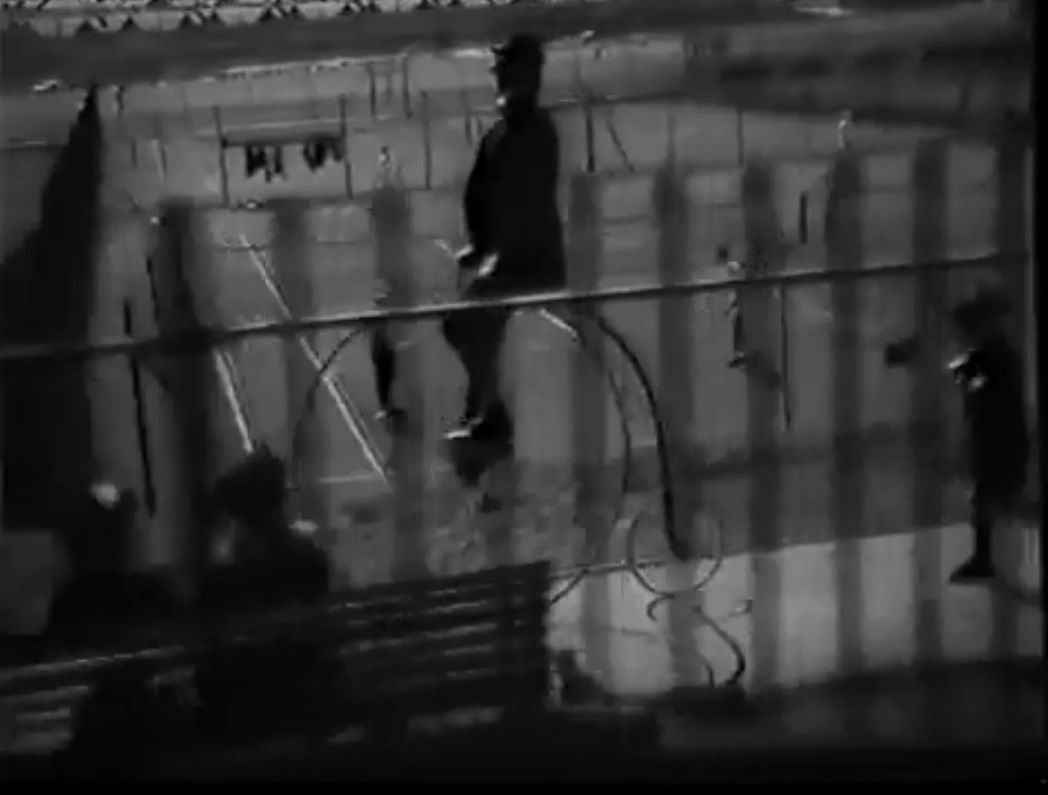 Astride a penny-farthing, merry as a lark, to Beethoven's Bach (cf. the start of French Dressing, also Knights on Bikes). Cult of vanity, cult of photography, he abstains (Tennyson taught Pound to recite on a cylinder with "The Charge of the Light Brigade"), amongst Vigo's dummies. The washed-up shores of bric-a-brac, speaking integers.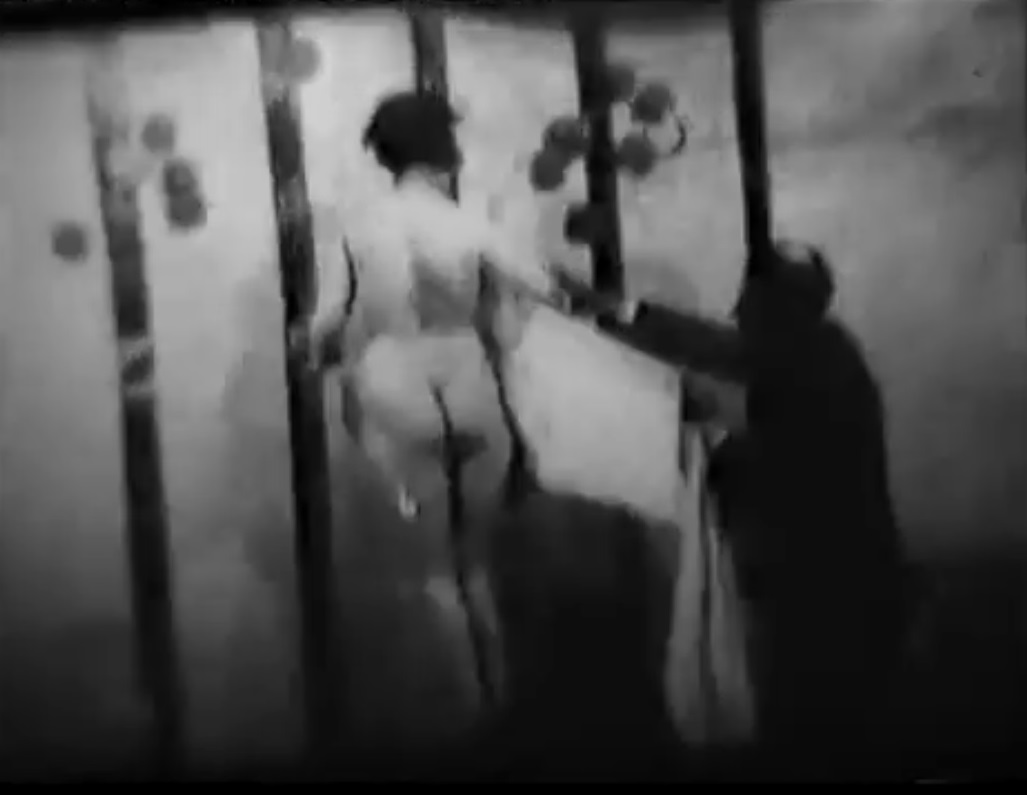 "What he particularly relishes are those forlorn objects which are too old-fashioned for use and not yet ancient enough for museums." The love affair of a Red Indian and a dinner table set for two, It's a Wonderful Life (dir. Frank Capra), "the big Charleston contest!" A babe in fancy dress, "I invariably wore it to parties, even if they weren't fancy dress parties," cf. Blake Edwards' Skin Deep. "The Lewisham Hippodrome every Saturday night." The dancing dummy that falls apart onstage. How to tune up a bicycle. "Impression of Sir Henry Irving... blowing bubbles..."
Family man in "Sleepy Valley", cp. Dance of the Seven Veils, Noël Coward's This Happy Breed (dir. David Lean).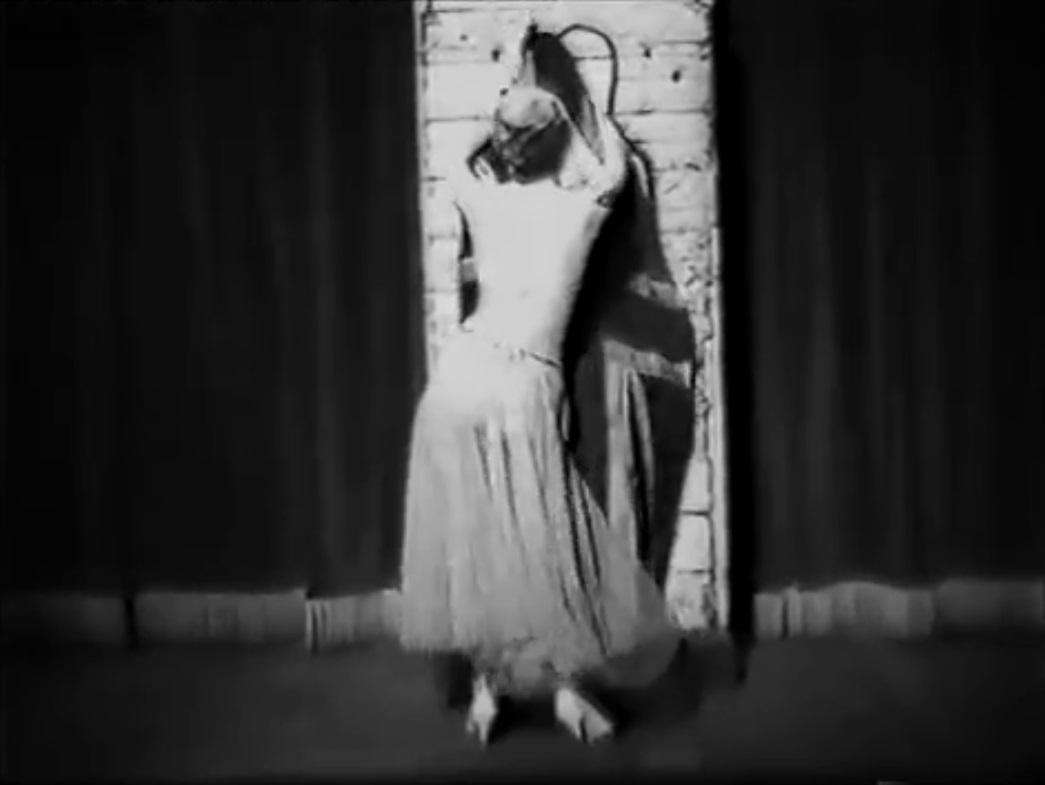 Elgar
Portrait of a Composer
Very much the situation of the artist defined by his terrain. Pony, bicycle and motorcar bear him along the Malvern Hills, London is a disappointment, Germany a salutation. Details are inscribed by Huw Wheldon's commentary on Russell's images, there is the kite Elgar took up flying (it reappears in Stevenson's Mary Poppins), his tinkering with inventions and microscopy in fallowness and mourning. The "deadbeat escarpment" of silent news footage at 24fps demeans the "vulgar court" and tiresome age and horrid war.
And within the bounds of non-dramatic representation (latterly in vogue again on Beeb and Peeb), oscillating between Russell and Wheldon, cogent images overlap and combine to form a sort of picture obliquely representing the work and its maker with all the skill of Boleslawski's film actor, who must know the part he plays so thoroughly that at any moment any fragment of it can stand before the camera in complete presence of mind, whole and entire.
The simplicity of means is emphasized in some stills under the end credits showing a camera crew of two or three filming the scenes with not a large apparatus on its tripod, just the surprising way Peter Yates shot the famous chase in Bullitt.
French Dressing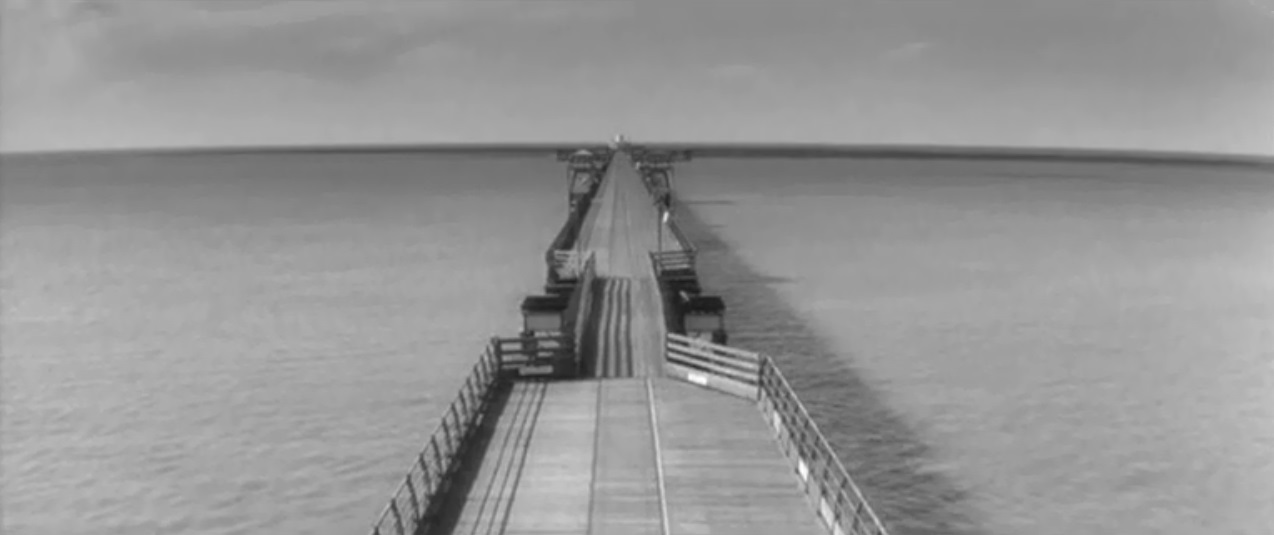 The gormless response left it in a warehouse for screenings one day at the Gormleigh on Sea Film Festival, "to combine Art with Business."
The first shot of the title sequence (two shots, tracking shot and pan) is perfect, the second a stunning articulation of genius, and the punchline is Knights on Bikes (cf. the opening of Preservation Man for television). And then, with Nannette Bettina at the h'organ re-mindin' yew of The Entertainer (dir. Tony Richardson, with the departure of the Medway Queen a bit of a taste of honey), h'it's pure Fellini, i'n' it (La dolce vita)? "I can see through your clothes," three months after Man's Favorite Sport? (dir. Howard Hawks—Henry Koster went to the mountain next year in Dear Brigitte). Bruce Lacey's "Artist and Model". Alita Naughton as the "press agent" behind her sunglasses and sailor togs resembles Joanne Woodward in A New Kind of Love (dir. Melville Shavelson) the year before (Elio Petri in L'Assassino put just such cards as these down on the table for the mayor's inspection). The inflatable bikinied F.F. dolls of the French publicity stunt are remembered in the Marilyn cult of Tommy, George Marshall picks up the starlet's rebellion in Boy, Did I Get a Wrong Number! two years later (the sublimity of Russell's account is in her rage, fixed between Anger's Kustom Kar Kommandos and Rafelson's Five Easy Pieces). The wheelchair parade comes in handy for one of The Boy Friend's musical numbers, whereas the historical procession is from Asquith's The Demi-Paradise. "I swallowed half your stupid sea!" Richard Lester borrows a gag for Help! the following year. "Right, gentlemen, shoes and socks off." Lindsay Anderson has it in mind in the making of If...., from the girl's face to the Zéro de Conduite town council.
Jean Macabiés of Ciné Monde has the facts, "qui d'autre que Vadim aurait pu avoir l'idée de ce film : raconter l'histoire d'une petite station balnéaire inconnue qui devient célèbre du jour au lendemain, parce qu'une grande vedette à scandales a décidé de s'y fixer ? Voilà qui rappelle furieusement la légende de Brigitte Bardot et de Saint-Tropez... étant bien entendu que toute ressemblance avec des personnages ou des situations existant ne serait pas fortuite ! Mais le diable Vadim estimant que ce sujet sentait peut-être un peu trop le soufre, préféra « refiler » son idée à Ken Russell, un jeune metteur en scène qui brûlait de faire des débuts fracassants." Gormeleigh-sur-Mer, the place is called, Rues de Boulogne the festival showpiece, a fine feature faked by Alf Russell hilariously but broken up by a claque, "get all this filthy rubbish off of 'ere!" The vedette's Grand Hotel bedchamber is at the very least from Hitchcock's The Paradine Case (and cf. Gordon Parry's A Touch of the Sun for the whole megillah anyway, to be going on with). The vedette departs... leaving the nudist beach unopened. Minnelli's Gigi springs to mind (and this is all a way to reach B.B. en verité, and the character she plays in Et Dieu... créa la femme). "You'll never work again, any of you!"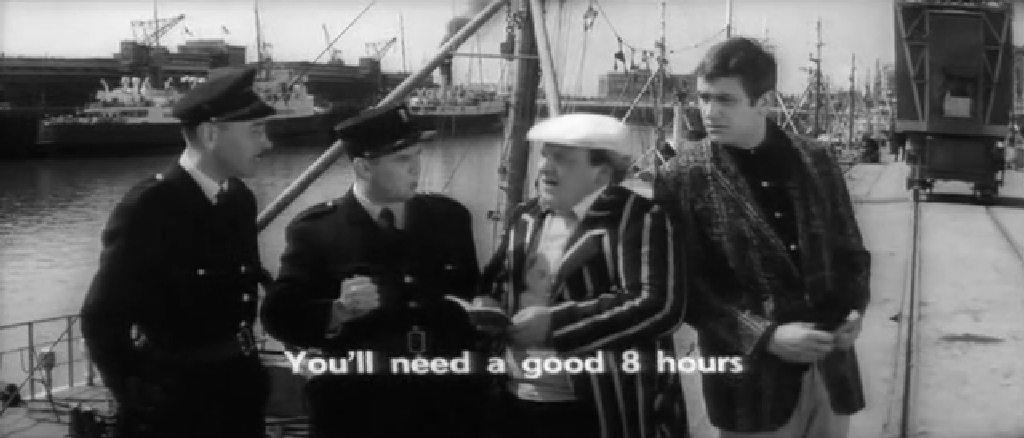 The cinematography, which is of the finest, will be seen to take note of Losey's achievement in These Are the Damned, among many other things (nothing quite like it, take it all around). The bravura score by Georges Delerue brings to mind the opening shot of Truffaut's Les Mistons, but cp. Barnacle Bill (dir. Charles Frend) and to be sure The Punch and Judy Man (dir. Jeremy Summers), and Delerue is the composer of Jules et Jim as well as most assuredly Women in Love. Russell later described French Dressing as containing "all the films I had seen in the last five years," among which he named "Fellini, Jacques Tati, Mack Sennett and Jean Vigo," all certainly visible.
Variety contrived somehow to find "sheer lack of bright wit and irony." Radio Times, "highly original view". Film4, "quirky little slapstick number". Paul Brenner (All Movie Guide), "a slight comedy". Halliwell's Film Guide, "cinema's enfant terrible directs this his first theatrical film at breakneck speed with echoes of Tati, Keaton and the Keystone Kops. Alas, lack of star comedians [James Booth and Roy Kinnear, to say nothing at all of Marisa Mell and positively downright snub Bryan Pringle] and firm control [!] make its exuberance merely irritating."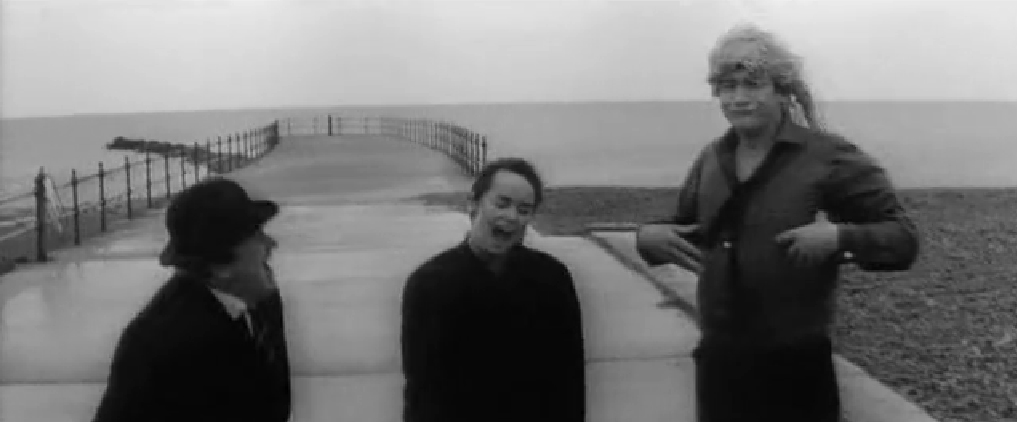 The Debussy Film
Impressions of the French Composer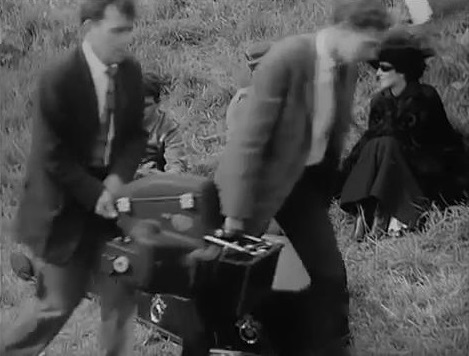 Arrival of a film crew, "il paraît que c'était un musicien."
Pierre Louÿs. Eastbourne and so forth.
"Jardins sous la pluie". La Damoiselle élue. A yawning actress, etc. Baudelaire, Turner, Whistler. "Fêtes", processional. Swimming pool at night (cf. Antonioni's La Notte, and Reisz' The French Lieutenant's Woman throughout). Prélude à l'après-midi d'un faune.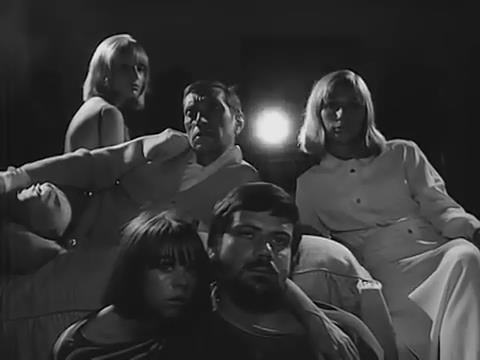 "Who's playing Louÿs?"
"I am. Me."
A Soho cafe, "Gigues".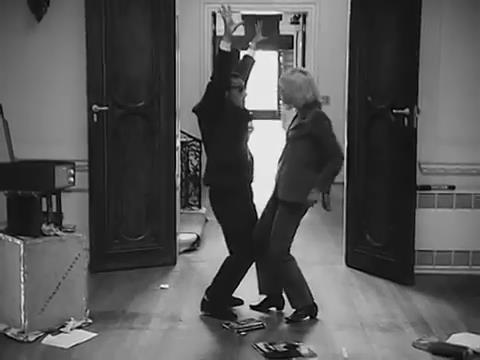 "He took ten years, ten years, over Maeterlinck's play Pelléas et Mélisande, turning it into an opera, and you didn't understand any of it."
A London party, Danses sacrée et profane, the latter.
La Mer. Children's Corner. Berceuse héroïque, commissioned by the Daily Telegraph (1914). La Chute de la maison Usher. Syrinx.
Michael Brooke (British Film Institute), "still represents a career high point." Ken Hanke (Mountain Xpress), "holding the artist accountable for the shortcomings of his life."
Abundantly illustrating the point made by Boulez, "there is no doubt that Debussy would have wished it to be understood that he had to dream his revolution no less than build it."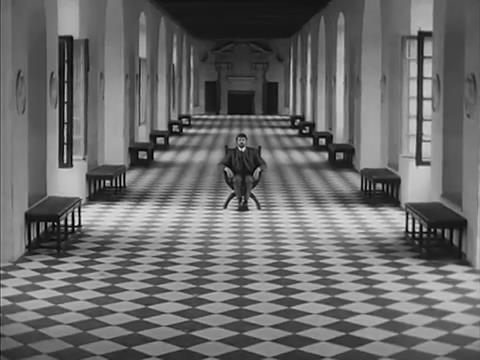 Henri Rousseau
Sunday Painter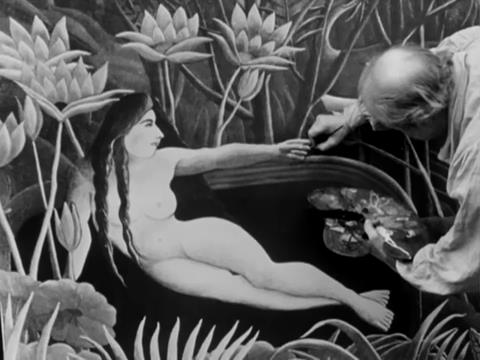 The work is abundantly seen in progress (cp. Savage Messiah), a prodigious feat.
Certain facts, certain evidence, and a number of anecdotes from the painter's life.
Always on Sunday, it's sometimes called.
Jarry, "Apollinary", Picasso. The surrealist mystery of Fritz Lang's Scarlet Street.
Isadora Duncan, the Biggest Dancer in the World
In a sense, another realization of Buñuel's idea for a film illustrating the stories of a daily newspaper (after, let us suppose, Bloomsday), one story in a newsreel like Citizen Kane.
The real story, the true one, crystallized as dizziness before the first feature à la the Press, unfolded throughout "like the tissue / of a Japanese paper napkin," the banner waving, the battleship blazing.
"Gloriously vulgar," says the BFI (Michael Brooke).
The participation of a notable biographer tips Russell's mitt in the way of erudition.
Billion Dollar Brain
Among the major influences visible (Lean, Eisenstein, James Bond), the most important is probably Hitchcock, in that Hitchcock receives a complete and thoroughgoing analysis on a trend of continuous motion, with surprising results, reintroducing the pleasure of a film that seems to require a Moviola at least to be sufficiently described, as the early films of Hitchcock do. Psycho is openly cited with great mastery in Kaarna's house.
Gen. Allenby's oddly Blakean frescoes in Lawrence of Arabia are seized upon and treated authoritatively. Doctor Zhivago is effectively spoken here. You begin to see the problem for British cinema posed by Russell, Britmovie calls this "Pop Art", and probably means to disparage it thereby, but it's the same problem posed by Hitchcock. Much of the flawless editing is done in a handheld camera used with unerring precision, moreover, and great swiftness. An admirable analysis is laid on in Hy Averback's Suppose They Gave a War and Nobody Came.
The costly and difficult finale is a re-creation of Alexander Nevsky that is furthermore subsumed in a formal parlance openly prepared by virtuosic treatment of the earlier foray against enemy forces in Latvia. Palmer wakes to find himself amid dead bodies in a washroom, menacing types accost him only to bring him smartly to Col. Stok accompanied by music he is revealed to have just listened to in a concert hall, after which he explains to Palmer what Shostakovich's Seventh Symphony means, the Nazis had surrounded Stalingrad, "they knew they were going to die," his face streams with tears as he applauds. The famous music is heard in the subsequent battle, whose outcome is a foregone conclusion.
Col. Stok's first appearance makes reference to Funeral in Berlin (dir. Guy Hamilton), and shows as clearly as anything the nexus between Hitchcock and Russell. A hotel waiter trundles a cart into Palmer's room, takes a glass and listens to the wall, all of this a surprise to Palmer, it's the middle of the night, he didn't order anything, it's Col. Stok incognito to return a favor and warn Palmer against betrayal by his Latvian comrades, "not my men." Col. Stok undoes the stiff collar of his borrowed costume with great relief and, talking continually of Lenin and "momentary interests," strips to his long underwear, rolls back the tray cover to reveal his neatly folded military uniform, puts it on, takes a drink and cheerily departs through the window.
Russell's location shooting in Finland is mighty (Griffith) and mighty fine (Kokoschka). He opens on a streetfront at night in London, the upper windows have a reversed red neon letter N reflected in them. Someone is searching the live-in offices of the H.P. Detective Agency with a flashlight (record album of Berlioz on the floor, Bogart, a Playboy centerfold, dirty dishes, Kellogg's Corn Flakes), it's Col. Ross, brought to bay by Palmer with a pistol, he wants H.P. back in MI5. Palmer refuses, and instead takes a telephone call whilst opening his mail, it's a computer voice with elementary voice recognition for yes or no responses. Has he received the packet? Will he accept the assignment? Which is to carry a Thermos bottle to Finland.
A false start lands him inadvertently where Col. Ross wants him, but only after he "has to go a very long distance out of his way to come back a short distance correctly." His dead contact is Kaarna, MI5. The Thermos contains viruses shortly to be used in a private military operation against the Soviet Union financed and led by a Texas oil billionaire named General Midwinter. Palmer quickly sizes him up as mad, but Midwinter's billion-dollar computer has the whole plan laid out, neutralize the Soviet army, foment rebellions and resistance, drive across the ice in tanker trucks full of troops. Col. Stok sends a few bombers to break the ice, picks up the plastic symbol representing Midwinter's forces on his war room map, holds it in his hand a moment and tosses it over his shoulder with a smile.
Palmer's old partner, Leo Newbigen, now works for Midwinter and is responsible for programming the resistance activity, but secretly pockets the payroll and agrees to share it with Palmer, who spills everything to Gen. Midwinter in an effort to avert disaster. Married father Leo has a new mistress secretly working for Col. Stok, who gives back to Palmer the viruses filched from a British laboratory and propagated by a former Latvian Nazi (who takes cyanide rather than surrender). They had been secreted in egg-shaped containers, and when Col. Ross opens the package triumphantly (with Lord Nelson atop his column looking on), he finds live baby chickens.
The performances are sharp, commanding and subtle. The producers are Harry Saltzman and Andre De Toth, the opening titles are by Maurice Binder, and the great score is by Richard Rodney Bennett (who cites Stravinsky's Les Noces at one point).
The impression created might be construed as a memory of McCarthy. Palmer knows his enemy, and photographic evidence of this enrages General Midwinter, who breathes only the pure air of Texas. The General's last wish is to "crucify every Red atheist" he can lay his hands on.
Harry Palmer as Sam Spade or Philip Marlowe takes his lumps, has his girl, gets the lowdown and delivers the goods. This is entirely to the benefit of Don Siegel in Telefon, also Mark Robson in Avalanche Express. Françoise Dorléac's exit by helicopter is expanded, analyzed and developed by Robert Altman in MASH. Dr. No, From Russia with Love, Goldfinger, etc. are more or less prominently indicated. The trio of code names, Concerto (Palmer), Piccolo (Newbigen), Sonata (the Latvian germ expert), resembles Len Deighton's later Game, Set, Match. The initial reconnaissance foray ends with oranges strewn across the icy road in a fine image. General Midwinter introduces Palmer to "my brain" as a product of the 21st century, and tells his "Crusade for Freedom" troops before the battle, "you are already heroes." Palmer's bullet-shattered windshield fills the screen, he punches his fist through it to see the road.
Dante's Inferno
The private life of Dante Gabriel Rossetti
Poet and Painter
Bloody Bolshy 'ooligans and Luddites, the P.R.B., some fella says, some airy bint with a Master of Inane Farts.
Your "not Italian—but not really English" artist, your own, your very own.
William Morris going ape is in Altered States, later Borges on Shaw, "a flavor of the sagas." Gab's fall recurs very pointedly in The Mystery of Dr. Martinu. "And now that I have climbed and won this height..."
A pinnacle of photography, somber construction, and of course the acting and costumes and everything else is very fine as well.
The Goat of the Holy Land, the ringing solitudes, patronage, push, the source or wellspring of art.
Song of Summer
The working title shapes up to be A Poem of Life and Love. A sublime joke from The Third Man is arranged for Jelka at the gramophone.
Beethoven's surdity, Pope's valetudinarianism, even Wagner's hypersensitivity, are represented in the blind and paralyzed old man who listens to Jerome Kern amid his own works.
Rev. Thomas Ward of Jacksonville "taught me everything I know about harmony and counterpoint".
Delius is briefly glimpsed à la Charles Foster Kane (passim through the eyes of Fenby). Forman borrowed the dictation scenes for Amadeus (as Russell for The Music Lovers).
Women in Love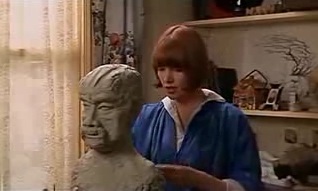 Das Ewig-weibliche zieht Rupert hinan, Gerald has no such luck, Gudrun becomes Hermione, tutored by an artist of industry. So the æsthetic position comes round to its fullest expression and an exit. The structural apparatus is a consideration of Metropolis (dir. Fritz Lang) for a cinematic arrangement, as Kubrick had availed himself brilliantly of Scarlet Street in making Lolita.
The lens of youth, an instar past The Rainbow. Everything is seen by this means alone, even if refracted by childhood or age or reflected back, and so there's a constant formula worked out to account for the world in an extension of childhood that dwindles down to nothing but a whim or wish. An economy of art, Pedagogical Sketchbooks. A parallelism with Godard, Masculin-Féminin, economy of love (the French title, an English word).
Truffaut filmed the "original" of Jules et Jim two years later, Deux Anglaises et le continent. The colliery band of The Miners' Picnic, the father's deathbed in Altered States, Isadora, Plath and the cattle, the Japanese wrestler and so forth.
Vincent Canby of the New York Times, "if you think of D.H Lawrence's novel, Women in Love, as a kind of metaphysical iceberg..." Variety, "directed with style and punch by Ken Russell this is a challenging and holding pic." Keith Dewhurst (Guardian), "more like John O'Hara than D.H. Lawrence, more like a respectable best seller than a probing genius." Geoff Andrew (Time Out), "despite a growing portentousness towards the end..." Dave Kehr (Chicago Reader), "surprisingly sane and classy for him." Ali Catterall (Film4), "faithful and frank". Tom Hutchinson (Radio Times), "this is one of Ken Russell's most successful and, for its time, sensational forays into literature, and it works so well because it is cohesively respectful of its source (DH Lawrence) and the director, for once, restrained the excesses that would come to mar some of his later films." TV Guide, "tends toward the static, particularly in the later stages." Britmovie, "strong acting barely compensates for impersonal direction." Catholic News Service Media Review Office, "directed by Ken Russell, the acting is first-rate, the photography almost too beautiful and the treatment of the convoluted relationships remains on the superficial level of the physical." Lucia Bozzola (All Movie Guide), "actually does justice to the novel." Halliwell's Film Guide, "satisfactory rendering... rather irritating characters," citing Rex Reed, "call it Women in Heat," and Michael Billington (Illustrated London News), "one-third ambitious failure."
Dance of the Seven Veils
A comic strip in 7 episodes on the life of Richard Strauss 1864-1949
Omnibus
Strauss is himself throughout, a most remarkable fact, second only to that must be reckoned Hitler's triumph over him as so many.
The artist stripped bare is an artist, nothing more, an instrument in the ancient sense, a block of stone carved (Orphée, dir. Jean Cocteau), "everything and nothing" (Borges on Shakespeare).
"Let me kiss the hand that wrote Ulysses," said a fan. James Joyce replied, "oh no, it did a lot of other things as well."
Also remarkable is the legal injunction sought and obtained by the composer's heirs against Russell's film, which vindicates Strauss and is central to Russell's œuvre (all of his films can be found in it, or nearly all), as well as in every sense one of the greatest films ever made by anyone.
The one work of Richard Strauss not cited yet essential for the form is Till Eulenspiegels lustige Streiche, naturally.
In A British Picture, Russell gives it a name exultantly, "satire."
Ken Russell's Film
on
Tchaikovsky
and
The Music Lovers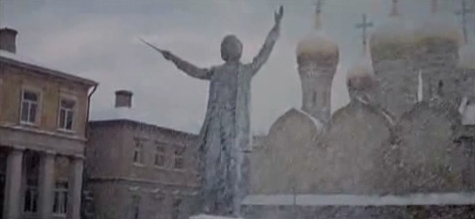 "To our great composer," says his mother-in law, "Peter Ilyich Tchaikovsky!"
The 1812 Overture is perhaps taken from Russell's own experience as well as Fernandez' Enamorada (and Capra's It's a Wonderful Life). In despair about the movies after French Dressing, harried from windy pillar to pissing post (so one imagines) by the inconceivable reaction to Billion Dollar Brain topping that alas quite off, even (the stuff of legend, it may be), he is suddenly carried aloft in defence of the realm by Women in Love, somebody puts a baton in his hand, his enemies expire in a cannonade (all but the one at one go), bells pealing, getting into the swing of things.
The facts are given by the London Symphony Orchestra, numerous details of the composer's life make up the integument on a fabric of Russell's combined technique absorbing the camera into the drama and vice versa. The key of the entire structure is Richard Chamberlain's performance, he sets himself within the great character he represents and will not budge for anything, consequently the vicissitudes and happenstances are a witness borne by him, the personality of Tchaikovsky is identified as a response to stimuli. "There are some things," says his patroness, "that even a man of his genius must find out for himself," the nexus of which she is a part, mainly.
The villainous reviews begin with an appreciation of Rubinstein's position and end in a reversal of the cannonade toward the director, who shows how it was done in the discontinuous editing of The Planets, whereas here the first five minutes aim toward an ideal flow of image and music.
But that is the way throughout the film (and here we have Canby as seasick in the slow movement of the First Piano Concerto as the composer on the train), comprising as it does the most musical of cinematic expression with the most moving of dramas, an ineradicable existence amid blind perceptions (Russell has told the story of his inertia after the war, from which he was rescued by the concerto).
It is possible to see a remembrance, if nothing more, of Huston's The Night of the Iguana. Mallarmé's "shallow rivulet", Polanski's Repulsion, and René Char's "ignominy had the aspect of a glass of water" also figure. Lean's Doctor Zhivago is a compositional mainstay.
Vincent Canby of the New York Times, "boiled to death." Variety, "a musical Grand Guignol." Roger Ebert (Chicago Sun-Times), "libelous not only to the composer but to his music." Nicolas Rapold (Village Voice), "fever dream". Dave Kehr (Chicago Reader), "wet dream." Time Out, "it's not subtle." Film4, "much of the film may well be in questionable taste." TV Guide, "filled with wretched excesses". Catholic News Service Media Review Office, "directed by Ken Russell with characteristic visual extravagance and narrative weaknesses, the movie's Freudian approach is questionable but its interplay with realism and surrealism, objectivity and subjectivity, succeeds to a surprising degree." Halliwell's Film Guide, "absurd", citing Konstantin Bazarov, "a crude melodrama about sex."
The Devils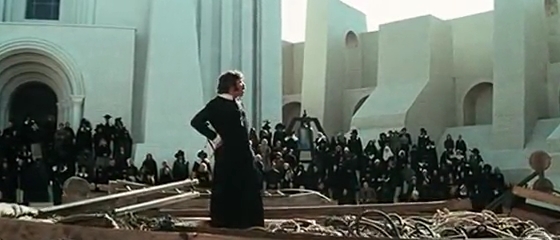 His Great Camp Majesty Louis XIII (not since the drag ball in John Osborne's A Patriot for Me) and Cardinal Richelieu, who envisages a town named for His Eminence... DeMille's The Ten Commandments for the "Protestant pigs" manhauling...
Such décor as Things to Come might muster (dir. William Cameron Menzies). The dead of plague piled wide and deep, a modern sight. "Every time there's a so-called nationalist revival, it means one thing, somebody is trying to seize control of the entire country."
Scenic grandeur on the scale of Billion Dollar Brain, the thematic parallel of Women in Love, the structure of Ophuls' Liebelei, homage to Artaud at the stake.
The fall of Grandier is absolutely swift and dire and takes all of a mauvais quart d'heure to begin, an hour for the naming of him, the length of the film for his destruction. The girl is pregnant, she has a father, jakes scryers prevail upon a dying woman with nostrums and delectation, Grandier soundly rebukes them, chastened they appeal to his enemy, the Cardinal's man arrives, "give me three lines of a man's handwriting and I will hang him," but a priest does not marry the boss's daughter, cf. Hitchcock's I Confess, Osborne's Luther (dir. Guy Green).
Dreyer commits an everyday witch-burning to memory in Day of Wrath, Russell takes an extraordinary but in many ways typical case for his panoply of the age. The devilry is a put-up job to secure a desired result.
The King is Queen for a day, Richelieu seeks to advance Catholic dominion in the State, Huguenots are the pretext for a campaign against the fortified towns where local government obtains, as at Loudun, peaceful coexistence. Father Urbain Grandier, a Jesuit, leads the town against the plot to thwart its freedoms, among his enemies in Loudun is humpbacked and besotted Sister Jeanne of the Angels, an Ursuline abbess, who is made the instrument of his torture and death, whereon the city is blasted into submission, its fortifications pulled down.
The chicken gag from Chaplin's The Gold Rush, which to be sure Canby did not recognize, is called upon to represent the Huguenot plight. A fine echo of Truffaut's Fahrenheit 451 as the heretic's lodgings are sacked ("two gross of broken statues... a few thousand battered books"), another of Don Giovanni (dirs. Paul Czinner and subsequently Joseph Losey) in court as sentence is read by a hooded Inquisitor like sounded trombones, her father is a magistrate. The Faust theme is present (not damned into Hell but burned at the stake), Grandier in the flames is a sight recalled in Altered States. The last shot is from Kubrick's Spartacus (he repays the homage in Eyes Wide Shut). Cf. Peter Brook's Lord of the Flies.
"If the Devil's evidence is to be accepted, the virtuous people are in the greatest of danger, for it is against these that Satan rages most violently," cf. Powell & Pressburger's The Life and Death of Colonel Blimp. The title characters do not appear in their own persons, nor even their signatures on a pact with Satan introduced as evidence at Grandier's trial in 1634, a case of what is called judicial murder rather than the assassination depicted by Eliot (Murder in the Cathedral, dir. George Hoellering) and Anouilh (Becket, dir. Peter Glenville).
"The degradation of religious principles," Russell told the Guardian's man, "a sinner who becomes a saint." Screenplay by the director from Huxley and Whiting, Technicolor and Panavision cinematography David Watkin, witty choreography by Terry Gilbert on Terpsichore from the Early Music Consort, capital score by Peter Maxwell Davies from the Fires of London.
The deplorably censored bits now visible certainly make plain among other things the eventual decision by Rome to place the superstition under the ban, rather than the supposed practice of witchcraft. Jeanne's "souvenir" suggests Baudelaire's calcining Beauty answering the Latin verses earlier on, elsewhere he has "un troupeau de démons vicieux,"
Dans des terrains cendreux, calcinés, sans verdure,
Comme je me plaignais un jour à la nature.
It was thought by Vincent Canby of the New York Times to be "of so little substance" etc., which was Bosley Crowther's way of dealing with Preminger's scandalous The Moon Is Blue, he of Saint Joan.
Variety, "Russell has spared nothing in hyping the historic events by stressing the grisly at the expense of dramatic unity." Roger Ebert (Chicago Sun-Times), "put them all together and they spell Committed Art." Alan Jones (Radio Times), "a highly moral tale of absolute faith." Time Out, "best approached as a diabolical comedy." Film4, "the real pleasure is in watching a film by a director for whom 'too far' is never quite far enough. The devil." TV Guide, "one of the director's most extravagant fantasies." Halliwell's Film Guide, "a pointless pantomime", citing Stanley Kauffmann of The New Republic, "farrago of witless exhibitionism", et al.
The Boy Friend
A matinee at the Theatre Royal, Portsmouth. There's a garden fete on in the town, "not a cloud in the sky", and so the audience is sparse. The star has broken her foot, De Thrill has taken the stage box (₤1), leaving the chauffeur outside. The troupers have a chance to go to Hollywood, they vie for his attention. The assistant stage manager goes on in the lead after fetching sandwiches and beer.
The style is Russell's all the way, from Amelia and the Angel to The Fall of the Louse of Usher, with that Dionysiac number that exhibits the precision camera technique, hand-held, already in The Music Lovers (this vital daydream sequence indicates the play as a torment for the ASM, who merely loves the leading man).
Fantasies largely derived from the movies fill the heads of the players, and of course De Thrill has a creative imagination, the beautifully painted stage production is embellished with these, each taking place in a moment and lasting onscreen for several minutes, or replacing in the mind's eye the number onstage.
Her love informs her stage presence so that the star, seated with her crutches in the audience, is moved to tears in spite of herself.
De Thrill recognizes his long-lost son and takes him back to Hollywood, she tosses away the card she's been given inviting her to a screen test and goes off with the leading man.
Bright girls in the footlights, showmen, razzle-dazzle, a pantomime or harlequinade, from a thoroughly engrossed vantage (Humberstone's Happy Go Lovely) to a British musical invented sometime before the war, with all the advantages of Sadler's Wells and Powell & Pressburger and Ealing and the Free Cinema, no horseplay unintended.
The intricacies of the play mirror the action and are a little drama unto themselves, as always in the musical.
Ebert paid the supreme compliment of disparaging Russell as Busby Berkeley's equal in "fundamental visual poverty".
Russell's indefatigable labors, which include a creation of Thirties ambiance so complete that characters seem to come out of films, and the fundamental recognition of arrangements as integral to the style (Peter Maxwell Davies has this), wore out M-G-M to the extent that as much as half an hour was cut, despite the complexity of the work, one sign of which are the brisk references to Sternberg's Morocco and Fellini's 8½ in that very brisk number from Hollywood, "It's Nicer in Nice".
Savage Messiah
Too much grip, not enough grasp ("The other way, the other way. I thank you.") in Jolly Olde before the Great War, Henri Gaudier Brzeska there between two stools (women, worlds) with more of either than the market will bear or even comfortably envisage (cp. Shelagh Delaney's Salford).
A classic, HGB, "anywhere in the world, anytime at all, the classics always work." (JLG)
The great Van Gogh joke is played as a lark with a chisel to pierce his own ears, hardly noticeable, even.
"It's easier to become prime minister of this country than one of its artists," says the art dealer.
The work is heroically shown in preparation twice, the "neoclassical" Torso and the Bird Swallowing a Fish, chisel in hand, mallet to it.
Among the misunderstandings promulgated by leading film critics is the crucial one that says the artist is not first-rate, the point being that he was killed in action very young, just the age of Shelley's Keats or nearly.
Pound took the trouble to write his epitaph in lines taken to heart by the screenwriter and the director so that there is no possibility of a misunderstanding...
There died a myriad,
And of the best, among them,
For an old bitch gone in the teeth,
For a botched civilization,
Charm, smiling at the good mouth,
Quick eyes gone under earth's lid,
For two gross of broken statues,
For a few thousand battered books.
Mahler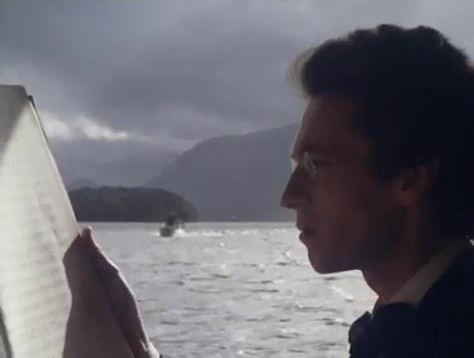 The extinction of the artist is a Lincoln dream transposed out of Dreyer's Vampyr, it presages along the same inarguable lines Kafka's fate of European Jewry.
That is well and good, an absolute nightmare from which the artist awakens on the lap of an abyss, the studied whoring of a copious future all behind him now, the doctor is waiting at the next station (Freud's train ride).
The excruciated labors of this go into the making of Lisztomania as a more easygoing affaire d'honneur. The budget is a laughable fraction of what anything costs in movies anywhere at all, and looks for all that as if Korda's Rembrandt bought his film stock out of bins of color at the corner shop, weighing it judiciously in the light.
When the Bard had once been convicted of plagiarism, The Charge of the Light Brigade had to be written by someone else, a veteran. "It's all very well," said Richardson, "but we can't have Queen Victoria fucked by a Russian bear, now can we?" And so on.
Le monde et le pantalon. Freud again, the sad pupil of Truffaut's Tirez sur le pianiste, the "je ne sais pas" of Mallarmé's toast, Lolita's piano lessons, Griffith's Broken Blossoms. And the curious stained glass of inspiration.
Doré in excelsis on the rostrum. Vampyr, looking ahead to Altered States, Bye Bye Braverman (dir. Sidney Lumet). Henry V (dir. Laurence Olivier) at the crematorium (Hamilton's Diamonds Are Forever).
The Music Lovers, over and over again, and again Altered States for the naked Wolf acknowledging his critics. Isadora Duncan, the Biggest Dancer in the World, Lang's Siegfried. Hitchcock's transmuted scream and the rescue of 1904 ("it was hot," says Alma), Altered States.
The dullards and madmen of the press were impressed with pity for the artist, which becomes them. Russell transmutes Ford (and the theory of comedy) on the interesting and the beautiful.
Everything is in it, of course. Nothing is lacking. Mahler sought to raise Vienna from the dead, Russell accepts the miracle (cf. Aria, "Nessun dorma"), supplying very rare jokes, the composer is amused as can be at the spectacle of Visconti's Death in Venice. Women in Love for "what Nature tells me", Chico Marx hits the spot, Harpo, Jolson "....and then came the TALKIES!" Structure of a symphonic development.
Tommy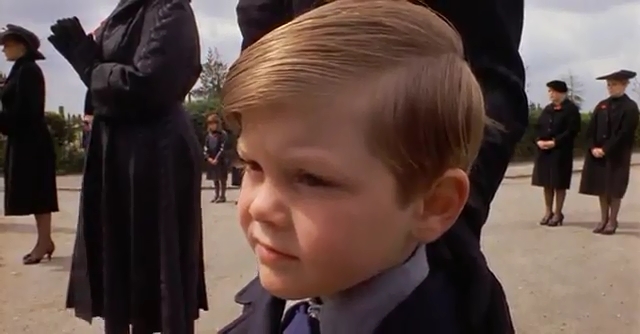 A child of the Blitz (cf. Powell & Pressburger's A Matter of Life and Death). Certainly the 'uggetts h'on their 'oneymoon h'and 'olidays h'is h'evoked from Ken Annakin, Shelagh Delaney and John Osborne... and Shakespeare, for the little perisher is 'amlet by 'itchcock (Marnie).
You didn't hear it,
you didn't see it,
you won't say nothing to no-one ever in your life.
Now he is deaf,
now he is dumb,
now he is blind.
The guilty are safe but always accused by his empty eyes.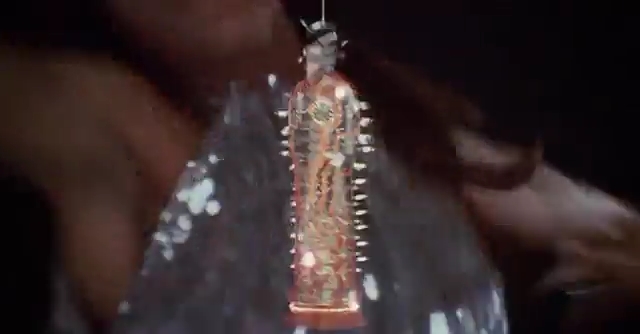 The divine Marilyn with her skirt up, start of a meditation on Metropolis (Fritz Lang, cp. Crimes of Passion). Cousin Kevin, "the school bully". Uncle Ernie "fiddling about".
Das Glasperlenspiel (Hesse), derived here from the war works (cp. Lisztomania, also Antonioni's Blowup). Hi Detergent and Rex Beans and Black Beauty ("A Thoroughbredly Good Chocolate") pour out upon Une Femme mariée (Godard, cf. Makavejev's Sweet Movie). The physician from Harley-Davidson Street. Lunchtime Luna (Bertolucci, cf. Brook's Marat/Sade).
The second birth is by the means espoused in Cocteau's Le Sang d'un Poète, also Richter's Dreams That Money Can Buy. Earliest use by Russell of process shots for free backgrounds (cp. A Kitten for Hitler and Lotte Lenya Sings Kurt Weill, here with a sense of Blake's Albion), perhaps. "A rock musician from California" (Lisztomania). Fellini at Tommy Holiday Camp. Revolt of the glass beads. The climb up the mountainside is Richard Thorpe's Fun in Acapulco.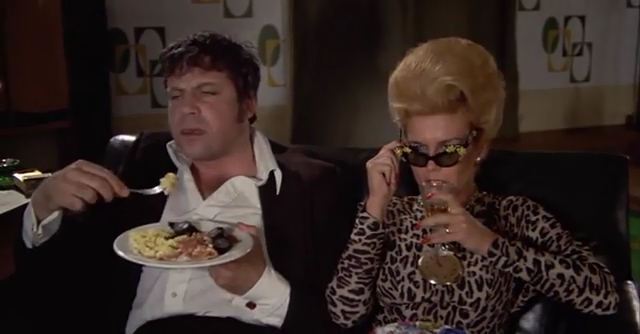 It is certainly better, as Debussy said, to see a sunrise than to hear the Pastoral Symphony. Nevertheless, the Pastoral Symphony is also something not to be missed.
Mahler as paterfamilias here, significantly.
A way out of the mess evoked by several cults, even the cult of oneself. Remarks upon it are generally uninformed, yet Variety heaped praise, "a superbly added visual dimension."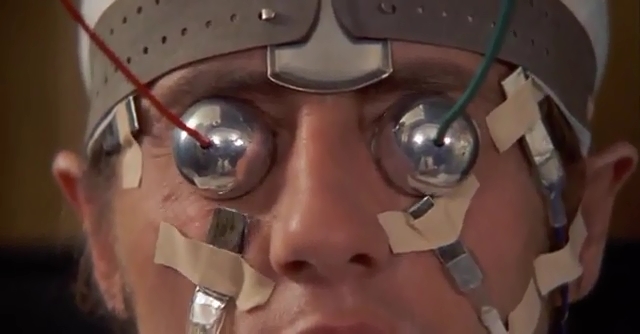 Vincent Canby of the New York Times, "an elaborate put-on... all fairly excessive and far from subtle, but in this case good taste would have been wildly inappropriate and a fearful drag." TIME, "weird, crazy, wonderfully excessive". Geoff Andrew (Time Out), "watching his more excessive movies tends to be a wearisome experience." Andrew Sarris (Village Voice), "excitingly grotesque." Film4, "Russell's hypertrophied direction..." Roger Ebert (Chicago Sun-Times), "one glorious excess after another." Dave Kehr (Chicago Reader), "and the results are somewhere between the apocalypse and Andy Warhol." TV Guide, "Ken Russell applies his rococo outpourings". Catholic News Service Media Review Office, "director Ken Russell's treatment is ludicrously out of control, obscuring the sense of the opera by an undue emphasis on visual pyrotechnics that is not dramatic but destructive. Satiric jabs at religion are excessive if taken literally." Perry Seibert (All Movie Guide), "with his penchant for irreverent interpretations..." Halliwell's Film Guide, "of occasional interest."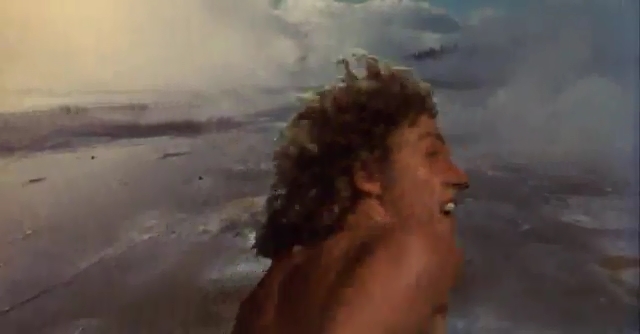 Lisztomania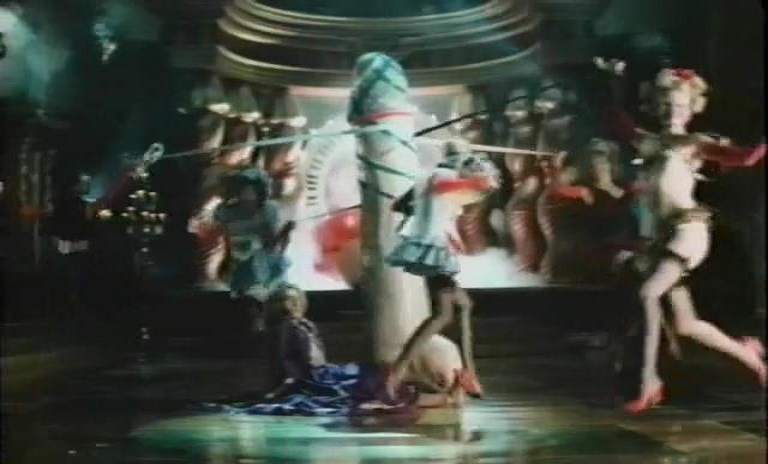 Baudelaire's Thyrsus, "et une gloire étonnante jaillit de cette complexité de lignes et de couleurs, tendres ou éclatantes..." The opening duel and the substitute cult are from Dance of the Seven Veils.
A very comfortable presentation of caricatures taken to an irredeemable point of issue, beyond which there is Abbé Liszt as Matt Helm vs. the Frankenstein rockstar in Tommy, little Dickie Wagner's übermensch.
Rienzi and "Chopsticks" make for the mad approbation of schoolgirls, the creature is wiser than its maker and knows all about pissing on a fire with Ives, until the final adjustment.
Fellini's Casanova (cp. Gothic), surely. The "Millionairess" and the beggar, the "Most Promising Actress" and the revolutionary, the "Princess" and the savior of Germany.
The artistic economy that here lays the basis of Russell's later style is a structural identity with The Devils, this allows a tremendous concentration of force upon the speed of his images and the characteristic jointure of his thematic constructions. The reason for it is that there is something to express that can only be said at a certain velocity. Freud is the happiest analysis offered all throughout.
Eisenstein's pram gets a good going-over, Casino Royale (dirs. Huston et al.) is the significant source of the Dickie farce (cp. Mata Bond in Ost-Berlin), Great Catherine (dir. Gordon Flemyng) figures pivotally in Saint Petersburg, Dreyer's Vampyr has Franz at the stained-glass swastika window before expiring towards the Elysian heights.
Richard Eder of the New York Times, "a noisy bit of pretentiousness". Alex von Tunzelmann (The Guardian), "Franz Liszt (1811-1886) was a Hungarian composer." Roger Ebert (Chicago Sun-Times), "what does all this mean? Nothing at all." TV Guide, "bizarre, sexually obsessed biographical fantasy. Russell's style works in some parts but often ends up in self-indulgence disguised as surrealism. The result is a shockfest." Time Out, "the result is not only catastrophically wide of the mark as a 'sense experience', but misogynistic, addled and grandiosely witless. The most pitiable aspect is that Russell is here patronising his collaborators as much as he's always patronised his audience." Film4, "another of Russell's gloriously indulgent follies." Halliwell's Film Guide, "most excessive and obscene", citing Tony Rayns of the Monthly Film Bulletin, "completely umitigated catastrophe", Patrick Snyder of Crawdaddy, "bludgeoned into pulp", and a reviewer from Sight and Sound, "like a bad song without end."
Valentino
The Temptation of St. Rudy (Lasky's ape) is a missing link from The Music Lovers to Altered States.
Rambova's séance comes from or points out the crucial scene from Buñuel, Jesus in the whorehouse (L'Âge d'or).
Fellini the Italian Russell is concurrent with his Casanova, equally misprized.
Singin' in the Rain is just around the corner from the Citizen Kane parody in silent Hollywood, as grand as anything and hopelessly full—replete with genius.
That puts the kibosh on the great career as smilingly contemplated and assiduously entertained. "All you need in movies is to look sincere," the well-paid erstwhile waitress from Dallas explains about acting. "Let me tell you, brother, lookin' sincere in this town is a lotta hard work."
Clouds of Glory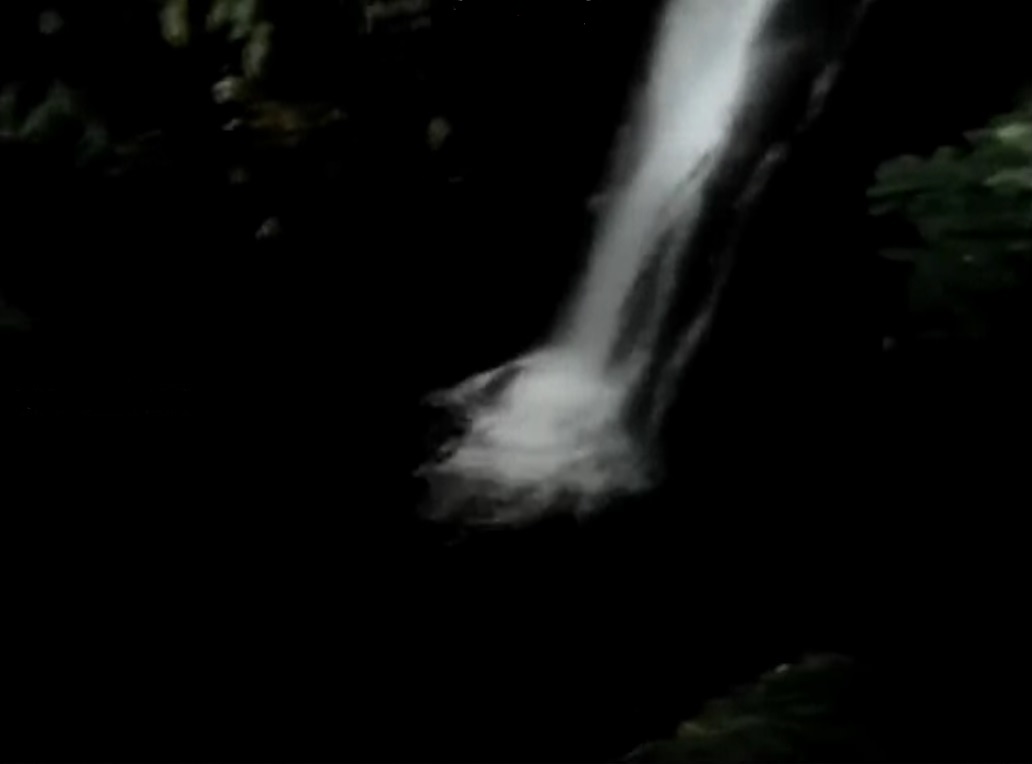 William and Dorothy
The Love Story of the Poet Wordsworth and his sister
"Louisa", the poet's running commentary, like Gaudier Brzeska at his studies.
The Rime of the Ancient Mariner
The mania of Coleridge, by way of Preminger's The Man with the Golden Arm.
Altered States
In the minds of the great public, artists will have to be considered as apes gone feral at the zoo (cp. the jailhouse scene in Valentino). For academics, another matter, there is a kind of swirling gray matter, a return toward the time there was before there was time, a state of despair as preceding creation, a black hole (this is indeed a mirror of unsatisfied curiosity). Time mends the first "altered state", Shakespeare is hardly ever thought of as a poacher nowadays. The second leads merrily to a rescue of the imperceptible artist by the creative matrix of biography, represented by his wife. This continues by a natural process to the third altered state under consideration, the private man.
The general view is more or less conditioned by academia, he is more or less a learned man, so (it may be) is his wife, these are all temporal points defining his curve, the track of his flight.
His reputation steeply declines upon his death because he has not the daily fight to wage of pounding the walls to shake free of a certain conditioning, a received idea that once shaken off restores him to humanity once more, and to his wife.
That beautiful observation has nothing to do with the film, which is an analytical understanding of Women in Love. The idiosyncrasy manifested in Jessup's psyche by means of his several hallucinations is Gerald Crich's, Rupert Birkin's aspiration is his. The identification in a single character is seen with Urbain Grandier (The Devils), the situation occurs (a Blakean marital row of sense and soul) in Mahler.
The medieval doctors of The Devils are entirely updated. Rimbaud's famous pronouncement on the seer is indicated.
Mahler (by way of Dreyer's Vampyr), The Music Lovers, Savage Messiah, Tommy for the man in the tank.
Stevenson and Kafka, beyond which there is Borges, Jack Arnold's Creature from the Black Lagoon, The Incredible Shrinking Man and It Came from Outer Space, also Kershner's A Fine Madness.
But most simply, Arnold's Monster on the Campus.
The Planets
by Gustav Holst
performed by Eugene Ormandy and the Philadelphia Orchestra
a personal view by Ken Russell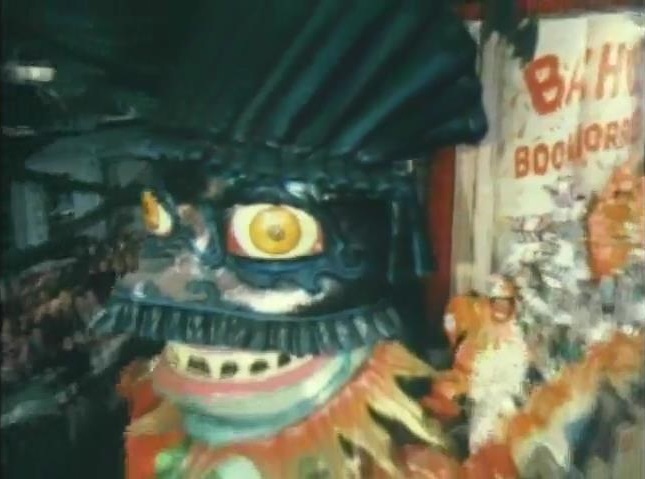 MARS
The Bringer of War
Hitler hot from Hell, the fire that sent him back again.
VENUS
The Bringer of Peace
As Riefenstahl's Olympia to her Triumph.
MERCURY
The Winged Messenger
Flight and descent (cf. Richter's Dreams That Money Can Buy).
JUPITER
The Bringer of Jollity
The sublime of joy, exaltation.
SATURN
The Bringer of Old Age
"Whilst this machine is to him..."
URANUS
The Magician
Hoc est corpus...
NEPTUNE
The Mystic
Grand summation (cf. Beckett's Quadrat 1 + 2).
A purely cinematographic study adhering to Holst's particular program, composed entirely of heterogeneous images chosen from the library and fitted together in relation to his masterwork and Russell's understanding of it in such a way as to illuminate the composition and the cinema and much else besides.
Vaughan Williams
A Symphonic Portrait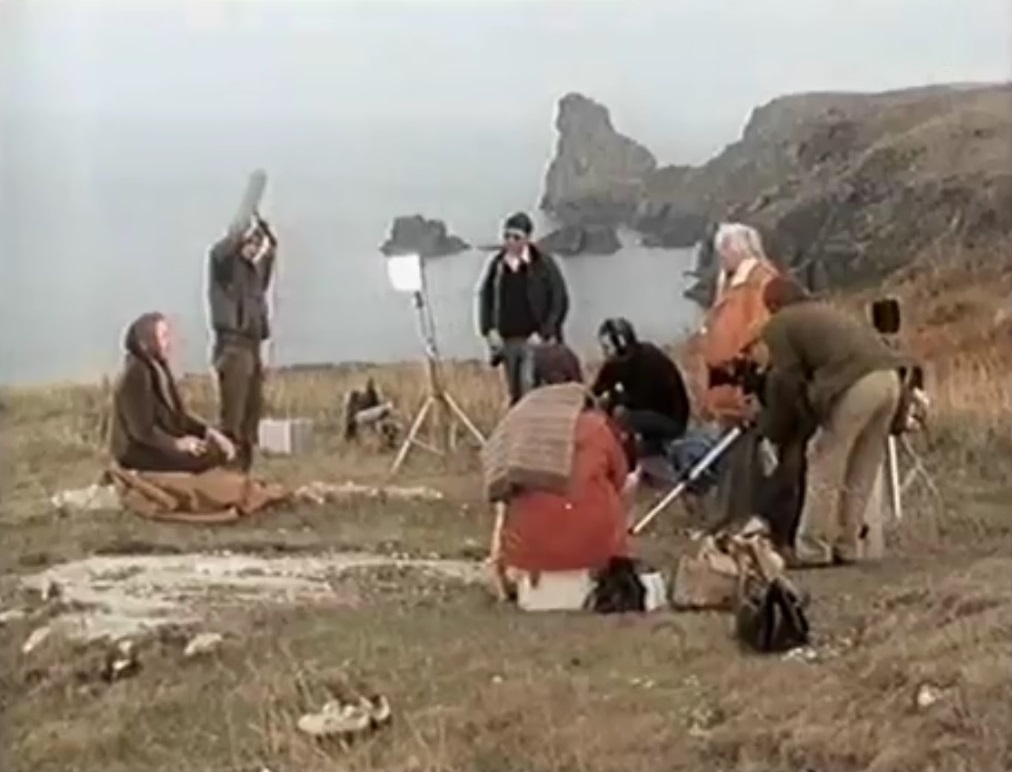 That is, from a picture-book biography for a very young daughter ("ah," the erstwhile Royal College of Music, "now that's a funny place, isn't it"), and interviews with Ursula Vaughan Williams by the sea, for instance, and Russell's great sea studies with the Symphony No. 1, and the director at work on all this or between shots, and so forth (cp. The Debussy Film).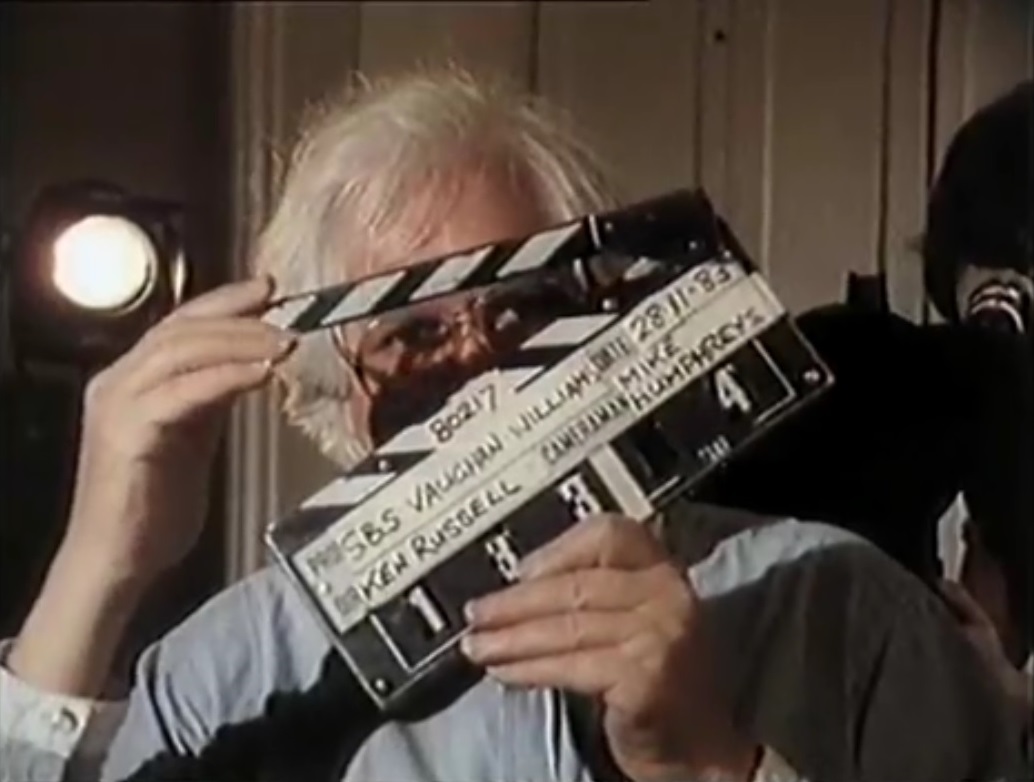 Back into the cave with Kazan (The Last Tycoon), which is the cathedral, "the cinema was our academy and our cathedral," says John Osborne (it mystified the television critic of the New York Times). London for the Second, which takes Russell back into London Moods and The Light Fantastic, this time in color like The Planets and looking ahead to the ABC of British Music (Susan Penhaligon at the Strand in Stoppard's The Real Thing). The '14 War, Cocteau calls it, the Pastoral Symphony. The Lark Ascending played in the fields like Women in Love. The Fourth a portrait of the man. The Oboe Concerto and an expert. Dona Nobis Pacem at the Tank Museum, a peculiarly Felliniesque flair. At the resumption of hostilities, the Fifth, another pastoral scene (recalling Dance of the Seven Veils). The Sixth with Vernon Handley and the London Philharmonic Orchestra, The Loves of Joanna Godden (dir. Charles Frend). Penguins and Scott of the Antarctic, the Seventh (Russell playing dumb in the front row, attentive in the clips). The batterie of the Eighth in the foyer of Royal Festival Hall with a view of the Thames. Dover, Four Last Songs. Stonehenge, the Ninth.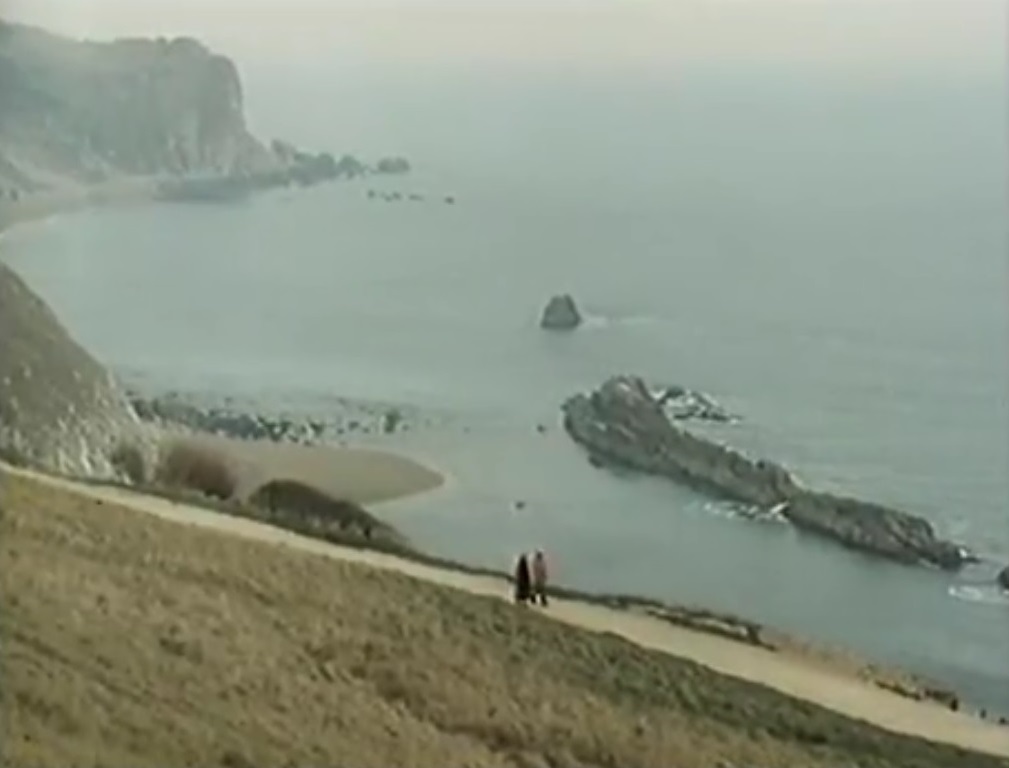 Russell's sublimest, most seemingly offhand inventions throughout.
Michael Brooke (British Film Institute), "uncharacteristically restrained... Brechtian..." John J. O'Connor of the New York Times, "not about to settle for being commonplace."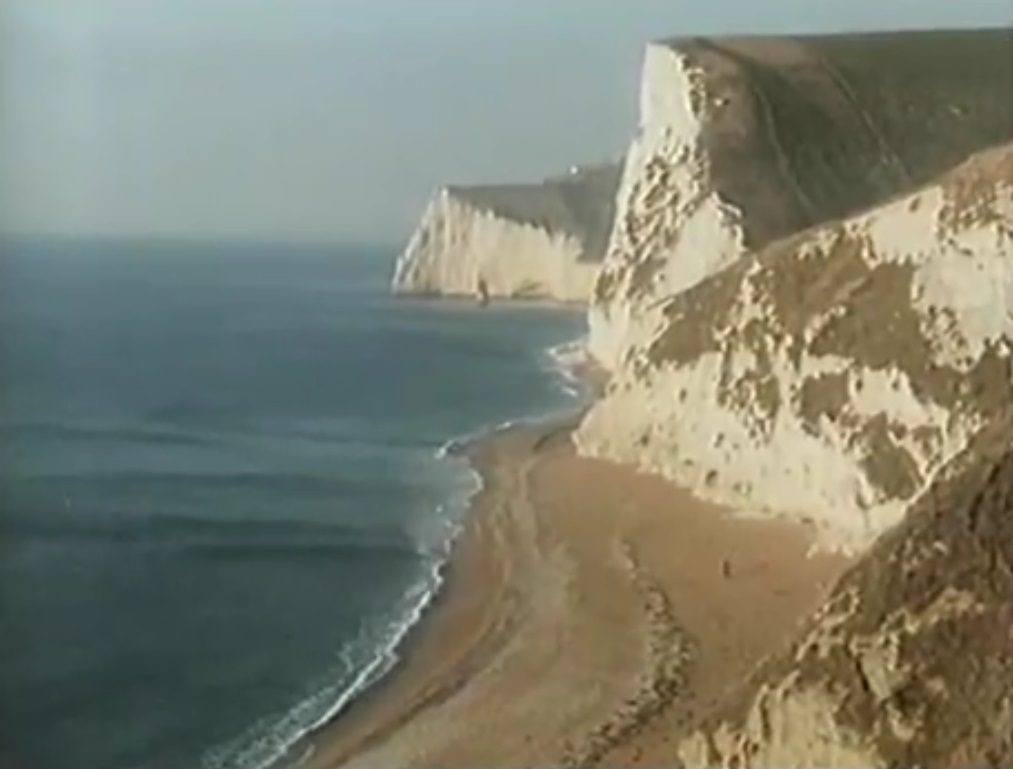 Crimes of Passion
China Blue AKA Miss Liberty 1984 works the boulevard while Rick Wakeman plays Dvořák's "New World Order" Symphony.
The American cut is to be eschewed at all costs, there Beardsley and ukiyo-e are not allowed in public auditoriums without an X.
By the same surrealistic process, the screenplay identifies only two characters with a multitude. China Blue designs clothes by day and lives alone, she is the unloving wife in the suburbs ("cable's in but the hot tub ain't ready," Lenny Bruce might say) whose unhappy husband runs a security shop in a Hollywood strip mall, he is the Reverend Peter Shayne trying to save her with his dildo, "cruise missile or Pershing?"
Faust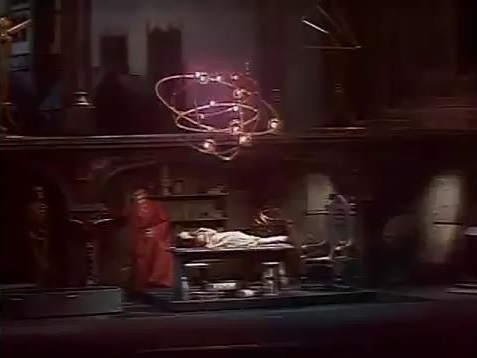 Moonlight, wisps of cloud. Body snatchers bring in a coffin, Faust brings to bear his Frankenstein apparatus, she rises and dances—and dies, bidding him farewell.
An opera director has not the same resources as a film director, he has the image, his objective correlative, and Russell has the multicamera system Czinner pioneered as well.
Stravinsky's Tom won't act, Gounod's Faust can't, he casts away his age in Mephistopheles' cloak like Strauss on the podium (Dance of the Seven Veils). The unusually large cannon suggests Lisztomania, or rather The Pride and the Passion (dir. Stanley Kramer). Marguerite takes the veil, Valentine is off to the wars. The Golden Calf that might have inspired McGrath's The Magic Christian "in blood and filth" has eyes that roll like a slot machine, it dispenses gold coins from its mouth. Wine pours from the bleeding Christ, a broken sword is a Cross made of chocolate to defend one from Hell... where opera directors go who do not understand the art per Tony Richardson (The Phantom of the Opera), whereas here... Mephistopheles pees in the holy water, as Debussy would say, and hangs his hat on the crucifix above it, thus begins Act III.
Whereas here the proper elements of opera are seen to glide by in various succession, poetry, music, pictures, dancing, drama, with extraordinary swiftness, nothing like it elsewhere. For it is indeed prismatic, even kaleidoscopic, one moment the stage effect, another the tune, a ballerina next, the singing then for a moment, and finally the dramatic effect combining all these in a single expression, nothing more than a sigh perhaps. Bejeweled Marguerite in her nun's habit, "a king's daughter." The exquisite love scene.
D.W. Griffith (Acts IV & V), with interpolations from Russell. The guillotine is yet another Cross, Faust in his laboratory receives another corpse, male, unassisted it rises to accuse him ("Christ is risen!"), he sinks down into Hell.
Gothic
The unique precedent is Alain Resnais' Providence. Russell opens with the return of the beloved (Dante's Inferno) and Shelley's arrival à la Percy Grainger (Song of Summer), the enshrouded female figure at the start of Mahler occurs passim.
One of the finest English films splits open the pomegranate of an onlooker's mind to reveal the stark self-realization in the face of genius as a series of nightmares so close to the poetic imagination as to recall Auden's censure of his colleagues as "superstitious" to an extreme degree.
These are the nightmares of poets, more intense and horrible because they are possessed of finer imaginations, or perhaps rather these are the nightmares foisted upon poets by their admirers and detractors, but the impression throughout is of the poetic imagination at bay and forced to create because of it, Mary Shelley's hallucination, Frankenstein.
The humor of it is aided by tourists before and after, viewing the site (Byron's abode).
Thomas Dolby's score is very apt with quotations and nuances and off-putting asides. Russell's technique is to move very fast, cutting almost subliminally at times, to achieve the inner tempo of his regularly accelerating nightmares. This alone accounts for the critics missing the boat.
Fuseli has the nightmare vision corresponding to this, the rare sort of imp that crawls upon a lady in her bed at night to perch there on her lower parts, staring not at her but at the spectator, neither faun nor gremlin specifically, a nameless sort of untoward horror. Unless it be granted that his Nightmare is a variation of the theme expressed in Poe's "The Raven".
This is the occasion described by the authoress, so like Poe and Borges, of The Modern Prometheus, "perhaps the component parts of a creature might be manufactured, brought together, and endued with vital warmth."
The so-called terrors of art pertain to the mind alone, as Byron points out here.
Every image is a precise term in a surreal language stating the problems of comprehension that follow inspiration, "that hurtles from heights unknown".
Nessun Dorma
Aria
An application of Dreyer to the specific problem of Lang's Die Tausend Augen des Dr. Mabuse, already prefigured in the opening credits of Quincy, M.E. (where you find the dissection gag in Mel Brooks' Dracula: Dead and Loving It).
The conjunction with Godard is salutary and fortuitous. "Only Hitchcock and Dreyer have filmed a miracle," in part three (« Le contrôle de l'univers ») of Histoire(s) du cinéma.
Ken Russell's ABC of British Music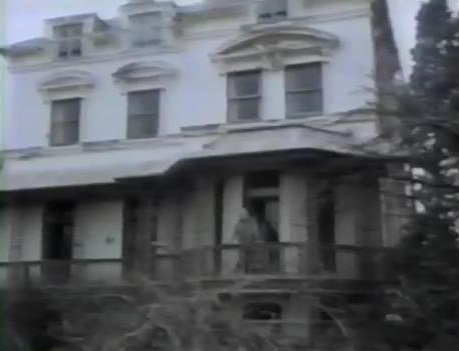 The idylls and the idiocy. Elgar's house gone to rack and ruin, two weeks from demolition, "you couldn't get a ticket to see Elton John for £15!" Welles complained that Spielberg had bought a Rosebud sled at auction for $50,000 and wouldn't give him a dime to film one of his unproduced screenplays (Spielberg called it "a symbolic emblem of quality in the film business"), Tom Waits raised $90,000 for the homeless with a chapbook of poetry.
"F is for film music," Vaughan Williams, William Walton, John Ireland, Arthur Bliss (Russell's hand can be seen in a précis). Thomas Dolby scoring Gothic ("my latest feature film") à la diable...
Webber's Requiem No. 3 in a Choral Top Ten headed by Belshazzar's Feast. Sir Michael Tippett nix. Kate Bush. Iron Maiden.
"The greatest opera of modern times, Troilus and Cressida" of Walton.
"P is for punk and Purcell."
Scotland, a bonnie lassie.
Nigel Kennedy, top soloist. The Critics (cf. Dance of the Seven Veils). Tippett off message oke. Havergal Brian.
Uncle Eltie in McCloud's red red Rolls ("The Moscow Connection", dir. Bruce Kessler). Wales a reverse striptease (see Scotland). Xylophone (Evelyn Glennie), Youth, and Zadok the Priest.
In and out of the muckheap and mania, a great artist draws the thread.
"A video encyclopaedia megapack," Melvyn Bragg calls it ("Edited & Presented by").
Salome's Last Dance
The play in English, with its beautiful crux, and the critical response. Or, a pubescent Mae West vs. a Pre-Raphaelite Baptist, a cinematic transposition accurately placed within a sort of macaronic mise en scène that is largely adduced in loving detail from Pabst's Die Büchse der Pandora (Alwa's revue, featuring die kleine Lulu).
The critics, the damned and foolhardy critics, will doubtless prattle of Russell's "excess", in that manner of speaking to which we have long since grown accustomed after a fashion, or deaf. "So you're the one they call the excessive doctor," says Cajetan in Osborne's Luther. "You don't look excessive to me. Do you feel very excessive?" The doctor replies, "it's one of those words which can be used like a harness on a man." The courteous Cajetan asks him, "how do you mean?" Dr. Luther ("conscious of being patronized") explains, "I mean it has very little meaning beyond traducing him."
The fate of Salome is eloquently described by Russell, "it was death by misadventure, she slipped on a banana skin."
To her prize on its silver platter Salome still argues, "the mystery of love is greater than the mystery of death". Critics (Hal Hinson, Desson Howe, Roger Ebert, Geoff Andrew, Film4) gnashed their teeth upon her unpleasant revelation, so be it, Canby correctly placed the work "among the earlier Russell biographical extravaganzas".
A silver box of cigars upon a silver tray in the pale hands of an ill-favored Cockney skivvy whom Wilde describes as "undernourished", and just before the end of the play, the little bootblack whom Bosey proscribes as "the Golden Calf".
Herod has no objection to curing the sick, "a good deed", it's Jesus raising the dead he'll have nothing of.
Millais-Scott says her arias in such a way as to equal the beauty of the original.
The tiny stage in a "disorderly house" (with "clients and courtesans alike" in the parts) effectively represents the moonlit terrace of Herod's palace.
Wilde is strangely moved by his own creation in a whorehouse that caters to one and all, where the brothelkeeper plays the Tetrarch for him, and the butler is a Roman. Beardsley's drawings accompany the opening titles.
Rodin's Balzac has a cloak, Kenneth Clark tells us underneath it at the first presentation was the nude portrait waiting to expose academic critics at the drop of the sculptor's hammer. By the same token, Russell's hermaphroditic trick is already on Beardsley's title page.
The Lair of the White Worm
St. George and the Dragon in the style of Universal-Corman-Hammer.
The worm god Dionin has its avatar and priestess in Derbyshire (cf. Osborne's Look Back in Anger, dir. Tony Richardson) maintaining human sacrifice and vampiric zombiedom, it is a virgin sacrifice of course, hermaphroditic (Salome's Last Dance), and makes for some exceedingly fine nightmares. Dionin is wroth still over a convent set up at the place of his worship (his "holy of holies", as the Reverend Peter Shayne would say), the immemorial priestess once caroused with a rebel Roman emperor, and so the vision is of nuns ravished by a legion whilst the great worm curls around the crucifix of Christ.
An amusing streamlined remake in the sunny American Southwest (Tremors, dir. Ron Underwood) followed a great scholarly analysis as one in a series of Archie's Weird Mysteries.
The Rainbow
The prism of childhood, among other things that are outside its knowing purview.
The world as it is, a learned thing, an acquired taste.
Since that is its discourse, the film is sedate, relatively speaking, to give the moral gravitas of scenes perceived by a girl without uncommon wisdom or insight, a foolish girl.
And her defense is her childishness, something more and less than innocence.
After all, the world is an elaborate apparatus, time is one of its elements, there are traps easily sprung and stepped over, with a brisk smile.
And this is Ursula Brangwen (Women in Love), whose sister Gudrun pulls men's hair.
A British Picture
"Portrait of an Enfant Terrible", a very brilliant and amusing film for British television, an autobiography, a self-portrait as the wee lad who did all that, made all those films and this one.
The Strange Affliction of Anton Bruckner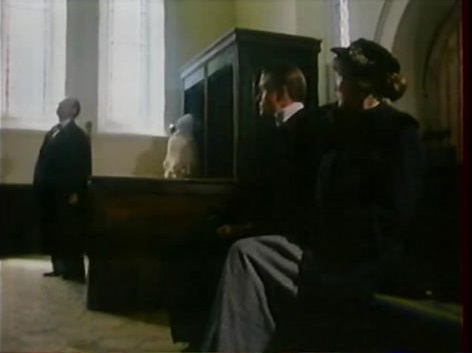 A very precise medical disorder, a mental complaint, he had to number the sands of the sea like Augustine's vision, Russell films him at it, the sort of thing Auden might have written with his contempt for the dreary numeration of Don Juan.
Cold baths in a clinic, his bedchamber just suggests Van Gogh's at Arles. A religious man, a churchman in his pastoral hat, a Catholic at confession.
A keen impediment to the composition of great works, therefore you have in this kind jesty madman a picture Beckett might describe as "Bruckner in the throes."
The hairs of your head, the stars of heaven, the divine creation (Women in Love).
The initial shot recurs, "you are not ill" (cf. Fellini's 8½).
Script and camera by the director. Jochum/Berlin, Astarte.
Whore
Prostituted L.A., five years or so. The location filming is cagey, always a very precise locale and not seen properly, as when the camera has its back to the Bradbury Building, or lumbers around Grand and Olive, a few movie theaters (one showing Fantasia), or lets you know it's Century City (formerly Twentieth Century-Fox).
It seems fairly safe to say that it was not well observed by the critics, because it doesn't miss a thing and they all did.
Kenneth Turan (Los Angeles Times), "heroically tedious"
Prisoner of Honor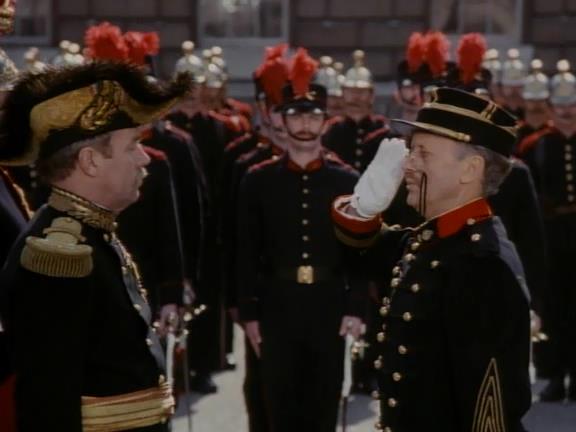 Dreyfus, also Picquart (Prisoners of Honor, "this book").
The affair begins with the degradation of Captain Dreyfus, degradingly in "slo-mo", and ends with him a Chevalier de la Légion d'honneur (Picquart is seen as Minister for War).
There are entrancing echoes of Kubrick's Paths of Glory and Hitchcock's The Wrong Man, and a near-quote from The Devils on a bit of handwriting hanging a man.
Lieutenant Colonel Henry deliberately drops an Edison cylinder of Mahler, "a Viennese Jew", upon taking over Colonel Picquart's office, it breaks.
An affair of honor does take place, the saber duel between "ignorant oaf" Henry and Picquart.
Dreyfus accepts a pardon, Picquart reminds him of his duty.
The essence of the argument is Picquart's understanding of duty, "I don't believe that my personal code of honor and the honor of the Army are in conflict."
Esterhazy tells it all to a writer in England decades later.
The Minister for War (Lindsay Anderson), "no sensible man would allow himself to be sent to war for a politician. But, there is the flag, he'll fight for that, and the Army holds the flag, and I am responsible to tens of millions of French men and women to ensure that nothing is done to destroy the prestige of the Army. What would you do, Colonel, what should I do sitting behind this desk, balancing a possible injustice to one man against the lives of millions? This [the Gatling gun] goes into service next month, the Germans have it too, it fires 600 rounds a minute. It won't wound you, it will saw you in half. From now on, survival on the battlefield will be a matter of statistics, not of individual merit or bravery. The only thing that will keep a man in the firing line will be discipline, and the belief that the high command knows best, that it will never, that it can never, make a mistake. Are you prepared to destroy that belief, Colonel?"
The cabaret act parodying the Marseillaise ("destroy these filthy Yids, restore our honor and our gold") echoes Losey's Mr. Klein.
Picquart holds no brief for Jews, but as a cavalry officer reluctantly placed in charge of Counterintelligence and specifically asked to look into the Dreyfus affair he finds himself almost at once in possession of the facts. The question that begins the film is one of motive, "why did he do it," asks General Boisdeffre, referring to Dreyfus now dead ("as good as") on Devil's Island, the Minister for War speaks of his "widow", the General changes his tune, "Dreyfus stays where he is. That is how he can serve his country best. There is more to this than the career of one artillery officer."
Picquart's love affair recalls Richardson's Captain Nolan in The Charge of the Light Brigade. To the tune of "Frère Jacques" provincial children sing,
Alfred Dreyfus, Alfred Dreyfus,
  Dirty Jew! Dirty Jew!
Safe on Devil's Island, safe on Devil's Island
  Let him stew, let him stew.
The inspection tour of outlying installations is a feature of Terence Young's Mayerling, for example. "Whatever you think of him," the General sticks to his guns after a fashion, "whatever has got into his head, Colonel Picquart is the sort of officer that the French Army cannot do without. I will not have him put at risk skirmishing with native tribesmen. This has gone far enough. Bring him back."
Jews are attacked in the streets of Paris, an effigy is burned, "the Jews killed Christ! Dreyfus killed France!" Picquart is nonetheless "a serving officer," as he tells Madame Dreyfus.
"Esterhazy is a traitor! That's what I have against him. Petty of me, I know." Thus Picquart in his cups. A long, winnowing view is obtained before Dieterle is brought into play, therefore (the General describes Henry and his ilk as "nosepickings"), or to put it another way, the central figure is neither Zola nor Ferrer's Dreyfus but Picquart, who facing a drunken threat replies drunkenly, "I will not go to my grave knowing that the Army has protected a traitor and disgraced an innocent man."
General Mercier, who tells the story of the drunken commanding officer, refuses Boisdeffre's resignation, "I will not have the Army of the Republic destroyed by Dreyfus. The traitor and pornographer Zola was right about one thing, there is a conspiracy here, between the Jews and Socialists. We are fighting now for the life of the State itself. We shall fight on." The later cabaret recalls, among other things, the opening shot of The Devils.
Esterhazy, "the first twentieth-century man." John Osborne's play A Patriot for Me (filmed by István Szabó as Oberst Redl) has a small role in the production, one might say.
Robert Pardi (TV Guide), "apparently tickled pink to be playing historical personages in a prestigious cable-TV production, the cast declaim like highschoolers at a regional Shakespeare competition... it's hard to believe that notorious bad-boy director Ken Russell played any part in this handsome-looking pageant, and Ron Hutchinson's speechifying script deadens material that was better handled in The Life of Emile Zola (1937)."
Road to Mandalay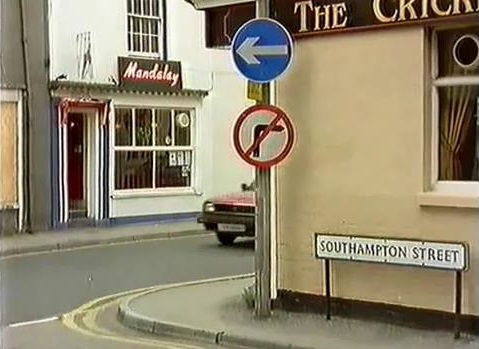 At home in his home town, the director en famille strives vainly in his Renault to reach the goal of luncheon curry ("I would like an Indian pizza," says Russell fils), one is straight out of Southampton and on the Isle of Wight before one can say Defoe's Robinson, "just like the Blitz," Aunt Muriel observes upon the return (cf. Lumet's Bye Bye Braverman).
The Phantom of the Opera
As fantastically, ideally, awfully dull as Sir Andrew Lloyd Webber, Russell's three videos.
The Secret Life of Arnold Bax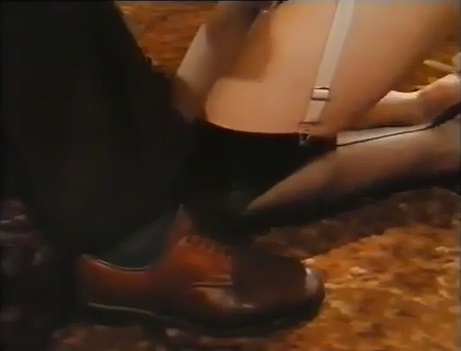 Like Handel at the Victoria & Albert, one shoe off and one shoe on.
"The poet and the secret wish." (Nemerov)
Cp. Dance of the Seven Veils for the director conducting Mr. & Mrs. Strauss, the second Elgar film for the seaside muse, and of course there is Peepshow.
Tom Service (The Guardian), "eccentric musical obsessions... eccentric auteurs... outside the mainstream... fantastical dreamers."
Lady Chatterley
A masterpiece of British Art.
The theme skirts Rebecca and Under Capricorn most skillfully, which is exactly what it was intended to do.
Lubitsch could not have handled it better.
One would like to praise Jean Claude Petit for a peculiarly amiable score and its lovely tune, which comes over the wireless in an important scene early on as a respite and relief from war memories.
Russell is the operating cameraman. The location (manor house interiors) is the same used in Gothic. The technique is refined out of The Rainbow as a kind of plainspokenness that must defeat the strangest critic, even the one from Entertainment Weekly ("a total snore").
The little tune expresses the tragic circumstance and is simply an English tune of old, as it sounds.
The gamekeeper and the lady, the invalid and the district nurse, quite a lark in its way, with some terrible things. An erudite treatment of the material, as reported, in Lawrence's workshop, whence the curious reflection that only seems ready to hand but is nearly if not entirely obscure, commended by the Bard as useful in the range of art, if only to convince the onlooker that idle fancies are not the scope of the production.
The calm naturalism is perfect English poetry, the marriage of Sir John Thomas and Lady Jane, after all. "O my America! my new-found-land."
The Mystery of Dr. Martinu
A Revelation by Ken Russell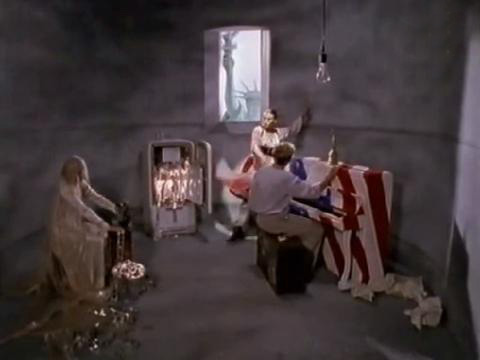 An oneiric biography. "Bohu Esclave Martini." The case is made by his music throughout.
"What's the name of the movie?"
"Donald and Donna Go to New York."
"Quack. Quack. Quack. Quack. Quack. Quack. Quack. Quack. Quack. Quack. Quack."
This is a specialty of Russell from Dance of the Seven Veils to Altered States, applied here continuously. Those people down there looking like ants are real ants. Russell is in possession of the fact that Martinů is a great composer facing essential problems in the twentieth century. "Behold the man who has vanquished the Minotaur!" A Nabokovian theme of exile, horrors of the war and so on, a mysterious fall. "Is that all you heard, the applause?" Sanatorium. "The fracture's mending nicely, it's no longer a problem..." A dream analysis, "one must beware of the obvious in these matters." Lidice. "Now I'll tell you about my dreams. It will make your hair curl!"
Script and camera by the director. The English Fellini has La dolce vita's spiraling rise to prepare the Hitchcock Vertigo motif, resolved with a flourish out of Huston's Freud in the realm of Bergman's Wild Strawberries, to the tune if you will of Baudelaire's "Soup and Clouds", favoring Jelka in Song of Summer (the other half of this equation from Buñuel's Cet Obscur Objet du Désir is by way of Mahler).
Rod Serling states the case in "A Passage for Trumpet" (The Twilight Zone, dir. Don Medford), the artist's terrible fall is not his, per contra, "we have both risen in my estimation," Mallarmé tells Heredia after a successful exegesis. The revelation is a literal one, the Czech ritual of "opening the wells".
The Insatiable Mrs. Kirsch
Daumier's Une Méprise à l'Odéon was formerly presented to English-speaking museumgoers in Los Angeles as A Wicked Man at the Odeon. The Armand Hammer collection is no longer at the Los Angeles County Museum of Art.
What looks like seaside holidaying to a young writer is actually the woman in the wilderness or something like it.
Treasure Island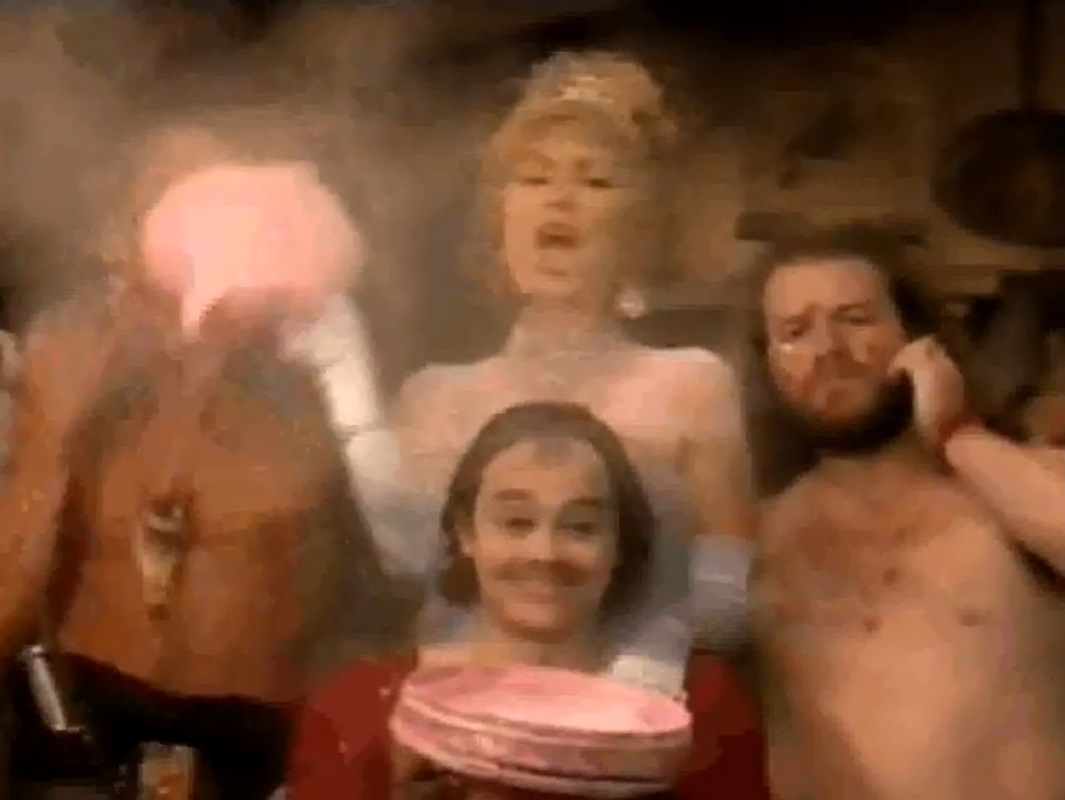 Long Jane Silver, not so very far from Mel Brooks' Robin Hood (Men in Tights), "bathtime, boys!"
Cp. Bravetart Versus the Loch Ness Monster (unfilmed), Valentino for the pink powder puff.
Mindbender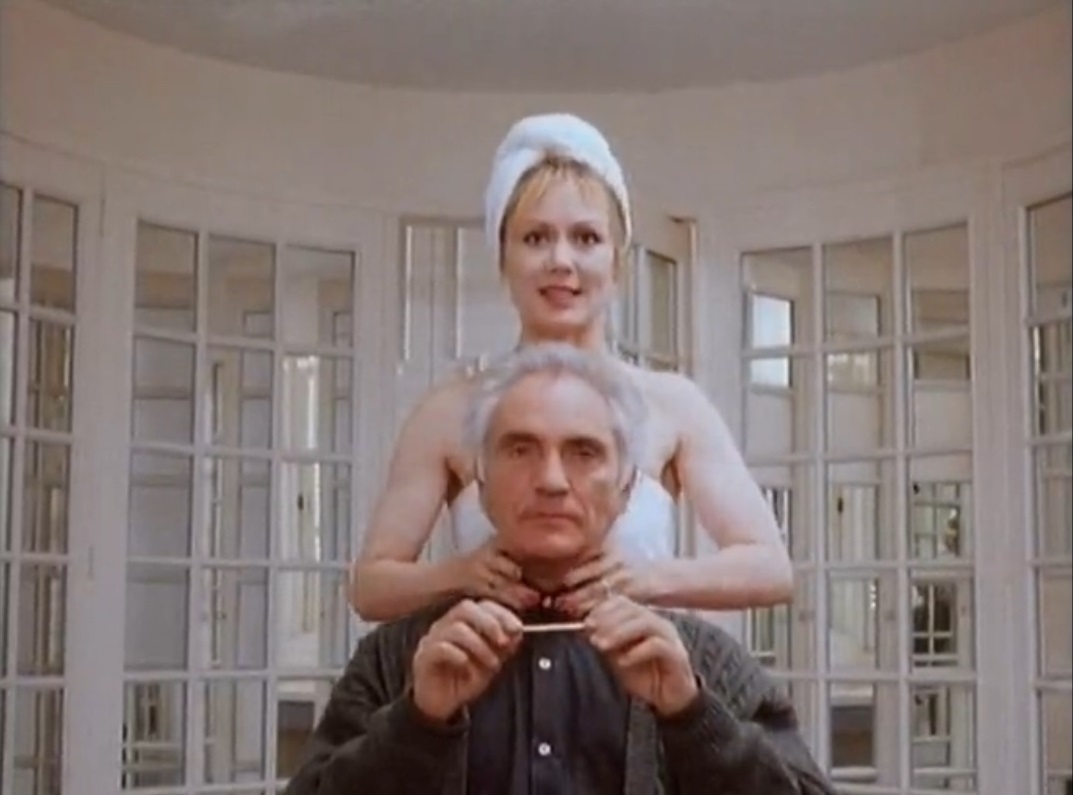 In the sense that Elton John is Rocket Man (cf. Tommy).
The Dalian spoon... Six Apparitions of Lenin on a Piano or something very like it, which is to say the weeping mask of Chopin.
Power of Zotz! (dir. William Castle).
The Don Drake Show, "I'll see you tomorrow morning when my guest will be—controversial film director—enfant terreeblay—Ken Russell!"
Shanghaied by the U.S. Army (Altered States), virtual reality helmet and all. "Go Fake Yourself, Geller".
"We struck oil!"
Ken Hanke (Mountain Xpress), "pretty damn bad." Andrea LeVasseur (All Movie Guide), "written and directed by outrageous British filmmaker Ken Russell, Mindbender is a 1995 straight-to-video biopic about the celebrity psychic Uri Geller." Dennis Bartok, "unbelievably dire Yuri Geller TV biopic".
In Search of the English Folk Song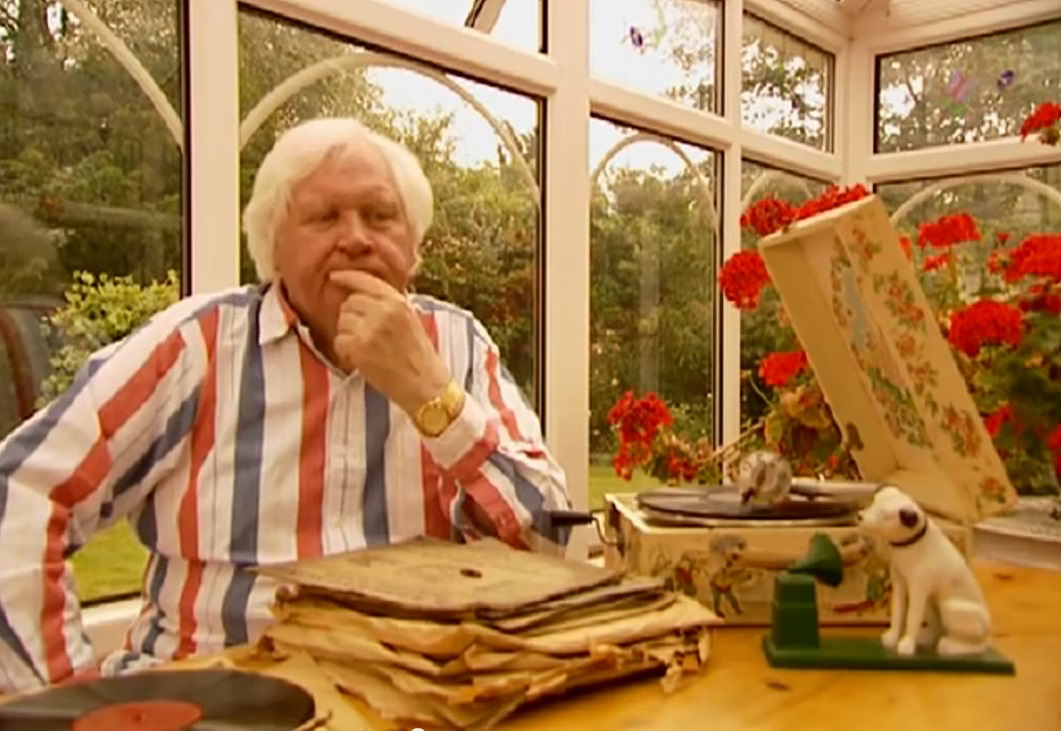 "The poet intransitive," as René Char would say, "with Nipper beside him inquiring of the rare grape."
Dogboys
An Australian prison guard runs an American doghouse where German shepherds are trained by chasing prisoners to the fence.
The hound contingent of Rosenberg's Cool Hand Luke is thus promoted and outsourced, with the slightest remembrance possible of Richardson's the loneliness of the long distance runner.
It's a profitable occupation, Pichel & Schoedsack's The Most Dangerous Game, sportsmen pay for the privilege.
Down under, the concessionaire's wife was a talented organist killed along with their German shepherd by an escaped convict.
Trophy photos show the hunters' quarry with their hands up, actually hung by the heels.
Russell advances and dismisses his technique, notably in a prison visit by a Fed in mufti (Tia Carrere) to her undercover colleague (Richard Chevolleau).
Sean McCann is a trusty, Bryan Brown the dogmaster, Dean Cain's experience pays off as the Marine boxer.
Lion's Mouth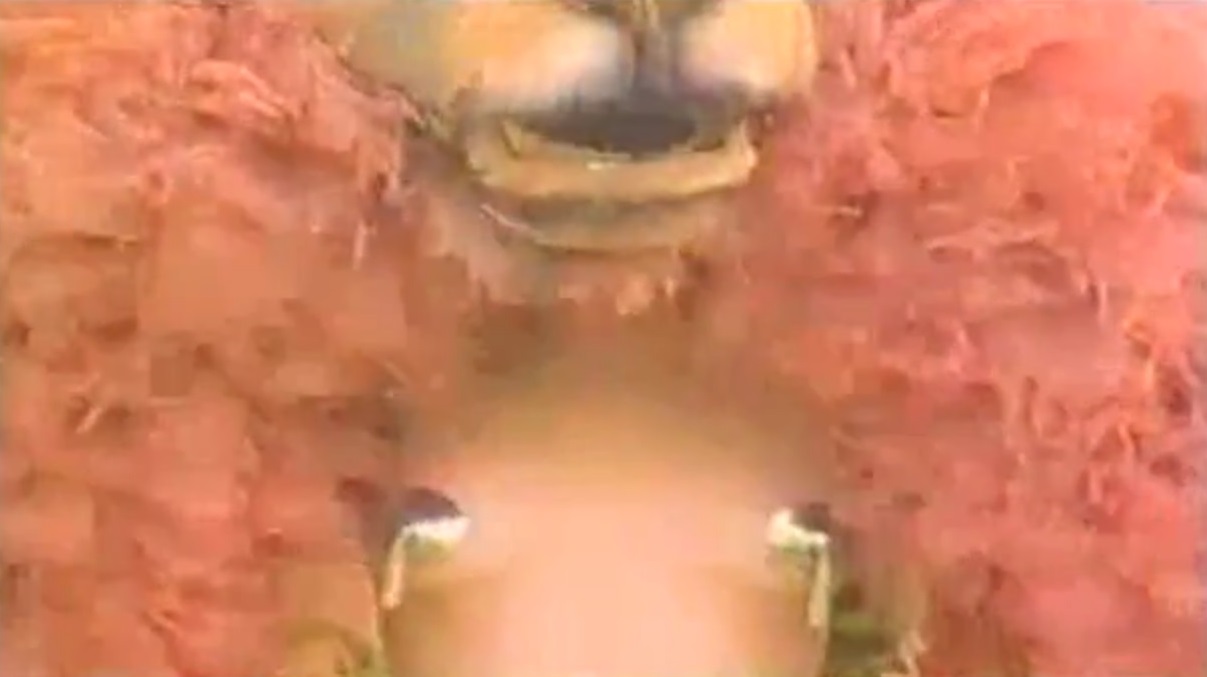 Evidently a memory of Broken Blossoms (dir. D.W. Griffith), "oh Limehouse kid, oh-ho-ho Limehouse kid, going the way that the rest of them did... a story of old Chinatown," or perhaps rather W. Somerset Maugham's Rain, being the tale of H. Davidson, Rector of Stiffkey, or of a tub...
Ken Russell Meets the Brighton Belles
And cooks risotto alla Russell for them, just a couple of American girls over there to play footie with the natives.
The Fall of the Louse of Usher
A Gothic Tale for the 21st Century
by Edgar Allan Poe & Ken Russell
"Orange County U.S.A. Today". Poe's great study of morbid æstheticism is the basis of the work, extended along the lines of many another, such as its parallel "Berenice" ("that ocean-crag spoken of by Ptolemy Hephestion, which steadily resisting the attacks of human violence, and the fiercer fury of the waters and the winds, trembled only to the touch of the flower called Asphodel"), a vaudeville of "The Man that was Used Up" (Nurse ABC Smith, victim of the West Side boys, sheds her various limbs and attractions down to "a great piece of ass"), "Mesmeric Revelation" shorn of its Eureka-meditations as "The Facts in the Case of M. Valdemar", "The System of Doctor Tarr and Professor Fether" practiced by Dr. Calahari, "The Tell-Tale Heart" which opens the thing as a dream homage to Un Chien Andalou ("The Black Cat" is a black dog immured with Annabelle Lee—another vaudeville), and the great counterpoint to the title number, "Ligeia", presented as a pop video by Roderick Usher and his band, House of Usher. Annabelle has been killed not by rock star Roddy, though he has been tried and convicted for the deed and committed to Dr. Calahari's ministrations, but by his sister Madeline à la "The Murders in the Rue Morgue".
"The Bells" is another video, rapped and jammed while Medieval Babes stab a naked girl hung by her wrists and kneeling on a tabletop. "Annabel Lee" is a mournful ballad detailing the romance of Usher and his wife at an aquarium, on a merry-go-round, beside a pond (all the songs are charming, the stereo soundtrack very effective). "The Raven" serves for a joke merely ("he's raven mad!").
The monstrous erudition behind this reading is very edifying and cuts away miles of a dead century's worth of pontifications ("Some Words with a Mummy") on the American bard most sublime, wit most sage.
Audiences of Mindgame in New York will no doubt recognize the video mise en scène.
ELGAR
Fantasy
on
A Composer on a Bicycle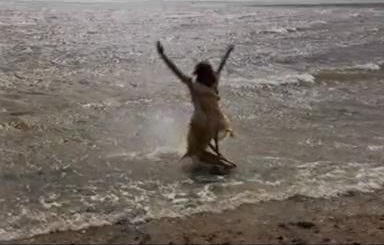 "England's greatest composer of modern times."
Practically the culmination of Russell's researches, the greatest possible analysis of music in the simplest terms, an immediate response from the image to the elements of composition, a mystery understood by film composers, less an impression here than an identification.
The Girl with the Golden Breasts
Trapped Ashes
Bloodsucking tits rule Hollywood.
In reference no doubt to Peerce's Ash Wednesday and Andy Warhol's Frankenstein.
Variety, "bad-taste satire".
A Kitten for Hitler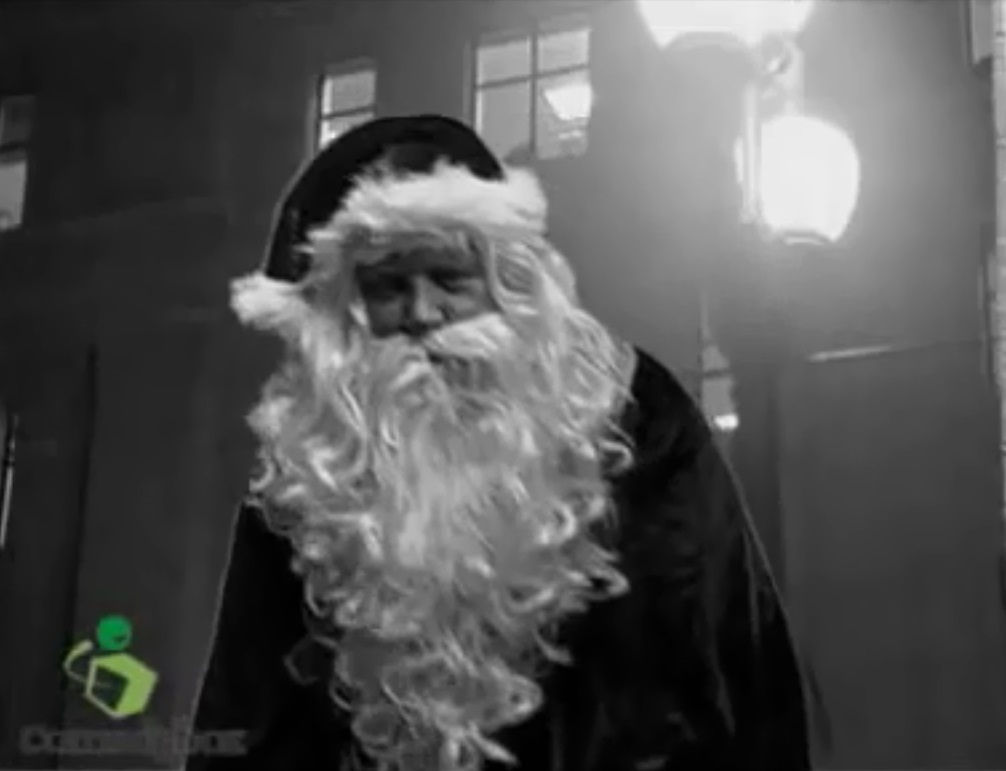 "It's a miracle! A miracle in Brooklyn!" A sendup of the green screen machine and other latter-day mechanical marvels, a mere trailer advertising the titular chef-d'œuvre (Ein Kitten für Hitler), a cunning stunt for the internaut. "Gib das Kind ein Bagel!"
"Eva, schalte das Licht aus!" Russell characteristically put forth that it was designed to be offensive for its own sake and therefore justify "the censor's filthy synecdoche", a typical conjurer's misdirection (reported as gospel in Wikipedia, a virtual organ endorsed by the New York Review of Books).
Sue Steward (Evening Standard), "re-lit the tantalising old flame."
Boudica Bites Back
A Cine-Opera by Ken Russell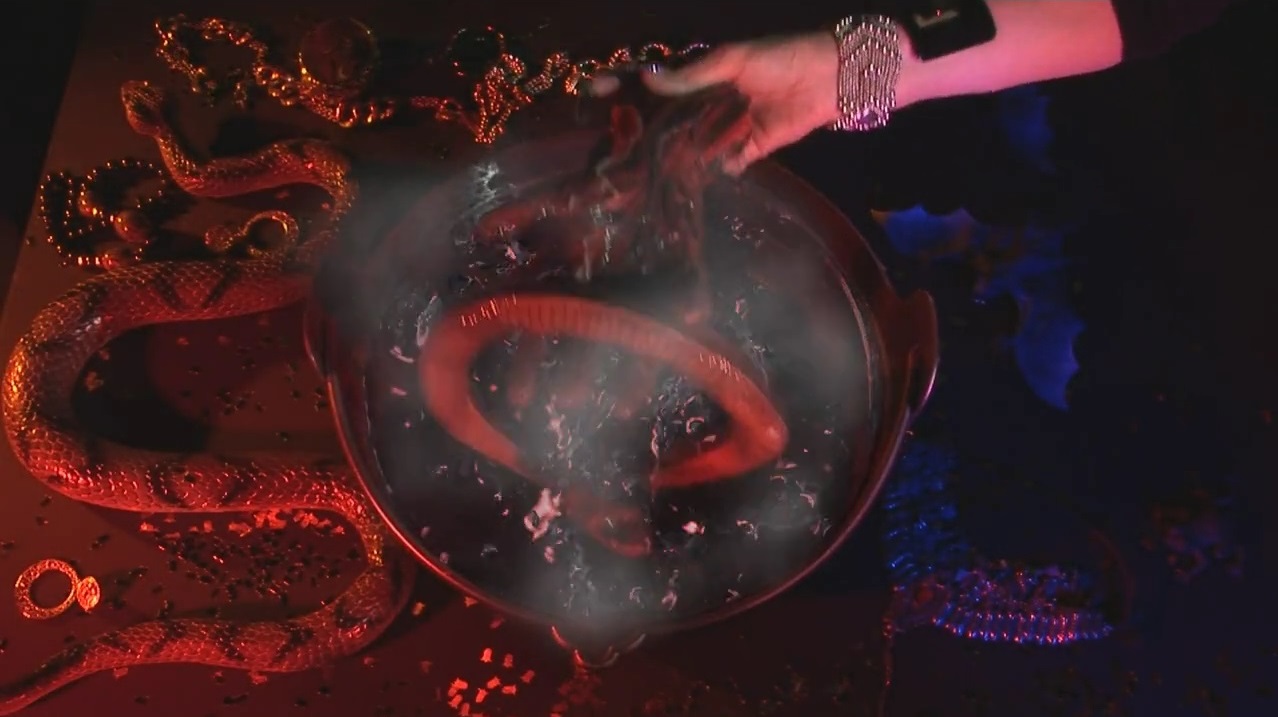 "It's a very simple film... it celebrates the battle of Queen Boudica... the first English Queen... she fought the Romans..." cp. The Lair of the White Worm (and Altered States for the cauldron)