The 5,000 Fingers of Dr. T.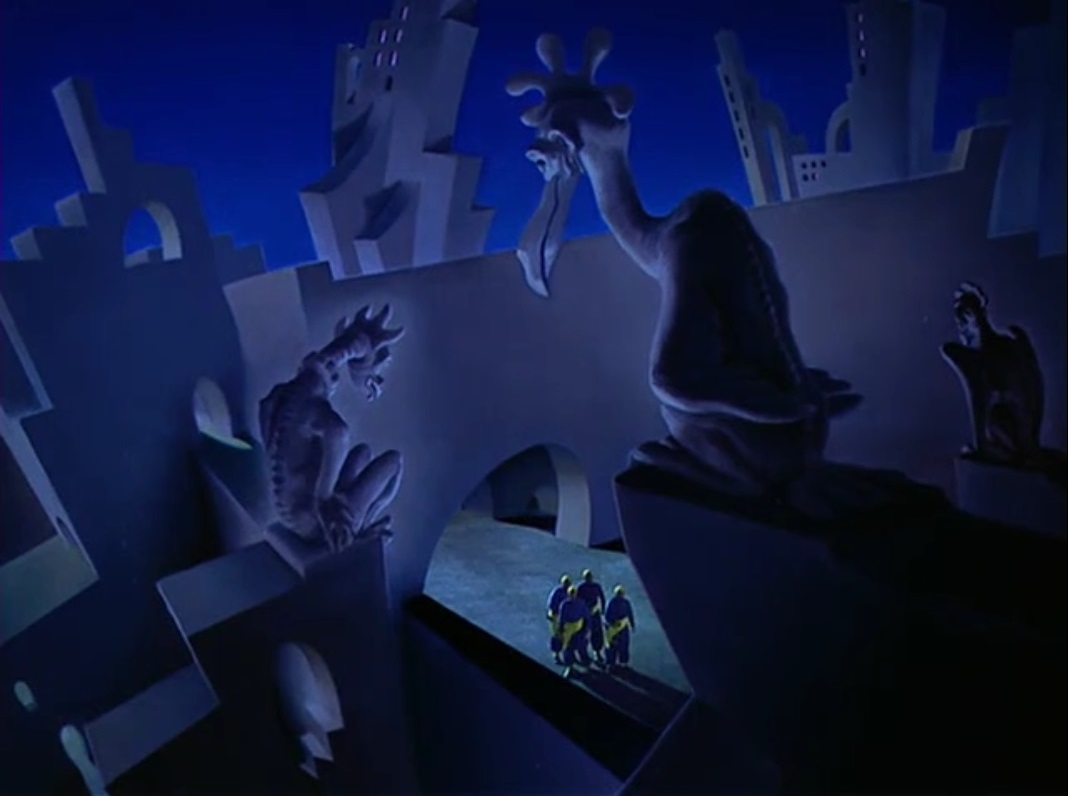 A tremendous accession of style, with the aid of Eugene Loring's racing choreography and Jean Louis' smashing frocks, from Dr. Seuss and Allan Scott on behalf of the lad who had no wish to be one of his piano master's legion, schooled en masse in "the happy fingers method".
Evidently a great influence on Ken Russell, one of the myriad of films in his formation (note the dungeon "apartment" and its cross-legged guard in Salome's Last Dance, for instance), and rather the same story all told as in Ingmar Bergman's Fanny and Alexander, only he has no sister and his mother only wants what's best for the boy, she believes in Dr. Terwilliker or is hypnotized by him (cf. Malle's Au revoir les enfants, and to be sure Hughes' Chitty Chitty Bang Bang), when the lad leaps from a skyscraper-high red ladder holding the hem of his red striped T-shirt down for a 'chute and ever so slowly descends, The Red Balloon was born (dir. Albert Lamorisse), to say nothing of Stevenson's Mary Poppins, also there is Martinson's Batman, from the series (the very tall portrait of Dr. T. and the basement slide are from Welles, of course, Citizen Kane and The Lady from Shanghai).
It's the plumber Mr. Zabladowski back from "four years in the Army" who really knows the score (by Frederick Hollander with Seuss lyrics, Technicolor cinematography Franz Planer, production Stanley Kramer), his "duel" early on with Dr. T. is reflected in Corman's The Raven.
Rowland has seen The Wizard of Oz (dir. Victor Fleming) among other things, and directs with perfect assurance. Critics have professed to see many things or nothing in the boy who wants to go fishing and is set upon by the monomaniacal pedant who sends every other kind of instrumentalist to his Terwilliker Institute dungeon in Hollander's Young Person's Guide to the Orchestra, the percussionists wear boxing gloves, it looks like one of Dali's latter-day symphony orchestras with the Berlioz joke about the triangle-player in the pit (Truffaut famously asked what do critics dream about? because most of the time they're fast asleep).
Poison ivy-covered walls,
Hail to thee our hallowed halls!
"It works, it works! Boy oh boy, am I gonna put THAT big piano on the fritz!" Of course, the boy's name is Bartholomew, Bart for short, Dr. T's "dress me" number reveals a direct influence and mainstay, it is also the model for another film "most underrated" (Jonathan Rosenbaum), Nicholas Webster's sublime Santa Claus Conquers the Martians. "Is it atomic?"
"Yes, sir, very atomic!" Hitchcock certainly remembers this in The Trouble with Harry, Minnelli too in The Courtship of Eddie's Father.
Bosley Crowther of the New York Times, "strange and confused... not only abstruse in its symbols and in its vast elaboration of reveries but also dismally lacking in the humor or the enchantment such an item should contain... a ponderously literate affair, pictorially potential but devoid of sense or suspense." Variety, "odd flight into chimerical fiction... sometimes fascinating, more often fantastic." Leonard Maltin "largely ignored... song numbers slow the action." Peter Bradshaw (The Guardian), "surreal, disturbing." TV Guide, "one of the best fantasy films ever produced by Hollywood." Richard Luck (Film4), "one of the few films that genuinely deserves the description of unique." Time Out, "something for everyone." Jonathan Rosenbaum (Chicago Reader), "prepare to have your mind blown." Mark Deming (All Movie Guide), "eccentric fantasy". Halliwell's Film Guide, "badly scripted fantasy... a real oddity".