The Scamp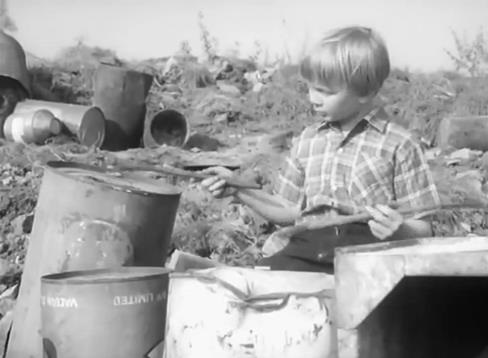 The British Huck Finn, a brash little beggar with an Aussie twang who buys a pennorth of sweets with a five pound note lifted from his father "on the halls".
Everything is against him, Twain and Dickens (by way of David Lean) are for him, the authentic genius vouched for by Mother Goose, whom doubtless he'd call "geezer".
Battle of Hastings at Bamborough School for Boys, question of "sivilisation", from the authoress of Thunder on the Hill (dir. Douglas Sirk), ahead of Kes (dir. Ken Loach).
Variety, "emerges as a run-of-mill domestic drama. It has a touch too much of sentimentality and many situations are implausible... While there is plenty of scope in such a story for a good, meaty drama, The Scamp suffers from unimaginative direction by Wolf Rilla and a somewhat pedestrian script." Tom Milne (Time Out), "soapy melodramatics... lurid climax... wheels grind loudly into the happy ending." Britmovie, "absorbing drama... the shaky direction and a cliché-ridden script from Wolf Rilla undermine any possibility of this well meaning human interest story developing convincingly. Attenborough gives a decent enough performance..."
But that is the difference, nascitur non fit.
Bachelor of Hearts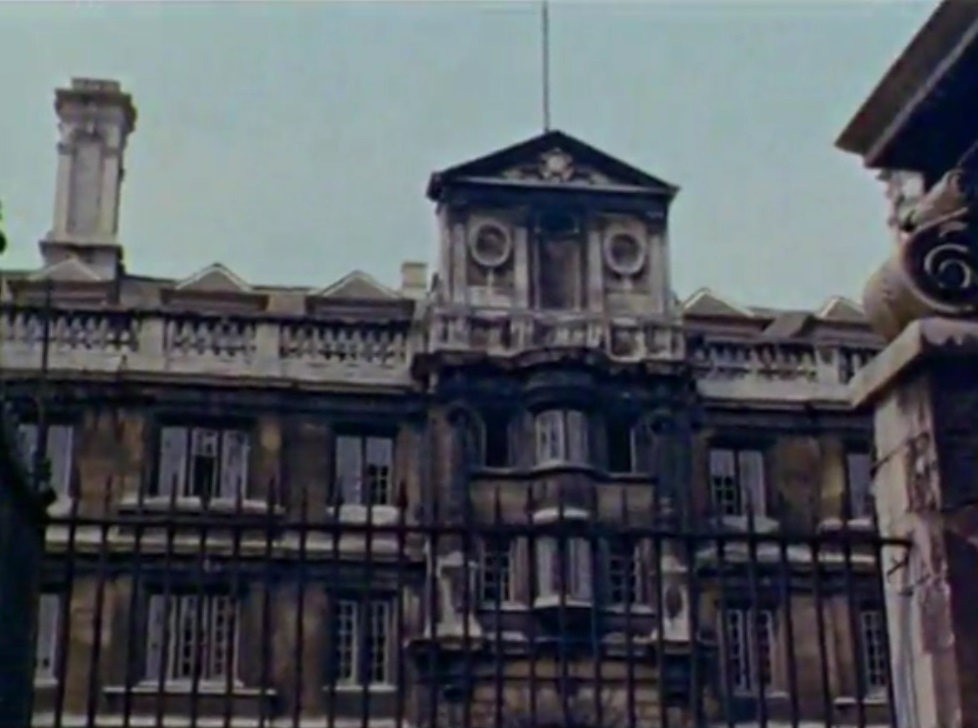 A Kraut at Cambridge...
All the sublimity of the place is there, the problem is getting to it, Rilla has something very like Becker's Rendez-vous de Juillet for the opening circus (out of Vigo's Zéro de Conduite) et voilà. The finest minds in Britain and elsewhere. "Personally, I'm beginning to distrust ex-Dodo Milmo Jones." Human sacrifice (cf. Reisz' Morgan—A Suitable Case for Treatment), a dip in the classics (cf. Hawks' Ball of Fire), the go-between... the complete course. Thus Nabokov,
I lived within an antique chamber,
but, inside its desert silence,
I hardly savoured the shades' presence.
The higher mathematics, with Eric Barker as the original Woody Allen. "It's lovely in!" The town drain even, "no, that's Oxford." Cf. so please you The Demi-Paradise, dir. Anthony Asquith.
Bricusse & Raphael screenplay, Edward Carrick settings, Geoffrey Unsworth cinematography in Eastmancolor, Hubert Clifford score.
Britmovie, "a Rank comedy in the style of Genevieve and Doctor in the House." Variety could not follow it at all, "facetious, rather embarrassing... rather adolescent... thin yarn... might have been more acceptable had there been more wit," but appreciated the play on Conway's masterpiece, anyway. TV Guide follows Variety, "sophomoric". It brings Halliwell's Film Guide back to its earliest youth, "sometimes agreeable, sometimes annoying, especially when romance gets in the way of the possibilities for fun."
Witness In the Dark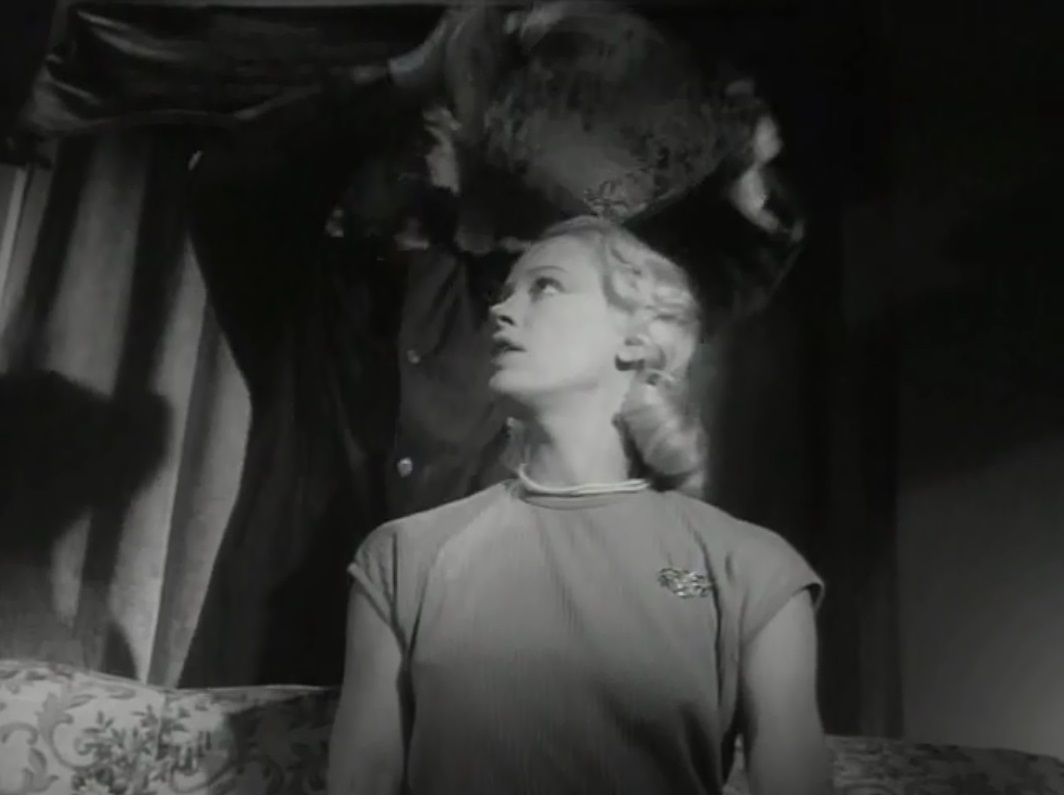 The girl who lost her sight in France due to a road mishap that killed her fiancé.
Dickinson's or Cukor's Gaslight for the murdered woman upstairs. The uncanny appreciation of blindness leads to the central aria on the world of the blind, a rare world of heightened apperception amidst visual dearth.
David Parkinson (Radio Times), "a pleasing sense of menace". TV Guide, "standard and predictable". Leonard Maltin, "uncommonly obvious suspenser". Sandra Brennan (All Movie Guide), "tepid thriller".
Village of the Damned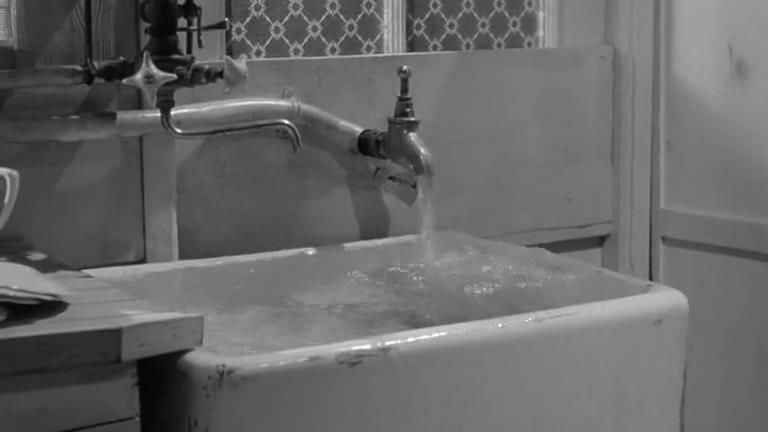 El sueño de la razón produce monstruos.
The townsfolk of Midwich fall unconscious at midday, nine months later a batch of "blond-eyed, blue-haired" infants is born to them, sharing a "mass mind" and "extraordinary power... the sinister way they use it."
Russia has a similar batch, others in Australia and among the Eskimos and at Irkutsk "on the borders of Outer Mongolia, a grim affair," died or were put to death, a nice report from The War of the Worlds (dir. Byron Haskin). They have no feelings, the little beasts, it is their boast, it gives them power, only an hour and a quarter from London.
"Grave developments," the Russians take a drastic hand to theirs, the Midwich cuckoos have started to kill. A Stauffenberg (George Sanders) amongst the cuckolds shields his tiny well-probed mind and blows the little bastards up, cf. Donen's Saturn 3.
The brood or clutch of strange children appear every so often here and there henceforth, as biting dolls in Barbarella (dir. Roger Vadim), for example, cp. Invasion of the Body Snatchers (dir. Don Siegel or again Philip Kaufman) and The Boys from Brazil (dir. Franklin J. Schaffner), also Cavalcanti's Went the Day Well?.
Losey's These Are the Damned constitutes an analysis, so too does Lumet's Child's Play.
Samuel Fuller's Werewolves (Verboten!) are thus pictured by Rilla with lupine eyes, the influence on Rosemary's Baby (dir. Roman Polanski) and subsequent works like The Exorcist (dir. William Friedkin) is unquestionable, a common source is The Bad Seed (dir. Mervyn LeRoy), also to be sure My Son John (dir. Leo McCarey).
Certainly Rilla's childhood experiences in Germany are material to the production.
"Eternal vigilance is the price of liberty."
Variety, "would have been slightly more plausible..." Kim Newman (British Film Institute), "low-key dramatisation". Film4, "rather creaky at times." Dave Kehr (Chicago Reader), "strong and subtle". Time Out, "the overall plot may not withstand detailed analysis." TV Guide, "very frightening". Alan Jones (Radio Times), "British near-classic". Hal Erickson (All Movie Guide), "one of the most influential science fiction films of the 1960s." Halliwell's Film Guide, "absorbing and logical".
Piccadilly Third Stop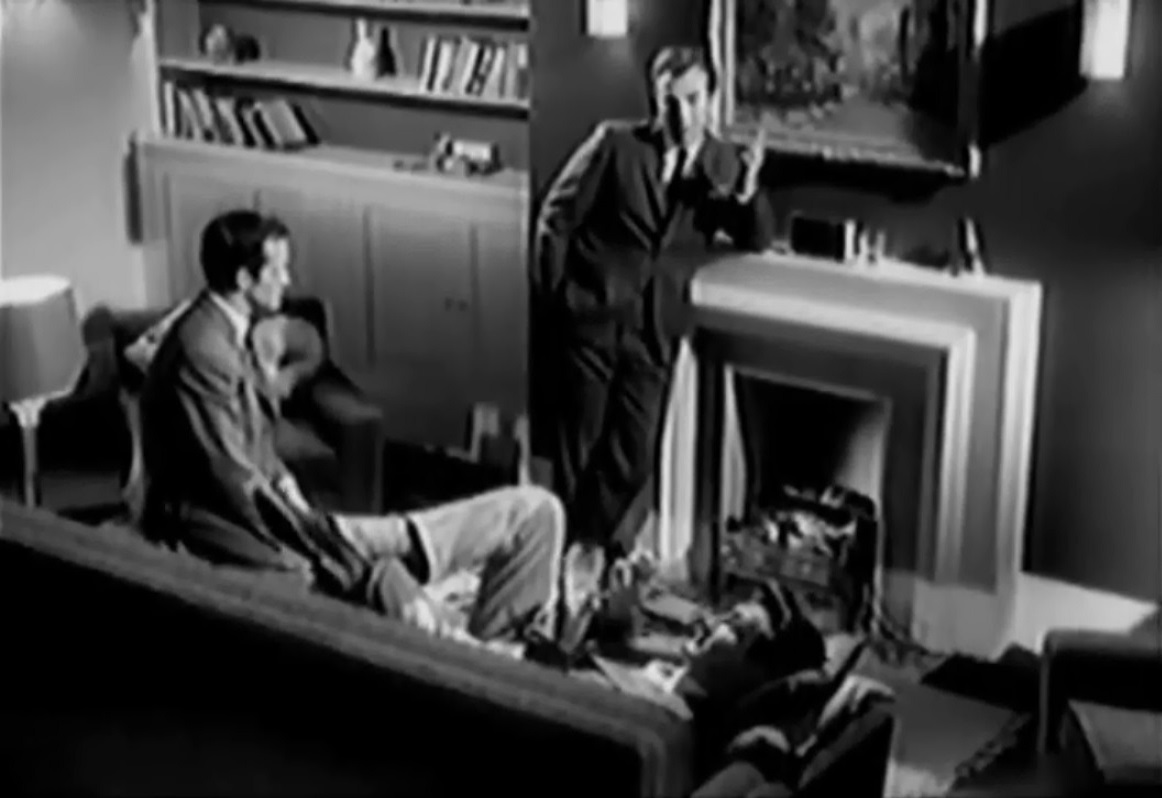 The original ugly American and a wide boy with a yen undertake to rob the Sivan Embassy from the underground with a semi-retired safecracker of renown in his field of employment. "It's one of the spice republics," Siva, embassy just off the Piccadilly Line, Belgravia Station. The ambassador's daughter is the weak link, in a manner of speaking, disentangled from an equine bore at a Mayfair wedding reception thusly, "er, they were lookin for you, over there."
"Who was?"
"Dunno, a tall chap, hair in 'is nostrils."
"Oh!" A frilla from Wolf Rilla with an arcane perspective of perfectly comic detachment throughout, quite to the point, cf. Guillermin's The Day They Robbed the Bank of England earlier the same year, somewhat more remotely Huston's The Asphalt Jungle (looking ahead to Rilla's Cairo), much more so Corman's Bucket of Blood for the wide boy's sculpture.
Time Out, "agreeably showing its age..." David Parkinson (Radio Times), "plodding, low-budget thriller". Britmovie, "directed with pace and style by Rilla". TV Guide, "another routine caper-gone-bad movie." Eleanor Mannikka (All Movie Guide), "fast-paced, standard crime story about a caper gone awry". Halliwell's Film Guide, "boring and rather unpleasant".
Cairo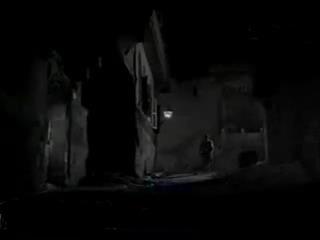 The Major, out of a Munich prison, with a passport forged there, to rob the Cairo Museum with a "foolproof" plan. Jewels from antiquity, to be unloaded in Istanbul, whence Dassin's Topkapi, a signal reading. A hashish-smoking plunger at the tables, the Major's gunman.
The sublime work of a director for whom a scene is the equivalent of a short story and who, being a great artist himself, has the raremost appreciation of a belly dancer. "What's it like, a man of your taste, spending time in prison?"
"Oh, not too bad. I'm not altogether without inner resources, you know... after this it's South America for me." From the author of Little Caesar and The Asphalt Jungle, cinematography Desmond Dickinson, score Kenneth V. Jones very much in the manner of Theodorakis. The parable of the debtors brings forth a Hitchcock cut to mosque and muezzin (The Man Who Knew Too Much).
Tutankhamen, no less. Up through the sewer with a cracksman lately retired to wife and child, rather like Harry Lime escaping his pursuers under the nose of King Tut, exactly like Dearden's The League of Gentlemen, in a word.
After the robbery, an analytical mirror of the action (film critics do not believe in these things, for them a plate of spaghetti is nothing but, unless it's "Freudian", and that means dirty). The financier bankrupted by a drug arrest plans to seize the jewels, his financier tries the same at gunpoint, it comes down to asking the government for ransom.
A British picture, for M-G-M. The significance of the title and location filming is undoubtedly a memory of the war.
TV Guide, "competent caper film... the suspense is weakened by some glaring plot holes and a museum that is ridiculously easy to rob." Halliwell's Film Guide, "spiritless".
the world ten times over
The "nice girl" gives the navvy two fingers up on a noisy morning down from her flat above the deli, the chum and flatmate's flattered to meet one's father the "property king" and wonders why she can't play the piano, "other people can," London demimondaines, two-party girls, the unmusical chum takes a turn at the jackhammer, no "bloated plutocrat".
Enchanting echo of Waterloo Bridge at the station, nice one waiting for Daddums, schoolmaster, Coriolanus at the Old Vic (matinee). Freezing winter, ice skating on the river. The queen of the world in a hole in the ground is one perspective and gives the title. "I've always hated Shakespeare" is another, "you can have him boiled as far as I'm concerned." Chum and nice one, respectively.
Variety, "overdramatic". Michael Betzold (All Movie Guide), "dour drama". Halliwell's Film Guide, "dreary."
A singularly beautiful masterpiece, one of the finest British films (cinematography Larry Pizer, screenplay the director). "Middle East petroleum he was, very keen."
"Sibilla," Daddums asks most urgently, "I want to know, what is it you do for a living?" He has liberal views, "live and let live." The property king knows a good thing, "entertainment" he calls the other one for "tired businessmen."
Billa's gone off the game, frankly pregnant. Ginnie, Virginia, is for sunny shores with the scion, married but "finding himself," his wife points out she's "a tart." Dance hostesses at the Ecstasy Club and Cabaret, properly speaking. Daddums has a look in and dismisses her, mocked for his pains. Billa needs a friend, the scion is dismissed with a slash of the wrist, none too serious. An appreciative whistle from a dustman brightens the morning after a bad night. "Thus he discovered that those who earned their living by catering to the sexual wants of men quite often fell violently in love with one another" (Douglas Cooper, Henri de Toulouse-Lautrec).
Piccadilly Circus intimately seen and brummagem environs, a nighttown with a travel agency in its midst.