All Ashore
Three sailors, "no On the Town" (Halliwell's Film Guide) but Pinter's The Dwarfs on shore leave in San Pedro and Wilmington and Avalon, a great musical devised by the director and Blake Edwards and Nelson Riddle.
The beauty of it is the worm turning, and the beauties filmed on location like the Harlique Hornbill, and the beauties, the crooning and the stepping.
It all ends in a luau.
Hal Erickson (Rovi) "wishes the sum total was better than it is."
Drive A Crooked Road
The bait is a delicious doll, two fast ones hook a race car driver and mechanic for a getaway after the caper.
When it's all over, they're both dead and she's in the arms of the law.
Screenplay by Blake Edwards, Quine at home on location at a vast Los Angeles automotive garage or a Hollywood apartment house or the beach or the desert.
O.A.G. of the New York Times, "lacked the direction of a topflight imaginative talent."
Leonard Maltin, "quietly paced".
TV Guide, "a crisply done film noir".
The driver alone in his room later suffers "The Last Night of a Jockey" (dir. Joseph M. Newman for The Twilight Zone). Adam and Eve of Southern California.
"Terse" (Halliwell's Film Guide), "quite watchable."
Pushover
The Bank of Southern California at the opening, calmly rifled. The robber's moll, who has been poor. The police detective, whose parents fought about money. H.H.T. of the New York Times, who compared it to Wilder's Double Indemnity disparagingly.
Hitchcock's great invention in Rear Window was found simultaneously by Quine.
Nearly all shot on the lot, yet Godard in 1962 said of À Bout de souffle, "I thought I had made a realistic film like Richard Quine's Pushover, but it wasn't that at all."
Cukor's It Should Happen to You and Sears' The Nebraskan are a double bill at the Magnolia Theatre (cp. "Double Exposure" for Columbo).
Rare score by Arthur Morton.
The Solid Gold Cadillac
International Projects, Ltd., a giant company founded by "an ex-grease monkey who got lucky" and now is a dollar-a-year man in Washington, has been taken over by a gang of crooks who call themselves the board of directors, a small shareholder raises her hand at a quarterly meeting and starts the ball rolling with a question on the high salary paid to the chairman of the board.
Ambrose Bierce on Broadway.
Paul Douglas as the monkey gives an amazing rendition of "Spartacus to the Gladiators" by Elijah Kellogg, remembered from childhood.
Stock options, bonuses and raises are the opening salvos of the gang's raid on corporate assets.
The small shareholder is a stage player with an amusing résumé, the board give her an office with her name in raised lettering, "I never got billing before!"
The narrator is George Burns (Fred Allen did this on stage, Variety tells us), "boy, are they crooks!"
A new polo-playing board member puts a small competitor out of business, it's a subsidiary.
No need to go on, as anyone can see, Quine's film from Kaufman & Teichmann's play is the missing link.
"Why would they do a thing like that to their own company, is what I want to know."
The real masterpiece is the second half. "If you let those dopey directors do business with Washington they'll close down the government like they did Apex Clock."
Frank Capra is directly cited, counting the proxy votes.
The title is a gift "to the girl who has everything."
Bosley Crowther of the New York Times savaged it with "buzzing gadfly... a deadly dangerous dame... inescapable nemesis of a mere man [describing Judy Holliday's character in Cukor's Born Yesterday]... cardboard farce... not precisely representative of the workaday financial world... don't expect it to take you or your intelligence very far."
Variety said it "makes for hilarity," Time Out Film Guide calls it "pernicious but fun," Halliwell's Film Guide "vaguely Capraesque... begins brightly but peters out... passing interest."
Operation Mad Ball
A detailed metaphor that officially signals Victory in Europe only when the joint is jumpin'.
The ruined Hotel de la Poste is the setting, off limits like Army nurses according to the Articles of War.
For convenience, the war is over, it's a hospital unit in Normandy, the G2 officer (a future senator, he fancies) runs down a case of fraternization, and so forth.
A tremendous effort of strategy and logistics and manpower, requiring the utmost skill and daring, swings it.
Bell Book and Candle
Witch casts her spell on New York publisher but falls in love, losing her powers, he marries her and it couldn't happen to a nicer guy.
Prodigious credit sequence among the primitive art in her boutique, fine location shots, Quine's skill everywhere.
The resemblance to Hitchcock's Vertigo has been remarked upon, not by Bosley Crowther in his New York Times review, he liked the cinematography.
Variety was at a rather touching loss, it wasn't like the play. Halliwell's Film Guide agrees, "but it remains a civilized entertainment."
A great masterpiece on the literary world of hacks and cranks and overblown reputations, fired by a sedate genius with a melancholy urge to get out of her rut, but the management has changed, "before you moved in a theosophist lived here, and he was very pleasant. Very pleasant."
This is very closely related to Koster's Harvey, as will be seen.
The murex and its fisher and the porridge.
It Happened to Jane
The lobster and the locomotive.
It's just as sublime as that.
And on this the foundations of American democracy are laid, thanks to Capra (It's a Wonderful Life is quoted) and Crichton (The Titfield Thunderbolt).
It did not seem to anyone at the time, so it seems, that this is a work of genius, and Halliwell calls it "witless".
Strangers When We Meet
Author to architect, nothing to do with the latter's adulterous affair, the title, a general remark.
Author commissions architect, house in Bel-Air. On architect's advice, author writes authentic book. Successful before (Star Reach, Disaster), though despised by critics, author is lauded for The Fall of a Stone. A string of mistresses and his Mercedes convertible are as nothing to him now, "alone".
Architect has left firm, a prizewinner, shepherds the house to completion, having taken a mistress. The firm wants him to build a city in Hawaii, he takes the wife instead.
The two main characters are played by Kirk Douglas and Ernie Kovacs.
"Dramatically vacuous", said Variety. "Beverly Hills soap opera", says Halliwell's Film Guide (Time Out Film Guide, "unsatisfying").
So, having set client and mistress (Kim Novak) on their feet, so to speak, architect addresses himself to humanity in large.
The World of Suzie Wong
Hong Kong, jade water, lively bars, precipitous hills.
An artist there to paint, an architect to try for a year or be a draftsman.
His paintings tell the story, skillful, dull, average, then something else in his portraits of the title character, a bar girl.
Critics have always found this tremendously difficult to perceive, by any stretch of the imagination.
The Notorious Landlady
A tribute to Hitchcock made up of elements from practically every one of his films, in a tone between Donen and Brooks. Quine is obliged to at times work at breakneck speed in setup after setup to carry out the impossible demands of the script, which he does very artfully.
Rear Window is a barbecue that sets the house afire, Psycho is a classic nude, Dial M for Murder actually anticipates Family Plot and is of course Rear Window, etc.
The finale to a band concert of Gilbert & Sullivan stretches to its limits the human capabilities even of this crew, and turns into Chuck Jones or Friz Freleng.
Paris—When It Sizzles
The Compleat Screenwriter with his typist, Friday to Sunday on a deadline.
Every word in it is true, but there is still a mystery, which is how the ending of this film coincides with The Girl Who Stole the Eiffel Tower.
Still another arcane gag, a screenplay is not a film.
And more, and more, nothing of which got past the censors, strike that, critics, who have now made it a legend of nonentity and contretemps.
"While some of us were sleeping snug in our bed," says the screenwriter, "other more productive citizens were up toiling in the vineyards of beautiful letters."
Sex and the Single Girl
The dirty-minded managing editor of Stop, the drowning hosieryman of Sexy Sox, Inc., and the lady psychotherapist from the International Institute of Advanced Marital and Pre-Marital Studies, who wrote the book like a Dutch uncle or the groom's father, like those cheap imports undercutting the manufacturer whose wife is so jealous whenever he examines a pair of legs (and his stockings are "junk", she says), raising the question in Stop's mind whether the authoress isn't talking through her hat (costumes by Edith Head).
It all ends on the freeway with a pretzel in its mouth and a motorcycle cop in the nuthouse, it ends richly complicated at the airport.
A.H. Weiler of the New York Times was rather fazed than dazzled, "fooey" he said.
"Graceless stuff, criminally wasting" blah blah blah (Tom Milne, Time Out Film Guide).
"Coy... noise substituting for wit and style" (Halliwell's Film Guide, which also cites the belief of Judith Crist that all it amounts to is "a consideration of Natalie Wood's virginity", there's analysis for you).
How to Murder Your Wife
You give her a drug, "brrrrrp, up the wall, then blaaaaap," once she's out you dump her in the concrete pourings of the new building next door.
Then you're free to live the life of Bash Brannigan, secret agent in the comic strips.
She is born like Venus from the foam of a cake at a bachelor party.
Art and architecture are the major themes, the power of expression.
Hitchcock's TV intros often have the tone of the initial explanatory voiceover by Terry-Thomas, which is rather the point.
synanon
Twenty-five years later Santa Monica experienced a corporate makeover behind a rent control scheme, but here you have it as it was, a small town in the shadow of Los Angeles, with sidewalks so narrow they gave Brecht vertigo.
You wouldn't recognize it now (tourists are appalled), but here it is, with a true-life adventure of the drug rehabilitation program on Santa Monica Beach and a nonpareil cast.
Hotel
It might be utterly automated in a chain, or rationalized by a union, but it just disappears, replaced by an office building.
The management repair to some lesser place, run properly.
There is the tragic tale of the St. Gregory in New Orleans, thirteen presidents have been guests.
Interesting machinations bring about its downfall, and there's an end.
"Theeeere's aaaa small hotel..."
Oh Dad, Poor Dad, Mamma's Hung You in the Closet and I'm Feelin' So Sad
The vivacious treatment reveals a comic precision almost unheard-of. This makes for a really difficult structural evaluation, which leaves out the critics. Bosley Crowther was appalled by the very title, Variety drew a blank.
Christianity as what Borges described in one of his fictions by associating it according to a character's whimsy with "Jewish myth" is certainly recognizable as the object of satire, or rather Christendom if you prefer.
This is when the long joke on Dad stuffed and the Magdalen throttled and the Commodore keeling over ends up with Mummy and Sonny heading off to Bora Bora on her private plane or broomstick.
Rosalind Russell takes the part away from Hildy Johnson and Auntie Mame to go to town untrammeled. Robert Morse has the pasty-faced loon in carnal torments to perfection. Barbara Harris carries his opposite number to the full extension of the opposition, and Hugh Griffith plays the randy operator of a yacht to no avail as if it were easy.
Jonathan Winters narrates as Dad come down from Heaven out of Carousel or Faust.
Quine's direction is flawless and inspired, the cinematography is by Geoffrey Unsworth, the music by Neal Hefti.
Dagger of the Mind
Columbo
A transmutation of Macbeth into a theatrical vision, filmed by Quine and Unsworth (or Wolf) on location with a subtle eye for architectural marvels as well as their curious absence.
The script conveys (or parlays) a brace of brollies and a string of faux pearls into a considerable amount of mischief. Along the way, long takes frame a good deal of brittle, fine humor.
Sir Roger is introduced with a POV of the interior of his umbrella as he closes it to reveal a POV of the interior of the Royal Court Theatre, which is used to mount Macbeth in dress rehearsal featuring Richard Basehart and Honor Blackman, who very naturally "do and do and do." Basehart additionally favors the watcher with an offcamera rendition of Shakespearean vocal exercises. They read the reviews in bed with glee.
The comedy mounts from reserved slapstick at the Heathrow baggage claim room, where Lt. Columbo is mistaken for a thief, to drawing room comedy at Detective Chief Superintendent Durk's London club, with the lieutenant avoiding autopsy photos over lunch. The first scene with Wilfrid Hyde-White as Tanner the butler is refined to a point of silken efficiency.
"Failing Americans," says Prof. Butley, "is a ritual, and that's what they come here for, the ritual." Lt. Columbo is thrilled by ritual, but after all, murder is murder. Sir Henry Irving is brought into it, of whom Shaw said, "in a true republic of art Sir Henry Irving would ere this have expiated his acting versions on the scaffold." Shaw, who thought Shakespeare was trash redeemed by music, and had this advantage on his fellows, who had it the other way around. Cymbeline was notoriously impenetrable to him, and as he thought Othello was a study of jealousy (rather than sterile conformity, like King Lear and even more Cymbeline, of which it is an earlier version), naturally The Winter's Tale commended itself as above art, in that respect. But to be fair, he had Irving to contend with. We have only the scholars who carry the old "Hamlet enigma" to new heights.
"Tradition," Toscanini said, "is the last bad performance." Coleridge observed of the bard, after centuries of actors' self-serving alterations, that every word is significant, and still the work suffers the occasional improvements of star-cross'd underlings (as recently as the Beeb's Complete) in a ritualized tradition of very bad performances.
It's a question, in the end, of a perfect pair without the utz, subjects with no objects, "the poet and his secret wish". The third brolly shows how it's done. It's introduced by the lieutenant strictly for the purpose, to show what people do when it rains. Out of Sir Roger's just-opened umbrella drops a round pearl.
The London Wax Museum is actually the Royal College of Music, so that Lt. Columbo can stroll out and past the theatre and its statue (Royal Albert Hall, standing in for the Globe).
John Williams played Shakespeare the playwright in an episode of The Twilight Zone ("The Bard"). The peculiar genius of Jackson Gillis's script ("if I may say so," as Tanner would say), from Link & Levinson, is that it unites the Whitmanesque view with a proper understanding of the bard.
Requiem for a Falling Star
Columbo
A fairly comprehensive view of Hollywood history from its days of independence to the acquisition of parent companies, written authoritatively by Jackson Gillis and directed with a sense of Hollywood hectics and a certain gusto by Richard Quine (Columbo spots a television across the room behind the camera and crosses over to it, while the camera speedily pans on him and then jockeys into position to pick up the tail end of the shot).
Double Exposure
Columbo
This eerie masterpiece is what television is all about, a chamber opera with stage machinery, "transformations," etc.
A reading of it puts you on your mettle, because of its uncanny deftness and the receding (or advancing) perspectives it affords. Essentially, this is built as a fantasia on entrapment and blackmail. A motivational psychologist, Dr. Bart Keppel (Robert Culp), is conceived as financing his operations by seducing his clients (with the help of Arlene Martel as Tanya Baker) and then forcing them to pay up. This is metaphorical, if you like, but the writer (Stephen J. Cannell) is just getting warmed up. Dr. Keppel is the author of several books on his subject (The Mind String and How To Pull It, Human Values vs. Human Motives, etc.), and generates motivational films at his research labs (these scenes were shot at the former Preview House on Sunset Blvd., a place where studios ran new films and programs for test audiences).
His latest film is, coincidentally, about sales. "Historically," says its narrator, "we are a nation of salesmen." Dr. Keppel's specialty is the subliminal cut, the famous advertising technique in which single frames stimulating thirst or hunger are spliced unnoticeably into a film.
By such means, and a pistol made small with a calibration converter, he eliminates a recalcitrant victim (Vic Norris, played by Robert Middleton). He further contrives to throw suspicion on Mrs. Norris (Louise Latham).
When his projectionist (Chuck McCann) solves the puzzle and attempts to blackmail him for once, Dr. Keppel turns the tables back again by killing the poor fellow at the Magnolia Theatre, where he moonlights (the film is High Plains Drifter).
The discourse is sometimes almost subliminal. Keppel had been quick to tell Lt. Columbo that he was not a filmmaker per se, but a maker of motivational films. The concrete distinction is symbolized when Lt. Columbo breaks Dr. Keppel's alibi by pointing out that the projectionist was killed during the first reel, because there were "no nickels," i.e., the projectionist had a trick of sticking nickels in the reel toward the end for a warning, and there were no nickels found on the floor after the second reel finished running.
Later the writer has Tanya take a powder to Lisbon, the setting of a remarkable poem by Samuel Beckett ("ainsi a-t-on beau") that may well have been inspired by William K. Howard's film, Fire Over England.
A comic side of the theme is offered by Lt. Columbo, who has three sets of two cards each in his bathroom, on his windshield, and in his pocket, to remind him of two salient questions about the case, why did Norris leave the screening room, and how did the murderer know when he would leave it?
The head-to-head conflict between the lieutenant and the culprit is a rare duel of wits.
A spectacular piece of virtuosity by the cinematographer, William Cronjager, has Dr. Keppel holding 35mm slides up to a light board in extreme close-up, with very natural ease and perfect visibility. This is the subliminal solution, anticipated in the opening shot.
The more you look at it, the more you see, which is one of the characteristics of the Shakespearean method.
W
A rather monumental shocker, to use a trade term, built up for the tremendous deflation of the psychopath whose initial is his signature.
He marries an English girl, brings her home and mistreats her horribly until, a mental wreck, she disappears and he's sent to prison for killing her. All this is prologue recounted as dialogue, now he's terrorizing her and her new husband.
Quine has Ken Russell's favorite actress for this, and an American actor with a resemblance to Oliver Reed, he films in beautiful color for the various states of mind involved, authoritative to the limits of consciousness.
"Tedious rehash", says Halliwell's Film Guide, "all rather sick."
The Prisoner of Zenda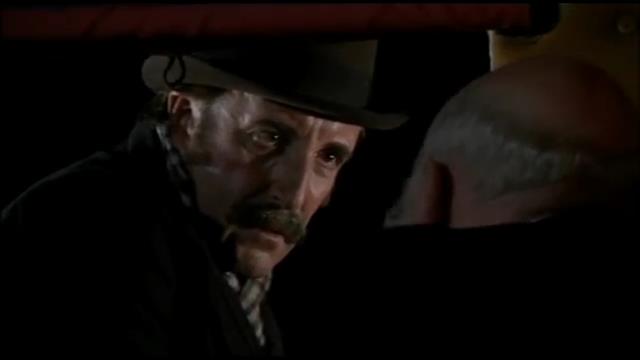 The genuine aristocracy, a coachman and his Sylvia vis-à-vis the gentle extravagances of wight woyal Wudy that put his life in jeopardy, a brilliant analysis that is the point, to which Quine's elegant refined work lends a touch of Tashlin cartooning.
The royal treatment means better provender and grooming for Sylvia, diplomatic immunity as well ("you can stop an' 'ave a pee whenever you like, girl"), nevertheless the job is filled by "a very common commoner" indeed.
'Yes, yes, well, this sort of thing happens in Ruritania."
Screenplay Clement and La Frenais, cinematography Ibbetson, score Mancini. The filming takes careful note of the interpolation by Blake Edwards (The Great Race) at several points, also The Pink Panther...
Hitchcock's Foreign Correspondent and Vertigo are all but cited.
Critics by and large did not see the great homage to Chaplin. "But I—I can offer you untold wealth!"
"Untold wealth?"
Janet Maslin of the New York Times, "Peter Sellers is the only real reason to see The Prisoner of Zenda... the director, Richard Quine, seems well over his head." Time Out, "a limp and shoddy farce". TV Guide, "never quite figures out what line it's taking... generally a disappointment." The Catholic News Service Media Review Office, "falls between two stools, being neither funny, nor romantic enough." Clarke Fountain (All Movie Guide), "amiable". Halliwell's Film Guide, "palpably uneasy... way off form", citing Paul Taylor of the Monthly Film Bulletin, "unfunny."
"We're surrounded!"
"We're surrounded by owls."