Something for Everyone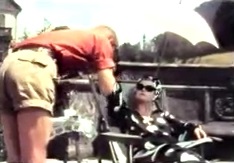 "It eluded me, of course. Most things do." The irresistible rise of a chevalier d'industrie from a picture book—"both" murderer and pervert—or one size fits all. "Thirty years! Over thirty years I have been waiting for a Vanessa atalanta," the Red Admiral or Admirable (Nabokov), a widespread butterfly.
The Wagner parody at the Stadttheater suggests Andrew L. Stone's The Secret of My Success as the starting point. Such a thing as Wilder's Sunset Boulevard is not unknown. "A castle! Why not? Why not go the whole hog?" Set in the land of Freud but also Schicklgruber ("before that dreadful housepainter went Sieg-heiling around, causing doom"), or the other way about.
"She always has it on a tray in bed, the children take care of themselves." The Amberson staircase is a remarkable feature of this house. "Ah well, a descendant of Attila the Hun and a widow of a descendant of Barbarossa should be able to survive without strawberries... how can people be so rich these days?"
"Ex-Nazis, that's what they are! They can't fool me. Thank God, and if I may say so with due modesty, thank my own diligence, we have rooted them out here in Ornstein." Pasolini has the precedence in Teorema on another angle of pure analysis, Prince has a view more closely related to Renoir in The Diary of A Chambermaid.
From the author of The Moon Is Blue (dir. Otto Preminger, who filmed it simultaneously in German as Die Jungfrau auf dem Dach). An aristocracy "that lost its nerve" (cp. The Shooting Party, dir. Alan Bridges), wedded to the nouveaux riches, Fritz Lang's "weary Death" in his chamber of candles. With Michael York and John Kander, a thematic relation of Cabaret (dir. Bob Fosse). Liquidations, advancements, "the new man, the new force that's come into the world, a new world, a savage world, the world of Attila the Hun come again."
A veritable quotation from The Servant (dir. Joseph Losey), or nearly.
An all but unique work by a born film director, eked out with Walter Lassally's cinematography.
Vincent Canby of the New York Times, "strictly summer camp." Dave Kehr (Chicago Reader), "chic posturing." Time Out, "black comedy". Catholic News Service Media Review Office, "adult fairy tale." Hal Erickson (All Movie Guide), "unsympathetic". Halliwell's Film Guide, "doesn't quite come off," citing The New Yorker, "nothing much for anyone."