A Stranger in Town
"The men around here, bless 'em, either clump about in gumboots directing dung spreading, or prop up the hotel bar mourning the nineteenth century. David was cultured, discerning, and talented, consequently there wasn't a man who didn't hate him, nor a woman who didn't respond to his charms."
David and King Saul, the story of a pianist-composer in the sticks, a Yank in an English village complete with bard (parsnip wine, dabbler in verse, a lady typist by profession), Abigail figures strongly (the shewbread is the bard's bracelet), he is penurious and depicted as a blackmailer in villagers' accounts of him (Vicky had no inheritance, he threatened to tell Lorna's husband "a string of lies", the farmer's daughter was too young), dictation laid over a tape of his concerto identifies the murderer (cf. Douglas Sirk's Thunder on the Hill).
A home town reporter on vacation does a job for Uncle and retraces all the steps, which makes for an interesting structure with doubles and descriptions (The Third Man is cited in the churchyard scene).
Norman Hudis and Edward Dryhurst have the brilliant, complicated screenplay from a novel called The Uninvited, Pollock directs on location.
Rooney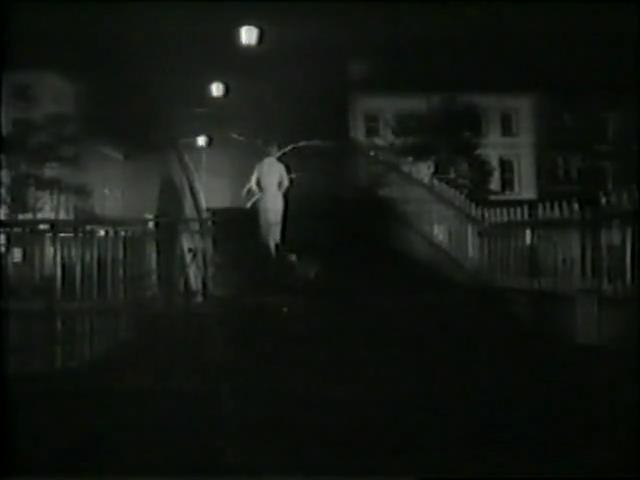 "Anything in the paper, Joe?"
"Ah, the whole country's in a terrible state, lads."
"Eagh."
"They say they're puttin' up the price o' stout."
"And to think o' the days when it was only tuppence a pint."
"Aye, and so full o' strength that if your glass didn't stick to the counter you'd ask for your money back."
"Ah, there's no doubt them were the days, we were born out of our time."
The Dublin dustman, a prince at the hurling, and the Cinderella of the premises where he dwells a lodger despised but for his prospects, like Granddad upstairs who owns the place run by his daughter, a widow like all them that plague the young fellow with their kindnesses from pillar to post.
Bosley Crowther of the New York Times, "it is not too amusing... nor is it dramatically apropos." Leonard Maltin, "sprightly tale". Hal Erickson (All Movie Guide), "stronger on characterization than plot." Halliwell's Film Guide, "unconvincing."
A particularly fine sense of the city (Austin Dempster camera, Christopher Challis cinematography).
And the Same to You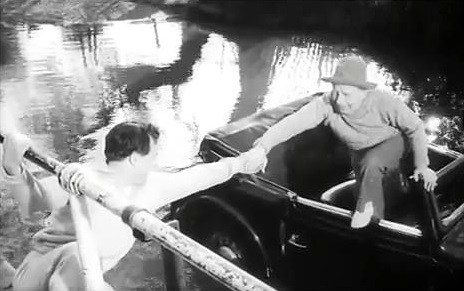 A very bloody charming comedy on the fight game at shared premises in a church hall, the up-and-comer's a boxing blue from Cambridge and the vicar's nephew, replacing the house hopeful. Sublimity touches the screenplay by John Paddy Carstairs when, for example, the hopeful dances close with Shirley Anne Field.
"Ooh, aren't you strong."
"Yeah, but easily led."
Question of a new roof against deathwatch beetle, also of a very bloody down-and-out promoter, also of a fixed fight.
"I can't lose to a new boy. I'd on'y feel like 'alf a man, an' that's no way to feel before y' wedding, is it."
"Depends which half."
The archdeacon and Uncle Sidney. "Why does everyone call you Sid?"
"Sheer popularity."
How I won the war, or the thousand pound fight.
Murder She Said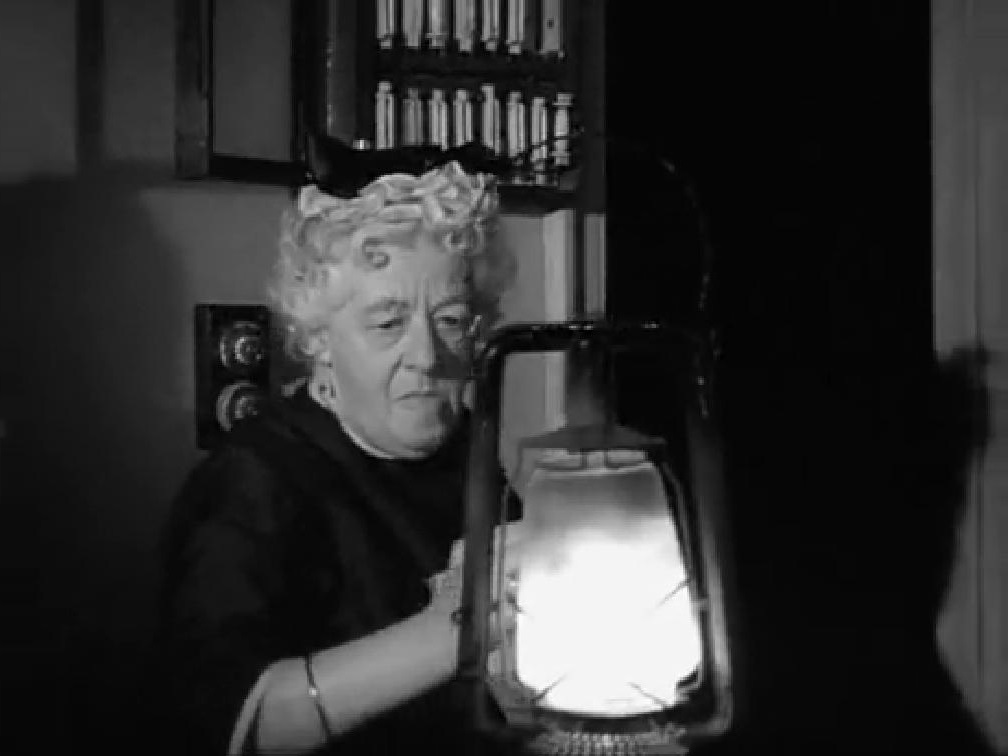 Miss Jane Marple, champion sportswoman, good English cook, great reader of detective fiction, grand girl all round, enters the service selflessly when duty calls, as Mrs. Binster (Richard Briers) joyfully observes.
France turns up again in an Egyptian mummy case amongst the old traps of a disused outbuilding. Thunderstorm, power failure, "may I ask what you're doing?"
"Trying to provide light." Dr. Quimper (Arthur Kennedy) is an American because this is An American Tragedy and a very odd thing, a mirror to Murder at the Gallop as well as in another way The List of Adrian Messenger (dir. John Huston) or Kind Hearts and Coronets (dir. Robert Hamer), "kill off all your relations in easy stages except the old man, when he dies a natural death..."
The expert eye will almost certainly discern significant traces of Cukor (Pat and Mike) and LeRoy (Madame Curie). James Robertson Justice plays the later John Osborne in the role of Sheridan Whiteside from The Man Who Became the Autocrat of the Breakfast Table.
Pursall & Seddon screenplay, Geoffrey Faithfull cinematography, Austin Dempster camera, Douglas Hickox assistant director, the famous score.
Film4, "modest and breezy". A.H. Weiler of the New York Times, "a thoroughly satisfying and suspenseful diversion." Variety, "the George H. Brown production is weak in the motivation area, and there's a sticky and unnecessary parting shot..." TV Guide, "a bit talky". Catholic News Service Media Review Office, "dandy". Dave Kehr (Chicago Reader), "distinguished mainly by its utter lack of atmosphere." Halliwell's Film Guide, "frightfully British and disappointingly tame".
Kill or Cure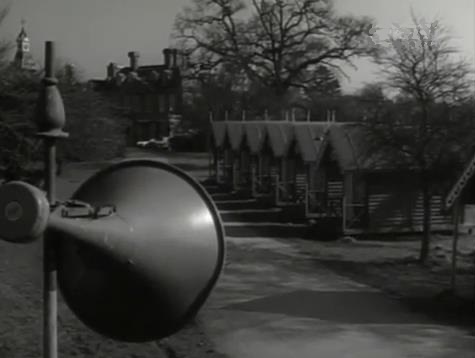 J. Barker Rynde ("Jeroboam—I was weaned on champagne"), Capt., wedding photog cum divorce dick, is hired by a rich old baggage to put the tail on someone at a health nut hideaway where she, employer of Rynde, is subsequently poisoned. A reward is offered for blah-blah-blah leading to the bloke or blokes what done it, our man dives in.
Hook of the long arm comes to this very pretty surmise, "I can feel it, there's somethin' goin' on."
"The old head wound acting up, Sir?"
"Yeah, itchin', itchin'."
Question thus of a culture war, of some pretty slick doings, finally of a divorcee with a doubtful past and a nasty character indeed, the secret of long life is in the end disclosed. "I thought I told you to get this flamin' mongrel out of it!"
New York Times, "deplorable slapstick farce... futile pursuit of mirth... would tax the talents of Charlie Chaplin... a snicker or two from the old 'health farm' wheeze... the kind of low-budget ineptitude that even Jerry Lewis would have spurned." Britmovie, "mildly amusing comedy". Halliwell's Film Guide, "flatfooted and unprofessional murder farce".
Murder at the Gallop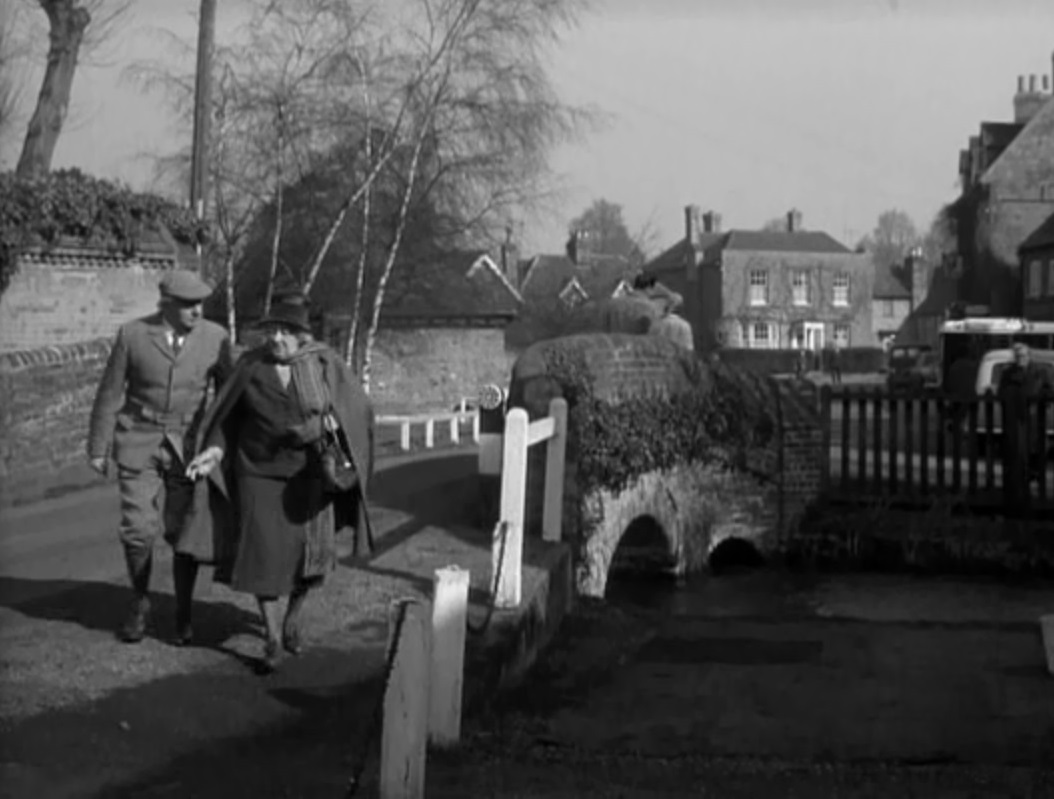 Old skinflint Enderby dies of a cat, the heirs are idlers, embezzlers, dabblers in art by and large too stupid to recognize a masterpiece in their midst, which pretty well defines the critical position then (New York Times) and now (Time Out Film Guide).
Miss J.T.B. Marple, "a great horsewoman," Mrs. Lopsided of Mackendrick's The Ladykillers to Inspector Craddock ("they're really very nice," she says of the police).
Further and most fantastically, she is an admirer of the authoress, "Agatha Christie should be compulsory reading for the police force," and compares this case to The Ninth Life, a purely fictional work ("remarkable novel," Miss Marple calls it).
Screenplay (a nominee for the Edgar Allan Poe Award) by a great craftsman for Alfred Hitchcock Presents, cinematography Arthur Ibbetson, harpsichord score Ron Goodwin.
David Parkinson (Radio Times), "but the most striking thing about this lively whodunnit is..." Britmovie, "director George Pollock effortlessly blends clues and comedy". Film4, "but it doesn't really matter, does it?" Bosley Crowther of the New York Times, "like taking tea and crumpets with a few cheerful, aging British friends." TV Guide, "another mystery romp... such brilliant performers." Catholic News Service Media Review Office, "enjoyable mystery fare." Eleanor Mannikka (All Movie Guide), "one of a series of competent murder mysteries". Halliwell's Film Guide, "a good sense of place and lively performances."
Murder Most Foul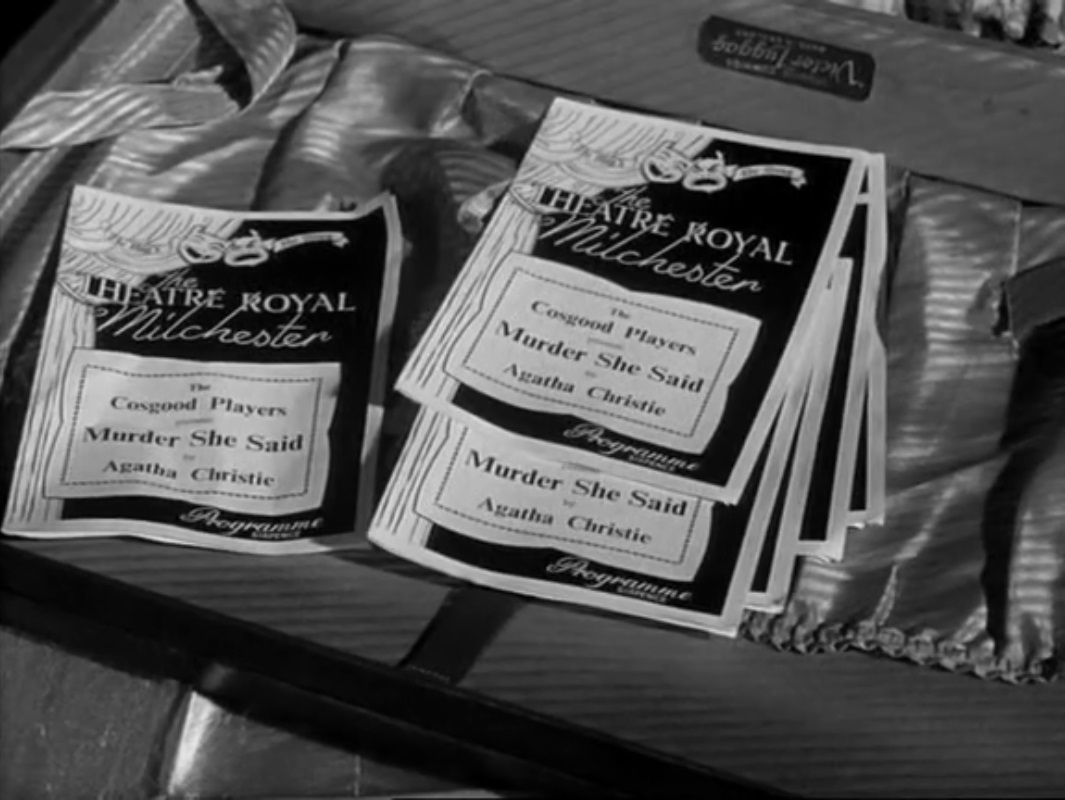 Who hanged the actress-turned-barmaid in her flat? A variant of Murder She Said, acknowledged at the scene of the crime, evidently the work of a blackmail victim. "What for?"
"Obviously, so that the police would leap to the conclusion they have leapt to." Notable jurywoman Marple, an excellent player of draughts who speaks like a judge and knits like a pearl ("it helps me to concentrate, m' Lord"), auditions for the Cosgood Players in a Karloffian rendition of Service that wows the char and hands on stage (the play is Fly By Night, or rather Out of the Stewpot), "these are the simple facts of the case, and I guess I ought to know..."
They're playing the Palace, at the Westward Ho! nearby ("Theatricals Only") the apprentice actress is ushered in as "your new one, dear," and shown to "number ten, upstairs... no male callers". Miss Marple is momentarily alarmed by a cat in her wardrobe, "naughty pussy, what are you doing in there?" Following the murder of a colleague, she is called upon to play "the Honourable Penelope Browne, amateur criminologist" in Soho, "London's square mile of vice, and worse," good for the box office.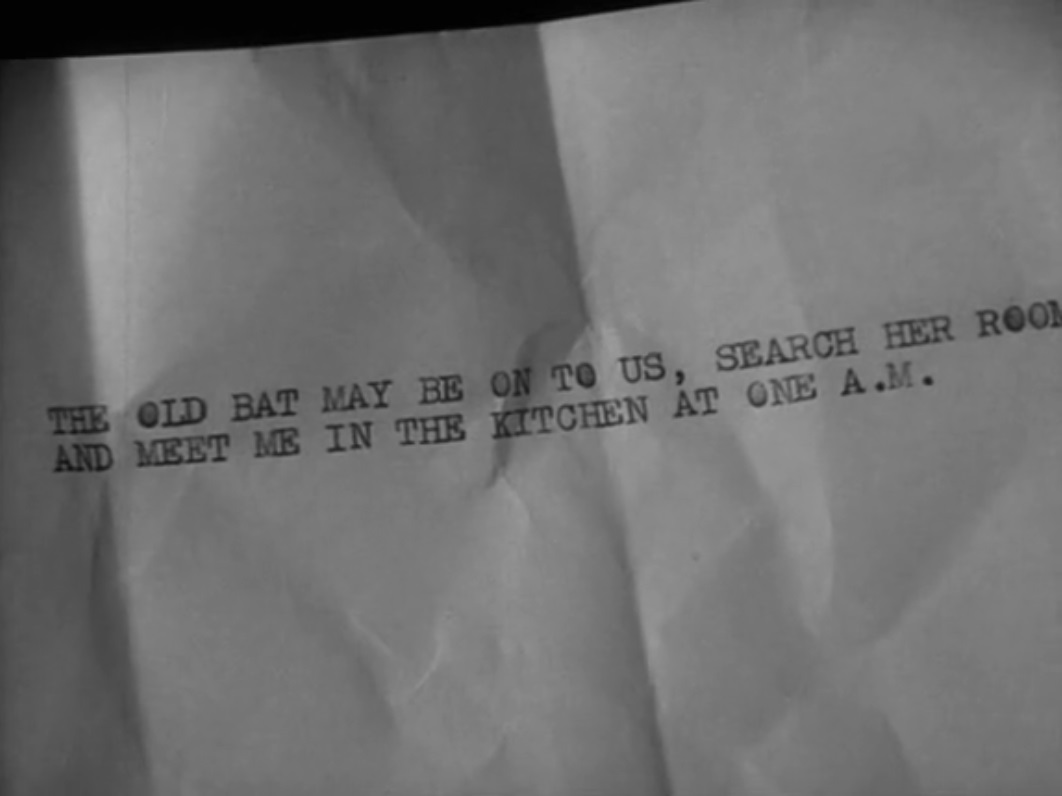 "Only a woman's mind," says Inspector Craddock of Miss Marple's latest deduction, "possibly only yours, could have dreamt that one up." She sums up a modus operandi, "leaving nothing but an innocent saucepan on the hob," and this time he concurs, "yes, good work!" The theatrical agent Harris Tumbrill (Dennis Price) has a tale to tell of old jealousy and poison. On the night, someone replaces the blank pistol to be fired at Miss Browne with a banana in the actor's pocket.
Every stop is pulled out by the screenwriters of Tashlin's The Alphabet Murders in the expression of a theme picked up from Hitchcock (Murder!, Stage Fright), Hawks (Twentieth Century), Clayton (Room at the Top, cited jokingly in the dialogue), and Donen (Charade), not to mention Ron Moody as Cosgood in a sterling evocation of Kean or Booth or Barrymore and Mackendrick's The Ladykillers.
The cinematographer is Desmond Dickinson, director of C.E.M.A. in 1942.
David Parkinson (Radio Times), "rather contrived". Britmovie, "becomes repetitive despite its undoubted charm and good humour." A.H. Weiler of the New York Times, "a good deal less than exciting or comic." Variety, "begins to wear a little thin". TV Guide, "an amusing and brainy mystery that does not fail to please... a good British mystery with enough humor in it to lighten the subject matter, the film is handled with the seamlessness that director Pollock earlier demonstrated in both Murder She Said and Murder at the Gallop." Halliwell's Film Guide, "hasn't quite found the light touch it seeks," by Jove.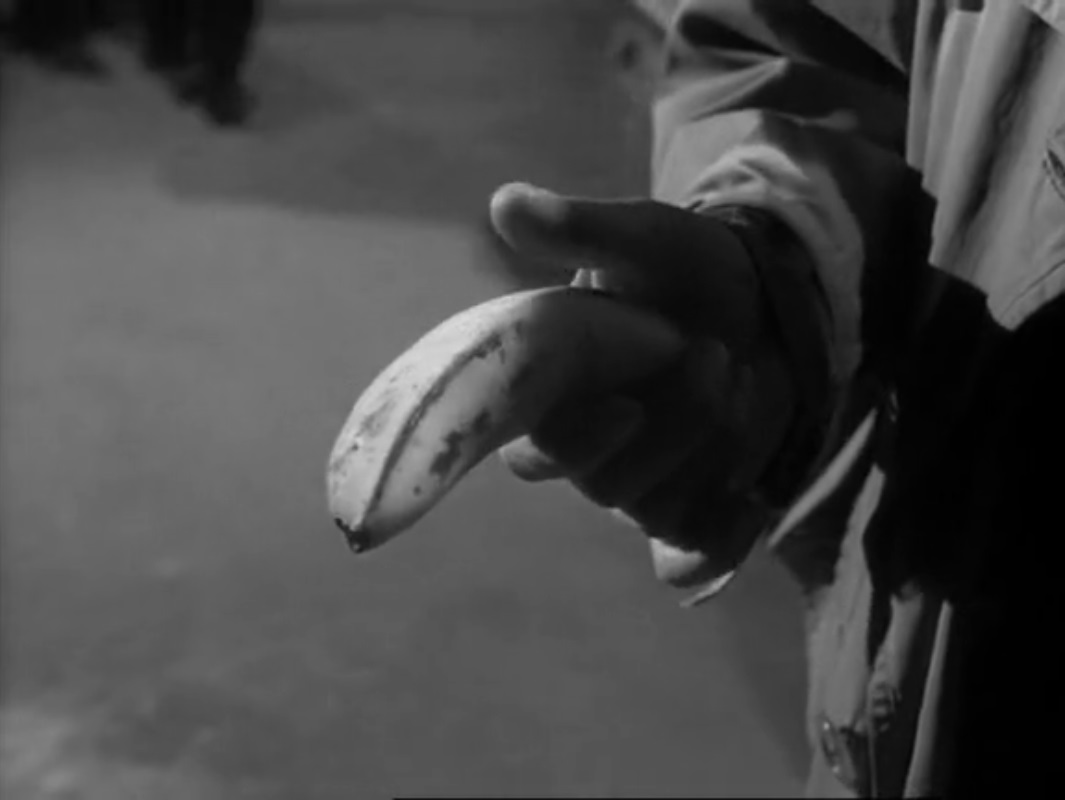 Murder Ahoy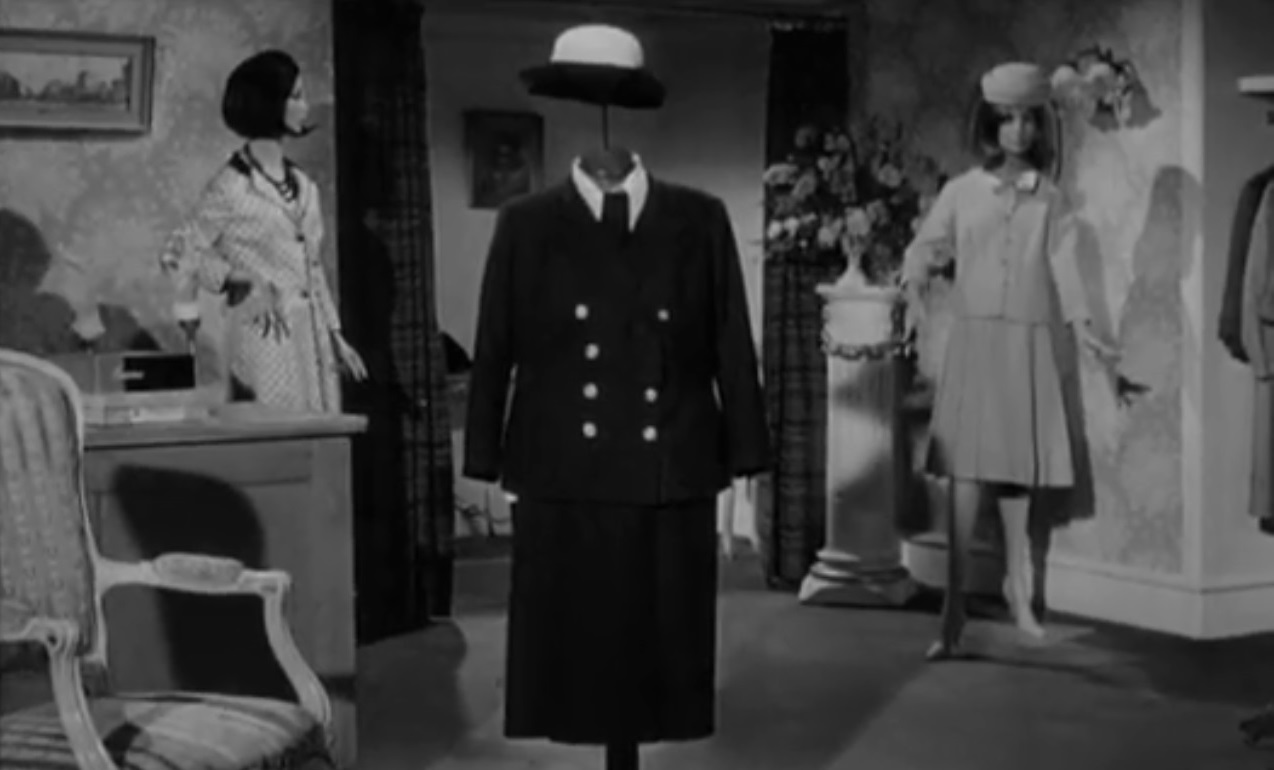 Marple in naval uniform, granddaughter of Sir Bertram Marple, Admiral of the Fleet, and niece of the late Rear Admiral Sir Hubert Marple, aboard H.M.S. Battledore, a man o' war in service to the Cape of Good Hope Youth Reclamation Centre, founded by Sir Bertram.
Characteristically fine British camerawork in the laboratory scene ("Slogums Advanced Chemistry Set for Girls") accomplishes her analysis of fatally poisoned snuff, not African boxwood, for example ("pity, I had hopes of that"). In the screenwriters' finest joke, she climbs atop her wheeled library steps and calls out, "oh, propel me, please, Jim," custodian of the Milchester library, Mr. Stringer. The Doom Box by J. Plantagenet Corby plucked from the shelf (among her volumes of mystery and amusement is Two Weeks in Another Town by Irwin Shaw, only recently filmed at Cinecittà by Vincente Minnelli) provides a cognate example of misdiagnosis, a further extension of Murder She Said.
"Look at it," says the captain of the Battledore (Lionel Jeffries), "reefer jacket, brass buttons, tricorn hat," he clucks his tongue, "who does she think she is, Neptune's mother?" His startling dragon robe ("one thing I can't stand is being disturbed when I'm curling my beard") goes into The War Wagon (dir. Burt Kennedy) with great effect.
Dame Margaret Rutherford, one part Sydney Greenstreet, one part Maggie Smith, one part Michel Simon, one part Dudley Sutton, one part Alec Guinness (cf. Guillermin's Miss Robin Hood).
Undoubtedly the finest of the four films (pace Halliwell, for whom sequels are without exception "increasingly poor"), building on the subtle accretion of theme and inexpressibly benefiting from the wider screen. The screenplay's model for one crime (juvenile delinquency) masking another (embezzlement) is Alfred Werker's The Adventures of Sherlock Holmes, in all probability (cf. Dassin's The Naked City, perhaps suggested by the striptease behind the opening titles).
David Parkinson (Radio Times), "there are too many offbeat characters, a glut of inconsequential chat and more comedy... than you'd find in the great Dame's marvellous mysteries." A.H. Weiler of the New York Times, "rarely exciting, intriguing or comic." Dave Kehr (Chicago Reader), "amiable British mystery-comedy." TV Guide, "funny, literate and buoyant." Catholic News Service Media Review Office, "diluted with too much feeble comedy". Halliwell's Film Guide, "all chat and no interest."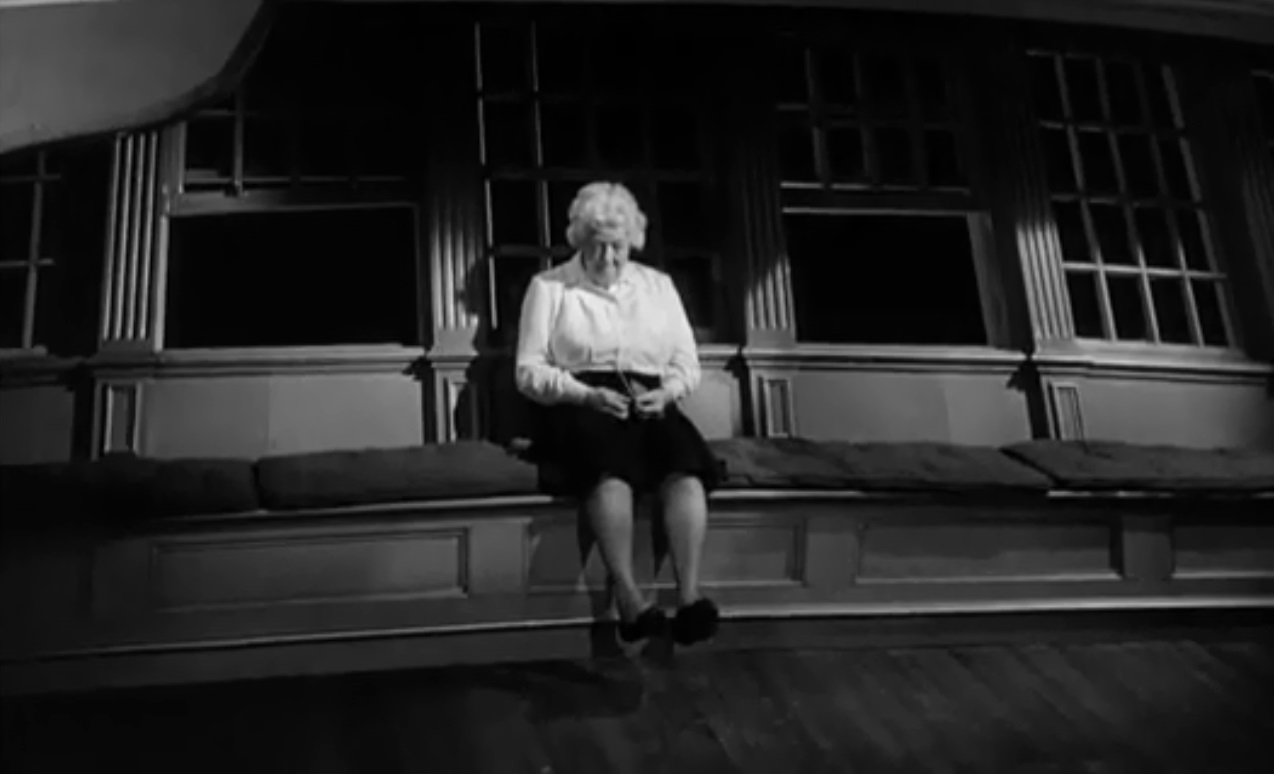 Ten Little Indians
The poetry of Agatha Christie floats in every confession and throughout the entire structure in a streamlined, very effective version of René Clair's original.
Pollock has everything to gain and wins it by painstaking detail in an Alpine schloß with cable cars, no communications and a faulty generator.
It's snow all about, snooker, darkness and fear.
Time Out Film Guide's loathsome review is a perfect match for Bosley Crowther's idiocy in the New York Times, likewise Variety.