Uśmiech zębiczny
Toothy Grin
A man leaving his apartment peeks in a neighbor's window, a bare-breasted woman is toweling her hair, her face cannot be seen. He smiles a toothy grin. The door opens, a man in pajamas puts empty milk bottles out on the landing. The man outside has scurried away, now returns for a second look. The man in pajamas is brushing his teeth, the watcher departs for good.
Rozbijemy zabawę...
Break Up the Dance
A gated party, dancing on the lawn, young people, blues, "When the Saints Go Marching In", costumes, merriment.
Boys outside question the host, climb the fence, beat him up, knock his girl down, flitter the place.
Morderstwo
Murderer
Up-angle of a brass doorplate and handle, a thin vertical intersected. A man enters the room, kills a sleeping man, departs closing the door behind him, the opening shot.
Dwaj ludzie z szafa
Two Men and a Wardrobe
They emerge from the sea like Laurel and Hardy in Parrott's The Music Box (the steps appear later, taken and abandoned by a drunk), enter the city and are balked at every turn, streetcar, girl, den of thieves, restaurant, hotel.
Rowdies at an empty band shell in the park gorge themselves on apples and kill a small inoffensive black cat, then try to foist the body on a girl waiting for a bus, but she sees a reflection in the wardrobe's passing mirror (on the pier's end, it serves as a platter for the men's luncheon of one dried fish swimming in a sea of clouds). The interlopers get bloodied.
They're beaten again when they stop to rest at a barrelyard.
Past Cain and Abel on the bank of a rivulet below, past a boy endlessly upturning his sandpail to form small mounds on the beach, they return to the sea.
Lampa
The Lamp
The tenor is quite close to an American toyshop cartoon in the Thirties, the black-and-white chiaroscuro is very British, the technique reflects Reed and Hitchcock to some extent.
Exterior, toyshop, night. Passersby, an open carriage. The camera dollies in slowly. It examines the dolls in a leisurely, articulate move, watches the toymaker putting a wig on one of them by his lamp.
A new electric light is installed, it hangs naked from the ceiling. After closing time, the meter with its two side-by-side fuses flares intermittently, a short ignites the shop, the dolls burn.
The exterior shot is resumed in rain, the camera dollies out slowly, passersby, a closed carriage.
The image is substantially developed out of Picasso's Guernica (lamp, illumination).
Gdy spadaja anioly
When Angels Fall
It looks at first like a leetle memory of Murnau's Der lezte Mann, then it blossoms into something that resembles an anticipation of Tess, and it concludes with a surprising revelation that later appears in The Tenant.
The old woman was young, loved by a soldier, he went over the hill (Visconti's Senso).
Her cruel son joined the army, saw horrors, came to a malentendu with a captured enemy, finally died on the snow with a bullet in his side.
The memories are in color, presently she sits in a chair and tends a fine old men's room just below street level.
An angel crashes through the heavy glass skylight and greets her.
Polanski appears briefly as the woman in middle age.
Le gros et le maigre
The old house is in disrepair, both master and servant wear rags.
Pozzo and Lucky, but also Laurel and Hardy (Flynn's Early to Bed) and that goat (Foster's Angora Love). Co-directed by Jean-Pierre Rousseau.
Ssaki
Mammals
Another Laurel and Hardy short, before their next appearance in Cul-de-Sac.
They share a one-man sleigh, taking turns as passenger and puller. Escalating ailments and complaints accelerate the switch (blind, convulsive, headless) until one has wrapped himself entirely in bandages and they tussle in the snow, while another man receives the windfall of the sleigh.
Reconciled, the pair trudge off, till one has a bloody nose and has to be carried...
Ozu's silent Days of Youth has its snow gags on a ski trip. Anthony Quinn says Olivier would tell him, during the stage run of Becket, "I'm not up to it tonight, you'll have to carry me," and then the curtain would go up and "it was like being caged with a lion."
The title is usually rendered in English as Mammals, but perhaps it means Suckers.
Knife in the Water
A 24-hour day, the Holy Family on a lake (she tends the rudder, he pores over chart and compass, Jesus dances on his cross—the sequence of shots is from Nicholas Ray's King of Kings).
Hitchcock's Lifeboat provides the central anecdote and form, with a secondary theme from Huston's The African Queen (the sailboat hauled through reeds) and another from To Catch a Thief (the buoy).
The manner of filming is of prime interest, recalling the painter-boat of the great Impressionists, flawless and to all appearances instantaneous.
Pinter's The Collection (also Allen Miner's Chubasco) is a coherent reflection of the theme. The final image is of the married couple in Buñuel's Un Chien Andalou. Kafka's stoker walks through the film on feet made tender in desuetude.
Halliwell's Film Guide, "all very watchable, but in a minor key."
Repulsion
Two murders in a London flat, committed by a girl who is quite mad. She works at a salon doing hands, drifts away in the opening scene beside a table holding a client under a towel with cream on her face and pads on her eyes. The girl has the client's hand in hers, staring vacantly. The scene is concluded with a joke from H.C. Potter's Mr. Blandings Builds His Dream House, the salon is out of the nail polish requested, "put this on," says the proprietress, "she'll never know the difference." The feint is on the order of a lost child holding its mother's hand.
Presently the girl is seen ignoring a navvy's lubricious taunt, repulsed by her fish and chips at a restaurant, conscious and not withdrawn so much as blank. The technique is a succession of images and sounds in continual play, the bell of a convent school across the street from her sister's flat, where nuns in white play ball outside, a dish of rabbit left out with buzzing flies, a crack in the wall that grows in her mind and multiplies with a roar.
The first murder is of a nice, genteel young man who courts her in vain. He breaks down the door, worried about her after days home from work and unanswered calls. They talk, or rather she turns her back to him while he talks, he closes the door from the eyes of a neighbor and she bashes his head with a brass candlestick. The cold bathwater left from a fit of distraction receives his body.
Her dreams are of a man raping her, with her back to him. She pulls a kitchen shelf out and nails it across the door with the candlestick. She and her sister are both French, or possibly Belgian, for effect. Her sister is on holiday with her English lover, seeing the Leaning Tower of Pisa.
The second murder is of the landlord, who comes to collect the rent. She slashes him with an open razor belonging to her sister's lover, and upends the sofa he falls upon. A somewhat older man, professionally cross until he's paid, then seductively kind in a general sort of way.
Hands reach out from hallways to caress her (Cocteau's La Belle et la Bête), the wall is soft and leaves an imprint of her hand, the bathroom wall drips like a cavern. In her bed, where she listened vacantly to her sister's cries of passion, the ticking clock precedes her nightmares ("is that the right time", her suitor asks a barman, who replies, "no sir").
A perfect film, which propounded many things subsequently realized on other terms in Rosemary's Baby, The Tenant, Tess, Frantic and so on. The exterior day handheld camera is particularly toughminded and close, following her through the street, with a variant in Chinatown.
Halliwell's Film Guide, "undeniably effective," citing the Daily Mail, "a masterpiece of the macabre."
Cul-de-Sac
The tour de force of the screenplay is a tale told perfectly backwards, a revealed anecdote. The protagonist has sold his factory and retired to take art lessons from his new French wife at "Rob Roy Castle" (where Sir Walter Scott penned his novel) on Lindisfarne, into which he has sunk his entire fortune after divorcing his first wife, Agnes.
Sequestered by the tide, he is cuckolded by the scion of a villa across the bay ("shrimping" is the motif). His vapid masculinity is ebbed to nil, he is mocked worse than any Nabokov fall guy in nightie and makeup, his floozy's bright joke of an instant.
Two robbers arrive from a botched job, both wounded, one mortally. An homage to Pinter's The Dumb Waiter makes way for a great analysis of The Servant (dir. Joseph Losey). Peckinpah made Straw Dogs to tell this tale the other way, a Yank among Englishmen.
Everything depends upon the structure delivering the void filled by Lionel Stander as the honest criminal, no explanation is required, desired, admirable or possible until the very end, when the whole thing comes crashing down and the man is alone perched on his rock, calling her name who was his woe, "Agnes."
Halliwell's Film Guide, "more perplexing than entertaining."
The Fearless Vampire Killers
A spectacularly virtuosic film, treated as a spoof at its first release but actually canonical.
The Count leads a dance of grave-risen aristocrats who feast on infrequent travelers and likely villagers. Dr. Abronsius and Alfred hunt them down by following the clues (wolves, garlic, castle).
The Jewish innkeeper falls prey, his coffin is excluded from the presence of those occupied by the Count and his homosexual vampire son.
The innkeeper's daughter is seized in her bath and carried off to the castle.
She's rescued but too late, she bites poor Alfred's neck, they drive away through the dark and snowy night in a sleigh driven by oblivious Dr. Abronsius.
The vertiginous roofscapes of Frantic are here, also the satanic mystery of Rosemary's Baby seen in another light.
The furious sense of atmosphere conveys the brutal winter of Mitteleuropa and is very thematic in all its varied, laborious, and exhaustive details (against which the comedy is a desperate relief), the Count's vision of evil.
Dance of the Vampires is said to have been the original title, the midnight ball of morbidly exquisite eighteenth-century revelers includes a dead ringer for Olivier as Richard III. Komeda's score is very brilliant.
Halliwell's Film Guide, "heavy, slow", citing Tom Milne, "engaging oddity."
Rosemary's Baby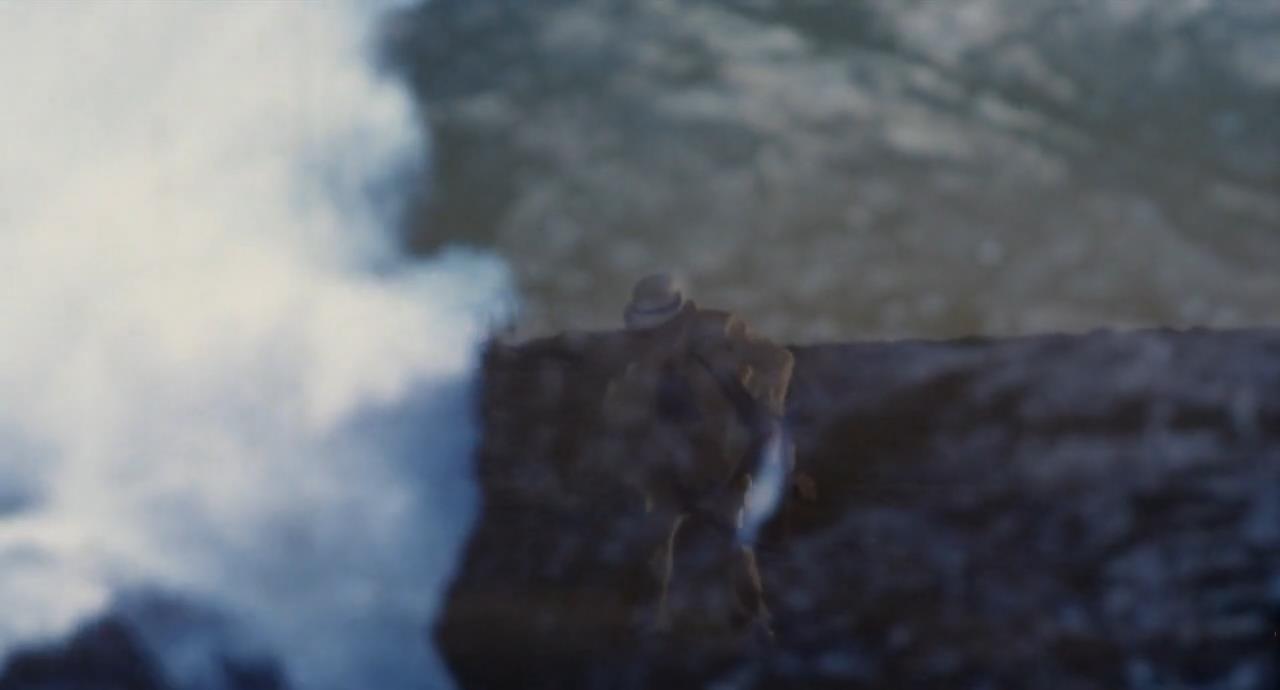 "Debout, les damnés de la terre..."
Renata Adler of the New York Times, "one begins to think it is the kind of thing that might really have happened to her, that a rough beast did slouch toward West 72nd Street to be born. Everyone else is fine, but the movie—although it is pleasant—doesn't quite work on any of its dark or powerful terms." Roger Ebert (Chicago Sun-Times), "but it is much more than just a suspense story; the brilliance of the film comes more from Polanski's direction, and from a series of genuinely inspired performances, than from the original story." Geoff Andrew (Time Out), "supremely intelligent and convincing adaptation of Ira Levin's Satanist thriller." TV Guide, "truly frightening because so much of it is so plausible." Halliwell's Film Guide, "well done in a heavy-handed way," citing the Motion Picture Herald, "may not be for the very young," and the Daily Telegraph, "tension... surpassing Hitchcock at his best."
Macbeth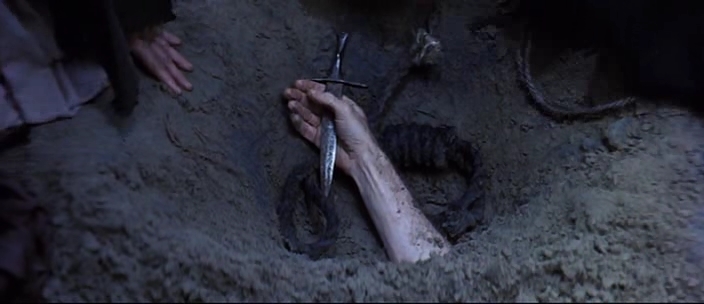 "All that is within him does condemn itself for being there." The three witches at "The Dawn of Man" (2001: A Space Odyssey, dir. Stanley Kubrick), and Peter Brook's shingle (King Lear) or Polanski's (Cul-de-Sac). Welles did no more on a Republic sound stage (and with a Scottish accent to boot until Variety complained) or abroad for Othello. Polanski has the gift of analysis (cf. Brook's other King Lear with Welles, dir. Andrew McCullough), after the first victory a squall, "so foul and fair a day" sits naturally as on a horse. Richard Brooks borrows the first line for Wrong Is Right. The stone steps figure largely in Paul Almond's CBC production.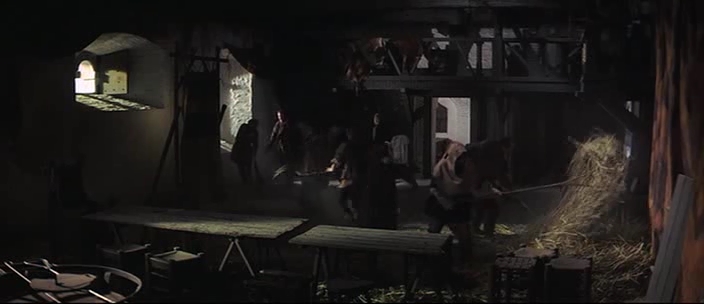 The spectacle is as fine as Zeffirelli or Preminger or Olivier or Danny Kaye, the king embracing Macbeth raises the dust of the road on his back. Old Master paintings and Gil Taylor's Todd-AO cinematography and illuminated manuscripts are worth so many of even such words, Polanski weighs them out fairly.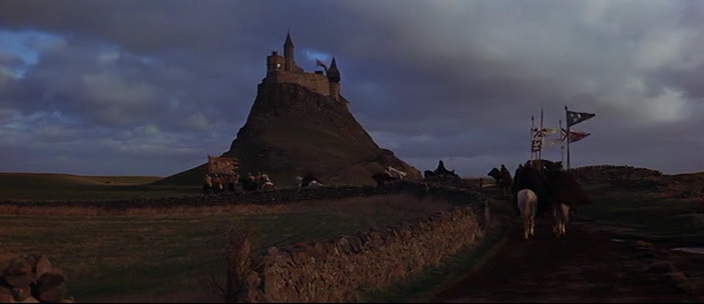 "If the assassination could trammel up the consequence," a Chaucer song appositely sung by a boy, "only vaulting ambition," the shadow of the crown on Cawdor's wife, the "dagger of the mind" another vision from Kubrick (in the "Star Gate"), "it is the bloody business which informs thus to mine eyes."
The Last Supper of Leonardo is brought into play for the spectacle of Banquo's ghost (and Hitchcock's Psycho etc.), Polanski's wizardry of special effects lends a plainspoken truth to lines like, "if I stand here, I saw him." A handheld camera again finds the specter in a wood enthroned with a sunsplash, the whole scene emanating from Kubrick on the moon, Macbeth who slays himself in Macduff, Banquo and his Borgesian mirror-progeny. Russell's The Devils is more than kin and less than kind, "baboon's blood" in Altered States from the weird sisters out of Goya. Kurosawa's Ran returns the compliment paid to Throne of Blood, Boorman's Deliverance takes note of Lady Macbeth fallen. The material in its particularly inwrought manner of writing is seen to be very close to Hamlet, "like a giant's robe upon a dwarfish thief," mad scene, flight to England, etc.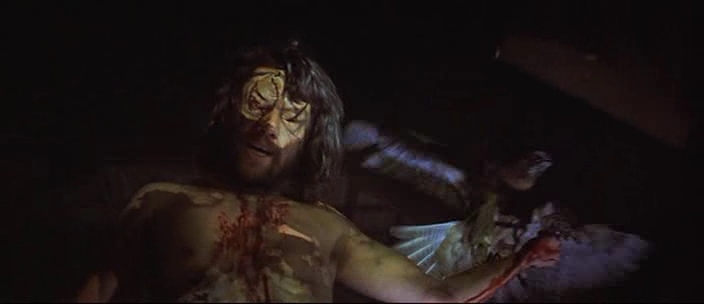 "The English force, s-s-so please you." Co-written for the screen by the critic Kenneth Tynan, Wilfred Shingleton designer, fine medieval-sounding score. "Curses not loud, but deep... this petty pace... charmèd life." And it ends where it began, like The Tenant.
Variety, "an admirable try." Roger Ebert (Chicago Sun-Times), "there seems little doubt that Polanski intended his film to be full of sound and fury—which it is, to the brim—and to signify nothing." TV Guide, "controversial".  J. Hoberman (Village Voice), "he has no particular gift for spectacle." Dave Kehr (Chicago Reader), "the thematics have been turned inside out—but that's what movie adaptations ought to do." Tom Milne (Time Out), "never quite spirals into dark, uncontrollable nightmare as the Welles version (for all its faults) does." Film4, "wildly inventive." Dan Jardine (All Movie Guide), "an unforgettable film". Halliwell's Film Guide, "sharpened and brutalized".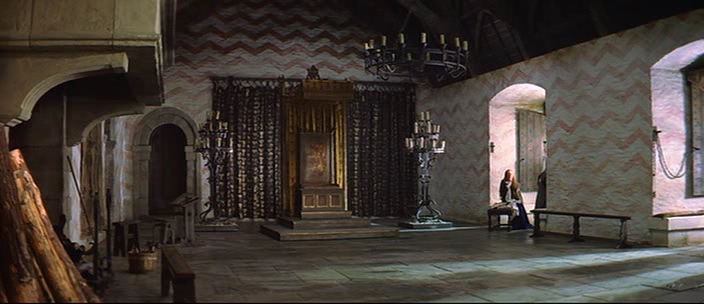 Che?
Rosebud... Brach and Polanski at a Robbe-Grillet like Hitchcock at a Bergman.
The girl and the villa. When you walk among the bittersweet pennyroyals and magnums, you like to think of yourself somehow amongst the great, with the mind drifting somewhere in the fields. It has a mind, which could be the one in Bertolucci's Stealing Beauty or Capra's You Can't Take It With You, the villa, which might even be that of Wise's The Haunting, but it's just a lot of exposé and folderol, designed for the purpose of exploiting the delicate economy of Europe for its point of view, from the standpoint of an observer many miles away at a checkpoint hearing the orioles and ortolans passing through the woods, or so he imagines.
No more than careless, which is a propos to be disregarded if you wish upon occasion, and delightfully to be wished, as necessity or the devil drives.
Alas for Roger Ebert, who demanded Carlo Ponti's money back, one of the most elegant and one of the funniest films ever put together in Europe. "Bacon?" The heroine wants to know about a splendid painting above the bed. The aged housekeeper thinks she means breakfast, then slaps the painting but misses the fly, leaves the room and returns to spray the air vainly with shaving cream.
Out of a dream in the nether regions comes a Mozart duet and a petal fall'n.
The portraiture includes a pair of randy rockers in their essential dullness and subterfuge, a former pimp they call fag and syphilitic (actually mosquito-bitten), Mosquito the tattooed frogman with a spear-gun and a mustache, Amandine who walks through scenes quite nude in conversation with a French lady, and Joseph Noblart the host and art patron, dying of artifice. The first inhabitant encountered, after the growling dog, is mad as a March hare, scurrying about with watch in hand, which gives you Alice in Wonderland.
The heroine is a hitchhiker fleeing three Italian rapists, one so purblind having dropped his glasses he tries to bugger the foremost.
She takes refuge with her diary in the villa for a time, and only leaves because the film is over.
Some of Polanski's most magnificent effects characterize sleep (on the beach in moonlight, a snoring house with McGee & Molly's closet), as later on in Tess.
The moon like a ping-pong ball from a car on the coast road opens the film.
A priest, an American tourist-type couple, German businessmen and an art thief with The Raft of the Frigate Medusa join in the festivities.
The prodigal daughter returns home with the pigs in the back of a truck, or "maybe Istanbul".
Chinatown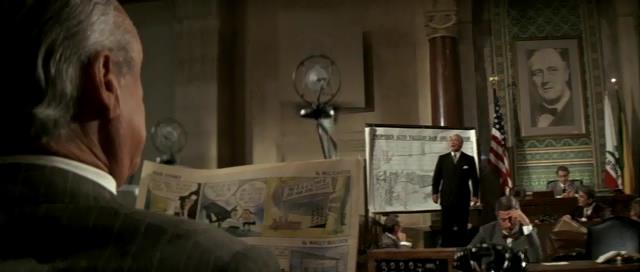 The hard-luck case of a San Pedro tuna fisherman who comes home with skipjack, and precious little of that, not albacore that pays him more, only to find his wife in another man's arms and photographic evidence from J.J. Gittes & Associates, Discreet Investigations (on this score, cf. Schlesinger's The Believers). From another point of view, Towne and Polanski move Capra's It's a Wonderful Life to the previous decade in Los Angeles (Chayefsky and Lumet take Meet John Doe ahead forty years in Network), cf. Pagnol's Manon des sources, subsequently adapted by Berri and Brach.
Water is the absconded needful, Capra's telling of Job now has a Satan with the redoubtable and compendious name of Noah Cross, whose relationship to Evelyn and Katherine Mulwray intensively expresses his position on widows and orphans (figured at Barney's Barber Shop). The real Mrs. Mulwray enters like the resuscitated Russian actress in Sherman's The Return of Dr. X, her lawyer and the "love nest" headline are from Citizen Kane. Tribute is paid to The Maltese Falcon and The Big Sleep. A hint of the Dust Bowl and The Grapes of Wrath (dir. John Ford). The death of Ida Sessions in Echo Park, an employee of B. Altman & Co. in New York with a Screen Actors Guild card and a two-dollar bill in her purse, resembles that of Didi in Paris (Frantic).
New York is governed by witches in the expectation of the one and only Antichrist (Rosemary's Baby), Los Angeles on the other hand is "a small town" and an autocracy. "Hollis Mulwray made this city," says Cross, "and he made me a fortune." Polanski's marshaling of resources is one of the most impressive feats of filmmaking (he appears as Danny Kaye as a knife-wielding thug). The title is the place where "you may think you know what you're dealing with, but," Cross again, "believe me, you don't," cf. Mervyn LeRoy's Escape.
Vincent Canby of the New York Times, "a kind of criminality that to us jaded souls today appears to be nothing worse than an eccentric form of legitimate private enterprise." Variety, "it is easy to speak of Los Angeles' admittedly prairie metropolis morality and behavior, but it must be remembered that the swindles and corruption and capers of the latterday pioneers rank with the worst in municipal rape." Roger Ebert (Chicago Sun-Times), "a tour de force." TV Guide, "not only one of the greatest detective films, but one of the most perfectly constructed of all films." Peter Bradshaw (The Guardian), "brilliantly shows that money and power are not what's motivating everyone after all." Jessica Winter (Village Voice), "nihilist ironies collapse atop each other; preemptive excuses are proffered." Time Out, "to beat a genre senseless and dump it in the wilds of Greek tragedy." Catholic News Service Media Review Office, "a superior entertainment". Halliwell's Film Guide, "pretentious melodrama".
The Tenant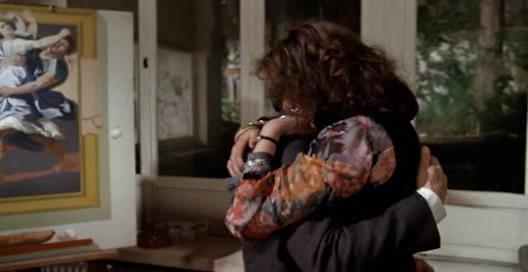 A Paris apartment, hard to come by.
La peinturlure, the one about the late lamented former occupant who emerges from a closet, the other one about dropping out with a wig on.
Simone Shul, "with a C", Schul, finally spelled on an envelope, Simone Choule.
Not Weil. The joke from Welles' The Stranger (as later in The Pianist) is that Trelkovsky is not French but a French citizen.
The parody of Frankenheimer's The Fixer has him in Simone's duds at the end (Cul-de-Sac).
These are the aliquots at least of an introvert's nightmare, set within the realism of apartment life (Rosemary's Baby) and the office (Viollet-le-Duc).
"I mind my own business," says the queer in the fancy loft with Poussin's L'Enlèvement des Sabines à la Antonioni's Blowup.
Repulsion, lavatory hieroglyphics, Egyptology at the Louvre, Gautier's Le Roman de la Momie, and then the conclusion that says "you're next."
The vaudeville "crazy house", cf. Nichols' Catch-22, Losey's Mr. Klein.
"What right has my head to call itself me?" Cf. Fellini's "Toby Dammit" (Histoires extraordinaires), When Angels Fall (Gdy spadaja anioly).
Crabbedness and crassness have divided the world between them, the protagonist is left darkling.
Par délicatesse
J'ai perdu ma vie.
Rear Window, Le Sang d'un Poète, per contra "by prong have I entered these hills."
Vincent Canby of the New York Times, "movies about madness tend to lose me after a certain point." Variety, "it does create a feeling of personal anguish." Roger Ebert (Chicago Sun-Times), "an embarrassment." J. Hoberman (Village Voice), "may be the director's quintessential movie." Time Out, "looks more and more like a potboiler." Hal Erickson (All Movie Guide), "some critics found the movie tedious and overdone; others compared it to Polanski's early breakthrough, Repulsion." Halliwell's Film Guide, "the total dissipation of whatever talent he once had," citing Janet Maslin (Newsweek), "self-parody," and Kevin Thomas (Los Angeles Times), "tedium and morbidity."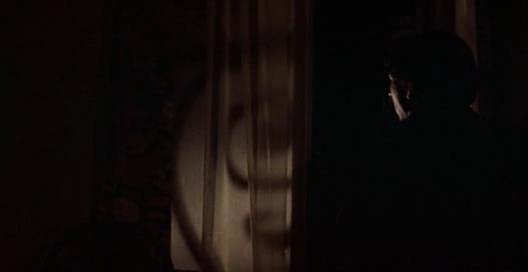 Tess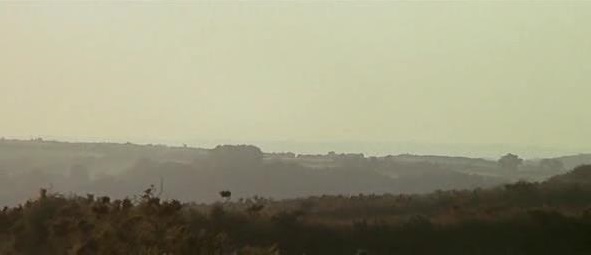 Citizen Kane serves for an entrée, from the opening shot Polanski takes as his formal departure Welles' later camerawork. Bertolucci's 1900 has a comparable theme.
Teresa Durbeyfield, "the last in a line of degenerate aristocrats", a village girl, is seduced by one Stoke whose family have bought the ancient name and seal of "a ramping great big lion with a castle on top."
She marries a parson's son and reader of Marx who longs to go abroad and farm, he leaves her on their wedding night when she tells him the story.
He returns to her at a seaside resort where she has become Stoke's lover, the murder that follows leads to her arrest at Stonehenge and hanging at Wintoncester, "aforetime capital of Wessex".
The sequence of these events is the main formal pivot of a structure that advances the maidens of Wessex from the seacoast into a field for dancing. The rowing scene is practically a citation of Chinatown. The gathering of the wheat... a great student of paintings, Polanski of course, William Holman Hunt's The Hireling Shepherd might be discerned amongst their number. Whey dripping from bags of rennet suspended in the air is the downstairs sleep of hands on the farm. Brazil has something of the significance lent to it in Losey's The Servant. The milk train to London town (later the milk wagon at Sandbourne). The stag in the woods at night perhaps recalls Buñuel (Le Fantôme De La Liberté), almost at once there is Tess at the window one night like the ass of Los Olvidados. The threshing of the wheat... a great house like the ancient estate of the D'Urbervilles, "To Let". Much has transpired before the film begins, the ending is only given as a title. D.H. Lawrence for the something "older than the D'Urbervilles" on Salisbury Plain. The bitterest remark of all is the last view of man and wife like Adam and Eve departing Milton's paradise.
Nastassja Kinski's resemblance to Ingrid Bergman in this part is presumably not fortuitous, on the contrary, the farmyard scene of "Mrs. D'Urberville's birds" recalls Rossellini's contribution to Siamo donne quite effectively. The cast are all excellent (Maslin found Angel Clare "played with supreme radiance by Peter Firth"). Polanski's maximum concentration is exerted on the landscape, with the same production values brought into play as in Chinatown, than which the lighting of the interiors at Sandbourne apparently proves to be infinitely more complicated.
A plague o' both your houses, and the beekeeping vicar who won't bury the child in consecrated ground, "that concerns the whole village," and the rigidly sanctimonious parson. Some considerations are immediately taken up in The French Lieutenant's Woman (dir. Karel Reisz).
Janet Maslin of the New York Times, "a lovely, lyrical, unexpectedly delicate movie." Variety, "often has that infrequent quality of combining fidelity and beauty." Roger Ebert (Chicago Sun-Times), "a wonderful film." Time Out, "a middlebrow film." Film4, "rather shallow adaptation". Dave Kehr (Chicago Reader), "it becomes something rich and strange." TV Guide, "the film's chief drawback, however, is its lack of vitality." Halliwell's Film Guide, "solid, unexciting", citing Sight & Sound, "without a hint of what might have drawn Polanski to the material."
Pirates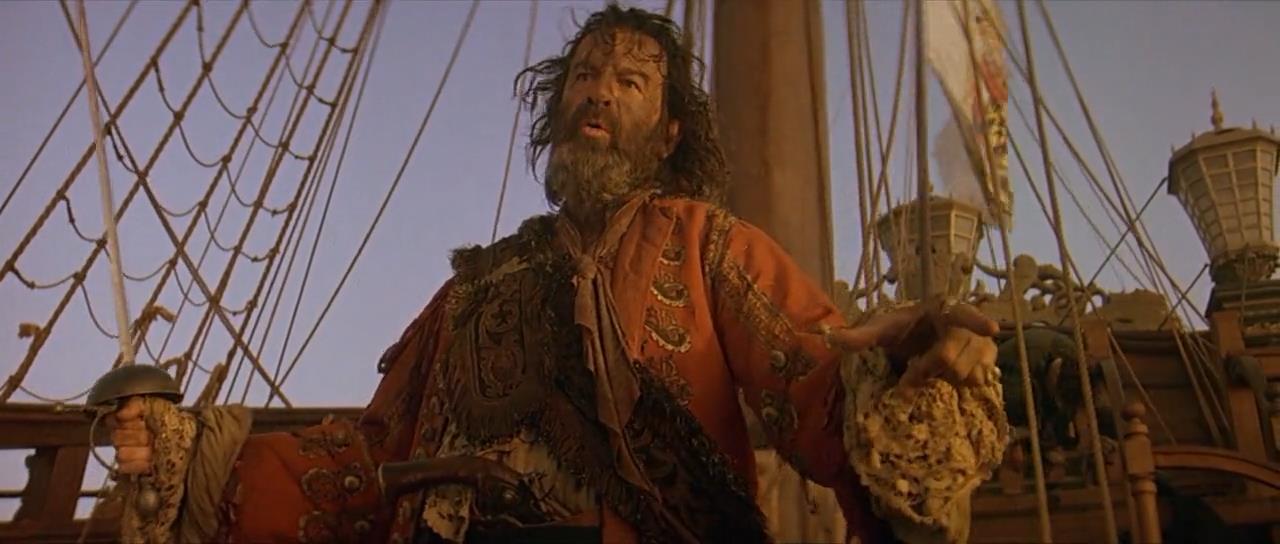 Le gros et le maigre...
The plain truth of it is not far from Haskin's Long John Silver, with the glory of Australia translated by pirate ships. Flat water, a golden throne on a great harbor chain, and seated there Walter Matthau, shaggy, frogged and bearded, in the characteristic joke of Polanski, which Stoppard borrowed once for a gag photo, astride a bicycle with no wheels.
...Dwaj ludzie z szafa (Two Men and a Wardrobe).
All of which, by way of Blake Edwards, is where the staid comedian of the silent films becomes the hallmark of the Surrealists, who gave themselves a name in lieu quite handily of provincial blessings from the Fourth Estate, which is no more a dimension than a Fifth Column.
In fact, nearly all of the movies on this theme since time began have some representation here, not excepting Bob Hope and Gene Kelly. Overall, the game plan (fine-tuned by John Brownjohn) is to pay homage to Sir Francis Drake, discoverer of the Golden Gate, among other things.
This, then, is a Hollywood film made without any computer tricks and taking as its substitution for reality real wooden ships, the Infanta of Velazquez, and the approach of Richard Lester to the anachronism of time, proceeding from a sound footing.
The joke is on The Battleship Potemkin (dir. Sergei Eisenstein) with Captain Red. "Shipmates! Divine providence has seen fit to deliver this 'ere vessel from the tyranny of your degenerate 'idalgo masters! I do 'ereby take possession of 'er in the name of the brethren of the coast, and shall 'enceforth command 'er!" And on The Persecution and Assassination of Jean-Paul Marat as Performed by the Inmates of the Asylum at Charenton under the Direction of the Marquis de Sade (dir. Peter Brook). Night among the brigands has a peculiar flavor of Charles Lamont's Salome, Where She Danced that is remembered in Oliver Twist. The ending suggests Fellini's E la nave va and Beckett's Fin de partie.
Walter Goodman of the New York Times, "nothing is left underdone except the hilarity." Variety, "a major disappointment." Roger Ebert (Chicago Sun-Times), "should never have been made." Time Out, "fun intermittently." TV Guide, "although the film is a bit slow and talky in spots..." Subsequently described by leading professional critics as "dreary" and "disastrous"...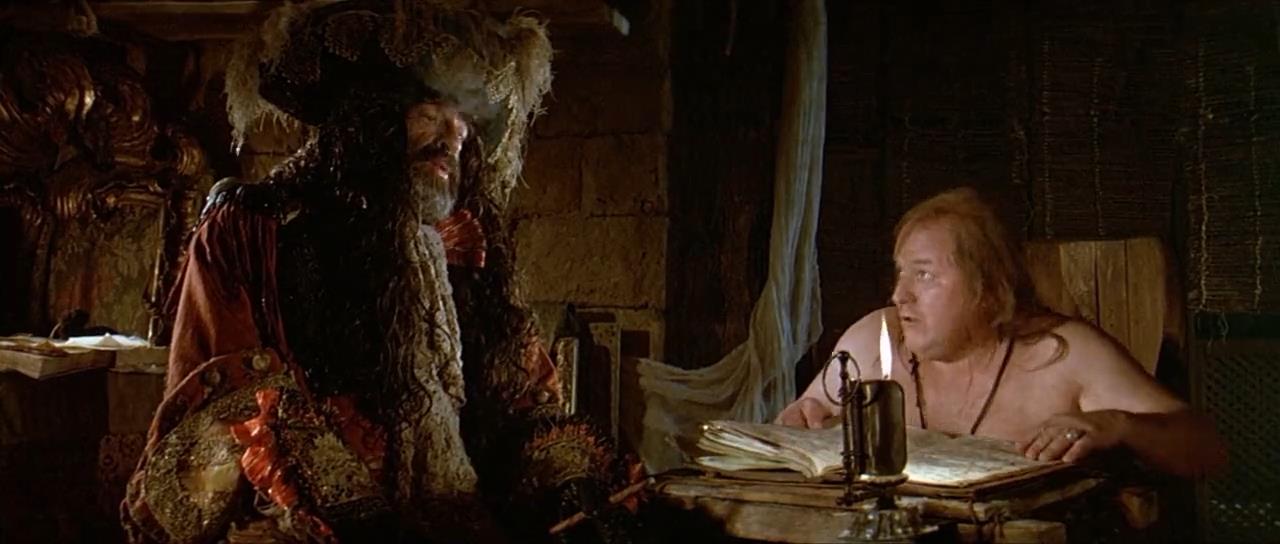 Frantic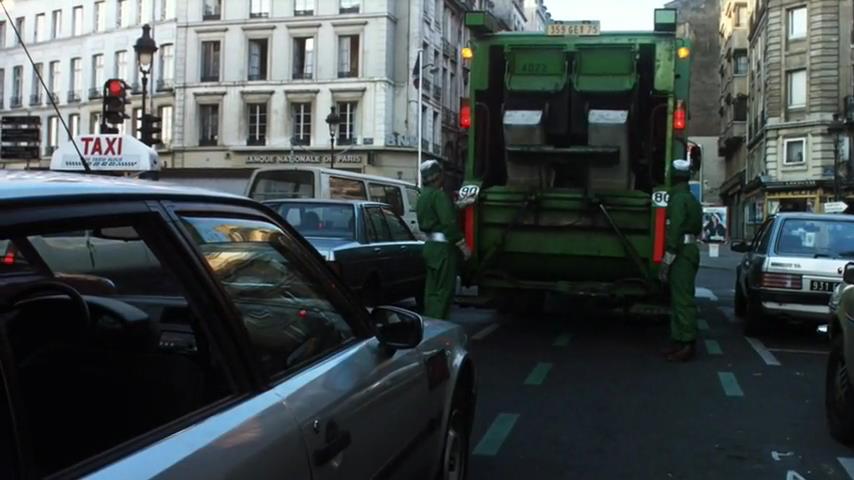 Paris '68, twenty years later, with reference to Hitchcock's The Man Who Knew Too Much.
A sufficient analysis is given in Woody Allen's Husbands and Wives.
A quintessential Hitchcock theme is absence, the ferne Geliebte or some other person, all is not right with the world, a falsity is offered in its place, something unsatisfactory, even antithetical, which is then abolished so that "journeys end in lovers meeting."
Another basis of Frantic is Fisher & Darnborough's So Long at the Fair with its false psychological key, actually a memory of the war.
The middle-aged couple from San Francisco have not been in Paris since June 15th, 1968. Hence their taxicab's flat tire on the autoroute from the airport, there's another in the trunk.
Seeing the garbagemen at the back of a truck in town blocking their way, he knows where he is. And the final image of garbagemen dumping two trash bins similarly seals the deal.
A cautionary tale, in Paris ist Revolution ausgebrochen (Alban Berg's Lulu).
The admirable formula wings it into the Arab-Israeli conflict, with Interpol and the State Department just moving on the case.
One of the most elaborate and minutely-constructed films ever made in the service of a nightmare.
It opens like Torn Curtain, Dr. Walker is to have lunch at the Eiffel Tower with Dr. Alembert, "chairman of the convention", instead of Mrs. Walker. She objects, but her husband replies jokingly that Alembert has been attracted to her since the Berkeley seminar, and she asks if he was barefoot with long legs.
She's kidnapped by Arab agents, he follows her traces with a French girl who picked up the wrong suitcase at the airport.
It opens and closes like Fellini's Roma as well, and centers not on but around Garnier's Opera House, across the Place from Pizza Hut next door to the Grand Hotel Inter-Continental, etc. The two versions of The Man Who Knew Too Much get put together by the director of The Tenant, with a bit of Catch-22 nighttown.
Critics at the time couldn't follow it past the first scene, but years later we have all "followed the affair", and seen this search for a Weapon of Mass Destruction (with "collateral damage") against a backdrop, as they say, of the Middle East.
Morricone's second theme echoes the Danse Infernale of LOiseau de Feu. John Mahoney is perched at his fearfully-guarded Embassy desk like Fred Astaire in The Notorious Landlady.
New York (the Embassy security office) and San Francisco (the Blue Parrot, the other place in Casablanca) make a dichotomy, the Blue Parrot and A Touch of Class (a shiny nightclub standing in for Hitchcock's Moroccan restaurant) make another.
Themes of democracy and liberty are touched in a surreal way recalling Russell (the posh chambermaid, the desk clerk weightlifting at Gym Tonic, the Statue of Liberty à l'envers, etc.). The Krytron caper echoes an Eighties case involving unauthorized sales to an Israeli firm.
The Long Good Friday, Bullitt, North by Northwest.
The meticulous apparatus of the rooftop scenes is a hallmark of technical precision, briefly setting out the panoply of Rex Harrison's battle with the machine in Preston Sturges' Unfaithfully Yours.
The same precision can be seen in the opening, which uncannily reproduces its milieu and circumstances (elsewhere a connection of this pure Hitchcockismus to Tati's Playtime has been noted). Le Grand Hôtel Inter-Continental Paris (with its Café de la Paix) has since been restored from the sober makeover visible here, "to its original splendor" and with a Fitness Room of its own.
Dr. and Mrs. Walker leave Paris to "go gentle into that good night" (cf. the end of Leone's Once Upon a Time in America).
Janet Maslin of the New York Times, "Hitchcock might have enjoyed..." Variety, "a thriller without much surprise, suspense or excitement." Roger Ebert (Chicago Sun-Times), "it is only the total of the scenes that is wrong." Desson Howe (Washington Post), "near movie's end, a meaty conflict lies unresolved." Jonathan Rosenbaum (Chicago Reader), "it's difficult to care very much." Time Out, "boasts several superb set pieces, even if it doesn't quite snap shut on the mind". TV Guide, "hauntingly foreign, forbiddingly stylish".
Bitter Moon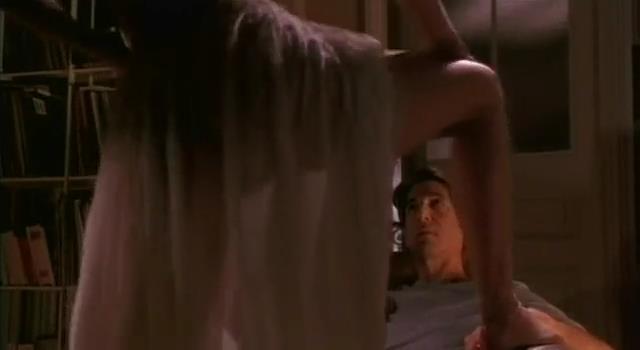 A guide for the fitfully married, and a literary critique of the horribly bad fiction writer who mostly tells this tale in flashback. Polanski, Brach and Brownjohn are at endless pains to give his prose its just measure of hack squalor. "Nobody would be tempted to cannibalize my shriveled carcass."
The title is first an undrinkable ocean viewed through a porthole at night, later (from the window seat of an airliner) the moon not shared even when afar.
Silence is most eloquent, the mating dance over dinner in a Thai restaurant, pictures unencumbered by the narrator's verbiage. The wrong shopgirl at the Comptoir du Pull in Paris. Picasso's Salome, Bertolucci's Partner, Panama's How to Commit Marriage.
"The trouble is, Oscar, publishing isn't what it used to be, it's the bottom line that counts now, proven track records, advance sales. No-one's going to invest in a newcomer who hasn't proven himself."
In its way, the dramatic effect is not altogether unlike Who's Afraid of Virginia Woolf?, here virtuosically achieved in the void of speech between the ubiquitous stuff of American literary magazines and mere ordinary everyday commonplace or garden variety utterance. An impression of women is cultivated with relation to Fellini's La città delle donne.
The young Englishman and his wife (he is "a Eurobond dealer") on a second honeymoon across the Mediterranean to Bombay for spiritual enlightenment or marital therapy are from Hitchcock's Rich and Strange, and there is a deliberate allusion to Cacoyannis' Zorba the Greek. Rear Window is indicated, briefly. Wyler's The Heiress and Gilbert's Alfie prepare the cruelties and the nonchalance, La dolce vita is expressly cited at the fancy dress ball on New Year's Eve (the costumes bear allusions to the œuvre) en route to Istanbul. Hutton's X, Y and Zee foreshadows the conclusion, to say nothing of Bertolucci's Il conformista. Ray's Distant Thunder provides an ironic nuance or sidelight.
"Depends on your state of mind, the way things grab ya."
"I don't know about you," says the City feller. "Sometimes I think you make things up as you go along."
"Just a fantasy, an amusement on a boring voyage."
"Did you ever see such an allegory of grace and beauty?"
Janet Maslin of the New York Times, "smutty, far-fetched and bizarrely acted." Derek Elley (Variety), "could have worked if Polanski had established a consistent visual style and dramatic approach." Roger Ebert (Chicago Sun-Times), "the word 'lurid' was coined to describe films like this." Desson Howe (Washington Post), "Polanski may be off his creative rocker, but he's still having fun." Joe Brown (Washington Post), "anti-romantic opus of sexual obsession and cruelty". Geoff Andrew (Time Out), "slightly protracted tale of erotic obsession".
Death and the Maiden
"After the fall of the dictatorship" a performance of Schubert's quartet La Muerte y la Doncella in "a country in South America..." the doctor's name is Miranda, the wife's maiden name Lorca.
The last shot resumes the first, couple in the stalls, she looks up to her right at a family in a box, the doctor is looking down pensively at her.
The flat spare tire is from Frantic. "That judge who told Maria Batista that her husband wasn't tortured to death, no, he just ran off with a younger woman."
Constellation of Cul-de-Sac ("well, I have a suspicion we all get a little lost without our wives"). The actors, even Ben Kingsley and especially Ben Kingsley as Dr. Miranda, talk American.
"The movement."
Right-wing atrocities (The Evil That Men Do, dir. J. Lee Thompson) and left-wing show trials (L'Aveu, dir. Costa-Gavras) figure into the thing, with its curious villain not a torturer but a therapist who is the rapist. "If he's innocent, then he's really fucked."
The blood of an Englishman. Kafka's pair of detectives. "Were you in love with her?" Cf. Fuller's The Naked Kiss, "I loved it. I was sorry it ended. I was very sorry it ended."
Caryn James of the New York Times, "brilliance with the camera turns Ariel Dorfman's well-meaning but pretentious play about human rights into a harrowing experience." Todd McCarthy (Variety), "any significant reservations about it must stem from the material itself." Roger Ebert (Chicago Sun-Times), "all about acting. In other hands, even given the same director, this might have been a dreary slog." Hal Hinson (Washington Post), "yeah. And monkeys might fly out my bottom." Desson Howe (Washington Post), "too contrived and smug to really hold." Geoff Andrew (Time Out), "allows for a fluent, lucid exploration of notions of justice, responsibility, forgiveness, and corruption by power..."
The Ninth Gate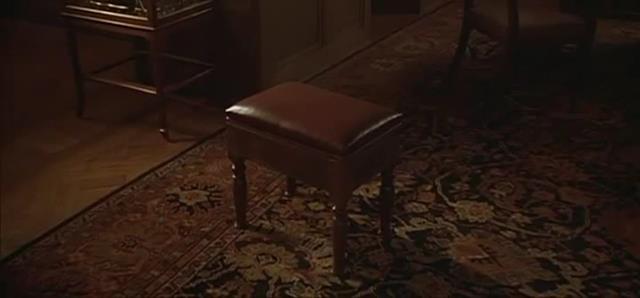 Roy William Neill's Dressed to Kill is the patent model for this (three almost identical music boxes there, three books here), a comical Russellian biography of Dr. Johnson in the form of a Holmes and Watson. The subject of the present biography is Satan (Baroness Kessler is writing just such a work, which is "to be published in the Spring").
Polanski's contribution to film noir includes the realization that, boiled down and hardboiled, Satan is the character in many a movie who tempts with forbidden knowledge or worldly emolument or great affliction, always wrestling with a good angel (and often making a surprise reappearance) at the end.
He, that is to say the Devil, is Lucifer, "son of the morning", liable to appear (as at the close of this film) in the guise of an angel of light.
Elvis Mitchell of the New York Times, "a dinner-theater version of Eyes Wide Shut." Lisa Nesselson (Variety), "really a shaggy devil story whose giddy, ironic tone may throw viewers expecting a scary movie." Roger Ebert (Chicago Sun-Times), "only gradually do we realize the movie isn't going to pay off." Stephen Hunter (Washington Post), "utter spewing mewling nonsense." Peter Bradshaw (The Guardian), "this really is an exasperatingly boring film, and it is incredible that it is from the man who long ago brought us authentically frightening films in which evil really means something." J. Hoberman (Village Voice), "barely releasable hokum, stuffed with cheesy blah-blah." Philip Strick (Sight and Sound), "seems at a loss what to make of a demon who bleeds like everybody else and reads How to Make Friends and Influence People." Geoff Andrew (Time Out), "a pale shadow of Rosemary's Baby." Maitland McDonough (TV Guide), "what a tedious film."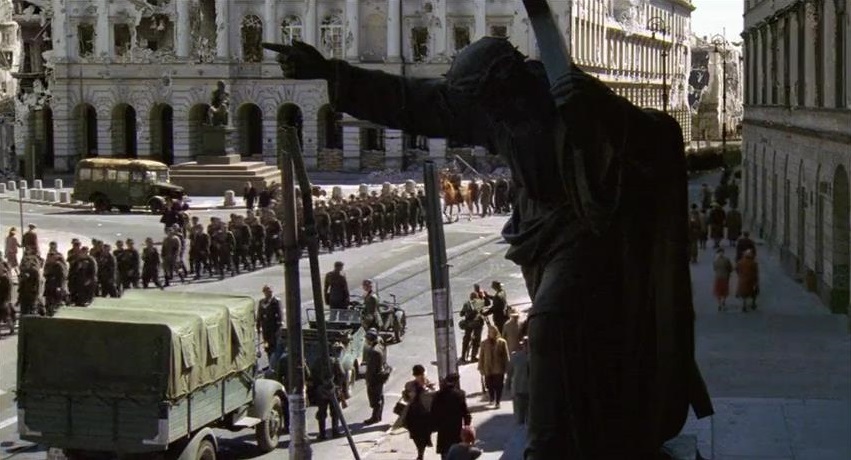 "WARSAW 1939".
In the early days of Technicolor, Graham Greene wondered if it really could be used to depict the seedy suit, the sweat-stained hat. Szpilman escapes from the Warsaw Ghetto, is taken to an unused apartment, and there beholds a nice clean sofa like a desideratum of bliss, an island in a sea of schmutz, just the fabric and the comfort of it, without any particular emphasis.
From the first scene, Polanski is on new ground (Chinatown, The Tenant, Frantic, all had to be made first, for this to exist). Szpilman is calmly playing Chopin in a Warsaw Radio studio when the bombs start falling. First the window in the booth is shattered, then it's imploded.
What follows is a different film. Where he had begun way out ahead of everything with a characteristic Hitchcockism, Polanski now must return to square one and the basic incompetence of Schindler's List. This is heroic, somebody had to do it. Scene by scene, each scene is brought to the limits of the possible, and left with a definition somewhere in its depths (Father stepping into the gutter, Szpilman's little hand gesture as he waves off the piano). Much later is an oblique reference, one might think, to a filmmaker one feels has profited from other people's misfortune (Godard says Mrs. Schindler never received the money promised her for Spielberg's film). The point of departure is Doctor Zhivago.
Polanski's art in a larger, strategic or formal sense, has to find a valuable means of articulating a film on two levels at once. Again and again, he returns to the mark set at the opening, in battle scenes bristling with photojournalistic accuracy.
Perhaps it would be easiest to regard The Pianist as a memoir faithfully filmed incorporating a response to two films of titanic ineptitude, the other being Saving Private Ryan. Polanski has his own tale to tell, and there is The Painted Bird. It seems a noble gesture to have made this particular film.
The articulating point is taken from Welles' The Stranger, "who but a Nazi would deny Marx was a German, because he was a Jew?" This becomes a film about Poland and especially Warsaw (Szpilman's memoir was originally entitled Death of a City). Essentially it's a "mille fleurs" pattern, a picture of this, a picture of that, leading to the progressive revelation of music as an art.
The ghetto is a ridiculous traffic jam at first. While waiting to cross the tracks, Jews are requested to dance. "Judentanzplatz" is what a German soldier calls it. In the ghetto cafe, Szpilman's playing is interrupted by a customer who wants to test gold coins on his tabletop, dropping them and clinking them one by one, till he hears a dud. The grandest scene has Szpilman alone in blocks of bombed-out houses, finding a last refuge in an uppermost attic nook. He is discovered by a rather laconic German officer and obliged to play for him. At this point, the actor Adrien Brody had actually lost much weight, his hair and beard are overgrown, his hands appear gnarled (his facial expression and the sound he makes when, stiff with inanition, he is forced to jump out a window, are uncannily true). Nevertheless, he sits down and opens with parallel octaves, warming into Chopin's bubbling rivers of voices and music, an all but articulate speech, and Polanski doesn't miss a note of it. The officer is moved. Later he brings food, and finally gives Szpilman his overcoat. But this only prepares the next scene. The Russians have entered Warsaw. Seeing Szpilman the bearded Christ in a German officer's overcoat, a Polish woman shouts "German! German!" (just as another earlier had shouted "Jew! Jew!") and the Russian troops start taking potshots at him. "Don't shoot!", he says, "I'm Polish!" "What's with the fucking coat?", says one of them. Szpilman replies, "I'm cold."
And before you know it, he's back playing the piano for Warsaw Radio, looking a good deal like Horowitz (one photograph of Szpilman suggests a resemblance to Jack Benny in To Be or Not to Be).
The sound editing registers the halting small-arms fire in the street turning into a more assured avenging burst, the unforgettable sound of troops marching across a cobblestone square, bombs, artillery fire at such a distance, the nuances of the performance.
Contemporary footage at the outset gives another mark Polanski aims at and returns to several times (rather than dissolving from, etc.). The German officer is introduced rather shockingly with the famous shot at the end of Peter Brook's Lord of the Flies. As Szpilman plays, that shaft of light athwart the dark studio at the end of Fellini's Intervista plays over the piano. Warsaw at night, blue and inviting, after the horrors of the ghetto. Szpilman wandering the ruins, like Keaton in The Navigator.
A.O. Scott of the New York Times, "a monstrous joke." Todd McCarthy (Variety), "a remarkably conventional film... a decent B.O. attraction." Roger Ebert (Chicago Sun-Times), "Polanski is reflecting, I believe, his own deepest feelings." J. Hoberman (Village Voice), "suffers from over-explanation." David Thompson (Sight and Sound), "a work of sustained tension and ferocious clarity." Geoff Andrew (Time Out), "old-fashioned in both visual and narrative style and in its overall restraint."
Oliver Twist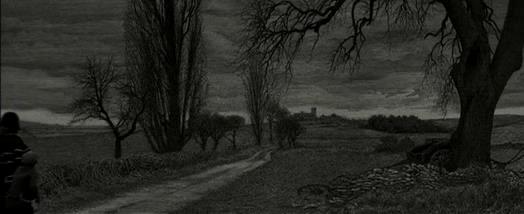 Another view of Tess.
Polanski has put his film of Dickens on a sound dramatic footing, that is his practice, first mise en scène, then cinema.
This gives extraordinary force to every bit of it, because it's all thought out to the last degree (note the loose end from the Beeb intact in Nancy just for sheer larks). "Mysteriousness" is not in the picture, there's no terra incognita. Overall, the clarity of sense thus given to the piece or revealed in it makes Oliver Twist a fair mirror of the times, and Gustave Doré is called upon behind the end credits to show us Dickens' day.
Signs in the workhouse refectory read, GOD IS HOLY, GOD IS TRUTH and (just before Oliver goes to ask for more) GOD IS LOVE, which is like the American joke, In God We Trust, all others pay cash.
Polanski's caricatures include a Sowerberry who looks like the Child Catcher in Chitty Chitty Bang Bang. Oliver's turn as a "funeral mute" encapsulates a famous scene in Miracolo a Milano.
The sheer misery of the workhouse is left behind for London 70 miles away, the camera cranes up for the journey past the old woman's house like England in the seas, with a juggernaut of townsmen on the road, to the merry world of Fagin, merry amidst the mildew. Ben Kingsley modulates the role visibly in three quick steps, from Paul Scofield to Bernard Miles and thence to a somewhat unexpected rarity, the fairhaired boy with a workhouse of industrious lads and a bright demonstration of "the game". He almost murders Oliver for spying his treasure, but doesn't after all.
A certain advantage is the revelation of character provided by dressing the scenes so that, for example, Bill Sykes hangs himself in an escapade under the moon, delivering Oliver's benefactor Mr. Brownlow into the safe hands of identifiable personality, the gentleman of good will in a disordered world (the scene incidentally clarifies the ending of Hitchcock's Jamaica Inn, if clarification were wanting).
One of the greatest films ever made, you might tell your digital grandchildren, came and went without anybody really noticing, as sometimes happens, look at Citizen Kane, by all means.
A.O. Scott of the New York Times, "at every turn he is menaced by adults whose grotesqueness, while comical, is also a measure of their moral deformity, and of the ugliness of the society that makes them possible. The worst thing about these villains, who tend to occupy positions of at least relative power, is that they believe their sadism and lack of compassion to be the highest expressions of benevolence." Todd McCarthy (Variety), "conventional, straightforward and very much within what used to be called the Tradition of Quality, this handsome film is a respectable literary adaptation but lacks dramatic urgency and intriguing undercurrents." Roger Ebert (Chicago Sun-Times), "this is not Ye Olde London, but Ye Harrowing London, teeming with life and dispute." Jessica Winter (Village Voice), "the quality of mercy is strained, but by some strange feat it doesn't dissolve entirely." Peter Bradshaw (The Guardian), "a handsome repro edition—much like the expensive octavo volumes that Oliver is fatefully charged by Mr Brownlow with delivering to London—bound in celluloid calf and lightly sprinkled with the picturesque movie dust of Old London Town." Time Out, "Polanski presents a threatening, rotten world as viewed through the eyes of a vulnerable innocent; he tackles jealousy, suspicion and corruption as surely in storybook mode as through suspense, investigation or horror."