Black Tide
Or, How can you be in two places at once when you're not anywhere at all? Stoppard borrowed the British title (Stormy Crossing) for a play, or nearly, and the camera operator, Desmond Davis, remembers his work here in Ordeal by Innocence. The English Channel and Dover appear as themselves, and John Schlesinger (very Bergmanesque in a beret) plays the garage mechanic, who works for Arthur Lowe. Substantial contributions are made by Stanley Black and the swimming impresario Sam Rockett (as himself).
Pennington Richards' direct approach places his Americans in immediate contact with his Englishmen (compare Robert Montgomery's Your Witness), and the magnetic polarity of this is as fine as his seacoast poetry.
Double Bunk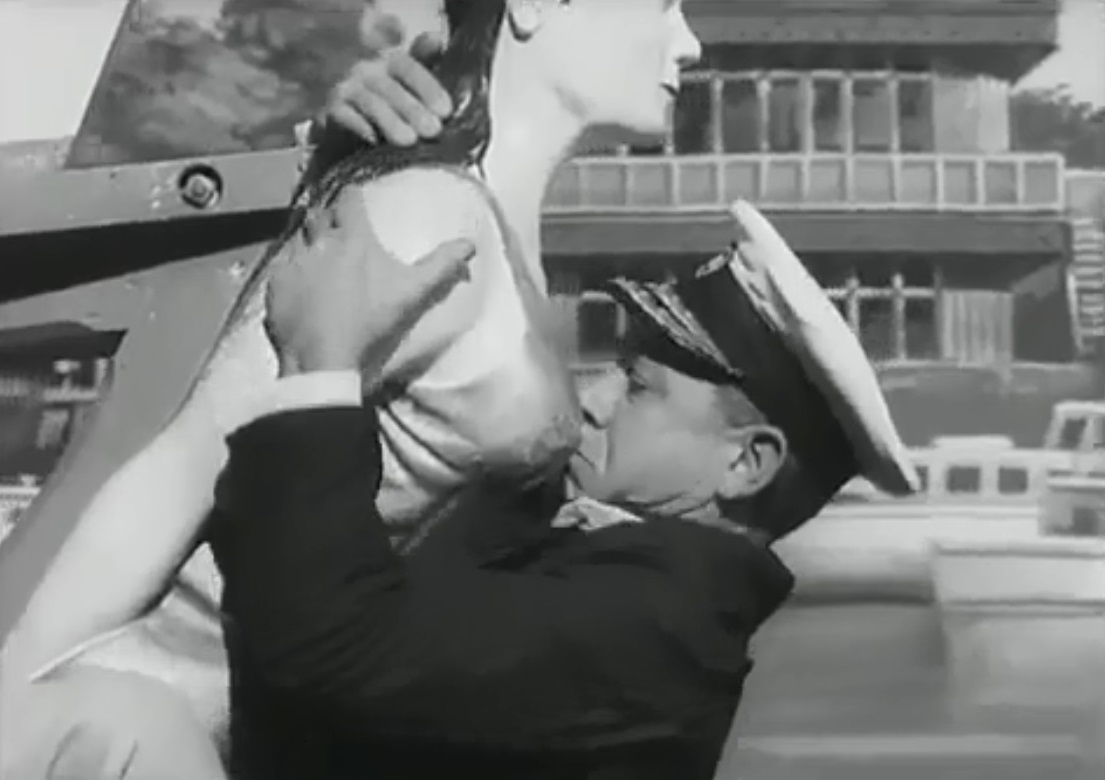 You can't reside at 'ome in the old broad's boarding 'ouse, per Schlesinger's A Kind of Loving the following year, so you buy an 'ouseboat for yer 'oneymoon. Old lag Sid James now a used car salesman and his stripper Liz Fraser (she calls him Sidney) are the mirror of marriage as you start up the old engine for a cruise downriver, yachtsman Dennis Price owns the moorings and doubles the fee, you'll see him in Hell first (Ian Carmichael and Janette Scott).
Screenplay by the director, Maurice Carter settings, Stephen Dade cinematography, score Stanley Black (title song rendered by stripper and salesman), Douglas Hickox handling the second unit, with extremely fine peripheral work (Beckwith and Handl the former owners, etc.) and Carmichael in the engine room a very happy memory of Underdown in Huston's Beat the Devil, as later Genevieve (dir. Henry Cornelius) and Three Men in a Boat (dir. Ken Annakin) are recalled. The essence of the structure is drawn from Wyler's Mrs. Miniver and Asquith's We Dive at Dawn, the central point being the stripper's command performance aboard the yachtsman's White Wings in Calais harbor, a variant of which is McLaglen's The Sea Wolves, for example. "Well, what's the matter with him?"
"He's drowning, dear." A famous poem by Stevie Smith, on top of everything else. What with one thing and another, you're in France before you know it. Let the binnacle go smash, you are there. "France? What would my Dad say?" The Jasmine Gay, out of Christmas Island. Koster makes hay with it in Mr. Hobbs Takes a Vacation, Duncan Wood in The Bargee, Carl Reiner in Summer Rental.
Critics by and large have not taken to its singular intricacies very much. Howard Thompson of the New York Times, "this extremely anemic little British comedy". Britmovie, "routine comedy... the script and direction are distinctly lacklustre". Leonard Maltin, "slapstick... predictable". TV Guide, "an unengaging comedy... not especially interesting." Sandra Brennan (All Movie Guide), "this romantic British comedy."
Ladies Who Do
The charladies of Pitt Street against a Napoleon out to pull their houses down.
The twist is very nicely prepared.
To Bosley Crowther of the New York Times, "a dull bit of British tomfoolery".
Halliwell's Film Guide has "mild farce sustained by familiar actors."
They form a firm, Ladezudu Ltd., inside information and other people's money are the mainstays of "high finance".