Nice Guys Finish Dead
The Rockford Files
With a comedy opus of this magnitude, it sometimes helps to unfurl the plot from the beginning. A senator is having an affair with a bus driver's wife, the bus driver hires a private detective to get evidence, the private detective uses the evidence to blackmail the senator into abandoning his proposed legislation against electronic surveillance, they fight and the senator is killed in the men's room of a hotel where the United Association of Licensed Investigators is having its annual Goodhew Award banquet.
The nominees include Rockford and Lance White (Tom Selleck). A fan of the profession (James Whitmore, Jr.) stumbles on the body and is accused. The indescribable comedy that follows is best savored straight with no chaser.
This early bit of work by Patterson is not unlike Raymond McCarey's in a way that's hard to define, there's an unusual way of structuring a scene that is more than cunning. Now, the script by Stephen J. Cannell invites a slew of options, but Patterson takes his cue from its characterization of the all but innocently overbearing Lance, who picks up the story (from "White on White and Nearly Perfect", dir. Cannell) with the news that his bride, the boss's daughter, died after two months of marriage. The reaction shot of Rockford to this crowning piece of unexpected tragedy in the angelic hierarchy of Lance White's life and career is not a close-up but a long shot across the room expressing Chaplin's dictum.
Vern St. Cloud (Simon Oakland), President of the UALI, tells the press from the Hopalong Cassidy Suite at the Gene Autry Hotel that Freddy Beamer is indeed the perpetrator, but it was his nephew the bug nut (Larry Manetti) all along.
Erica Hagen plays a hypnotist named Brandy Alexander engaged to restore Beamer's memory of the crime scene, but having a little difficulty with his inability to concentrate.
Lance is the central character, even Lt. Chapman is on a par with his sturdy, steady, pipe-smoking ease of charm. "A hell of a guy," says the lieutenant, shaking his head.
Seduced by Madness
The Diane Borchardt Story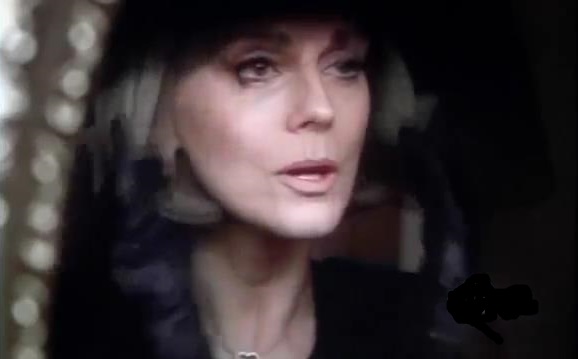 The very ecstasy of madness, revealed in the last shot, with circumstantial evidence all along indicating it.
John Mackenzie's Act of Vengeance is a close model. Coppola's The Godfather shows an influence on the murder intercut with prayer and preparation for Easter services. Richard Brooks' In Cold Blood is in the general way of things a forebear.
"You see, there's one nice thing about a small town."
"Yeah, what's that?"
"Not too many people killing each other. That gives us lots of time to concentrate on Mrs. B."
Tony Scott (Variety), "yet another fact-based meller splats the tube... a slickly produced gripper."