The Thing from Another World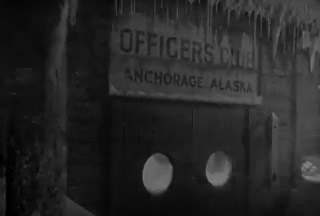 The Cold War.
Hell is round and frozen at its bottommost where Satan is, says Dante.
Lo 'mperador del doloroso regno
da mezzo 'l petto uscìa fuor de la ghiaccia.
"Gentlemen, we're getting nowhere."
"We're consistent—"
"Ohhhh, that's what I like about the Army, smart all the way to the top."
A great exercise for Kubrick's study in the Clavius sequence of 2001: A Space Odyssey, a beautiful introduction of the Houdini theme in The Man From Beyond (dir. Burton L. King), so great a masterpiece it has been held that the director of His Girl Friday was responsible as producer, "you know how to shoot that thing, don't you?"
"I saw Gary Cooper in Sergeant York—"
"What if he can read our minds?"
"He's gonna be real mad when he gets to me." A sustained inspiration, a film of all but limitless influence (Siegel's Invasion of the Body Snatchers and Juran's The Deadly Mantis are two lines of its thought), derived from such works as Browning's Dracula, Whale's Frankenstein, and Freund's The Mummy, also Dieterle's Blockade and Hitchcock's Foreign Correspondent.
Bosley Crowther of the New York Times, "a lot of old-fashioned movie fun". Variety, "lacking as the yarn gets into full swing." TV Guide, "classic sci-fi chiller". Leonard Maltin, "classic blend of science-fiction and horror." Radio Times, "seminal sci-fi horror". Time Out, "one of the great sci-fi classics." Catholic News Service Media Review Office, "nicely-crafted sci-fi thriller". Dave Kehr (Chicago Reader), "a meaningful situation and coherent characters." Hal Erickson (All Movie Guide), "a model of its kind." Halliwell's Film Guide, "curiously drab", citing Penelope Houston, "there seems little point", and the National Film Theatre, "pace, humour... pure horror."
The Case of the Sulky Girl
Perry Mason
She wants to marry, her uncle forbids it. Her fortune is in a "spendthrift trust" administered by him. She lacks "emotional stability", may marry when she's 25, a year and a half away.
She is already married in secret to an artist who has put himself through school by working as a bellhop at a Miami hotel. She is expecting.
The uncle's attorney filches money for stock market speculations, is caught out. The uncle's male secretary is bribed to cover up his murder.
The artist is tried, having gone to confront the uncle and found his corpse.
Nyby has two quietly superb virtuosic bits, one with Judge Purley sitting in his parked car listening to a fight on the radio, ignorant of the murder taking place inside the house, and presently joined by both murderers, the other a sweeping view of Mason the Magician in court making split-second decisions and launching exploratory probes and trial balloons under the eyes of the judge and the bristling District Attorney.
The great director Brian C. Hutton plays the artist who has to work hard because he's not in fashion. The victim won't have his authority questioned by Mason, but can't see his employees robbing him.
The Case of the Silent Partner
Perry Mason
An elegant little composition on a hostile takeover, the subject company being Orchids Unlimited. The mistress of a principal makes a full disclosure to the party of the second part, then kills her paramour out of jealousy. There is no trial, Perry Mason and Lt. Tragg catch the murderess in her negligee.
Some remarkable dress designs and an ad hoc press conference show off Nyby's particular hand.
The Case of the Vagabond Vixen
Perry Mason
She's on the highway, hitching rides from men her partner blackmails. One of her victims is murdered, and his business partner at Fidelity Studios is arrested.
The murder victim was a philanderer, in whose absence his wife was having an affair with the accused. The latter's secretary committed the murder, brandishing a pistol to ward off threats to fire her boss. Mason proposes to defend her on grounds of self-defense against a wielded poker.
Aside from the jokes, there is a surrealistic transformation of the vixen from vagabond to helpmate, and the jokes themselves resolve into the name of the studio. A difficult theme related both to Marshall's The Goldwyn Follies and Chaplin's A Countess from Hong Kong.
The Case of the Crooked Candle
Perry Mason
E cosi desio me mena. A man obtains a Mexican divorce and remarries, buys a parcel of land that sheep may safely graze and evicts them to drill oil. His own office assistant plans to elope with his second wife, his own foreman murders him for the same reason.
His first wife ends up on a dinner date with Paul Drake.
The Case of the Negligent Nymph
Perry Mason
Three generations of women in the life of a brutal boor exact vengeance on him. His elderly aunt plans to disinherit him, but dies in a storm at sea. His young secretary swims out to Perry Mason's boat with a posthumous incriminating letter from the aunt which she herself has forged, but his wife, drunk and despised, proves that Hell hath no fury like.
Again, Nyby's hand is evident in the mise en scène.
The Case of the One-Eyed Witness
Perry Mason
A wife is secretly pressured by her husband's short fat bald tool to pay him thousands on the strength of her brother's prison record.
The latter's great aria is Nyby's centerpiece, delivered in Mason's office with Della Street the sole auditor.
There is a second line of action also delivered as dialogue but occurring off-camera (encore une histoire à la Gogol), this of the accomplice in disguise preparing an incriminating alibi for the wife, and eventually revealed as the title character.
The Newcomers
Bonanza
An inspired, complicated script brings hydraulic mining to the Ponderosa and neighboring spreads. A brother and sister have taken a partner who specializes in this. The girl is consumptive and in love with him blindly.
He's also known to the Cartwrights and especially Ben, having practiced his destructive mining on a friend's California peach trees.
A "bug hunter" (botanist and entomologist) is attached to the expedition, which the girl sees as following "patterns of history". The Cartwrights let him pass, but he's shot in the back by an underling of the partner's, to excite disfavor against the Ponderosa.
Hoss escorts the party back to California, but is overcome and the murderous band return, raising up the Washoe miners along the way. He escapes with the girl and fends off an ambush laid for his family.
The brother is pardoned as having been hoodwinked. The girl promises Hoss to be with him next spring in his canyon full of dogwoods in blossom. She returns to San Francisco of her own will, disabused of her folly and mortally ill.
Hoss learns of her illness and is greatly dismayed, beseeching God to explain it. He returns to work at his Ponderosa chores.
David Rose has a score inspired throughout as well.
The Julia Bulette Story
Bonanza
Mark Twain saw the hanging of Julia Bulette's killer. Twain was in town for a day or two, said the Territorial Enterprise, giving a lecture on the Holy Land from his recent visit.
Al C. Ward represents her as having been loved by Little Joe Cartwright in the midst of a civic urge to improve the "dirty little town on a mountain". Julia's Palace (a saloon on C Street) raises a pile for law and order, and Ben is nevertheless asked to extricate the boy. She rears up when none will and rescues miners stricken with fever on Gold Hill, turning her gambling tables into sickroom beds. Little Joe addresses townsmen at Community Hall afterward, they name her an Honorary Member of Fire Engine Co. No. 2. A jealous lover murders her and makes off with her jewels.
Adam and Hoss capture the fellow.
The Case of the Malicious Mariner
Perry Mason
The masterpiece of a script by Robert Leslie Bellem is played very close to the chest by Nyby so as to elucidate its awesome abstractions. A rustbucket steams out of Yokohama with its first mate left behind and a younger man in his stead who saves the stormtossed ship by dumping its cargo, which later is found to have been worthless. The owner's plan was to sink the lot and buy a new ship with the insurance. The older mate testifies he could have saved the cargo.
"Like you say back in L.A., we've got it made," a Yokohama salvage foreman tells Paul Drake on discovering the jetsam in shoal water.
Showdown with Rance McGrew
The Twilight Zone
Voltaire's trick history, surveyed by Serling.
Showdown might be the title of McGrew's series (his contract specifies, among other things, that the leading character has his name). Jesse James in the afterlife doesn't like his portrayal, comes back from Heaven or Hell to Earth as an agent to set things straight with the star of the show.
The other side of the jest is McGrew "a three-thousand-buck-a-week phonybaloney".
"I'm calling my agent," says McGrew, "and this time he'd better be in." The outlaw then as agent, robbing his clients and the public blind (cf. Earl Hamner, Jr.'s "A Piano in the House", dir. David Greene, for the critic).
Cavender Is Coming
The Twilight Zone
"Mr. Bevis" reconsidered as again It's a Wonderful Life turned upside down, to all appearances. Agnes Grep works at a movie palace, it's her first day, confused and perplexed she runs through a wall-sized mirror and crashes into the manager's office.
A rather tawdry angel, wingless and prone to gin-swilling, a great admirer of blondes in Heaven, is sent to mend her fortunes. He licks his right thumb and presses it into his left palm, transforming a city bus on which she's the solitary passenger into a fringed surrey, a chauffeur-driven convertible, and a bus again, after which the bus driver crashes out his side window, resigning his position.
Harmon Cavender, the angel, puts her in a mansion on Sutton Place and introduces her to la dolce vita with a cocktail party at which a Latin lover licks the crumbs of hors d'œuvres from her fingers, but she was happier before, having neighbors and children around in her apartment house, to which she is returned. Cavender's superior looks down, approvingly.
And that's how, by way of Fellini and Capra, you arrive at The Goldwyn Follies (dir. George Marshall).
Operation C.I.A.
A key preparation for The Quiller Memorandum (dir. Michael Anderson), phone call, assassination, replacement, river, the works.
"Saigon", a beautiful city, sampans, jet travel via Hong Kong, a French guide on the plane, a local agent on the ground, code name Credit.
Richard Moore cinematography, Paul Dunlap score.
The Cold War (cp. Le Petit soldat, dir. Jean-Luc Godard). Frank Lloyd's Blood on the Sun is revealed as the root and source, Henry King's Love Is a Many-Splendored Thing the outcome.
"Well, I suppose that's it, but I would like to know where you're giving your next lecture. I'd very much like the opportunity to write it up."
"Well, from what I understand, you ought to brush up on your German."
Halliwell's Film Guide, "a few suspenseful moments."
First to Fight
Like all of William Conrad's films as producer or director, this is a happy mixture of realism and fiction. The triple threat is a classic foundation on Pacific war films, a new psychological assessment itself not far from Sands of Iwo Jima (dir. Allan Dwan), and the authenticity of Gene Hackman's performance, for example.
Chad Everett, who went on to star with James Daly in Medical Center for CBS, did not receive the credit a film like this deserves, but it was only "expurgated, accelerated, improved and reduced" that he really found success as Tom Cruise.
Laya
I Spy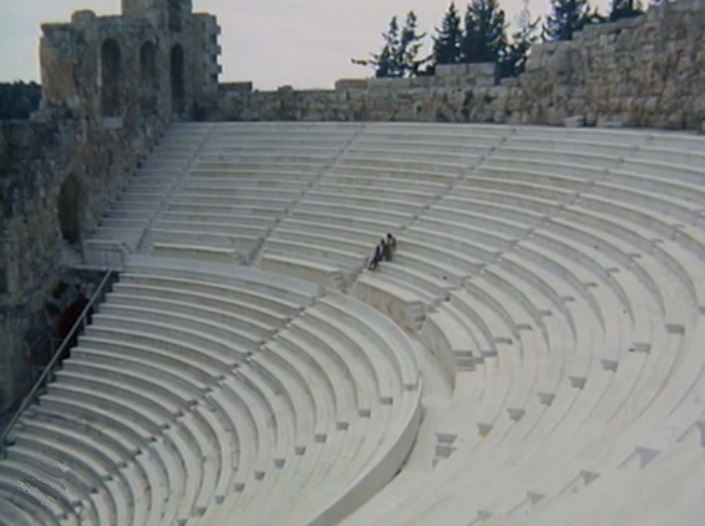 In Athens, two ways to go with a Central African republic newly-formed, via the consulate clerk, "trade and procurement desk."
She has British backing of a sort, Scott is to "destroy" her for information pertaining to "the balance of power."
When Nyby wants to relax, he tightens the shots. The Fine & Friedkin teleplay pivots on the same consideration as "The Trouble with Temple" (dir. Tom Gries), a matter of "evil".
"From one jungle to the next in less than one generation," is Laya's wisecrack.
Cp. Operation C.I.A., here fatally. Earle Hagen's Greek score covers the hotel fight scene.
The Lotus Eater
I Spy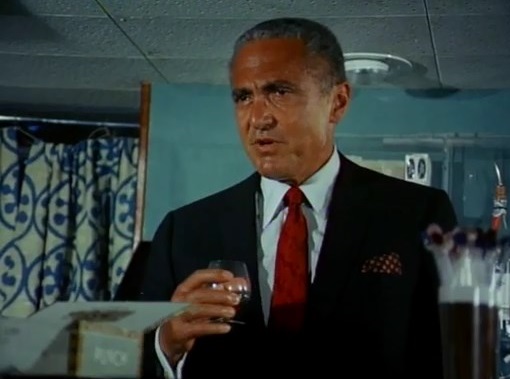 Robinson up a Greek isle, "in from the cold."
One Sorgi, dealer in information, rhymes with orgy, has spiked the ouzo. "Your work will not be finished until he walks on all fours and makes sounds like a pig."
Moll & Than's Odysseus awakes to a lovely meditation by Hugo Friedhofer on the theme. Nyby's location filming is sharply accurate, Cacoyannis in color, his tall clifftop view of Circe (last seen barefoot on the mainland) going out to sea is noteworthy.
Anyplace I Hang Myself Is Home
I Spy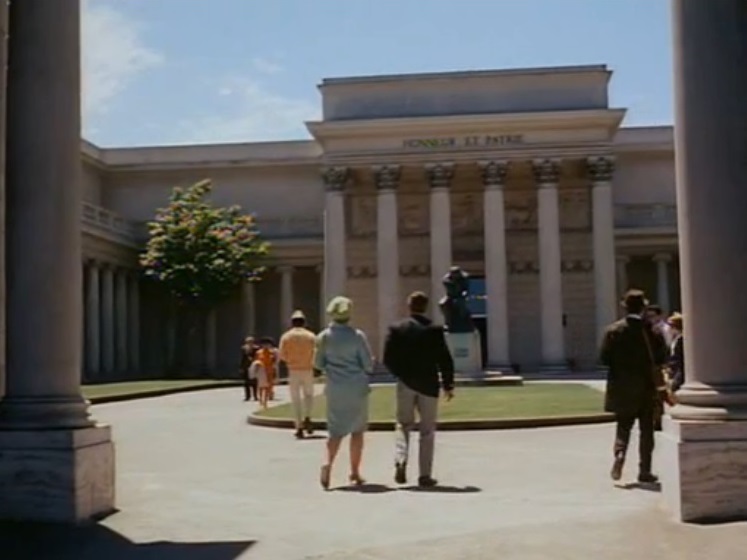 The Penseur at the Legion of Honor, Scott on the couch, a case of "ego-splitting".
Robinson's side of the story, tales out of training school (cf. "Tag, You're It", dir. Earl Bellamy).
Hitchcock's Spellbound.
The Spy Business
I Spy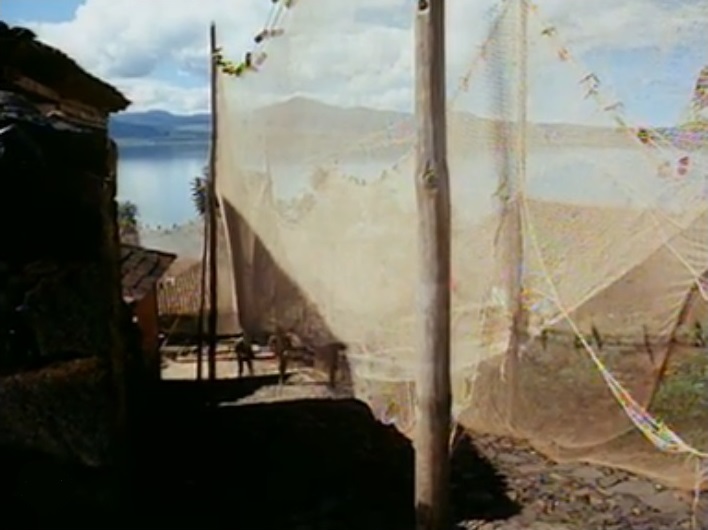 East German defector over the wall to Guadalajara, snatched from the Department, debriefed by the Army on a lake island.
Army Intelligence isn't what it's cracked up to be, "ya got Commies and loonies around here," Robinson observes somewhat testily, a reliable friend is suspected.
Nyby's offhand direction misses nothing, the point is simultaneously reached by Val Guest (Assignment K) and Seth Holt (Danger Route).