Mr. Wu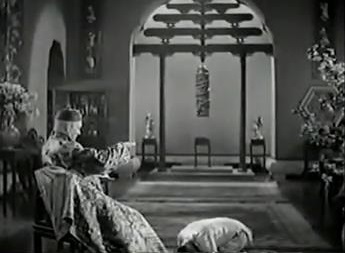 The great mandarin who sacrifices his daughter to "the rites of his people" in an instance not unlike Harakiri (dir. Fritz Lang), from Madama Butterfly, the point being Broken Blossoms (dir. D.W. Griffith).
"A William Nigh Production" at M-G-M, "settings by Cedric Gibbons and Richard Day... photography John Arnold".
Lon Chaney also as the grandfather who had the boy tutored in Western ways, two of his finest inventions. So many actors parade through the character in his realization, Laurence Olivier (a perennial study), Paul Muni, David Opatoshu, Harry Andrews, Max von Sydow...
Renee Adoree similarly invents Shirley MacLaine as Nang Ping, Ralph Forbes plays the equivocal lover to perfection, Holmes Herbert his superb ass of a father, Louise Dresser has the pivotal role of the mother who is offered Sophie's Choice (dir. Alan J. Pakula) or nearly and counterbids, Anna May Wong has the lovely part of a handmaiden and confidante.
The Enforcer (dir. Bretaigne Windust) takes up a note, in death by double exposure the psychological element is revealed.
And here, if anywhere, is the source of Nigh's Chinese poetry, on the magnificent set of the mandarin's great house and walled garden with lotus pond and moon bridge.
Mr. Wu's Caliban vengeance and much else escaped the understanding of Mordaunt Hall at the New York Times, "casts ridicule upon that which might have been poetic... his make-up might have been more effective," etc. Hal Erickson (All Movie Guide), "barnstorming... bizarre exercise in chinoiserie". Halliwell's Film Guide, "turgid outmoded melodrama".
Hoosier Schoolboy
Nigh gets right to it in a minute or so of exposition at the depot, and in a few more seconds he's plunked down with his theme. The script sets up a whole tier of thematic elements, while Nigh plays along quietly with very dry two-shots and the like, building up momentum. It's a remarkable thing, just watching lines being cast in the quiet stream of his pictures, until he moves outside and across the tracks to a milieu between Walker Evans on the one hand and Paul Henning's The Beverly Hillbillies on the other, for a breather. Then he picks up more threads, by this point it becomes clear that he's skating on thin ice and moves this way for a reason.
And then it becomes patent that he doesn't care, and means to engage his forces at the proper time. He's already set up situations from Truffaut's L'Argent de poche to Losey's Accident and Ford's The Grapes of Wrath, with a core of sentimental education and an atmosphere not unlike Storm Center (dir. Daniel Taradash), all this is filmed very staidly, without any interference, not wishing to miss anything.
And one by one the crises come and are dispelled by the voice of sweet calm reason or a softshoe dance, until the catastrophe comes, announced by the track shot from Von Ryan's Express (dir. Mark Robson) and memories of The Big Parade (dir. King Vidor). This is telescoped with very humorous objectivity into the dénouement, and in a few seconds Nigh closes on springtime.
Mr. Wong, Detective
The complexities of plot ideally required a mise en scène with sufficient depth to afford ambiguity, and Nigh supplied it with a variety of lighting and a beautiful track-and-pan, which in turn exactly suits Mr. Wong, a detective of deduction and drama.
This is among Nigh's finest inventions. In particular, there is a little scene that puts him among the magicians of cinema, Wong searches a room, with Nigh panning on him in half-light to a desk where he switches on a small globular lamp and rummages around in silence for a time, switches off the lamp and crosses to the door, exiting, then Nigh whip-pans back beyond the desk to the curtains, whence a mysterious figure emerges, goes to the desk, switches on the globular lamp and wonders visibly what Wong was looking for or found.
It's the combination of delicate camera movement and subtle lighting that makes this a poem of Wong, and a great deal of inspiration. Somehow that lamp evokes the moon in a Chinese landscape...
The Mystery of Mr. Wong
Like a picture with two vanishing points, Nigh has two foci here, a little upstairs tracking shot, and the beautiful darkly lighted foyer shot, which is repeated. The first third of the film is a study in syntax centered around Street's arrival at the house (and the center of this is that tracking shot). The middle third is Nigh's second theme, a study of night interiors as variable chiaroscuro. The last third, which begins at the second foyer shot (where Wong borrows a cigarette from each of two gentlemen, who then light each other's) is a simultaneous exposition of the consequences of Nigh's studies, a beautiful exemplary style of clear diction and effortless management.
The Street sequence is a tour de force in which Nigh makes significant discoveries. The way that tracking shot works is this, Wong and Street are downstairs at one end of the room, and as they cross to the staircase Nigh cuts back to a wide pan on them. He now cuts to a view of the upstairs hall outside the study (their destination), and tracks forward as a character emerging from the study steps down the hall to meet them. That's all, there's no real need or justification of this, it simply conveys the reverse motion translating the time spent walking up those stairs, which Nigh doesn't film.
Out of this little study Nigh is able to draw amazing conclusions about film syntax, which are a great pleasure to watch.
Mr. Wong in Chinatown
This is very much like a description of the fall of France. There are track-and-pans and autos at night, but Nigh is principally occupied with sustaining his mystery in obscurity, generating images of near abstraction in a void of exposition, as far as possible. It all comes down to profiteering and bunco, and a lot of big men led by the nose around a Chinese princess.
The charming thing is how dry and pat Nigh keeps his shots, so that next to nothing is known to the audience except the raw data Mr. Wong is given, not all of it useful.
The Fatal Hour
Ming Dynasty jade rifled from Occupied China by "ignorant alien hands" makes its way to a San Francisco costume jewelry shop in receivership, to shore up its ruins.
Internal relations amongst the plotters, the master plan revealed by Mr. Wong.
A remarkable induction of false witness by remote control, directed with unflappability in all circumstances by Nigh, who stands in the middle of every scene and lets it fill the camera.
Son of the Navy
A great little film with lots of interesting exteriors, which is mostly a fine show for James Dunn, as well as a model for Cinderella Liberty (dir. Mark Rydell), or The Baby and the Battleship (dir. Jay Lewis).
Doomed to Die
Mr. Wong unravels a great mystery. The comic-book flatness is enlivened by numerous details, night exteriors (notably a ubiquitous car chase up Sunset Boulevard), a couple of supple tracking shots, a very comical script, good acting, a dark house musical interlude, and a whipsaw conclusion.
Mr. Wise Guy
The Eastside Kids are sent to reform school, mistaken for a criminal gang, in the most Shakespearean exploration of the environment vs. heredity (and reform vs. punishment) theme that runs throughout the series. There they're faced with a reform-minded administration saddled with a holdover guard from a Dickensian past.
The jokes are good and hilarious. Muggs ("Mr. Wise Guy", he gets called) introduces his chums, "my left-hand man, my right-hand man, my yes man, my no man, and Scruno—he's our blackout warden" (big grin from Scruno).
This is where Billy Gilbert meets his match in Benny Rubin, in a restaurant scene that was the model for the various Peter Falk/Vito Scotti contretemps in Columbo.
Black Dragons
In 1942, a fifth column of business leaders and professionals set about to destroy the war effort by sabotage, labor unrest, legal wrangling and so forth. A certain Monsieur Colomb murders them one by one, as a rule leaving the body in front of the Japanese embassy, now closed, at the nation's capitol.
The murder victims are Japanese agents from the Society of Black Dragons, Colomb is Dr. Melcher, a Nazi plastic surgeon. Americans were killed and replaced by the Dragons, Melcher was meant to be liquidated as a witness to his handiwork, but profited by a resemblance to a fellow prisoner of the Japanese later released.
As efficient as a wartime poster, as mysterious as anything. Nigh opens with a virtuosic scene of nabobs and solons carousing among enemy agents. The dapper technique encompasses gloomy stretches, bright camera movement and the transformation scene effectively pulled from a hat. The monstrous revelation at the end sets the seal on treachery and enemy cunning.
Lady from Chungking
The refinements of the script are Nigh's signature, invariably, a comic response to the horrors that sets them off perfectly, the élan and naturalism of the style are irrefutable.
Madam Kwan Mei leads the resistance to the New Order, helps villagers in a revolt, rescues two downed Flying Tigers, cozies up to "the next premier of the Japanese empire" and destroys his troop train.
"She probably saw me dressed as a coolie, with muddy sandals and a large straw hat. But what she did not know was that I come from the great house of Won, that my parents were killed, and I was reduced to starvation. That was before I realized what the New Order meant."
Corregidor
Waves beat against the Rock, it is higher than before, these are the opening and end titles.
The authors of the film construct a moving and effective allegory of the general peril and the specific, local disaster, an Axis victory.
They stint nothing at all, their very funny film and very noble is a poem in its own right, crowned by Alfred Noyes' epilogue in verse, read by the poet.
L.B.F. of the New York Times railed against it as "counterfeit" and "inept", but greatly admired the ending as showing the rest up.