The Traveling Lady
Studio One
She flits through the small town with her husband in it just out of prison, he's a musician and a drinking man so marred by a teetotaling guardian lady that he tears up the flowers on her grave like one possessed and steals the silver, back to prison he goes, his wife moves on to the valley with an officer of the court.
A stately allegory of Prohibition well-mounted by Mulligan from Foote's condensation of the play and featuring all the best talent in New York (Kim Stanley, Robert Loggia, Steven Hill, Mildred Dunnock et al.).
The Rat Race
New York is a dime-a-dance gal one step below a model and one step above a call girl, Milwaukee breezes into town and loses its shirt, they join forces.
"Lousebitten", it's called, a "padded cell".
After the cogency of Fear Strikes Out, this monumentally epitomizes the rationale of Mulligan within a certain framework, in this case provided by Garson Kanin. The script is a circus where abstraction is embodied as the spirit of chance in New York, with tangible cutaways to tightrope walkers and trapeze acts, so to speak. It's enough to keep Mulligan occupied with its many curiosities and perfect organization, so that the pure surrealism of it has a face, becomes a scene, starts talking "amongst itself".
The Great Impostor
Most people are not really fooled by the frauds they encounter every day of their lives, film critics for example. It's all a part of living, and for some a very good living.
That's Lincoln, and there's Shakespeare, "one man in his time plays many parts." Also Schoenberg (who, pressed into service at forty and asked in camp if he was the famous composer, said, "somebody had to do it"), "genius acquires for itself even those talents it wasn't born with."
The meaning of the tale, pace Weiler of the New York Times (who fancied himself a psychologist), isn't psychological but symbolic. The Army won't, the Marines can't admit a gifted officer, he joins the monks for discipline and finds that wanting, he relieves the suffering at a desert prison and joins the Canadian Navy as a surgeon during the Korean War, "the Saint of Chinnampo".
And then he's a schoolteacher, finally an FBI agent in pursuit of himself.
Come September
A great masterpiece of surreal comedy that took the critics by surprise ("sophisticated is something that this bouncing picture is not," Bosley Crowther, New York Times).
A very wealthy American sojourns one month a year with his Italian mistress in his Italian villa. The rest of the time it's Hotel La Dolce Vista, girls on tour with a chaperone are there, his majordomo runs it clandestinely.
College boys from the States set up tents outside, the owner keeps them apart for decency's sake.
That's the last straw for a perennial mistress.
Meant nothing to journalists in the film section.
To Kill a Mockingbird
The tale hangs upon two fences, the one around the Radley place and the other where Bob Ewell gets his clothes caught racing to his daughter's rescue.
Bosley Crowther got hung up with the division between the children's point of view and the rest. Jem is Ewell, going to see a swell show of a monster, Boo Radley, and losing his britches.
Scout sees Boo for the first time and knows him, that's the heart of the love affair proposed by Bob's daughter to poor Tom Robinson, accused of rape.
Mulligan has the inestimable advantage of having had a childhood himself at some time, or the art with which to fabricate it, therefore he is able to transcend the technical problems arising from a variant of Clarence Brown's Intruder in the Dust, his compositions show how far he has relied upon the screenplay and the expertise of his set designers, they free him for analysis.
Bernstein's theme is a variant of Ravel in its inspiration (Le tombeau de Couperin, possibly Ma mère l'oye), the title sequence is an idea of Valéry's, it represents Jem's box of toys and knickknacks from Boo, the articles are like a childhood paint box and the quivering strings on which Carol Reed opens The Third Man.
Love with the proper stranger
Romance of a musician and a Macy's pet shop clerk, a cute little Italian mouse and a kind of sporty guy, second-generation New York both of them.
The Musicians' Union fills up like a dance hall under the credits, he pages himself, she pages him, he's gotta do right by her.
He's willing as the Dickens, she's not so tough, but she won't have him.
She blossoms into a New York beauty with her own apartment, decorated by her, he drops around, it hits him like a ton of bricks.
A mammoth and involved production to see a couple of kids over the horrors of waking up like Rip Van Winkle to discover you're in the United States of America.
Inside Daisy Clover
The system of thought in this political satire is almost exactly the one in Losey's Boom a few years later. The metaphor is Hollywood, a mom-and-pop operation on a grand scale, The Swan Studio in the nineteen-thirties.
Young Daisy volunteers herself, she's a musical star in no time. Raymond Swan has her mother put away, Daisy calls him "Raymond Swine".
Sympathy comes from fellow star Wade Lewis or Lewis Wade, to him Swan is "The Black Swan" or "The Prince of Darkness", the two stars honeymoon in Jawbone, Arizona. Daisy gets ditched, he prefers "charming boys".
There's just a joking relationship to Citizen Kane or The Goldwyn Follies, on the other hand Swan's mansion resembles the White House.
And, exactly as with Boom, it meant nothing to anyone, least of all the critics.
Mulligan has the most variegated lighting in his color compositions, this also has been very influential.
The Pursuit of Happiness
The fracturing and splintering of society is properly identified as a "nervous breakdown", out of which one sound in mind and body walks or rather flies.
Cf. Siodmak's The Strange Affair of Uncle Harry, for example, or Peckinpah's The Getaway.
Time Out, "too shapeless, too drawn out, too much reliance on symbols... Mulligan seems to have intended... but instead the subject escapes, losing itself... rather than really looking at why. There is a serious point to it all—it shouldn't look faintly silly, but it does." TV Guide, "full of illogical actions." Halliwell's Film Guide, "empty youth movie."
Nabokov on Kafka (dir. Peter Medak), the argument is cut fine on Jane the campus activist and Aunt Ruth the tea-drinker, your American is neither a revolutionary nor a Briton, he dwells in a foreign land (cf. McCarey's Rally 'Round the Flag, Boys!), a Puritan.
The Other
Niles and his twin brother Holland wreak havoc on the Perry household (the family crest is a peregrine falcon).
1935, Bruno Hauptmann, beautifully evoked.
A very precise rendering of accounts. The wit of Tryon's screenplay is suitably accorded minute details in Mulligan's register, as for example the emblematic weathercock pointing everywhere during the great storm at the climax.
The Nickel Ride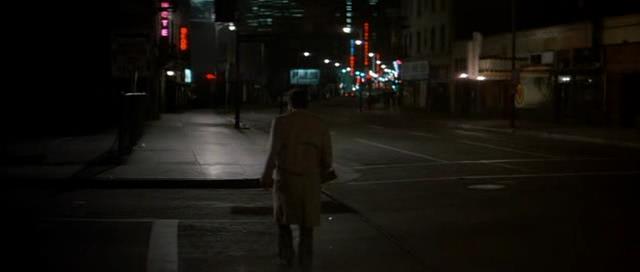 D.W. Griffith has a similar tale to tell, Corner in Wheat.
"The Boss of Fifth Street", small-time Los Angeles hood, "key man" in a mob operation to consolidate warehousing with a solid block, "nineteen addresses free and clear... electricity and water still work," bought cops balk and there's an end.
Nora Sayre, "this heap of murk" (New York Times). Nick Pinkerton (Village Voice), "a seldom-seen drama of white-collar workaday criminal drudgery". Rod Lott (Oklahoma Gazette), "depressing more than anything." Fernando F. Croce (Slant), "creeping urban paranoia". TV Guide, "depressing but truthful". Sandra Brennan (Rovi), "gripping crime drama". Halliwell's Film Guide, "entirely uninteresting".
"Hey, you got a parking permit to camp on my doorstep like that?"
Bloodbrothers
Lumet's A View from the Bridge, looked at with the paternal angle strictly in mind, so that at the crisis and parting Papa De Coco is amusingly heard to call out his son's name in the very tones of Brando for Kazan's A Streetcar Named Desire, last scene (Redford picks this up in Ordinary People).
Watching a Robert Mulligan film is often like watching a painter at work adjusting his forms, balancing his colors, situating things on the canvas according to their lights rather than telling a bedtime story.
The acid satire is usually couched, therefore, in superficial coats of paint and varnish, well-applied but not with any intention of being taken at face value, one should think. The Night Watch doesn't tell any particular story, but it conveys in its relationships a considerable body of information, it speaks volumes.
This is, generally speaking, the sort of thing Mulligan is after. Bloodbrothers is to working-class drama what the Night Watch is to group portraiture, or rather it represents a further development along cinematic lines related to Arthur Miller's evolution as a playwright, for instance.
"Ambitious, if uneven" (Variety).
"A ludicrously overblown soap opera" (Time Out Film Guide).
Clara's Heart
An intriguing set of superfices, beginning with an overall resemblance to Made for Each Other, and Neil Patrick Harris's performance as a juvenile Max Gail in the guise of a young Drew Carey (or Paul Schrader, or Martin Scorsese), directed by Peter Bogdanovich. The specific movement is by duration, as proper to a film, and by realization, as proper to fiction. It really comes down to a charming film on its middle plane, and with all its feints discarded, the spoiled rich kid out of Captains Courageous has it thrust upon him that his parents are jerks, and "you can't go home again," a keen piece of work reflected in Freddie Francis' fine photography, exactly the technique suited to a bone-dry clarity of vision, which is dependent on a pellucid and equable view of minutely subtle distinctions. The painted sepulchers of the faux are rendered with absorbing precision, the lighting is one of the greatest achievements in a period when, more often than not, lighting directors labored under the delusion they were decorating Christmas trees, the acting is capital, and Dave Grusin also gets inspired.
The Man in the Moon
Mulligan has a penchant for playing a very dicey game with his surface drama in order to abstract his films. The Man in the Moon obtunds Summer of 42's references to Wyeth, and the real pleasure lies in his beautiful pictures and poker face, and the curious thematic relationship to Arthur Miller's The Ride Down Mt. Morgan.