Risate di Gioia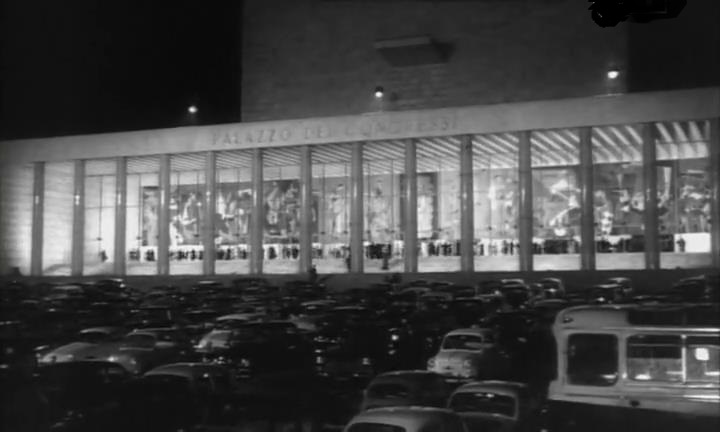 The lowly extra at Cinecittà who sees the miracle and knows her part, frowsy and unloved, a trouper, Gioia.
Her colleague "Infortunio", who only takes a job for the sick pay, fallen among thieves, also a trouper, Umberto.
New Year's Eve in Rome, the joke on De Sica, Fellini et al., with Fred Clark in his own voice drunk and driving a Cadillac, Gazzara dubbed but brilliant as ever, Totò and Magnani in their element, "laughter".
Jim Hoberman (Village Voice), "one-night melodrama... a bit too pathetic". Leonard Maltin, "a minor tale of love and larceny." Ted Shen (Chicago Reader), "trenchant 1960 social drama." Monica Sullivan (Movie Magazine International), "very funny, immensely touching". TV Guide, "a fine comedy". Hal Erickson (Rovi), "fast-paced crime comedy".
"What do you want for help, Dante Alighiero?" The Passionate Thief, from Moravia. Fellini answers this with Ginger e Fred, De Sica Lo chiameremo Andrea.
Fireworks, a German ball, "it reminds me of seeing the Pope."
"Ma guarda in che modo ridicolo si vestono questi italiani."
Le coppie
"Il frigorifero", Monicelli opens the series right at the bottom of its surrealistic understanding, the refrigerator has to be paid for, hardly used at all as it is, the wife goes on the street, reluctantly at first, but there's a song to sing and a washing machine to buy, too.
Five reels of comedy, then six ("La camera") from Sordi that carry on the image to the haunts of the very rich, finally two more ("Il leone"), a perfect sum from De Sica that characterize the nature of the dilemma, not exactly the wolf at the door.