I'll Cry Tomorrow
The surface drama is extenuated by every grace known to M-G-M, even a musical number in its best style ("Sing You Sinners").
The real Lillian Roth is always kept in sight as figurines and dolls around the set, a Buddha, the carved figure of a little horse, a nude torso, a portrait head, flowers, Oriental pajamas, a ceramic decoy duck. Chinese lettering in a Chinatown shop is her, even when the chips are down. The last is a lace curtain or dentelle when she tries to jump out a window, then she receives help.
Lillian ceases, ever so briefly, and then she sings, there is a fern in the background, flowers, even a table and chairs with checkers, the carved figure of a little horse.
Then herself, coming down the aisle.
Susan Hayward ("rock-ribbed", says Crowther) belts and acts her way along the script, this last shot is achieved by other means than mimesis.
Ray Danton as a nice Jewish man, Don Taylor from a Pittsburgh lumber yard ("you don't even know what plywood is!"), Richard Conte as a cool tough guy, Jo Van Fleet as Mrs. Roth, Eddie Albert as McGuire, facilitate the mummery.
The Teahouse of the August Moon
The recovery of Japan.
Fuller's House of Bamboo the year before had documented the results, the play won a Pulitzer Prize and can be compared with A Bell for Adano (dir. Henry King).
Okinawa is the scene, conquered for centuries, "we're used to it."
Bosley Crowther of the New York Times saw absolutely nothing. Variety thought Brando "a bit too heavy for the role."
Mann's long, still takes are from Cukor.
"Adequate," says Halliwell's Film Guide. Tom Milne (Time Out) agrees with Crowther but "you're blinder nor I am, you bitch's bastard," says Joyce, and Milne gives Brando something of the compliment once paid to Kim Stanley in Clash by Night (dir. John Frankenheimer) with Lloyd Bridges and E.G. Marshall. Salome Jens said Stanley so to speak was everywhere, the other two nowhere.
Another significant comparison can be drawn with Huston's The Barbarian and the Geisha. Connery pays tribute in You Only Live Twice (dir. Lewis Gilbert).
Our Man Flint                                         
The conceit is that, in the face of GALAXY's threat to heat the world, ZOWIE gets a description from the free world's top intelligence men of the man best qualified, a computer identifies Derek Flint.
He is the genius of the ages, and knows what he doesn't know, too.
An idyllic paradise, Galaxy Island, with "pleasure units" that include Flint's girls, kidnapped.
To say the film is up to the mark is sufficient, under these terms.
Crowther, naturally, didn't like it. Variety did.
Judith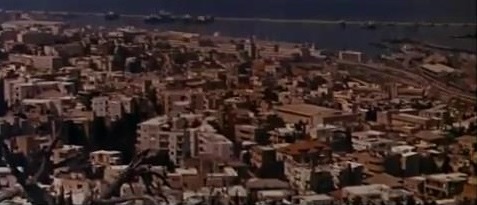 Means of identification, a Panzer commander, leveled French towns, murdered prisoners, Warsaw ghetto, seen after the war in Syria or not.
Israel about to be born.
Welles' Citizen Kane and The Stranger for the opening scene with a Nazi newsreel.
All of which is to say Holofernes and the woman in the wilderness, cf. D.W. Griffith's Judith of Bethulia. Dmytryk's The Juggler and Preminger's Exodus are part of the account. Mann achieves an unrivaled effect, the freshness of kibbutz life directly after the death camps. The dance scene certainly recalls Ford's The Grapes of Wrath, King Vidor's Our Daily Bread is another mainstay.
"You think you have seen war, not like this. This will be a war of extermination, get out of Palestine, there's no room for you. Get out of Palestine!"
Screenplay John Michael Hayes from Durrell, British crew (Wilcox, Shingleton, Dempster, O'Hara et al.), Nicolas Roeg second unit, score Sol Kaplan.
Bosley Crowther of the New York Times, "there is nothing about this film to remind you of the Biblical legend of Judith and Holofernes." Variety, "frequently-tenseful adventure tale realistically produced in its actual locale. The production combines a moving story with interesting, unfamiliar characters." Tom Milne (Time Out), "terminally dreary as well as totally unbelievable." Catholic News Service Media Review Office, "melodramatic hokum, though some may enjoy its picturesque locales". Halliwell's Film Guide, "glowering... neither one thing nor the other... confusing".
The Revengers
It sets off from Ford's The Searchers past Post's Hang 'Em High into Aldrich's The Dirty Dozen, and ends somewhere beyond Huston's The Treasure of the Sierra Madre and Douglas' Only the Valiant, having played fairly all the way with a moviegoing public that even now is likely to find this dazzling above all else.
Halliwell, for instance, saw William Holden's costume and thought this had to do with Peckinpah's The Wild Bunch (a film in which, according to Judith Crist, "we watch endless violence to assure us that violence is not good"). Ernest Borgnine's presence may have added to the impression, here he is one of the dozen in a performance that has no equal save Red Skelton on a tear, and when is Red Skelton not on a tear? Gabriel Torres' cinematography is very much part of the dazzle.
The point is to rather exhaustively show "the end of the wicked," so as to comfort those who hunger and thirst after righteousness and are therefore blessed, "for they shall be filled."