This England
"Some place in England," as Bosley Crowther puts it in his New York Times review, up against it in the Blitz, recalling for the benefit of a lady reporter from America its long fighting history.
The oppressive Norman lord, the Armada, "Napoleony Bonypartay", and then, on Armistice Night, the "millennium", all have to be faced in a sequence of stories that tells the tale.
Incompetently, thought Crowther, "ridiculously farfetched," he calls it, "bombast and pageantry," he concludes.
Halliwell had no conception of it whatsoever, "it's a wonder we still won the war," says his film guide.
The Bad Lord Byron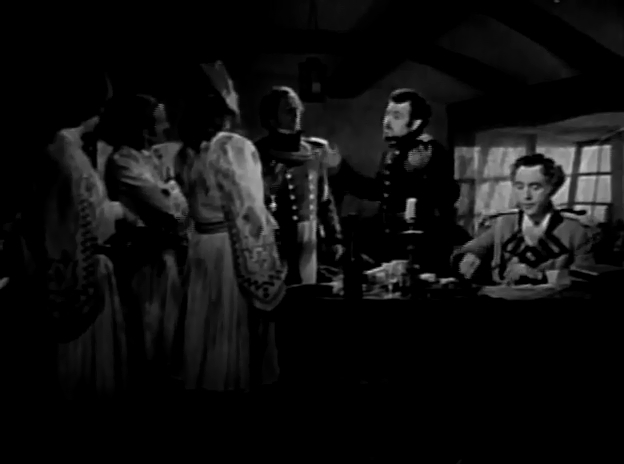 It opens with becoming reverence on a portrait of Dennis Price as the poet flanked by candles, what film critics call with open-mouthed disgust a "reverential treatment", and then deploys a letter read at home to negotiate a depiction of his, the poet's, martyrdom in Greece.
This will be seen to be all at once ahead of Lean's and Russell's similar views (Lawrence of Arabia, Savage Messiah), and Dearden has his Gordon in Khartoum, nevertheless "poets only pretend to die," as Godard says, and the opening shot behind the credits is an important contribution to Hitchcock's Secret Agent borrowed for the present work in just that sense, "there is that within me which shall tire Torture and Time, and breathe when I expire."
As the New York Times looks upon Dylan Thomas in this latter day as a "seducer", so Byron on his deathbed "forgiven" by an exceedingly large public subscription for the Greek campaign is tried in his mind before an English judge as "to be numbered among the angels, or among the devils," a conceit famously in Dieterle's the devil and daniel webster and in Powell & Pressburger's A Matter of Life and Death. Lady Caroline Lamb gives witness, Lady Byron, Mrs. Leigh. For Byron, his friend Hobhouse and Countess Guiccioli.
"She walks in beauty, like the night", "We'll go no more a-roving".
The Frame Bill, the Carbonari, Greece.
Film4, "lacking in insight... we are none the wiser." Philip French (The Guardian), "dire". Tom Milne (Time Out), "undeniably silly." TV Guide, "a static and dull exercise". Hal Erickson (All Movie Guide), "not really a classic, but an acceptable rainy-day wallow." Halliwell's Film Guide, "thought risible at the time."
Christopher Columbus
The Spanish court, a royal commission, years of waiting, intrigue, enemies.
A providential picture, were there no New World, whence should the Old have been saved?
Three ships. "Didn't it occur to you that it was the star that moved, not the needle?" The Magic Mountain, sea serpents, the Sea of Darkness. "Who are you going to trust, God or this jumped-up admiral from Genoa, who's never commanded a ship before? Is he greater than God? Is he to decide whether we live or die?" Landfall at night.
San Salvador. "We are here to convert these natives to Christianity, not to exploit them, is that clear?" Cuba "and many smaller islands." Parting of the ways. Discovery of the hammock and the cigar. Wreck of the Santa Maria.
An influence of Hollywood, to suit the theme. "I agree with my Lord Bishop, but the great thing of course is to have the wit to know it, and make the most of it." Conquest of the Moors.
"Too easy, perhaps." Queen Isabella, "it's easy enough to stay at home and criticize, especially when the person concerned isn't here to defend himself." Five hundred years later, the Smithsonian Institution paused from its recent labors of collecting the nation's kitsch to inform her children that the title character was a villain in no uncertain terms.
Arrest. Return to Spain. "More than seventeen hundred islands, not counting Hispaniola."
Lord Admiral of the Ocean Seas and Viceroy of the New Lands, "there's always a war on."
Score by Sir Arthur Bliss, Technicolor cinematography by Stephen Dade, brilliantly designed by Maurice Carter for Gainsborough Studios. "A long and extraordinarily tedious affair... a notable box-office disaster" (Britmovie). "Reverent to the point of tedium" (Hal Erickson, All Movie Guide).
Bosley Crowther of the New York Times set the tone, as so often. "Static and flat, in the main... uninspired... lifeless... heavily weighted with dramaless pageantry". Variety, "an uncertain entertainment." Leonard Maltin, "stark, slowly paced... earnest". Time Out, "expensively mounted dodo" (citing Richard Winnington's "withering opinion"), Halliwell's Film Guide more of the same (citing Time to the same effect).
Columbus and the egg. "It's easy, when somebody shows you how."
Cairo Road
Anti-Narcotics Administration, a relatively small unit patrolling the Nile Delta.
The structure of the film is provided by the two brothers who run the traffic in hashish and opiates, one in prison and one out of the country.
Pivotal to this is the stenciled portrait of the Anti-Narcotics chief on every wrapper round a plank of hashish.
Extensively filmed on location (Oswald Morris cinematographer, Arthur Ibbetson cameraman). Screenplay by Robert Westerby.
"Don't be stupid, I am the police."
H.H.T. of the New York Times, "routine picture has some sterling ingredients."
Variety, "so-so thriller". Time Out, "workaday thriller." Halliwell's Film Guide, "routine police adventure".
Devil Girl from Mars
A companion piece to Burt Balaban's Stranger from Venus, directly analyzing The Day the Earth Stood Still (dir. Robert Wise) from a satirical standpoint, with a Martian female compounded of mythology, sci-fi, and a soupçon of Baudelairean calcination.
The excellent script skips along with allusions to fairy tale and adumbrations of Quatermass and the Pit (dir. Roy Ward Baker), The Shout (dir. Jerzy Skolimowski), Crimes of Passion (dir. Ken Russell), Star Trek: The Motion Picture (dir. Robert Wise), etc.
The source of Martian power is seen to be inversion constituting perpetual motion, or as the script puts it, "a self-propagating atomic pile right in the middle of the ship."