Next Time I Marry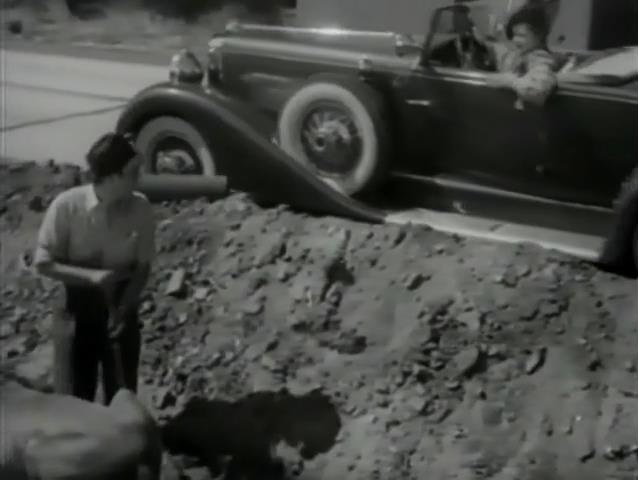 The heiress and the hobo, or W.P.A. meets the foreign debt, or Caroline and the "patent-leather Count", in successive analyses by Minnelli (The Long, Long Trailer) and Kubrick (Lolita) and Lumet (The Last of the Mobile Hotshots).
In itself, a mammoth undertaking to seize (saisir, Ezra Pound's French) Capra's It Happened One Night for broad inspection on a whirlwind basis, from a script not by Kanin yet demonstrating his powers of analysis behind the camera, as when a slow burn on the face of Uncle Crock (or Crook) sustains the Wildean dimensions of his absence from the plot, for example.
Metty cinematography, Polglase sets, Webb score.
Mantan Moreland, father of Norman Fell and Burt Young.
Leonard Maltin, "silly, likable nonsense... unjustly maligned". TV Guide, "implausible yarn... suffers from too much action that goes unexplained." Halliwell's Film Guide, "tedious", citing Variety, "very poor".
The Great Man Votes
How "an American city, 1923" acquired the services of a learned man as Commissioner of Education, despite the party machine and the mayor's brother-in-law.
The two lines of construction tend from Chaplin's The Kid toward Coe's A Thousand Clowns importantly, and much more mysteriously at once through Preston Sturges' The Great McGinty to Whorf's Champagne for Caesar and Tashlin's Will Success Spoil Rock Hunter? (Welles seems to have taken Rosebud from the opening scene).
"The human individuality, if strong enough, will be discovered in the swamps of obscurity," so says "the scrubbiest Roman of them all," late of Harvard, a widower on the outs with her very rich family.
John Greenleaf Whittier has a word to say about "The Poor Voter on Election Day".
Kanin's view of the place is essentially akin to Sternberg's in The Town.
A real intellectual film with an understanding of children, as witness this dialogue between the scholar's young son and daughter.
"It seems to me, people are just as mean in the country as they are in the city."
"People are mean all over. The nice thing about the country is, there aren't so many people."
Variety interpreted this to mean "it will be hailed by class audiences as a fine example of the film art, yet carrying sock appeal for mass patronage" (cited in Halliwell's Film Guide, where "funny political comedy" is the ticket).
"His work is not without charm and talent," says Andrew Sarris in The American Cinema, preferring Kanin's screenplays.
"The wide world has not wealth to buy the power in my right hand," says "a voter by the name of Mr. Whittier."
My Favorite Wife
One of the greatest comedies, an absolute masterpiece for the discovery of its structure and the supreme skill of its resolution, a comedy like no other.
She is declared dead and supplanted of a morning, returns to disrupt the honeymoon naturally enough that evening, but where has she been, and with whom, and what is one to do about that?
It had the inestimable virtue of tickling Bosley Crowther (New York Times), "frankly fanciful farce, a rondo of refined ribaldries and an altogether delightful picture".
Variety was slightly less bemused but couldn't completely grasp it either, finding the plot "pretty thin in spots".
For Time Out Film Guide, "relatively formulaic", for Dave Kehr (Chicago Reader), "late, trivial screwball comedy", which is how these things work out.
Halliwell dimly perceived the theme and its "brightest treatment", he also gives Otis Ferguson's "glow on it."
Among the cast and crew, some Kanin regulars in new guises.
Tom Dick and Harry
The car salesman married to his job, the millionaire, and the car mechanic disillusioned by his boss's suicide, respectively.
Dick's a dream ("Adolf Hitler Assassinated", says the newspaper), and English to boot. Tom grumbles at Hitler in the newsreel, "rallying his people".
With Harry you hear bells.
The Taming of the Shrew is on with Lunt and Fontanne for the Theatre Guild, Inc., "only Chicago appearance", Dick flies Janie there.
"Well, what do you think of it?"
"Oh, it's wonderful," is her intermission reply, "it's really wonderful, it's like a—a moving picture!"
Bosley Crowther of the New York Times wrote "there is no story, really," and spoke of "some slightly strained moments," concluding with "the fantasy is once or twice too coy."
Variety saw "a modern Cinderella with punchy script and dialog."
Otis Ferguson was still more attentive, "foot by foot the best made picture of this year," cited in Halliwell's Film Guide, which describes a "minor classic" that "seems to have faded".
Jonathan Rosenbaum (Chicago Reader) has the screenwriter down as a "communist", the Burton Motors pitch is indeed a very funny sendup and famously accurate.
Ring of Steel
A dithyramb to the fighting man from the Office of Emergency Management Film Unit, "dedicated to the American soldier".
Text by Wallace Russell, spoken by Spencer Tracy, score by Morton Gould.
Apposite images tell the story from the earliest times, "and now, today, here I come again."