The Red Tent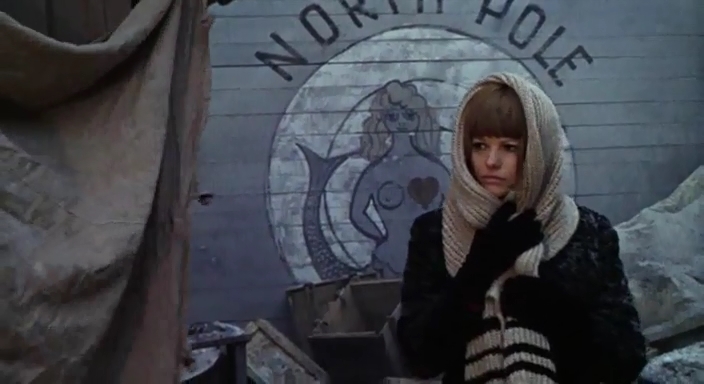 The wreck of the Italia during the Nobile expedition to the North Pole in 1928 (cf. Frank Capra's Dirigible). Forty years and a second world war later, the trial of General Nobile in his sleepless mind (cf. David MacDonald's The Bad Lord Byron), an all-important analytical structure. A mere worldling (aviator Lundborg) is named prosecutor, no less than Amundsen is granted the last word (a tale of a tub), Picasso's Don Quixote is plainly visible on the wall of the General's apartment behind Samoilovich of the icebreaker Krassin.
Kalatozov attends to the facts of the matter as elemental and sufficient, adverse weather, the human factor, the Arctic. His screenwriters add to this noblest of tributes the still further unction of an extremely tenuous understanding that, fine and evanescent as it is, still reckons up the massive ice floes and terrible sublimity as fair game for exploration, after all (a graphite resistor tells the tale). For the Valeria theme, cf. O'Casey's The Plough and the Stars (dir. John Ford) or for that matter Shakespeare's "Venus and Adonis", the contrasting Malmgren theme can perhaps be traced from Lancelot of Lerner & Loewe's Camelot (dir. Joshua Logan) and David Lean's Lawrence of Arabia (the "purity" motif).
The cinematography does all it can to broach the subject of "an awful place" where the stranded crewmen go "walking on water". Morricone takes up the aerial romantic weather of the embarkation in a grand theme that at the start of the film's second hour is replaced with stark appreciation tempered by 2001: A Space Odyssey the year before, finally he unites the two and finds in a symphonic treatment the harmonies of Vaughan Williams' score for Scott of the Antarctic (dir. Charles Frend), a notable influence on Kubrick.
The title of Kalatozov's last film, a Russian-Italian co-production like De Sica's I girasoli, refers of course to the canvas shelter that was salvaged from the wreck and dyed with altitude markers to improve its visibility, something of a "red flag" as one might say (cf. Fellini's rhinoceros and lifeboat in E la nave va) and the probable inspiration (Vertov has the S.S. Lenin dragging its feet something awful in Man with a Movie Camera).
The argument, which is rapid, difficult and understated in the moments before the disaster that rips the dirigible's gondola away from the airframe (subsequently lost with nearly half the crew remaining on board), is put as Italia's dilemma in the Royal Italian Air Force under Mussolini, torn apart by conflicting views that can be found stated with great clarity in Andrew Marton's The Thin Red Line, for example, from Nicholas Ray's Flying Leathernecks, on the nature of leadership. The irony then is that, having tried to spare his men, General Nobile should be accused of abandoning them.
Variety, "compelling and suspenseful." TV Guide, "gripping adventure tale". Catholic News Service Media Review Office, "ambitious... aspires to epic height but blunders with a frame device of Nobile's tortured memories and feelings of failure." Karl Williams (All Movie Guide), "was considered a costly box office failure." Halliwell's Film Guide, "stiffly-conceived... not much good cheer."