Night Boat to Dublin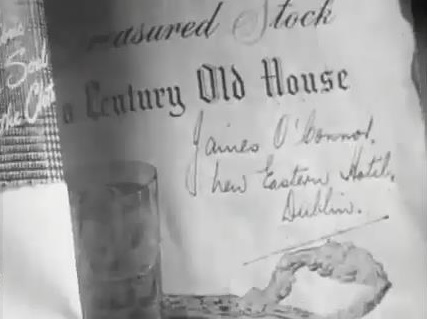 Swedish scientist, working on "atomic explosive, there's no answer to that one," kidnapped by Nazis. "That's all right, old boy, she's at my place, in bed." The Irish Free State is neutral. "Amazing. And he still thinks he's working for the government."
"Yes, it's surprising what one can do with a few forged credentials, isn't it, Grant?" A matter of surprising delicacy, expressed with great care and attention and something of Hitchcock's The 39 Steps here and there, Donat for Newton's softness of manner as the man from Military Intelligence, one of them. A very brutal affair, nonetheless. Superbly directed as a matter of course, patiently, the great news waits for a bit of counterespionage to work things out.
Britmovie, "the film's tense action is crisply-photographed by Czech cinematographer Otto Heller but Lawrence Huntington's off-paced direction fails to capture the espionage excitement." TV Guide, "plodding story... suffers from serious miscasting and off-paced direction." Hal Erickson (All Movie Guide), "if nothing else..." Halliwell's Film Guide, "generally watchable".
Wanted for Murder
Britten signally borrowed, to all appearances, and completed Spoliansky's fragmentary song-theme "A Voice in the Night" for "The Sick Rose" in his Serenade.
Whilst rowing in Hyde Park, the title character says this, "you know, I've always wondered what that little island is like." London directly after the war, splendidly filmed.
Bosley Crowther of the New York Times had simply no idea what was meant, "completely lacking in turbulence or suspense." Unhappily, James Agee was in the same case, "a pleasant, unpretentious thriller of the second or third grade, with oddly contradictory streaks of good and crude directing." Halliwell's Film Guide, "an interesting curiosity."
Just the sort of thing John Ford had in mind when he made Gideon of Scotland Yard (Gideon's Day).
The Upturned Glass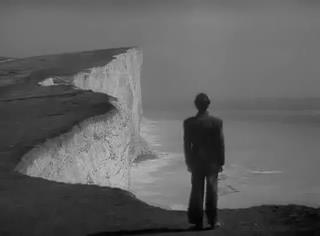 It will be understood very easily as another consideration of themes developed by Noël Coward in Blithe Spirit (dir. David Lean) and Anthony Asquith in Libel, which is to say the historic occurrence of the world wars from a British perspective.
Huntington's exceedingly difficult pidgin is the rare bird neatly dropped by his text but wonderfully hard to realize except in the terms of precisely this realization, an isolated example of the high art required to formulate an extremely abstruse proposition, let us say even on a theoretical basis.
Dangerously the notion could be paraphrased, and here we have Peter Yates and Joseph Losey to the rescue with Murphy's War and Figures in a Landscape respectively on perishing with your enemy or transcending him.
Hitchcock would seem to have been especially struck by this, and found notable use for the material most particularly on television in such works as "Together" (dir. Robert Altman) and "One More Mile to Go" (directed by himself) for Alfred Hitchcock Presents. The extraordinarily troublesome murder is of course a feature of Torn Curtain.
Variety, "interminable narrative... unnecessary flashbacks". Allen Eyles (Radio Times), "heavily contrived, i.e. ridiculous." TV Guide, "a bad title didn't help the screenplay of this heavy drama..." Hal Erickson (All Movie Guide), "a virtual compendium of late-1940s British melodramatic devices." Halliwell's Film Guide, "rather pointless psychopathology".
Cf. Siodmak's The Suspect. Excellent Bernard Stevens score, Reginald H. Wyer cinematography, the lot.
The Franchise Affair
The construction will be recognized as that of Wyler's These Three, it is of negligible interest, serving only to deliver up certain images that tell the tale of Kristallnacht and Jew-baiting in an English village (Dreyfus and Oscar Slater are mentioned), and that is still not the point.
The accuser has a story of forced servitude and kidnapping and assault, the accused have no defense because there is no evidence and so forth, but since the crime never took place, where has the accuser been?
The truth comes out in court.
If there were teacups and Englishmen and "literate talk" it was hell to Bosley Crowther of the New York Times, he saw no point in Huntington's film, "miserably lacking in distinction of any kind." Tom Milne (Time Out Film Guide) has exactly the same view, "strangled", he calls it. Halliwell's Film Guide, "rather too mild."
Michael Denison's performance, which Milne dispraises, suggests especially at the beginning an English James Stewart.
Eight Witnesses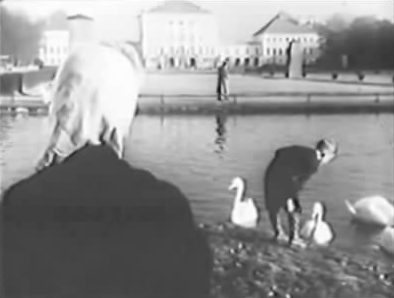 Grand drama of the scientist escaped from Soviet hands who winds up in a Braille reading room at Vienna, murdered.
Cf. Griffith's Edgar Allan Poe, Castle's Texas, Brooklyn & Heaven, Schepisi's The Russia House.
Vd. also the touching story of Browning's "Pauline" by Rossetti "found and transcribed... in the reading room of the British Museum." A shootout among the shelves, "in the middle Minerva."
"You know, there's a rumor going around that you know a little something about higher mathematics."
"That's strictly a rumor."
Halsted Welles script, Pabst's cinematographer (Komödianten, Paracelsus), Lang's and Lorre's composer (Frau im Mond, Der Verlorene).
Death Drums Along the River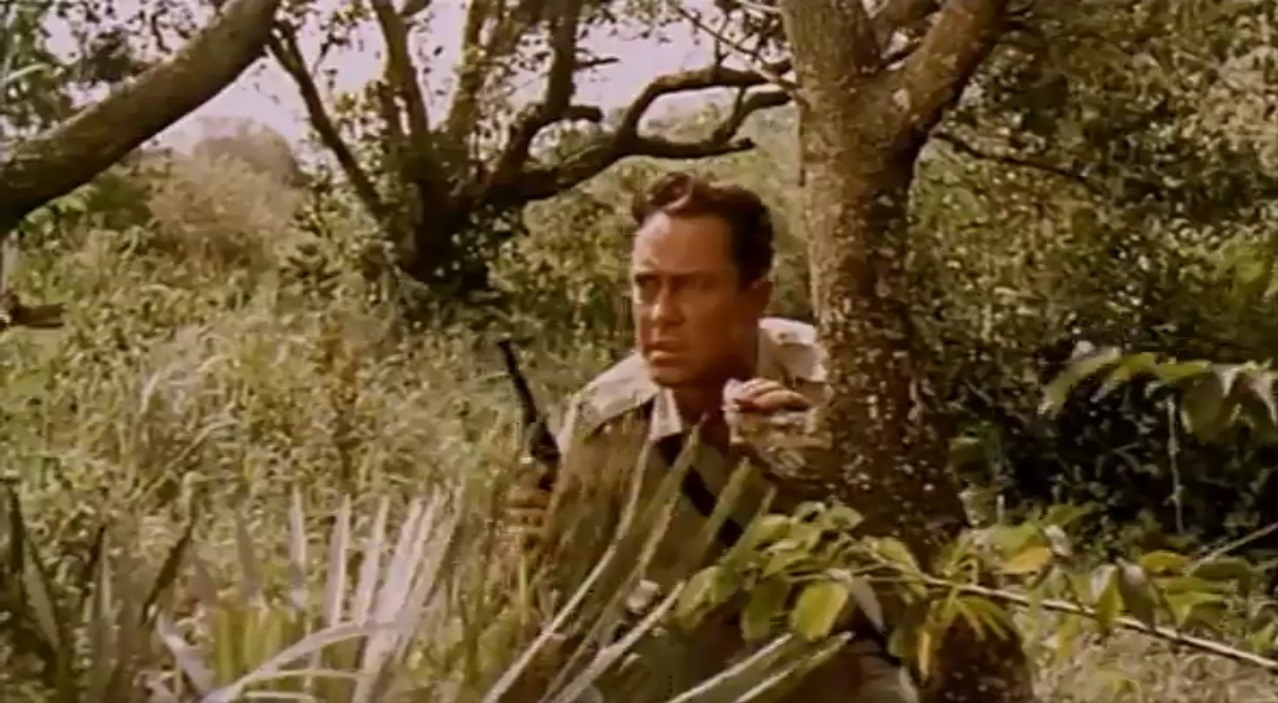 Diamonds and medicine (cf. Reed's The Third Man) and murder in a fictional West African colony very like British Gambia so please you ("we don't get quite so much information now that the French have left") about to attain independence, a profound analysis that nevertheless is not altogether the express point of it, really, when all is said and done. Question of extraction merely, or subtraction, rather than a divvying-up or on the contrary a dispensing of blessings all round (Dr. Weiss or Mr. Hunter the Yank, the merchant Pearson with his hand in everything, Dr. Schneider). A sham death, then one in earnest, the second death...
Huntington's penultimate film (Sanders in U.S., vd. Zoltan Korda) exhibits the perfection of his art ideally, and that is still not the point.
Rather it is to create, by laboring on the screenplay so that its fiendish difficulties are self-contained, a certain freedom on location so that the cinematography by Bob Huke establishes a vision of Africa comfortable and familiar, native in a word. This quite remarkable achievement will be understood as a very proper response to Cukor's Bhowani Junction in exactly the right spirit, furthermore.
Tony Sloman (Radio Times), "strangely appealing".
The Vulture
A reconsideration of the themes in Wanted for Murder, which is the story of a killer, son of Willy, "the happy hangman".
The Vulture shows how the antiquarian Königlich supplies himself with power for a "nuclear transmutation" involving his putative ancestor Francis Real, dead these two hundred years, the Spaniard's pet vulture was buried alive with him and upsets the experiment at Tolferro in Cornwall (cp. The Fly, dir. Kurt Neumann).
The screenplay is constructed on several elements of Easter Island culture, the "bird man" among them, and most importantly that an evildoer goes after death to dwell in a cave and prey on the living, also there is a question of clan warfare, the manutara is mentioned.
Real is thought to have visited Easter Island on his travels.
Howard Thompson of the New York Times dismissed it as a "flaperoo" along with Freddie Francis' The Deadly Bees. Halliwell's Film Guide, "incredible nonsense."