Period of Adjustment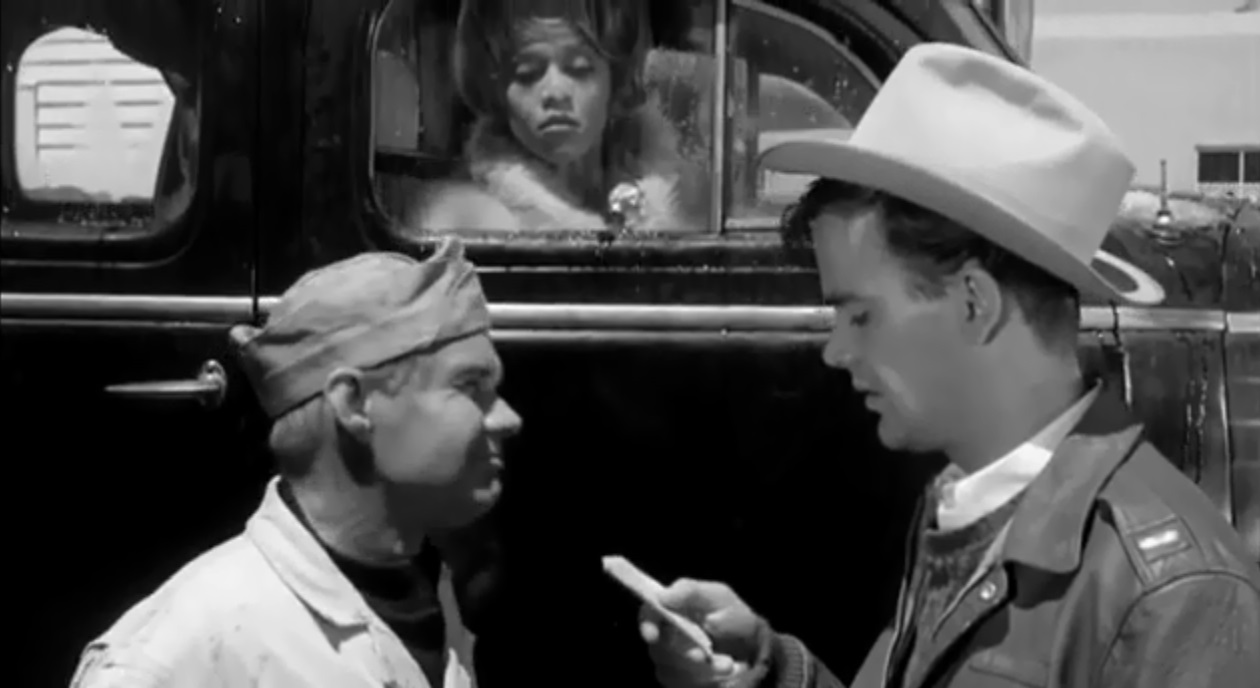 The comedy version of Cat on a Hot Tin Roof (dir. Richard Brooks). This is a specific arrangement of elements so that, for example, one of the husbands married the boss's daughter (cf. Capra's Broadway Bill), the other wants to raise longhorn cattle in West Texas "for TV Westerns... near San Antone", a bone of contention. The Last of the Mobile Hotshots (dir. Sidney Lumet) from the bridegroom's point of view.
Regal Dairy is the firm, Royal Ice Cream, Monarch Cheese. Classic farce structure culminating in a suburban police station with a desk sergeant sorting it out (screenplay Isobel Lennart, fine cinematography by Paul C. Vogel on Oscar-nominated set designs).
Bosley Crowther was aloof (New York Times), "whether it's worth their efforts and whether it's worth your money to watch them fight..." Variety couldn't see it all of a piece, "peaks and valleys," a view shared by Time Out Film Guide, "shifts in tone". TV Guide, "audiences and critics... were taken aback by Williams' first comedy." Craig Butler (All Movie Guide), "pretty tame—which is not to say it's dull."
"Unsuitably widescreened," says Halliwell's Film Guide, as it sometimes does.
Toys in the Attic
It's about the sob sister who calls a halt because she wants a piece of your action. Belated recognitions, the damage done.
Among the brilliant performances Crowther isolated Geraldine Page's singularity as harmful to the play, which he also says Hill destroyed anyway. A film is not a play or a dream.
A powerful analysis, a mighty film.
The World of Henry Orient
A satire of the art fraud, whose world is a fiction dispensed to magazines read by schoolgirls.
His drab, silly piano concerto has a steam whistle in the percussion section (a student of Persichetti's wrote it), the girls outgrow him when they start putting on lipstick for "a mouth like a crimson gash."
Meanwhile he plies society ladies in his bachelor apartment decorated with drab, silly daubs and sculptures. One of the ladies has written a poem for him to set, he sings Whittier joyfully in bed alone,
No cloud above, no earth below,—
A universe of sky and s-now!
Hawaii
When there is a better director than any six you can name, it's George Roy Hill. Every moment of the film tells you so, there is more in his frames than in a pack of terse others. Nothing to it but an imagination quicker than the rest, a stalwart technique, and a screenplay to deal with.
The ministry of Hawaii statehood passes all its trials here, because the foolish minister is a pious man, and the impious folk are no fools.
Max von Sydow, in an English-speaking role, probably does better than just about anywhere else in his experience, though Vincent Canby could not have recognized it under any circumstances, certainly not Hill's.
Thoroughly Modern Millie
A girl comes to the city, becomes a flapper, and tries to marry the boss.
She beats a white slave trader and marries a multimillionaire in disguise.
One goddamn funny film, perfect in its conception and showing Hill at his most industrious, not only him but a whole layout of pros working on every detail under his supervision to get it all, even if Bosley Crowther and Variety couldn't.
Butch Cassidy and the Sundance Kid
The simplest way to understand Butch Cassidy and the Sundance Kid is as the product of George Roy Hill's enormous hard work. For a profusion of masterful setups it is completely unrivaled, in any view.
Then you have to consider the editing, which brings you to the script. The writing is scaled back to the meremost minimum. The editing follows suit, entirely evaporating any form of exposition for directly modeled action. The audience is relied upon to understand all this, which brings us to the beginning.
Part of the screen shows early silent Western footage during the credits. This is a way to lay down all the rules beforehand. The first two scenes continue in sepia tone, and perhaps argue the foundations of early film technique as fully exploited. The real structure is seen to be accrued from more recent films such as The Treasure of the Sierra Madre, One-Eyed Jacks and Lonely Are the Brave, to say nothing of King and Lang and Ray on the James brothers.
There is a general rule that actors and directors share the workload in inverse proportion. The nature of the script combines with the ability of the actors here so that, as Hill takes command of shot upon shot, the little that needs to be done in front of the camera becomes not only freer but more concentrated. This is the essential nexus of the film, there remains to be pointed out the vast number of scenes shot in natural exteriors greatly untrammeling Hill.
The costumes are by Edith Head, which is all the more remarkable in that, like the art direction throughout, they produce no definite impression. Compare the spinning bicycle wheel above the stream that has dampened its spokes as they slow during a gradual transition to sepia, for a complex but very definite impression of a kind. Or, again, consider Kenneth Mars as the Marshal, abstracted as a frontier lawman, but quite definitely in an absurd position as he mines the crowd for a posse.
This is what seems to have given some critics a sense of uneasiness about the whole project, amidst their hilarity. They couldn't see how the trick was done. Another way of understanding it is to look at Cukor, who well knows how to prepare his effects in advance, and puts his camera where it needs to be ahead of time. Hill, rather, sublimates this by the means of construction above described.
Part of the summation of style and technique that makes this a summit of the art is the focal point in terms of dramatic construction supplied by a perfected zoom. Certain critical misnomers have to be displaced, such as an over-reliance on the putative influence of Truffaut, Penn and Peckinpah. The two outlaws are depicted as "never a soul more affable than you, Butch, or faster than the Kid," and yet for all that "two-bit outlaws on the dodge."
Justice is such a paltry thing. To do justice to anything would require a Borgesian map, the one that's coextensive with its representation.
Slaughterhouse-Five
Perforce, a more distant vantage point is needed—and, you have to have time and space both. A theory of movies.
The structure is given by Vonnegut, Hill races about marshaling this scene or that, coordinating a vast repertoire of assemblage from disparate sources (a gag from Hitchcock, a scene from Fellini, a running gag from Kramer, etc.).
The essential thing is the unobtrusive cohabitation of a two-sided imagination within ordered reality, this is represented as hell (Nazi Germany from the Ardennes to the bombing of Dresden) and heaven (an imaginary planet). These correspond to the artist's life and works, respectively. As Sarris points out, "in a century that spawned Hitler and Hiroshima, no artist can be called paranoiac; he is being persecuted."
The Sting
Newman pauses like Olivier as Henry V before entering the card game. Much is made of the King Rat opening shot. The lighting is an innocent trick repeated in Cassavetes' Big Trouble. The Rockford Files made careful studies.
In a way, this suggests the Rose-Alley Ambuscade, Lord Rochester liked to play and hated to lose.
Wherever the sting originated, it appears in a radio episode of The Adventures of Harry Lime entitled "Horseplay". There is no revenge motif, only a sucker, a wallet, a phony betting room, sure things, blanks and phony blood. The plan works well enough, but by a misadventure Lime clears only $2.50 above his expenses.
The Great Waldo Pepper
Josef von Sternberg saw Mozart in a flight of jet planes, and this even more so.
The technique is from Wellman and Hughes, the flying stunts are more than could be required and quite enough for a film, as some critics nearly noted.
But the music or poetry eluded them, and that brings us back to Sternberg.
The metaphor is probably hard to understand, which is why such vast art expresses it.
And after all, we're not talking about incomprehensibility, we're talking about Vincent Canby the new Bosley Crowther at the New York Times, and Pauline Kael stark raving mad at The New Yorker, and Variety censuring the flyboys, and Time Out Film Guide essaying the psychological angle (Roger Ebert comes out ahead in the Chicago Sun-Times).
Slap Shot
It means neither more nor less than Quine's Hotel, and that, unfortunately, is everything.
The World According to Garp
The novel is a charming stylistic flourish with an interesting structure. It gets described as "somewhat cerebral" by Halliwell.
The film posits an impermeable dichotomy, and at length resolves it by a purely mechanical elaboration, almost a Rube Goldberg formula, finding that hypocrisy is an homage rendered to vice in the name of virtue.
Hill and Ondricek film air, not things or light on the surface of things. What would you save if the Prado were on fire? "The fire," says Cocteau. "The air," says Dali.
The opening abstracts the Wyeth from Summer of '42, and takes a note from A Death in the Family. Garp is outed at Jenny's funeral in an image taken from Philip Kaufman's Invasion of the Body Snatchers, and the ending is a beautiful variant of George C. Scott's last shot in Rage, modulating into Charlie Bubbles.
Funny Farm
It's a striking visual thing, the landscapes of Dali and the Chinese scroll painters are so fantastic and yet Figueras and the Chinese mountains look exactly that way. Hill and Ondricek record the fact that Grant Wood didn't exaggerate his landscapes.
The stage dressing of this comedy, which really has nothing to do with New England, is an important if incidental entertainment. This is the land of Robert Frost, and there is no real satire of it.
One of the subtler comedies around, you will have to register it (all of the critics failed, from Vincent Canby up, with the sole exception of Roger Ebert). What is meant to be described is the state of things in literary America. You depart from the past if you begin to write, and that's how Hill films it, the sportswriters have a farewell dinner like Phineas Fogg leaving his club, and Hill found a location in New York that looks enough like London to give an odd piquancy to Mr. & Mrs. Farmer's departure in their English roadster.
Are they facing Indians in Redbud, Vt.? But it's not about locale, to be sure, even though the cinematography is wonderfully precise, and you can just bask in the couple whizzing down the road with all those trees in the background. It's about sitting down to the typewriter and facing the Duchampesque void of "the," or going from the major leagues to softball (where they carry on even if the man behind the plate is knocked unconscious), or the wife's dead squirrel named after you she writes a children's book about that sells, or finishing your novel only to have her burst into tears at the lousiness of it (it's called The Big Heist, and was later filmed as Hold-Up and Quick Change—Jay Cronley is also the author of Good Vibes, filmed as Let It Ride).
Of course, of course you can fake it for money, that's how it's done. But if you overcome that temptation, it's An Enemy of the People. At the end, Mrs. Farmer is pregnant, and Andy is writing sports columns in the Redbud Gazette.
This is brilliance beyond compare, and if you don't get it you're probably a hack.
Madolyn Smith seems to have been born for this, but to be fair, Hill directs everyone perfectly, right down to the dog and ducks. A slapstick scene on a fishing boat ends with Chevy Chase jumping into the lake. Hill begins a new scene with the sheriff and Mrs. Farmer by the lake, a gag of its own, and then in the midst of it Andy is also seen far in the distance, swimming for shore.
You may find Cocteau evoked in the snowfight. Unmistakable, however, is the allusion (unique in one's experience, outside of Orson Welles' The Stranger) to these famous lines of T.S. Eliot's:
There I saw one I knew, and stopped him, crying: 'Stetson!
'You who were with me in the ships at Mylae!
'That corpse you planted last year in your garden,
'Has it begun to sprout? Will it bloom this year?
'Or has the sudden frost disturbed its bed?
'O keep the Dog far hence, that's friend to men,
'Or with his nails he'll dig it up again!
'You! hypocrite lecteur!—mon semblable,—mon frère!'