Flight To The East
Alfred Hitchcock Presents
A very fine way of saying that the old Arab War promulgated by the German Empire and the Third Reich had now shifted to the Kikuyu in Kenya. A former war correspondent is on the take with the symbolic rank of Nazi general.
From the battlefields of North Africa come scavenged weapons worth diamonds to the Mau-Mau, the reporter invents an absconded mastermind to get Sasha the Terrible out of the noose.
Hitchcock flies a magic carpet powered by moths.
Disappearing Trick
Alfred Hitchcock Presents
His bookie misses him, so the late Mr. Gild is traced to Mexico by way of his widow in La Jolla and his new bookie in Tijuana.
The emissary enjoys Mrs. Gild, and ten grand from her husband to keep silent. All he keeps, thanks to a bullet, is a stiff shoulder ending his days as a tennis pro to ladies with money.
The Festive Season
Alfred Hitchcock Presents
The murderous hatred of a brother toward the sister whom he suspects of killing his wife.
It's Yuletide, a friend witnesses the melancholy ménage.
Hitchcock and "that fellow" on TV.
Post Mortem
Alfred Hitchcock Presents
Despite a certain shocking similarity to Russell's film on Rossetti, "Dante's Inferno", this is much closer to Hitchcock's The Trouble With Harry, reversed in such a way that the late husband comes up with the winning ticket.
His insurance agent poisoned him and married the widow. A winning Irish Sweepstakes ticket is in the blue suit worn by the deceased. It's obtained, husband and wife quarrel, he tries to kill her. She's been forewarned, and plucks it out of his pocket on his way to the electric chair.
Hiller's technique is very rapid and very humorous. Reporters spill into the living room out of nowhere with news from the Auld Sod, arranging themselves and the lady for pictures with a questionnaire. She takes a bubble bath three times, he toys with an electric heater. "The first thing I'm going to do," she tells the press, "is buy me a house with a heated bathroom." The brisk but very unhurried tempo casts Steve Forrest (the husband) and James Gregory (investigator) in a new light around Joanna Moore as the merry widow.
The Jokester
Alfred Hitchcock Presents
Hitchcock's joke on his late brother Alvin, the pop star done to death by adulation.
The play is a variant of "Breakdown", reporter lies doggo, nearly gets elderly morgue attendant fired. A paralyzing accident puts him away for good.
And The Desert Shall Blossom
Alfred Hitchcock Presents
The miracle is brought to bear outside Reno at a prospector's shack facing the town council.
Have to grow something or show ore to be homesteading, the two old goats are precarious, need looking after.
They kill a New York gangster in from California with a busted car who rousts them at gunpoint for the Reno trail, he fertilizes the rosebush.
Hitchcock in a black cowboy hat, the English director way out West. "This is no mirage, no optical illusion. I'm as real as a piece of motion picture film, as authentic as a shadow."
Mrs. Herman and Mrs. Fenimore
Alfred Hitchcock Presents
This takes place around the turn of the century at a boarding house run by Mrs. Herman, who is so highly selective she has no boarders at all until Mrs. Fenimore arrives, an actress whose company has just folded.
Together they hatch a plot to kill Mrs. Herman's Uncle Bill, a miser who lives with his niece. Mrs. Fenimore with her lovely speaking voice is to lull him asleep reading (Sir Walter Scott's "The Lay of the Last Minstrel"), Mrs. Herman will manipulate the gas. This entails a certain amount of seduction, to win the old goat's confidence.
So much that Mrs. Fenimore secretly marries the victim beforehand, and her fee is instead paid to Mrs. Herman, "just as soon as the will is read."
Mary Astor, Dodo Merande and Russell Collins are the three nonpareils attended by Hiller as ringmaster. Wesley Lau wears a mustache for his walk-on as a police detective.
The Morning Of The Bride
Alfred Hitchcock Presents
An exquisite study for Psycho, which derives from The Lodger, in the atelier of the master, who says that a ball-and-chain is better than unchained balllessness.
Mail Order Groom
The Rifleman
A very subtle argument, in the best manner of Hiller hilarity. He (Peter Whitney) is a mighty man of Ohio come out West after a courtship by mail, he has to subdue two pretenders to his rightful place in the lady's affections.
Not the Running Type
Alfred Hitchcock Presents
An engaging joke, with an introductory warning by Hitchcock, "no symbols where none intended". A clerk in an insurance office, one of the "mild and quiet ones", takes a fortune out of the company's money, turns himself in without it and serves a dozen years of a fifteen-year prison sentence reading travel books in the library.
Upon his release, he's visited by the police lieutenant (now a captain) who arrested him, and voluntarily returns the money. Girls in short pants play shuffleboard on the deck of an ocean liner while he sips his drink on a world cruise and explains to a fellow passenger just how much interest can accrue on such a sum.
Forty Detectives Later
Alfred Hitchcock Presents
A hardboiled mystery, and very ancient. The murderer must be punished, put out of one's misery, quelled in a word.
A very sharp point of wit obtains in Hiller's direction, as usual.
Hitchcock has another ancient mystery, the prehistoric wheel and its other ("B") side.
The Baby-Blue Expression
Alfred Hitchcock Presents
The dumb blonde mistress in a murder plot gets herself into a jam and is rescued by her own dumb luck, only to find her captivating face is her misfortune.
Her lover engineers a way to send the boss, her husband, as a "one-man cavalry charge" to the firm's Toronto office. The murder takes place en route, she is to write "a good smarmy letter" for the police to find, but mails it with the plotter's instructions. It's left the post office, things are hopeless, a smitten bellboy announces its return for insufficient postage. No problem, he licked a stamp and sent it right back out.
No-one understood the joke of Tay Garnett's Cause for Alarm! (from the director of The Postman Always Rings Twice), this is a commentary. "I don't think you know," the lover says early on, "how far that baby-blue expression of yours could carry you."
A Woman's Help
Alfred Hitchcock Presents
"It's rather like home movies made by Picasso or someone," says Hitchcock.
The sickly bitch of a very rich wife keeps her husband in tow, he escapes by a stratagem most particularly pleasing to admirers of motherhood and apple pie.
Hitchcock in negative, greeting the stork.
Make My Death Bed
Alfred Hitchcock Presents
The title comes from "Barbara Allen", a favorite song of Bish (short for Bishop) Darby, who wins the heart of Mrs. Taylor and is shot by Mr. Taylor before Mrs. Darby's poison has a chance to work.
"Was I born to have just one man," asks Mrs. Taylor, "and just one life? Was I to be dedicated to the gods of Bellefonte respectability?" The homicide comes as a surprise to her, perhaps she miscalculated on her husband's equanimity.
He's taken into custody, the body is carried out, she sweetens her coffee with saccharine left by the wife (visiting her folks) for the dead man's diet. Lying on the sofa, she gives an a cappella rendering of the song he accompanied himself with on a guitar.
The doctor, a family friend, calls the widow, who thinks her saccharine pills did the trick, and is ready to turn herself in.
The Wheeler Dealers
Certain deals come very fast, war surplus planes for bananas, re-introduction of Japanese cameras, nail polish remover in the Suez, others take finesse.
Le Cochon Très Cher, New York eatery, very swank.
Universal Widget, Great Eastern Offshore Oil, capital for Texas wildcatting, the essential wising up ("The Very Dear Pig" contains a variant of the snooty French maître d' a knowledgeable Southern Californian trips up with a word, "mojado?").
Tyroon hits New York, sweeps Wall Street off her feet, turns Marcel Hillaire into Vito Scotti, the competition is "an art critic and very intelligent."
Louis Nye as Stanislaus, the painter of "500 clams".
An intensive, exhaustive analysis, a masterpiece at twice the price (psychiatrists and lady stockbrokers handle that department).
The Whipples of Massachusetts, formerly in widgets. "Don't think I'd paint a falsehood on my door, do you?"
Robert Frost told Senator Kennedy he was indeed a Democrat but not a happy one in many a long decade.
"We'll drill right through the rock to the Eocene."
The Government absorbs the loss. "Be patient, something outrageous is bound to come along."
How to build a bandwagon, "what's a widget?"
This is very closely related to Delbert Mann's Lover Come Back.
Midgets, widgets, it's a fight against Soviet supremacy in the field, whatever it is.
Communications, that's it. Universal Widget Industries, a broadly diversified company. "WIDGET TO ENTER MIRACLE DRUG FIELD".
Stanislaus on his art trike, believe it, "the real thing is excitement, win, lose or draw!"
He's a Yale man, Tyroon the Texan, strictly out of Boston.
Is there oil in Massatootsie, as Poe would say?
It becomes a Federal case, in New York.
The girl's name is Thatcher, Molly Thatcher.
"Wildly exaggerated" (Tony Mastroianni, Cleveland Press) "...a pleasant, escapist, frothy affair."
Bosley Crowther of the New York Times was baffled, "lacks wit," he wrote.
Halliwell's Film Guide concurs, "slick, loud, hollow".
The Addams Family Goes to School
The Addams Family
The Addams Family and The Munsters (that hommage à Clovis Trouille) appeared simultaneously in 1964. Hiller's direction of this pilot episode offers a rich presentation of the very full mise-en-scène, and a few rare shots such as Gomez from behind on the landing (Gomez is recognizably Mr. Bean's adoptive father).
The nominal plot has Allyn Joslyn as a school superintendent trying to corral Pugsley and Wednesday. Gomez and Morticia are shocked by Grimm's Fairy Tales (though Morticia admires the name), wherein a dragon is slain. Joslyn, terrified by the maison Addams, reflects, "I see your point! From dragons to guns to bombs to atom bombs! We can't have that!" And as he rolls his eyes like waterwheels, he makes his exit.
The Americanization of Emily       
The first movies on Omaha Beach.
Joyce Grenfell as Virginia Woolf as Mrs. Barham.
PR for the Navy. All a matter of heroism for the title character, who is indirectly involved, so to speak.
Hiller at top speed accommodating Chayefsky.
Fuller's D-Day experience assuredly goes into it, it's a preparation for Nichols' Catch-22 without a doubt.
The mad admiral is by way of Koster's D-Day the Sixth of June.
Promise Her Anything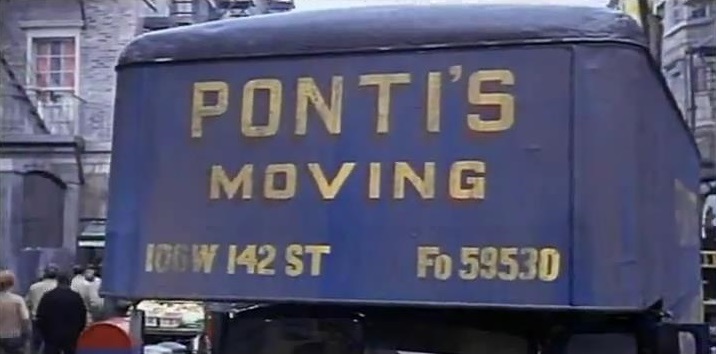 The mail-order filmmaker in need of a brainstorm.
The technical advisor's widow and infant son new to Greenwich Village
Her boss the baby authority at Gotham University.
By William Peter Blatty out of Arne Sultan and Marvin Worth, score Lyn Murray, title song Bacharach-David (Tom Jones), English crew (Slocombe, Shingleton, Waterson et al.), Maurice Binder titles, significantly remembered by Truffaut in L'Argent de poche.
Cf. Resnais' I Want to Go Home. "You're sweet!"
"God bless your perception."
Every filmmaker must have a John Thomas or Zazie. "Hey, what is this, anyway?"
"A runaway production." Ben Casey on location at the G.U. Child Study Clinic with Lionel Stander as Dr. Zorba. "Oh, you must be crazy!"
"Yeah, that's what they said about Van Gogh." An electronic babysitter, "very efficient".
Variety, "a satisfying comedy." Geoff Andrew (Time Out), "shot in Britain but set in the supposedly wacky Bohemian world of Greenwich Village." TV Guide, "a well-paced effort." Mark Deming (All Movie Guide), "a woman has to choose between the rich man she wants and the bohemian type who loves her in this comedy." Halliwell's Film Guide, "scatty comedy".
Penelope
Here, as large as life, is the larger part of the mind represented vociferously by Natalie Wood, it lies on a couch, uncorks one, and is debriefed.
Tobruk
The speeding proposition here is Afrika Korps uniforms with Jews inside them, accompanying British POWs on a commando raid against Rommel's fuel supplies.
That, and the future State of Israel already in the wind, and the Grand Mufti of Jerusalem bargaining with Hitler, is the film not seen by critics then or since, though several have complimented the filming.
Popi
All that was necessary, difficulties of filming aside, was for Hiller to shoot the script verbatim, yet he goes all out in a vigorous display of fine technique. In much the same way, Lester and Tina Pine (who have set the mark in this) could have balmily breezed the thing by, but they spare no effort to finish it up properly.
There are some precedents or later associated films of considerable importance, but the one above all is Chaplin's The Kid. This is a very cosmopolitan rendering of the material in hand, precisely the acknowledgement required.
All that matters is that Popi (Alan Arkin) gets his kids out of Spanish Harlem by transporting them to Miami Beach and making it appear they have drifted over from Cuba, but they would rather be with Popi.
You can see the pains Hiller takes in every scene, as for example the one in which the two boys (aged nine and eleven) are taught how to row a boat. The camera shows a close-up of the bow moving right and left, then a set-up in the boat shows each boy handling an oar, with a reverse shot of Popi coaching them, back and forth until the long shot at a down angle shows the water and numerous boats.
Local talent fills the scenes as extras grading perfectly into well-placed secondary parts (nurse, boat owner) in ideal turns, to a more complicated group of actors around the main action (Anthony Holland as a priest whose first question for the rescued and unconscious boys is about their denomination, Rita Moreno as the feminine interest), finally reaching the vortex of Arkin and the two boys. Hiller shows himself in a class of directors capable of working with children on the highest level, certainly in concert with Arkin.
And of course it's all filmed on the spot, the camera walks out past the mailboxes onto the New York street, cranes way up for the departure, flies down to the trudging plotters on the sand in front of the big hotels (seen later from just offshore at night, swanky) a far cry from rotting Gotham, hell without Popi, whose real name is Abraham.
The Out of Towners
A great big fuck you to New York after so many travails of a Midwestern would-be junior executive, the most exasperatingly self-minded litigious bumpkin who ever took flight, him and his long-suffering wife, that's how bad, evil and horrible the reality of Gotham is.
Simon pits the least grateful visitor ever, and his gracious wife, against the Big Apple and finds it rotten to the core, no contest.
In this Hiller situates the swiftest inspiration ever, cinematically.
Plaza Suite
Hiller's formal affair, catered by Neil Simon (or vice versa, if you prefer). It all ends very happily, after a buildup of pure surrealism, with the lady saying yes.
The Hospital
A monumental exposé of professional incompetence matched on the business side by Robert Wise's Executive Suite and on the academic by Richard Rush's Getting Straight.
Hiller has the opening in stride, full-measure takes of slowly dawning comedy. The great neurotic love match is the mountaintop, while the thing descends in social silliness easily handled by the director.
The question was, what would critics make of all this? They ducked.
It's the man who goes to the hospital for his nerves in Friedkin's The Night They Raided Minsky's, things only get worse there, all night he calls out, "Nurse! Nurse!"
Man of La Mancha
Twain's joke is that the South was made of reading too much Sir Walter Scott (and the North perhaps James Fenimore Cooper). Hiller has Cervantes before the Inquisition, which in the practical surrealism of the play is an ad hoc court of thieves and murderers in a Spanish jail.
Like Minnelli's Flaubert, Cervantes presents his work (the starting-point of Hiller's film might have been the burning and unburning of the book in Pabst's Don Quixote). The "court" are the characters, Cervantes is a poet and playwright, a man of the theater, formerly a soldier and a slave in his time.
The jail is a Spanish village, the windmill a giant, of course, the inn a castle, the "alley cat" and "trollop" Aldonza a fine lady, Dulcinea, who must be defended against muleteers who won't pay.
Alonso Quijana's family seek to disabuse him of the madness caused by too much reading and too many sorrows, he wins the heart of Aldonza and dies thus redeemed, the prisoners who hear his story embrace its meaning as Cervantes and his stage manager go to be judged, as one might say, in earnest.
This was, for Vincent Canby of the New York Times, "an evening of schmaltzy entertainment."
"More a vehicle for the music than the narrative," said Variety.
"I was confused by the first 15 minutes of the movie," said Roger Ebert of the Chicago Sun-Times, "I couldn't figure out what was going on."
"Idealism tends to be translated as sentimentality," says Time Out Film Guide.
Halliwell's Film Guide pronounces it "unimaginative".
The Knight of the Woeful Countenance and the Great Enchanter his foe, who is the Knight of the Mirrors. Cervantes explains the title, it is what he is and his creation as well, "God help us." Dali has "the only difference between myself and a madman is that I am not mad."
The Theft
Insight
A burglar enters the home of a well-off couple, who try to inveigle him into their ongoing argument.
This little piece by Michael Crichton seems to have been written under the inspiration of Who's Afraid of Virginia Woolf? and perhaps Nabokov's The Event (but see an episode of Alfred Hitchcock Presents, "Guest for Breakfast"). What's rather astounding about it is the well-nigh catholic image of the burglar and its treatment à la Melville in so short a space and to very comic effect.
Hiller's direction among realistic sets is authoritative and effortless. Lawrence Pressman and Sharon Farrell as the couple speak their torrential lines like vaudeville patter, and Lou Antonio has his display of simian grace as the burglar.
The Man in the Glass Booth
There is a great deal of discourse in the film, and some momentary question of Arthur Goldman being Karl Adolf Dorf, the point however is to adduce finally the death camp victim who is all, and let the experience speak for itself in a way.
This was altogether too enigmatic for critics, even the virtuosic performance by Maximilian Schell, who is as many Jews as can be sprung from his art in two hours of screen time, may be said not to have received its due, and that's saying a lot.
Dorf ran a death camp, Goldman runs a New York building empire, they are not the leading characters though both are played by Schell.
W.C. Fields and Me
An imaginary portrait, post mortem, secondhand from the memoirs of a fictional mistress whose name is Carlotta Monti like the real one, a mouse on a mountain, in a manner of speaking.
Certain slips allow the genuine article to be seen, drinking ("like blood to a vampire") behind the set of The Old Fashioned Way (dir. William Beaudine), pissing on a politician from a balcony in Mexico (the politician had just come over the border, officially), "olé."
Silver Streak
On the train from Los Angeles to Chicago, a mild book executive with a nonfiction list meets a secretary who can't read her own handwriting, she works for an art scholar who is murdered and thrown off to scuttle the revelation in his new book that a notable collector's Rembrandts are phony.
Publisher, secretary, murdered author, collector, tragic and terrible to a point that requires the villain to burn several letters by Rembrandt to destroy the evidence.
Critics complain it isn't funny enough ("except when Richard Pryor is on the screen," says Variety), though there are a number of good jokes.
According to Time Out Film Guide it "dawdles rather than streaks" but is "designed to provide fun on a spectacular scale". Thus Halliwell, "amiable spoof", citing Pauline Kael, "fake thirties mystery comedy, which is so inept you can't even get angry."
The In-Laws
"Does reality essentially remain outside language, separate, obdurate, alien, not susceptible to description? Is an accurate and vital correspondence between what is and our perception of it impossible? Or is it that we are obliged to use language only in order to obscure and distort reality—to distort what happens—because we fear it? We are encouraged to be cowards. We can't face the dead. But we must face the dead because they die in our name. We must pay attention to what is being done in our name." (Harold Pinter)
Hiller would like to turn his director's chair aside, put his elbows on his knees and laugh quietly. Mostly, he does that, but to avoid any semblance of affectation he vigorously supplies cross-cutting and pans and zooms as necessary, the better to laugh.
He has going for him the Capra touch, which is another way of saying his script is in order, his actors are capable, all he has to do is set up his shots one after another. With "the Capra touch," Peter Falk at a Honduran hotel vanity table is funny—Honduras is funny, things have the Eisensteinian or Vertovian sequence connecting the funny bones, "where every word is at home..."
Nightwing
J. Lee Thompson interpreted much of this in Firewalker, and Robert Redford is another connoisseur who's borrowed and paid homage here and there. The critical and public ignominy of the work, which must have caused much laughter in the director's life, principally stems from his extraordinary way of working with this material.
In fact, Hiller probably lost his audience within the first few minutes, with the credit sequence. He opens in a helicopter shot among the mesas at twilight, then, incredibly, dissolves after a few seconds to another angle, sunup, setup after setup during the credits, dimming, sundown. This creates a greatly dramatic effect, and you can see so easily why he did it that way, it oughtn't to have been a problem—but it violates film grammar deliberately as it is understood, and was taken as a mistake. This determined the understanding of what follows.
The problem, beyond a certain point, is that you have to follow this. When the Indian shaman dies and his canvas shroud exudes blood and the body disappears from its grave and he is reported seen and then reappears among the rocks and finally announces the end of the world, you have a sequence of Christian imagery set forth unexpectedly, explaining by contrast the disaster which befalls the fellowshippers at the campfire.
The climactic oil fire certainly comes from The Life and Times of Judge Roy Bean (which incorporates footage from Heisler's Tulsa), with a joke on "for He is like a refining fire." The crucial image of the unconscious scientist during this scene is directly from Goya—El Sueño de la Razón.
So badly have audiences slept through Nightwing that Hiller's painstaking citations of The Birds in style and substance have gone unremarked except by sniggers. And yet his imagery flows in a stalwart, sterling sequence—the dead horse, the shepherd boy trampled by his flock, the overturned van burning on the desert—amid a great representation of New Mexico, showing it to be one of those places impossible for painters to exaggerate.
Author! Author!
Hiller's technique of stillness in The In-Laws is certainly more relaxed here, or more careless within its disposition. Instead of turning away to allow the jokes to transpire untouched, he savors them a little—which is probably just another way of saying that the kids required expert direction and he gave it (this is similar to Ford's way of working as often as not—only really applying himself to situations that demand control).
Since Halliwell could "only speculate as to why it was made," it's all about being a playwright. The world is a wife who says "I am what I am" (God's phrase), the Muse is Dyan Cannon as Farrah Fawcett, directors are ex-husbands with custody battles, the backers are Bob & Ray (for $1,300,000), there are "a lot of mouths to feed" (Andy Warhol's phrase), the producer is Alan King.
The glory of Horovitz's concoction is its vigorous 1-2-3 punch, and especially a fine pirouette on the children as constituent elements of inspiration becoming disparate recipients of it—diaspora and pentecost.
The Lonely Guy
"It's a quarter to three…" This is where a joke by Jean Renoir modified by Woody Allen gets expanded into the bed of Ware interviewed by Merv Griffin.
Teachers
In contrast to the planar objectivity of Lumet or Jewison, Hiller sees it as a springboard to an offhand counterpoint, or rather planes interacting. The simple metaphor is Baudelaire's albatross soaring or stumbling in the context.
The various contingents break like waves on each other, retreat, clarify. The experiment is to educe reality out of shifting planes and thereby establish a relationship amongst them, à la Mondrian. Cliquish poseurs like the critics, who are not good students, found themselves at a loss.
See No Evil, Hear No Evil
Hiller opens slowly on New York at the start of the day, a noisy place full of movement. Dave (Gene Wilder) is a pleasant middle-class fellow completely unaware that a truck has stopped short to avoid hitting him. The driver yells abuse and turns the corner, where he's stopped by traffic. Dave belatedly returns the insult, which is mistakenly received by Wally (Richard Pryor), a working-class guy who feistily boxes the air Dave has just stridden through.
The continuation shows that Wally, riding the subway with his sister to bet on the horses, is blind, and Dave is a deaf man who runs a sundries stand in a downtown lobby. The point of detailing this exposition is to show how detailed it is.
Wally drops fifty bucks at the track and takes a job with Dave, as it happens, working the curb in a Daily News apron. A nervous businessman distracts Dave and places a gold coin in the cigar box on the counter, a woman in red enters and kills him, Dave and Wally are arrested.
Hiller's style is a progression from The In-Laws, with a seeming devil-may-care for these events, and a real disregard for the earlier diligence and solid precision of Popi, for example. He places the film on a level with its abstractions by sustaining it along certain points. Dave and Wally escape from jail and are nearly murdered by the woman (Joan Severance) and her partner (Kevin Spacey) before making off with a police car. The opening of this sequence is filmed virtuosically with Wally at the wheel guided by Dave, and process shots fill in much of the rest.
So the comedy of the film is not in a direct homage to slapstick, nor even in the exacerbation of the heroes' physical conundrum, and must be sought elsewhere, because even though many hands polished the screenplay's verbal comedy, the real action is in the structure.
The coin is revealed to be no coin at all but a microchip in a replica, the big cheese is a wealthy blind man (Anthony Zerbe) with plans, and what you gradually have is a picture of the Management Revolution as a form of trickle-down class warfare.
Canby laughed with the smart money, but Ebert and some others were unable to make head nor tails of it. Reading their remarks is like being in the film or wondering what that crazy silversmith was yelling about.
Taking Care of Business
The larger plan of business essayed by Hollywood in an analysis given to grift as an out in a World Series played imagineeringly by the Chicago Cubs.
The Babe
A deflationary response to Field of Dreams (as a deus ex Spielberg) and The Natural (as too much of a good thing). The result is on the order of Amadeus in its lack of idolization, and Raging Bull is its straightforward view of the vicissitudes.
What there is of Babe Ruth as a distillate of this complicated position is just that.
Burn Hollywood Burn
A well-wrought composition explaining the terms of Alan Smithee's existence.
If a producer mangles a picture, the director is Alan Smithee and the end result is null and void.
This one bears that name, and has been regarded as such by critics.
King Vidor's The Fountainhead, Blake Edwards' S.O.B. and Robert Altman's The Player are never cited as precedents in reviews.