An Inspector Calls
The girl is introduced, a formidable coup de cinéma, replacing the Inspector's thunderbolt.
There is another parallel, Buńuel's Susana, on the comic side.
A.W. of the New York Times, "merely intriguing... a genteel adventure". Time Out Film Guide, "a minimum of cinematic imagination".
The Colditz Story
The film is now easily situated between Renoir's La Grande illusion and John Sturges' The Great Escape.
The striking exactitude of Hamilton's direction is a constant feature, it never fails and while it never goes beyond itself, as Billy Wilder does in Stalag 17, it lays the groundwork for his later films and is expressive to the fullest possible extent.
The Devil's Disciple
The World Turned Upside Down is a great Ibsenite article, so naturally Shaw turned at the American Revolution his understanding and his style to locate the scapegrace on the gallows for a parson, who then turns rebel as a result of the injustice and the affront of British arms. Matters of deadly earnest, toy soldiers as shown.
A.H. Weiler of the New York Times spoke of "comic iconoclasm", "irreverential ribbing" and the like, thought Shaw was down and Olivier up, Lancaster and Douglas "in proper muscular counterpoint". Worst of all, he thought "Shavian wit" was wanting. Variety was of exactly the same mind.
A Touch of Larceny
The opening scene is very Bondish (Terence Young's From Russia with Love, for example, but here the lady is married), the plot is hatched aboard the Shellduck rather like Newman and Field in Lumet's Absence of Malice, and "Rammer" Easton's mishap in the Skellies is just the sort of joke Preston Sturges favors (Sullivan's Travels).
With such a comedy upbringing, there can't be any question of the filmmakers' intentions, though A.H. Weiler of the New York Times didn't think it was funny at all, not even unintentionally.
Observe the witty script and find him wrong. Better still, note how drolly Hamilton's camera does its functional work, how fine the cast are (James Mason, Vera Miles, George Sanders), what a superb film it is on the asses of the Press.
I due nemici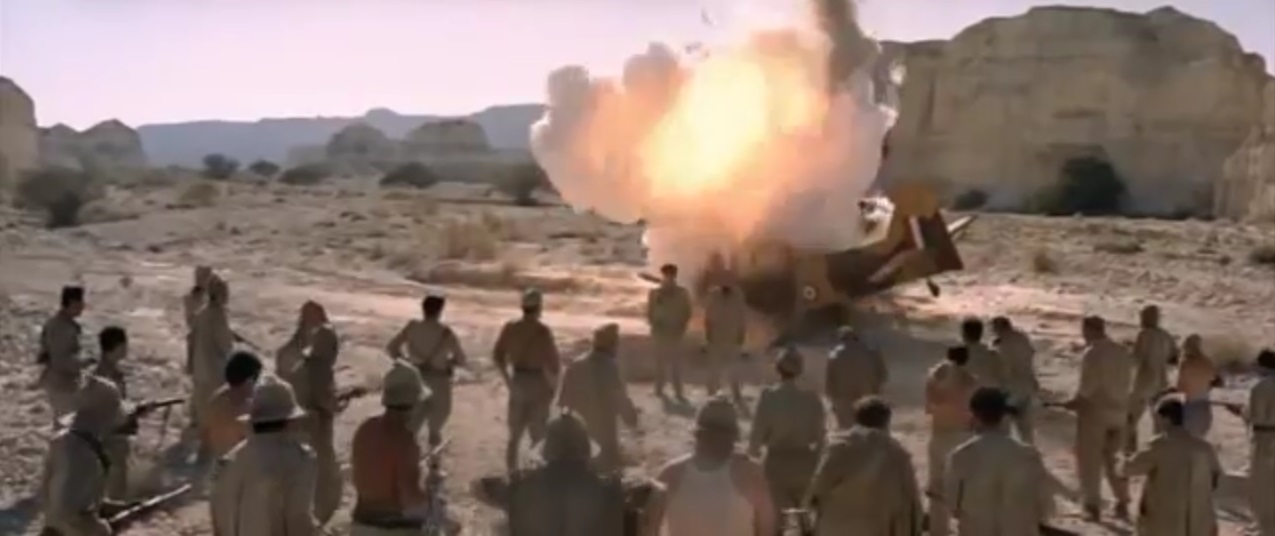 "What are you doing there, you never saw an English prisoner before?"
"No." The Italian dub of The Best of Enemies, story Luciano Vincenzoni, adaptation Age-Scarpelli and Suso Cecchi D'Amico, screenplay Jack Pulman, Technicolor and Technirama cinematography Giuseppe Rotunno, score Nino Rota, production Dino De Laurentiis.
"ABYSSINIA 1941". Question of a surrender parley, the Italian doctor's sweaty handkerchief is a useful item, "be sure and give it back, I have only the one." A fine memory of Huston's Beat the Devil in the Italian captain's futile rage, even more rarefied is the allusion to Clarence Brown's The Yearling (antelope mascot). "My compatriots were constructing sewer systems when yours were painting their faces blue."
"We have made progress since then." Parody of Lean's The Bridge on the River Kwai... By degrees, the natives, cf. Pollack's The Scalphunters. "Ma sono gli scherzi della guerra, amico mio." Sam Peckinpah recalls certain aspects in The Wild Bunch (surrounded on the hills, the railway yard at Addis Ababa).
Mark Deming (All Movie Guide), "in time, the two men become friends and exchange banter as they take turns capturing one another," actually it's merely a question of "gli onori della guerra," perhaps with reference to the American Civil War (cf. Enfield's Zulu).
Bosley Crowther of the New York Times, "it makes you wonder:
"Is it all in fun? Or what?" Variety, "the screenplay is peppered with brisk jokes and unexpected offbeat situations which keep the proceedings light and easy. Hamilton has directed with a sure touch which brings out the characteristics of the two opposed nations admirably." Film4, "a witty comedy of military errors." TV Guide, "a continuous barrage of jokes, witticisms, and fun." Halliwell's Film Guide, "mild".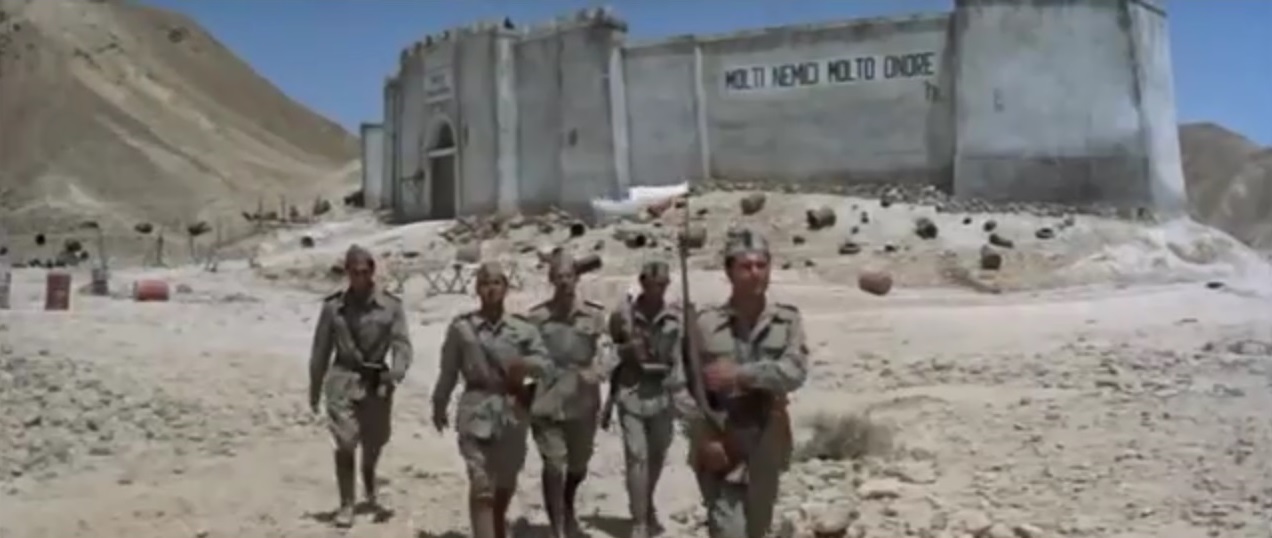 Man in the Middle
The man in the middle meets a lovely Eurasian nurse (France Nuyen) and instantly asks her out to dinner, before that he is a soldier brusquely assigned to court-martial duties, afterward he is a defense counsel in earnest.
That is the beautiful shape of the film expressed in Robert Mitchum's performance. It's a thing of many small fragments, as film acting often is. He's missed promotion to full colonel, therefore he's a season or two behind the pace. It's 1944, he's just been released from an English hospital, he walks with a stick. The new assignment was in Ceylon, anyway his orders have him en route to Colombo when a general calls him in. He did well in Law at the Point and successfully defended a soldier court-martialed around 1930, but has no other substantial experience apart from soldiering (Silver Star, Purple Heart, battle ribbons). The implications of the defense are not considered beyond the broadest outlines of the war (Christian Duguay's Hitler: The Rise of Evil has a courtroom scene that suggests a case of mass hysteria). A racial paranoid kills a British sergeant, the Americans are called upon to hang him. Psychiatric evidence is waylaid and destroyed, moreover anyone but the most blinkered observer recognizes a deranged man, "sick, warped and lost".
Two scenes convey the war effort before the final push out of India. The general (Barry Sullivan) is a man with ten thousand responsibilities pressing upon him in a busy office. The doctor in charge of the base hospital (Alexander Knox) is exactly the same amidst a constant influx of sick and wounded men.
The accused (Keenan Wynn) won't take the stand, there is no defense, an area commander in the British medical corps who happens to be a practicing psychiatrist (Trevor Howard) knows the man quite well and gives testimony that provokes an outburst from him that tells all. Nevertheless, unity and victory and military necessity dictate a tacit conclusion noted by Crowther in his otherwise dismissive review.
Goldfinger
Hamilton springboards into this on Terence Young's development of Pop motifs, and on Ken Adam's elongated designs, then he's in with a most fearsome technique of his own, based on intersecting diagonals. After the comic-book style and elegant sprawl of his openings, this is of startling precision. There are relationships with Hitchcock's North by Northwest and Rear Window on one side, and on the other joking references to Edward Albee's Tiny Alice and John Chamberlain. The very complex structure is anchored to a variation of the prologue/Miami Beach sequence as the Fort Knox/epilogue sequence. In turn, the Miami Beach scenes modulate (on the theme of sport) to the scenes in England, continuing by a visual metaphor through Switzerland and Kentucky to the conclusion.
The duck decoy on 007's head as he scubas in to shore at the beginning is a gag on From Russia with Love, which opens with the death of a faux Bond. Arriving at a Latin American heroin refinery, 007 lays plastique, zips out of his wetsuit and puts a carnation in the buttonhole of the dinner jacket he's wearing. He meets a contact at a nightclub, tells him the revolutionaries will have to find another way to finance their operations, lights a cigarette and consults his watch. Explosion. He takes the nightclub dancer to his room, they kiss, and in her eyes he sees reflected an assassin bearing down on him from behind. They fight, knocking the assassin into a bathtub full of water. He draws a pistol, and Bond casts about in a fraction of a second for a defense, a small electric fan he sweeps with his hand across the room and into the tub, where it electrocutes the fellow. "Shocking," says Bond, putting on his jacket as he goes out. He looks at the girl crumpled on the floor. "Positively shocking."
After this dangerous case, he is next seen relaxing by the pool in Miami Beach. Hamilton establishes this with a helicopter shot much emulated and to great effect, notably by Lewis Gilbert in You Only Live Twice. So much groundwork was laid by Terence Young in Dr. No and From Russia with Love that there is nothing much for Hamilton to do in this vein, but here he resolves Young's process shots by subsuming them in the copter shot that prepares his own rear projection poolside scenes, decisively.
Felix Leiter interrupts Bond's recuperation with a seemingly trivial request from the CIA, asking 007 to nab a card shark whose first name means "golden" and whose last name is that of a famous architect. Auric Goldfinger bilks tourists at gin rummy, using his girl Jill Masterson to read their cards with binoculars from his hotel room balcony. Goldfinger pretends to be hard of hearing, but the earpiece of his hearing aid conveys her radio messages to him. Bond takes over her end of the business and tells Goldfinger to get lost.
James and Jill have a grand time of it back in his hotel room, until he is knocked unconscious and awakes to find her covered in gold paint and dead from skin suffocation.
In London, Bond is briefed on Goldfinger, who is an international gold smuggler whose methods British Intelligence can't deduce. Q Section, which has in development a resiliently bulletproof vest, equips Bond with an Aston Martin DB5 outfitted with various offensive and defensive weapons, including a tracking device that enables him to trail Goldfinger's Rolls-Royce Phantom III Sedanca de Ville (remarkably similar to the Phantom II Sedanca de Ville in Anthony Asquith's The Yellow Rolls-Royce that same year) driven by his Korean chauffeur and disposal man, the tongueless Oddjob, whose weapon is his sharp-edged hat. But first, Goldfinger and Bond play a round of golf for a bar of gold raised from the Nazi hoard in Lake Toplitz by British Intelligence, which insists that Bond bring it back. Goldfinger cheats, so 007 plays a trick on him and wins. Goldfinger is now greatly vexed a second time, and has Oddjob decapitate a lovely statue merely to impress Bond with the violence of his wrath. Bond wants to know what the management will say, and Goldfinger replies, "I own the club." Bond is in his DB5 trailing the Phantom II when a new white Mustang convertible passes him by, driven by a lady in a hurry. His sporting instinct is aroused, but he's on duty. "Discipline," he reminds himself. At a scenic overlook, Goldfinger stops to buy fruit. 007 stops on the roadway just above, and above him the lady has also stopped. She is Tilly Masterson, and just as her sister stared down through fixed binoculars at Goldfinger's card game in Miami, Tilly now looks over her gun barrel at Goldfinger and Bond between them, whom she nearly hits. He pursues her, deploying a gag from Ben-Hur to shred one of her tires (and part of her undercarriage), nonetheless playing innocent as he takes her to a filling station. This shot invokes the limitless vista of Terence Young, and in an Alpine valley.
Bond meets Tilly again that night when he is reconnoitering outside the plant where Goldfinger dismantles the body of his Rolls-Royce and melts it down, all gold. Tilly is attempting to kill Goldfinger for rubbing out her sister. Bond prevents her, but guards set upon them both and they flee in the DB5, dispatching one carful of pursuers by laying down a smokescreen, and a second with an oil slick. The car's rear bulletproof shield gives cover in a standing gun battle, but Tilly is slain by Oddjob, and Bond stunned by her death is captured.
Driving away in a cordon of escorts, Bond pulls the ejector seat on the guard beside him, and speeds away through the factory. In one of many Hitchcockisms, the old woman at the gate fires a machine gun at him (North by Northwest), but the windscreen and side windows are impervious, and he races down a narrow alley between buildings. It is night, bullets are flying (they leave large marks on the windscreen), and Bond sees a pair of headlights coming at him. He fires the DB5's twin machine guns, but finally has to swerve into a building to avoid a collision. The car smashes through a wall and stops amid toppling masonry. Oddjob looks inquiringly to see what was the matter, and smiles at a large mirror hung at the dead end of the alley.
Bond is spread-eagled on a tabletop of solid gold, and above him, at the same angle as Jill's gaze and Tilly's aim, is a laser gun focused at the edge of the table between his feet. Bond isn't unseam'd from the nave to the chops only by dint of the words "Operation Grand Slam," which he overheard prior to his capture. He's placed in a cell, from which he escapes by mystifying a guard and makes his way underneath Goldfinger's war room (a vast and immensely refined set by Ken Adam), where he pops his head up into a model of Fort Knox and listens as Goldfinger tells the top crime bosses of America how he plans to rob the place using their resources. The bosses demur, wanting their millions back, and are massacred (another opponent is crushed inside a Lincoln Continental at an automotive junkyard).
Goldfinger's main instrument is an Amazon named Pussy Galore, who runs an all-girl Flying Circus. They are to incapacitate the fort's 35,000 troops with nerve gas while Goldfinger, backed by the Red Chinese, turns his laser gun on the door of the gold depository. Bond, however, "appeals to her maternal instincts" during a tussle in the hay at Goldfinger's stud farm.
Everything looks orderly during the daylight robbery. Bond is handcuffed to an H-bomb on wheels, designed to render the U.S. gold supply unusable and raise the value of Goldfinger's. The soldiers all get up, they haven't been gassed, Pussy's called the CIA, the game is up. Goldfinger removes his coat, revealing an officer's uniform, thereby escaping (he kills a squad as he goes).
In the vault, Bond frees himself from his handcuffs and still has to contend with Oddjob, whose hat misses him and slices some electrical cables. Bond seizes the hat, maneuvers Oddjob against steel bars, hurls it at them where it lodges, and as Oddjob reaches for it, Bond in a fraction of a second dives for one of the sparking cables and applies it to the steel bars, electrocuting the fellow. The H-bomb is ticking away, Bond cannot figure out how to disarm it, there are seconds to go, the CIA arrive and switch it off.
Agent Leiter sees Bond off at the airport, where the man from Military Intelligence is taking a chartered jet to Washington, D.C. The President of the United States wants to thank 007 personally, and there's liquor for three on board. Once in the air, who should step into the cabin but Goldfinger. They wrestle for his pistol, which Bond fires through a window, and the depressurization expels Goldfinger. The plane is descending rapidly, and Pussy at the controls is helpless. On the ground, radar shows their blip suddenly becoming two. Surrounded by verdure, with a cheery-looking parachute behind them, Bond and Pussy see a copter pass by overhead. She waves and shouts, but he says, "this is no time to be rescued," as they embrace under the canopy of the 'chute.
Hitchcock partly remembers those diagonals in Torn Curtain (and perhaps the Alpine car chase in Family Plot as well). Pussy Galore's Flying Circus become the swimming-pool executioners in Godard's Alphaville, and the costume gag in Russell's Billion Dollar Brain surely originated here as much as anywhere else. The restatement of the opening theme figures prominently in The Quiller Memorandum (dir. Michael Anderson). The bomb gag occurs without diminishment in a variation at the end of The Andromeda Strain (dir. Robert Wise). Hamilton's direction is unmistakably a groundbreaking achievement of comic-book style. Ken Adam's designs, including the heroin refinery so briefly seen it must be another set reworked, are really most magnificent. The Fort Knox interior requires an entire sound stage, and is as fine as anything ever built in Hollywood. Under the credits, after the prologue, Robert Brownjohn projects scenes from this and the earlier films onto a model painted gold, in a kind of selah.
The Party's Over
The terms of the allegory are simply stated, Phil's Judas suicide (The Greatest Story Ever Told, dir. George Stevens), and Eddie Albert's Roman face (as Festus in Peter and Paul, dir. Robert Day). "The payment has been made, in full!"
Variety, "tawdry yarn, loosely scripted," citing "censorship problems". Mark Deming (All Movie Guide), "cautionary drama." Halliwell's Film Guide, "an unattractive display of moral squalor."
Funeral in Berlin
The martyrdom of Col. Stok is, as one would say, a feint, it brings out the best in Berlin. The dilemma arises, then, of a twofold problem at the office, a Nazi stringer and a security risk in cahoots with him for a Swiss fortune.
Here is where Palmer is nearly swept out with the other rubbish by a squad of megillah guerillas, but this is not so complicated as to justify Bosley Crowther's repeated confession of ignorance as to the meaning.
Battle of Britain
There is a great deal of silliness on the ground, and a great deal of mayhem in the air. The structure is divided on these points, each is expressed in a single figure. Air-Marshal Dowding quietly, firmly, sadly states the actual position as it is known to him. A rookie pilot emerges visibly an ace.
The critical failure was caused first by rapid editing of the incomparable flying sequences with their painstaking inserts and cutaways, and then simply by a lack of apperception regarding the various scenes around the battle. The two parts of the structure are met in Walton's Battle in the Air.
Diamonds Are Forever
Before the title sequence of girls in diamonds, 007 brutally interrogates suspects in Japan and Cairo, and finally pinpoints Blofeld, whom he eliminates on the verge of having a double made by plastic surgery.
Undercover, Bond trails stolen diamonds from South Africa to Amsterdam, where Hamilton has the diamonds-in-the-chandelier gag Hitchcock used in Family Plot.
The diamonds are shipped inside a body to Las Vegas, where they are recovered by cremation at Slumber, Inc. (Morton Slumber, prop.). Bond nearly meets the same fate, but is reprieved at the last moment by the gang. "You dirty double-crossing limey fink," says Shady Tree, a Vegas nightclub comic (Leonard Barr, a crosseyed wizened sort of Gene Kelly), "those diamonds are phonies!" With Felix Leiter, Bond conducts Operation Passover at Circus Circus. On his own, he penetrates The Whyte House, owned by billionaire eremite Willard Whyte (Jimmy Dean), and finds Blofeld alive, supplied with several doubles, and supplanting Whyte by means of a telephone voice box. Bond wakes up in a brand-new pipeline under the Nevada desert. He contrives to summon a repair crew, who are astonished to see an Englishman in black tie emerge from the access hatch. "Thank you very much," says Bond, "I was just out walking my rat and I seem to have lost my way."
Whyte is held captive in a mountain getaway under the thumb of two Amazons, Bambi and Thumper (the image is from Godard's Alphaville). Bond gives them a good dunking in the pool, and Whyte is rescued, but not before Blofeld has sent Whyte's satellite to Vandenberg, newly-fitted with a diamond laser. Blofeld, operating from his command center on an oil rig off Baja, demands that the nuclear powers destroy their weapons. Bond must replace the computer control tape (apparently a cassette of The World's Greatest Marches—"I so hate martial music," says Blofeld) with a dummy (the real march tape) before Washington, D.C. is immolated. He finds assistance in the form of Tiffany Case (Jill St. John), a key figure in the diamond-smuggling ring. There are two main points of very considerable interest, the elevation of the theme from the South African diamond mines to the fringes of outer space, and a puppet in the Whyte House.
Everyone has had his turn in the series, this time it's the Maibaum/Mankiewicz screenplay (and John Barry's score) dominating the picture with its brilliance (which is difficult, considering the dazzle of the earlier scripts). It is a feat of main strength or tour de force of invention on a theme, and that is the most elemental of its qualities.
It follows stolen diamonds from South Africa to Holland by an easy stage, but the continuation to Las Vegas via LAX is stupendous and, if one might borrow the metaphor, cuts the film into a jillion facets at about the moment when Bond smashes a skylight of the Whyte House and lands on the throne.
Diamonds Are Forever may have been difficult to grasp at the time, but now, when Downtown Las Vegas (where its major car chase was filmed) is literally covered by a mall, the prophecy it contains has proven as true as its poetry is exospheric.
Live and Let Die
The sustained force of imagination governs the film, which begins with a sacrifice play (giving subtitles to "The United Nations, New York City"), gets into gear pretty rapidly, and then takes off into absolute surrealism probably derived from the serials. There is a persistent reference to Hitchcock's North by Northwest (enlarged upon here in the finale) and Hawks' To Have And Have Not, but a new structural basis is laid with the Scarface theme (one of its earliest derivations is alluded to—Cooper & Schoedsack's King Kong). The main pursuit is, most astonishingly, the model for Hal Needham's Smokey and the Bandit.
Hamilton's recomposition includes a finale that manages to resume the whole series quite rapidly. It must be pointed out that in Goldfinger Bond is made to say that The Beatles must be listened to with earmuffs on, and this film opens with Britain's UN Ambassador "getting killed through the ears," even before Paul McCartney sings. The action sequences are handled in a way that turns out to be almost oneiric, at a precise point between precision and ellipsis, showing why stunts are called gags, and finding a new language along the lines of what is laughingly called slapstick.
This is where Hamilton comes into his own, after two rigorous explorations of the script, or where he allows himself to, or is obliged to, as Terence Young's equal at spycraft.
The Man with the Golden Gun
This ought to be seen on a double bill with Dreams That Money Can Buy, so that the simplicity of Richter's work and the complexity of this may be seen to mutual advantage, for this is a work of true surrealism and (as Scaramanga says) "an indisputable masterpiece." Hamilton deals this very slowly with cards from Michael Garrison's The Wild Wild West and Sheldon Leonard's I Spy and Leonard Freeman's Hawaii Five-0, and goes on down to their predecessors, the Hollywood serials, all in a technique refined almost out of existence.
Refined but still present. After the most soaring flights of fancy, the film stops to pay homage to Hawks' The Big Sleep with an interpolated résumé. The very final image is borrowed from Welles' Othello.
Another way of measuring this film's greatness and Hamilton's modesty would be to note its relationship to Buńuel and even to Dreyer at one point.
The Man with the Golden Gun surpasses every criticism, and that is one approach to surrealist cinema, which might be considered the highest form of that art whose essence is the perception of obscure reality with the clarity of dreams. The Dalian analysis of the title character is the real motus of the film, the subtle dispersion and collection of its scattered elements is caught by Hamilton in an editing scheme to match.
Force 10 From Navarone
Hamilton treats this, after a cursory résumé and curt exposition, as a sequel and continuation of J. Lee Thompson's The Guns of Navarone, and in so doing introduces a stretto tempo right at the outset. Critics have always had difficulty following this even when it occurs in the final reel (cf. Keaton's The Paleface), whereas Hamilton only slows down a little, and very briefly, when he wants to build suspense. Consequently, if for no other reason, critical response has been uneasy. The general line of attack is expressly stated as twofold. In the one case, our guys in Yugoslavia (the Partisans) are really their guys (the Chetniks), and in the other, our real guys have one of their guys incognito. The demonstrable objective is to blow up a bridge over which the German Army plans an advance, but this entails destroying a dam upstream, releasing water to sweep it aside in a Confucian metaphor of truthtelling.
Lean's The Bridge on the River Kwai, Michael Anderson's The Dam Busters, perhaps Anthony Mann's The Heroes of Telemark, and even Carol Reed's The Third Man (in a ruse involving stolen penicillin) are all implied or suggested. The style provokes instantaneous acting from the players, all of which is first-rate and calculated so that Richard Kiel's magnificent turn as a Yugoslav is essentially matched by Michael Byrne's quiet Nazi, and Barbara Bach's self-contained double agent by Franco Nero's devious one. Robert Shaw and Edward Fox are interestingly cast as officer and sergeant respectively, Harrison Ford is an American colonel of the no-nonsense variety, Carl Weathers adds a note from Kurosawa's The Seven Samurai or John Sturges' The Magnificent Seven, and finally Alan Badel as the Partisan leader in a rough spot is balanced by jovial Cmdr. Jensen (Philip Latham). Ron Goodwin's march is an unequivocal homage to Elgar and Holst and Walton.
The Mirror Crack'd
The most boring English girl in a certain village at the time of the Coronation receives from the idol of her young life that same deliverance out of mundane cares the star herself enjoys in the last scene, from Mankiewicz' Cleopatra (this follows on a bit of Hitchcock's Suspicion).
The daughter of the cinema might have been blonde and brilliant, the copy of a Bellini Madonna and Child is brought into the complex yet seemingly casual phrasing of the initial murder at Gossington House amidst a fete.
Such things as an American film producer and a British cinematographer are seen to the life. Miss Marple has the extraordinary tenacity of mind to solve Murder at Midnight even when the film breaks at the announcement of the killer in the village hall.
The Marty N. Fenn production is Mary, Queen of Scots, set designs and makeup tests are underway.
Evil Under the Sun
It's all very well on the Yorkshire moors, but "nicer, much nicer, in Nice." The case resumes Poirot's work on the murder-for-gain in Guillermin's Death on the Nile, and there is a second murder to cover a theft. This involves the complex image of a Broadway star returning paste for a Tiffany diamond, hers is the witness that is silenced. The minute quantum of surrealism applied to each degree of reflection in all the many facets of the film makes a sprinkling of dazzle everywhere, so that Canby reports nothing but "style". The locale, for instance, is an island castle turned resort hotel by royal gift to the king's mistress upon his marriage (the girl was a colleague in show business), and is meant to silence her. The sublimity of the Ustinov Poirot attends upon a sunbathing Englishwoman who goes out in the noonday gun. Hamilton deploys his forces by land, sea and air at wide removes to isolate the effective remedy in a close approximation of a jigsaw puzzle or associative thought.
The picture of Majorca that obtains is sufficiently detailed and mysterious as to reflect the preoccupations of the director (and even Antonioni's L'Avventura) as a red herring against the main revelation, Anthony Shaffer's terrible unmasking of the young couple whose mysterious teamwork is nearly as ingenious as the great Hercule Poirot himself, who would rather leave the matter to the police but is goaded and inspired to this understanding by the proprietress after all, it's a working vacation for the London Trojan Insurance Company.
Remo Williams
The Adventure Begins
Hamilton opens with a gallery of magnificent architectural studies. After this overture, the film begins as a variant of Lewis Gilbert's You Only Live Twice, death by water, resurrection in another guise, etc. Joel Grey's rendition of the martial arts master is in every way remarkable, beginning with an Oriental stillness to which is added a veneer of age eked out by one of the best makeups ever devised for this purpose (there are few that vie with this), and a dancer's moves.
The villain is a manufacturer of defective weapons, who has an in with the Army. The structure throughout is that of an Americanized Bond film, with Hamilton's own Goldfinger also cited in the laser security device that wrecks the factory it's designed to protect. Hamilton's deep English style is brought to the fore in transitional scenes that are lighted with a certain mystery, and the great set pieces are pure Bond. The casting of Fred Ward typifies the naturalness and unexpectedness of the entire film.
The style overall is superfine and lavish in equal degrees. There are many instances of the former (Charles Cioffi's dossier photos, Kate Mulgrew's comedy, Remo suspended from a tree trunk vertically transported along a horizontal cable), and for the latter, there is the long and detailed swath of debris down the hillside after the borrowed truck has gone over, followed by Remo in quest of the master still inside the wreckage.