Doughboy
Combat!
The war to end all wars suffered an armistice and was resumed as before to make the Second Thirty Years War (1914-1945). This is minutely described from the American viewpoint as a solitary effort and a painful relapse.
Big Bertha, now known as Frieda, is a large railroad gun sheltered in a hill between shots. Saunders and his patrol are looking for it, the middle-aged doughboy (last of his unit in 1918, wounded and decorated) found it in the morning and was going back for dynamite when he captured Saunders as a "Heinie".
The image of an endless German convoy on a raised roadway traversed by a culvert is sufficient. Once through it, the doughboy is wounded and sent to a field hospital, but in this second half of the war, "World War Two" Saunders calls it, the big gun is silenced from the air.
The Chase of Fire Raid
The Rat Patrol
Sgt. Moffitt joins the patrol as a desert expert on the scientific plane. Rommel is advancing and in need of fuel, there is an Allied dump buried under the sand by winds. It becomes a question of destroying the fuel before Hauptmann Dietrich gets his hands on it. As the commanding officer puts it, "in the desert, the last guy to run out of gas wins."
This shows the inspiration of the series to have been Annakin's Battle of the Bulge with its race for fuel and desert abstractions. The patrol is seen at the opening on a typical mission, attacking a German truck convoy like fighter planes against a squadron of bombers.
Moffitt has a Cambridge Ph.D. on "the ecological structure of nomadic tribes". Meteorology is among his interests. The initial operation is a blazing success, a line of trucks defended by armored vehicles, with the sound of "Lili Marlene" and then the war news, is quickly set afire and rendered useless. The second, with Dietrich heading for the same point, costs a jeep but leaves him pounding sand.
Wheels
Mission: Impossible
South of the border, two parties symbolized by a cock and a bull. The election is rigged, how to unrig it?
Rioters break into the polling place (a two-booth police station in the key district). One machine is disabled, Barney is wounded.
Cinnamon reports an absconded gigolo. The police trail her to a liberal-minded bookseller, whom Rollin impersonates on election day, feigning a heart attack in the voting booth, which brings on a medical crew (Briggs and Willy, hiding Barney underneath the stretcher). Barney adjusts the revolving counters, the ambulance departs, the votes are counted, honestly.
The Trouble with Temple
I Spy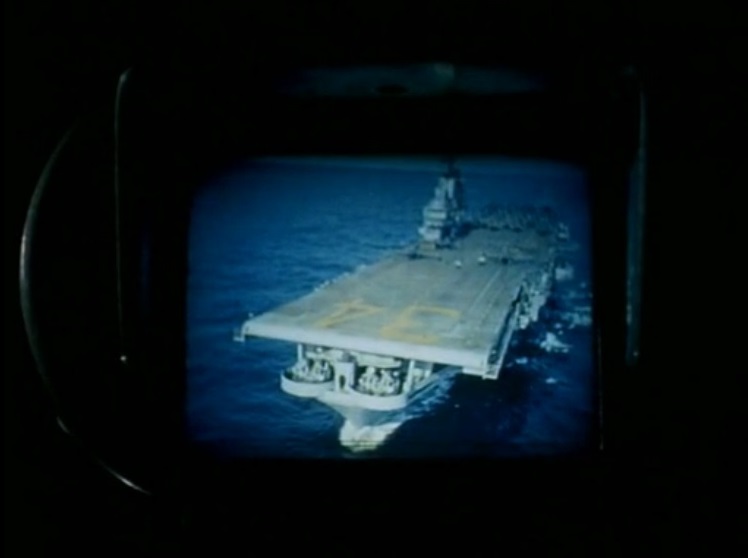 "How come with all your brains all you do is play a nutty game like tennis?"
Estudio Moro, Nick Fielding Prods.
Films with superadded content, subtext, a little extra drift, tendentious, "message" films (cf. "Double Exposure", dir. Richard Quine, Columbo). "Now now now, what grave thought has flitted its way across the Kafka landscape of your mind," Robinson asks her, standing above El Greco's Toledo, a long way from Watertown, New York.
"I'm a dumb broad. I'm a very stupid chick who deserves everything that's coming to her."
Will Penny
Critics who liked it for its realism (Roger Ebert, Chicago Sun-Times) and dismissed it as incompetent (Renata Adler of the New York Times) didn't take stock of its incommensurabilities, a series of narrative segments on the man who knows better, what agony and uselessness there is in that, though it brings him out ahead in the long run, by his lights, since he's a cowboy and nothing else, neither a rancher nor a farmer, peace of mind is a few dollars in his pocket, the work ain't steady by any means, it's like being an actor, you join the troupe or the trail gang for a season and that's it, "maybe next year" says the cook in farewell, maybe not, so there's another job for the winter, holed up in a shed on the far reaches of the spread to keep out trespassers and mind the livestock.
If there's an adventure, it's a dispute over an elk with a Bible-pukin' coot and his sons o' thunder, or there's a lady and her boy traveling out West.
All of this is likely enough, as Adler observes, and natural, says Ebert. The cowboy's position is somewhat hard to define except by Robert Frost, he has a fine line of conduct to see him through perilous hard times, a doctor might be half a day's ride away, and a railroad spur in the middle of nowhere is the new end of the cattle drive, no town, no nothin'.
100 Rifles
Yaqui Joe, Sheriff Lyedecker, Sarita the Yaqui maiden, Mr. Grimes of the Southern Pacific, General Verdugo, and Von Klemme of the Imperial German Army.
The lines of the revolt are weak and necessitous, Joe helps his cousins with the proceeds from a Phoenix bank holdup, in rifles (he's first seen quarreling with a whore who wants to be paid).
Lyedecker, formerly of the U.S. Cavalry, goes south to fetch him. Verdugo catches them both in his net, Lyedecker becomes a General of the revolution.
He drives through Sarita like Verdugo's HQ in flames, like a captured army train barreling into town.
She's gone, Joe's in charge, Lyedecker returns without him, Grimes strikes a deal with the new regime in Sonora.
"Noisy," said Howard Thompson of the New York Times, coining a phrase.
Fernandez' La Rebelión de los colgados is a good starting point, or Conway's Viva Villa! for Reynolds as Joe.
The Hawaiians
An amusing view of labor conditions and capital investments in the far west during the latter part of the nineteenth century and into the twentieth.
We should nowadays say, with Hitchcock, that it is an art film and be done with it. Critics at the time valued most what matters least, the formal abeyance of a romantic story or some such license, and actively applied themselves to several degrees of mockery concerning the film's inestimable virtues.
Gries, perhaps depending on a widely-read novel, has a surer grasp of narrative logic than can be found anywhere, his steady rhythm carries the story forward and anywhere as it will, with the utmost grace.
The sense of a leper being a man who would rather be someplace else, the bubonic plague at Honolulu, suchlike disasters were derided as superfœtation much as Schoenberg said of The Good Earth, "what do you need music for?" Elements of spectacle they are not, but the comparison still obtains with such a film as Anthony Mann's Cimarron, for instance.
Breakout
A very serious drama, up to a certain point ("singularly lacking in humor", says TV Guide).
The CIA takes an interest in a Santiago man, American, who's crossing their policies. They arrange a killing in Mexico and get him convicted.
The man's grandfather runs a huge fruit and shipping firm out of New York, he insists the grandson be kept alive.
The wife hires a guy in Texas to get him out of prison, Apollo, Texas.
Spencer Tracy and Katharine Hepburn could not do more with this than Charles Bronson and Jill Ireland do.
The husband is Robert Duvall.
A sheer masterpiece (with Sheree North, Roy Jenson, Alejandro Rey, Randy Quaid, Emilio Fernandez, Dan Frazer, and Paul Mantee as the man from the CIA).
John Huston runs the firm.
Breakheart Pass
A gubernatorial relief party aboard a train for Fort Humboldt with replacement troops and diphtheria medicine is actually meant to arm the Paiutes and steal gold and silver from the West.
The wanted murderer hogtied in the Governor's private car is a Secret Service man.
A superexcellent train mystery, a perfect political satire, and a great Western.
One of the persistent myths promulgated by recent film criticism is that, before Zinnemann's High Noon, the Western was a negligible production. Another in this species has it that the French they are a funny race.
Critics who are not bothered to consult Robert N. Bradbury's Blue Steel, or Lesley Selander's The Light of Western Stars, or any film with Bob Steele or William S. Hart, may reliably confirm the truth about Westerns by watching this film, a classic Western benefiting from half a century of experience, and marked by the color photographic realism of Altman's McCabe & Mrs. Miller and Kaufman's The Great Northfield, Minnesota Raid.
The clarity of Alistair MacLean's script is a considerable aid to the director, who in his profusion of shots finds a tissue of allusions and quotations on a vast scale.
One of the magisterial Westerns Charles Bronson made around this time (Terence Young's Red Sun, John Sturges' Chino, Frank D. Gilroy's From Noon Till Three, J. Lee Thompson's The White Buffalo, Peter R. Hunt's Death Hunt).
Helter Skelter
The reading of Revelation 9 to fit dune buggies and electric guitars and The Beatles (Manson is the fifth angel) forms the centerpiece of this extravaganza taken from court records and police files and eyewitness accounts.
An old ploy, Manson's dream of blacks killing whites and then going back to cotton under the Family, old as Twain's Murel.
Manson on the witness stand describes unloved runaway children in his care, and expresses his murderous rage against everyone else.
It's Springtime for Hitler, Manson's "turned-on dude".
A convict's con game on the young, "jailhouse games", says Bugliosi.
The Greatest
The Greatest is distinctly played along the lines of The Joe Louis Story (dir. Robert Gordon), which emphasizes the differences between the two great boxers, and it's played along an interior angle that is belied by the ring footage, until they converge in Zaire. This makes it a stylistically unpalatable film for connoisseurs of the fancy and cinéastes in general. The star lends himself to this as he lends himself within the film to his career and his life, well-known to press photographers. It's a tenuous thing to represent, and the main effort is in a representation of what was lent in the first place.
The direction has a way of discretely cultivating performances, one after another, a quiet juggling act. The vicissitudes of Ali are not pleasant to watch or contemplate, seen from the purely professional side rather than the artistic one, but they make for the film that was intended rather than expected.
One scene has the master running with his training entourage, who gradually halt while he, conversing all the while, keeps his steady pace with really effortless ease. It's the keynote of the film, surprising as it is, and that can't be manufactured.
Other sources can analyze the art or moot the life over, but here we have the testimony of experience, and Jones' Malcolm X, Mosley's Liston, Borgnine's Dundee, etc.