Opération « Béton »
The laborious and entirely professional filling of massive concrete courses one atop another to make a dam in Switzerland "as high as the Eiffel Tower" is the sole and entire concern of Godard's initial work on film.
Shelley's "stones, stones, nothing but stones" are almost instantly made into gravel from three-ton boulders in a giant pulverizer, mechanical "Blondins" (cable cars) wheel cement up from the valley floor like ski lifts, it takes a fortnight of summers' thaw to complete.
"Courage and faith" are the ingredients of the operation.
Charlotte et Véronique
ou
Tous les garçons s'appellent Patrick
Paris, the great city. Two sides or aspects, so runs the argument.
Charlotte et son Jules
The reasoning capacity of a French lover in the throes.
À bout de souffle
The calendar says August, it's April in Paris. The dedicatee is Monogram Pictures, Exodus and the Crucifixion are the sufficient poles.
Baudelaire says all you get from reading newspapers is dirty fingertips. Michel wipes his shoes with them. This is a very characteristic posture. When Patricia reads Faulkner to him, he improves on the text. Tolstoy, or is it Nabokov, "people say there's no such thing as happy love. That's nonsense. There's no such thing as unhappy love."
His nom de guerre is Laszlo Kovacs. His meeting with Tolmachov is a tour de force with an oblique reference to Bob le flambeur. The Harder They Fall crops up. The boulevard walk epitomizes Godard's introduction to Paris and leads to the great middle scene in Patricia's hotel room, where Chaplin's skirt-lifting gag (cited by Agee) is repeated.
A picture by Miró, who created some of the most complicated forms in the twentieth century, "like difficult music heard for the first time," is briefly seen after a Picasso or two, and is a delight for the eyes, a moment of visual repose.
A shot from Altman's Countdown is seen in reverse: a sign the camera moves off. The ultimate provenance of the screenplay is Truffaut's. The punchline of Michel's joke about the condemned man is correctly translated not "in the future..." but "decidedly..." ("décidément..."), which, if one is not mistaken, is a Truffautisme, related in this context to the director's comment on filmmaking in La Nuit américaine.
The great man, Parvulesco, stares Patricia down (he has just said that in France men are not yet dominated by women, as they are in America) and tells her, in her capacity as a member of the American press, what this film is all about, "to become immortal, and then to die." He is played by Jean-Pierre Melville, the director of Bob le flambeur.
Parvulesco is asked, "Aimez-vous Brahms?" Patricia's look into the camera premiered one month after La Dolce Vita.
Patricia's café date begins on an escalator in a shot which anticipates Kubrick or McGrath. The table by the window is not unlike those tables at the end of Losey's The Romantic Englishwoman.
On a dare, Michel runs from the taxi and creates a famous scene from The Seven Year Itch. At the Herald-Tribune office, after two circular panoramic tracking shots, there is a resemblance between Jean Seberg and Janet Leigh in Touch of Evil.
Michel's architectural commentary appears in Quick Change.
The jump-cutting creates abstraction. The Presidents' motorcade is seen, but not the Presidents. Patricia descends a staircase in a shot from Griffith's Abraham Lincoln.
Action is avoided with some strenuousness of cutting, "to take the mickey out of it." (Welles)
They apparently go to see Budd Boetticher's Westbound, a Randolph Scott Western, dubbed in French with dialogue by Apollinaire.
Mozart's Clarinet Concerto is played. Michel likes it, because his father was a clarinetist.
And of course it ends among blackmail and cheesecake, with that peculiar lip-wiping gesture Humphrey Bogart would make when face to face with a pretty fellow or lost in thought... on Patricia's lips.
Berrutti's pistol provokes the disaster, which is filmed like the end of Frank Lloyd's Blood on the Sun (cf. Buñuel's Belle de Jour).
Une femme est une femme
In comparison with the visual complexity of À bout de souffle, this film realizes all the possibilities of color composition instantaneously, which gives a great sense of easiness. It's La Nouvelle Vague en couleurs, where unmarried Madame Récamier (Anna Karina) celebrates Alice's unbirthday at the strip-bistro with the Cocteau loudspeakers announcing the numbers, among which is her simple proclamation, "je suis très belle."
La Parisienne mise à nu pour ses célibataires. Une femme est une femme is unutterably beautiful because Paris is. Godard is in constant modulation. A bit of flyting in a standard mocking tone becomes abstract, "wandering Jew!" "Fascist!" "Pervert!"
Madame la Parisienne has a little gizmo that tells her when the time is ripe. She sits in a chair against the wall and reads the instructions, holding the gizmo in one hand and manipulating it with the other. Godard holds the medium close-up entrancingly, then slowly dollies out to Legrand's music.
They listen to a game on the radio, the announcer waxes poetic, "it's pure Shakespeare!" Émile Récamier (Jean-Claude Brialy) is saving himself for the Sunday bicycle race like a champion. Titles appear on the screen announcing the writer's viewpoint, or the critic's.
There's another figure in this witty ménage, is it Osborne? No, it's Lubitsch (Jean-Paul Belmondo), who is just a little bit Wimpy. Franscope gives a wider view, but if you ask it's just the color, the way you know when an egg is done. Lubitsch is at the bar, asking Jeanne Moreau about the film for Truffaut (it is 1961, according to a wall calendar). "Moderato."
Now shots of the crowd, rapidly assembled in a sequence which asks the question with Pound, are you looking for your dead, or France, or the day of the week? And here is the letter joke that became Montparnasse-Levallois, and comes from Tay Garnett's Cause for Alarm!, which takes the mickey out of The Postman Always Rings Twice. Aznavour gets down to cases. "You've let yourself go."
Madame has done Lubitsch, now Émile has life imitating art. "I don't know," he says, "if this is a comedy, a tragedy, or a masterpiece."
It's pure Shakespeare, the schema of Othello or Cymbeline analyzed to nothingness and built up day by day on the streets and in the rooms of Paris, just the way a painter resumes the activity of the preceding day, just the way the bard inscribed his lines.
La Paresse
Les sept péchés capitaux
The actor Eddie Constantine is simply too lazy to grant his favors to a starlet so she can be in his next film.
Vivre sa vie
The respectful whore by statute, with limitations. She comes to a bad end, tossed between mackerels and left dead on the street.
Whether or not she leaves her mate for a life in French films (No Pity, with Eddie Constantine), whether or not he leaves her for a life in American films, it's all one, the situation—the profession—is a straight shot with no chaser. Statistics are the mackerel's handmaiden.
German philosophers rescue raisonneurs in God's country, back and forth synthesis reaches "The Oval Portrait", trad. Charles Baudelaire, l'art de vivre under the thousand eyes of Dr. Mabuse.
Le Petit soldat
The tale is an exceedingly simple one, a sort of spy thriller with a revelation in plain terms that is couched in Hitchcockian rhetoric after a manner of speaking. The Algerian War is a front of the Cold War, the French do not know how to fight it, they had an ideal against the Germans, they do not have one now, they will lose.
Night exteriors anticipate Alphaville. The point is expressly made in Les Carabiniers, the exact same point in abstract terms, owing to French censorship, perhaps.
Laviamoci il cervello
Rogopag
Atomic superexplosions dominate the newspapers, everyone's a pill-popper, nothing's the same between the guy and the girl, or for that matter the Arch of Triumph and the Eiffel Tower.
"Il nuovo mondo", between Rossellini and Pasolini, before Gregoretti.
Les Carabiniers
More could not be asked of Le Petit soldat, it is as plain as the dime on a bar of zinc, yet it failed to address the very people it was meant for, if only because it was placed under censure for a time (as "Je vous salue, Marie" later voluntarily). And if it is necessary to trudge through the same identical point in a way that seems satisfactory even to dull types, let it be a comedy, why not?
The incidental gain is near the outset in a grasp of certain practices known among the combatants, they are expressly permitted to the soldiery, that's all, the ignorant soldiery, as la Pucelle forbade swearing.
Le Mépris
The story is told in a flash, by an interpreter in Rome. "In 1933, Goebbels invited Lang to head the German film industry. Lang left the country immediately."
Three years after Die 1000 Augen des Dr. Mabuse, the same bleak viewpoint is reached, Ulysses' return is filmed by Lang at Capri, playing himself, a curious tracking shot (JLG plays the assistant director) moves laterally to pan the camera, there is no Ithaca. "Silenzio!" (A.D.)
Antonioni (L'Avventura) and Fellini (the Cyclops shot) lend a comic, easeful perspective. Dante's Ulysses speaks his verse in German (Lang) and French (Piccoli as the screenwriter).
"Je fais la tour." (B.B.—the other is cited on Hollywood)
A Fritz Lang film seconded by Godard in some sense or other.
Bande à part
Flickers of the three main characters, then Legrand's valse and the ride in Venice alleyways that breezes through Touch of Evil. The long shot of the house from The Birds. "The sun of Austerlitz rose over the Bastille."—Borges, or nearly. The Othello/Cymbeline question, "had he touched her? He said she had soft skin."
So, a remake of Une femme est une femme, but, as the English teacher inscribes on the blackboard, "Classic = Modern". T.S. Eliot is made to say as much, who figures so hugely here, both in the formal structure and in the awareness that literature and other forms of art sometimes speak to us for ourselves, and can be legitimately introduced as text in a cinematic representation.
Shakespeare is resumed from the beginning, Love's Labour's Lost by way of Romeo and Juliet. "How do you say 'a big one million dollar film' in English?"
"The girl's an idiot!" She's played by Anna Karina, who played a cocotte in Une femme and Sylvia Sidney in Alphaville with a bit of makeup adroitly applied and the finest imagination that ever drove a character to the end of the line of verse. The other characters are Franz (Kafka, owing to Sami Frey's resemblance) and Arthur (Rimbaud, so stated—Claude Brasseur).
Faces, Napoleon on currency, and the scene with Madame Victoria, which is rather like Cassavetes' Faces. They watch the news: woman kills husband, 20,000 dead in Rwanda. They drink Coca-Cola, schnapps, and Diabolo peppermint, between them. A magazine article advises, KEEP THE EYES OF YOUR CHILDHOOD.
They go out. A poem by Aragon is heard, the Métro door opens on LIBERTÉ. Anecdotes from Jack London or Mark Twain, David's Oath of the Horatii, Rimbaud: "Nothing yet budged on the face of the palaces..." The ten-minute take passing back and forth at the crime scene. Madame Victoria in the wardrobe, a fruitless search, Madame Victoria dead. A proposed meeting at the Tout Va Bien Café. Shootout, Madame Victoria alive.
The ride from Touch of Evil again, "next time [last time] in Cinemascope and Technicolor."
Une Femme mariée
Existence without memory, the polarity of husband and lover, d'accord, but there is only Nuit et brouillard at Orly's petit cinéma, Mon Oncle's suburbia, reared up around the comfortable estate of a hopeless fureur et mystère of happenstance as the guardian of regret. Exceptions to this rule provoke madness.
This is the sum total of the fashion-plate's argument, here carried to its excess simply by flipping the pages of a magazine.
Bérénice and Titus at the Air Hotel, reading in bed, conning the lines.
Alphaville
une étrange aventure de Lemmy Caution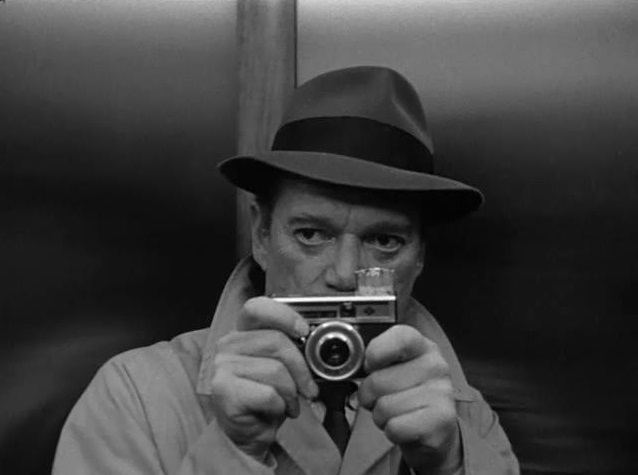 S.D.: ...cybernetics, an obsession for people like Jean-Luc Godard, who made Alphaville.
A.B.: He's sort of gifted, but totally stupid.
S.D.: Marcel Duchamp told me that it's the most remarkable movie in years.
A.B.: Well... Marcel Duchamp...
S.D.: Duchamp's opinion interests me more than yours.
A.B.: I should hope so. Let's talk about cybernetics.
Alain Bosquet, Conversations with Dali
"The unimagined water."
"Merde! Qu'est-ce qu'il se passe encore?"
Not only the galaxy of the future but Buck Rogers or Rimbaud. The robotspeak of supermarket or Starbucks. The superexcellent hotel room fight is a badge of honor. The whole world is wired to Alpha 60, and it is run by... Léonard Vonbraun, death-ray inventor, wanted dead or alive, inventor of alpha rays.
The basis of Kubrick's 2001: A Space Odyssey.
Raymond Chandler, Le Grand sommeil. "Not bad for a veteran of Guadalcanal." The voice of Alpha 60 is not far from Russell's Billion Dollar Brain. The trick shot of Marshall's The Blue Dahlia. Domain of Welles (Mr. Arkadin, The Trial). "Notre cousin du Sud." Putain de ville, Pekingville, Capitale de la douleur (Eluard). Jewison's Rollerball has such another motherboard cracking wise. "La signification des mots, et des expressions, n'est plus perçu." The organization, capitalist or communist, question of planning, of rationalization. Zeroville. Lacrimæ rerum (Virgil), "le meilleur témoignage" (Baudelaire), a capital offense as "illogical".
"M. Nosferatu."
"Cet homme n'existe plus."
The Golden Bear at Berlin. Speaking rooms are "Occupé" or "Libre".
"Savez-vous ce qui transforme la nuit en lumière?"
"La poésie."
There is no why in Alphaville, only because.
"The famous theory of Léonard Nosferatu... tout s'enchaîne, tout est conséquence."
Grand Omega Minus, the basis of Russell's film and Pollack's Three Days of the Condor, "victorious over antimatter."
"Ordinary men are unworthy of the positions they hold in the world. Analysis of their past automatically leads one to this conclusion. Therefore, they must be destroyed, that is to say, transformed." Mass murder by electrocution in self-cleaning motion picture theaters. Brainwashing hospitals. "J'avais l'impression que mon existence ici devenait peu à peu le souvenir ou même le reflet crépusculaire et sans doute faussé d'un destin terrible." Cf. Bergman's The Serpent's Egg. "Il ne serait pas logique d'empêcher des êtres supérieurs d'envahir le reste des galaxies."
The famous Insert A Coin gag is answered by putting the carpeted stairs to work shining one's shoes like the newspaper in À bout de souffle. The sort of computer that used to belong to IBM, Olivetti, General Electric... tattooed numbers on a brow or a shoulder or a neck.
Nous vivons dans l'oubli de nos métamorphoses
For the structure cf. Mervyn LeRoy's Escape, "je deviens fou dans cette saloperie de ville!"
Tes yeux sont revenus d'un pays arbitraire
Où nul n'a jamais su ce que c'est qu'un regard.
The word conscience is effaced à la Orwell, "so no-one here knows anymore what that means, the word conscience." Also redbreast, to weep, light of autumn, tenderness, "parce qu'ils sont maudits."
Nueva York (Lorca), Tokyorama, Florence, cities...
I don't speak to them
But I'm quite as alive as my love and my despair.
"It can always prove useful."
"Absolutely! We're highly organized."
Cf. Jack Shea's The Monitors. An incapacitating joke, No. 842. Agent 003 of the Outer Regions, nom de guerre Ivan Johnson, reporter for Figaro-Pravda.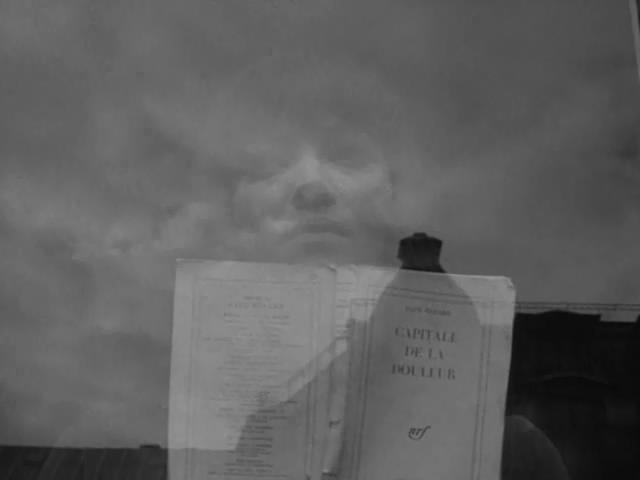 "Something that never varies, day or night, for which the past represents the future, which advances in a straight line and yet comes full circle."
Cp. "The Changeling", written by John Meredyth Lucas (dir. Marc Daniels for Star Trek). "Central Palace, South Zone, behind the Raw Materials Station." Journalism and judge begin with the same letter, "tell your boss." Dramatic and lovely score by Paul Misraki.
A science, says Nosferatu, beyond E=mc², "si fantastique".
Variety, "piquant and sketchy". Tom Milne (Time Out), "sheerly enjoyable". Michael Atkinson (Village Voice), "intoxicating loading dose of uncut movieness". TV Guide, "poetic, funny and visually inspired".
Cf. Melville's Le Samouraï.
Halliwell's Film Guide, "interesting but not endearing." A certain labyrinth of Borges, SUD says the screen, then NORD, sun then snow. The crapulous cripples of Alphaville, "les morts d'Alphaville... une cité heureuse, comme Angoulême City."
Pierrot le fou
Pierrot, "mon ami Pierrot", Pierrot Lunaire, Pierrot le fou... Lenin and Coke drive the moon away, "la vraie vie est ailleurs" (Green Acres), running guns for Télé Monte Carlo, a division of Standard Oil.
Shakespeare is translated thusly, "we are made of dreams and dreams are made of us" (Hee Haw, "πr², no, pie are round"). Uncle Sam's nephew vs. Uncle Ho's niece, The Vietnam War.
"Nel mezzo del cammin" a jaunt with the babysitter. A musical comedy, of the best (Minnelli for preference). Blue face, yellow sticks of nitramine, red sticks of nitramine, "c'est idiot".
"Soleil cou coupé".
"Poetry is a game of loser take all."
Samuel Fuller's Flowers of Evil "a battleground of love, hate, action, violence, death, all the emotions." Browning is a weapon, "ruins begat the language of poetry."
Paul et Virginie, "dead people on leave," draw for tourists. Jules Munshin regales, "that tune" playing in his head, "do you love me?" A boat on the river, a tugboat on the bay. The dead voices in Scarlet Street.
"I despise the young." (Laszlo Kovacs) Civilization of the ass, cul-de-sac. "They see not, hear not, neither do they speak."
Pierrot's wife, Une Femme mariée. "There are days like that, you doubt yourself among the philistines." Raintree County, "allons-y, Alonso".
The stench of a charnel house, ten minutes later a reappraisal, it's unfortunate but a fine thing after all, life.
Masculin féminin
15 faits précis
The two adjectives are separate and distinct in youth, which is the subject of the film.
The dozen or fifteen types of virtuosity displayed have a rigorous impulse toward describing and depicting this peculiar state of mind in dialogue with the answering world, a style of the utmost vigor and point, until the two merge at last in a shocking fall and hesitation (Un Chien Andalou).
A precise poetic effort, sweetly opposed to the dramatic fantasies of gangsters and galaxies, in order to seize upon the whimsies that spring every day from Kurosawa's ideal audience.
Girls that will make perfect wives now briefly at large after a fashion, one who leaves a fashion magazine to become a pop star, boys at odds with a world they have yet to invent. Everything around them is seen through their eyes or standing in their shoes, "for what it's worth." The sustained metaphor with no clamoring of a narrative position outside the events (as memory or something else) makes for a deceptively simple tournage.
Made in U.S.A.
The right-wing, "silly and depraved", gets compared with the "moonstruck" left, and the latter is determined to be quite out of date. What to do?
This, following on a putative assassination among others at least more definite, already defines a position in which both sides are essentially similar, the same, "humanity doesn't change".
Consequently, the perfect movie by Godard, the major work of art you seek, is precisely in basic colors, primary colors, set off by complementaries. An exact color movie in the style of Alphaville or À bout de souffle.
Furthermore, the most perfect expression is reached in scene after scene, combining cinematography, acting, sound and music, plus the general understanding of contemporary art advanced all along, and the effective demonstration of poetry vis-à-vis its opposite, in a bar, "Paris is not France."
2 ou 3 choses que je sais d'elle
This is, alas, exactly the same nightmare presented by Welles in The Trial.
An American presidential candidate understands the equivocal meaning of change as monnaie, perhaps.
"Paris change! mais rien..." Max Jacob's garage mechanic is back, "far too far back."
As a consequence...
Anticipation
Le plus vieux métier du monde
A kiss ends the disquisition of mouth and speech in the terrible future of galactic transportation.
La Chinoise
A comedy like Les Carabiniers, bearing the same relation to it as Father's Little Dividend to Father of the Bride (Minnelli), the comedy of sound (and color) after silent comedy (slapstick).
The ideal could not be found (Le Petit soldat), therefore it must be represented. "All roads lead to Peking," away from revisionist Russia. Etc., etc. A sequence of jokes developed from the deadpan style of Lubitsch's Ninotchka. Baroque music (Opération « Béton »). The punchline is summer's over, back to class, "the beginning of a Long March" (Le Gai savoir).
The classic style is fixed upon sloganeering students in rooms with lettering on the walls, more slogans. Guillaume, for example, is "a worker in the world's theater industry." His search for a Socialist theater of "sincerity and violence" culminates in a choice, natural enough, of youth over maturity. The country girl is kept in the dark, "a living example of handling contradiction among the people." The syntax has a fade to red.
"Theory of literature?", someone asks. "A film by Nicholas Ray." (In a Lonely Place, no doubt)
Lumière was an Impressionist in his newsreels, Méliès filmed future events. (Le Voyage dans la lune, for example)
The Vietnam War is restaged from Pierrot le fou as a film, Esso's tiger menaces a Sovietcong lass. Just wars are progressive wars. Man is an invention of modern men and can be abused. Trotsky foiled Mayakovsky and Eisenstein with the treaty of Brest-Litovsk, the impoverishment of language limits society.
A vote is taken for terrorism and disruption, Henri is expelled from this cell (he finds a job and joins the French Communist Party). Number one action, close the puppet universities. A long conversation on a moving train that stops and starts again at stations finally exposes the generation gap, "what will you replace it with?" Francis Jeanson took the Algerian position in the war, "they were a nation", Véronique has only her dislike of hard exams and the comradeship of the cell.
One is "a worker in revolutionary politics." An assassin kills himself beforehand, "if Marxism-Leninism exists, all is permitted." Véronique takes the assignment, gets the number wrong (Détective) and has to do it over again.
In this "film being made" (as Truffaut describes La Règle du jeu and Citizen Kane), Year Zero, Wilhelm Meister. "The end of a beginning".
Camera-Eye
Loin du Vietnam
The answer that is not one. Manipulating the camera, beautiful instrument. Problem of identification, the bleeding heart vs. the wounded soldier.
Weekend
The drive is toward Les Carabiniers by way of Accident, from a starting point in Persona (cited in Le Gai savoir), in this case the "Seine-et-Oise Liberation Front".
Roland and Corinne are off to Oinville to secure an inheritance from her father in a nursing home. The traffic jams and wrecks along the way through suburbs and countryside reflect a memory of refugees from the blitzkrieg.
The parking lot fights are remembered in Friedkin's Deal of the Century, the general tenor in Mackenzie's The Long Good Friday.
The couple have an idle life of real and imaginary affairs, the venture breaks down amid roadside disasters. A lecturing pianist picks them up, at a Bechstein in a farmyard he plays a Mozart sonata and explains "the greatest disaster in the history of art, 'serious' modern composers" have forsaken such harmonies, the true modern music is in pop bands.
A further ride on a garbage truck has them helping with the cans and enduring a lunchtime dissertation by two confreres of Alfred Doolittle, an African and an Arab each voicing the other's Marxist plaint.
At last, Oinville, a bath. Her mother won't give them a penny, they kill her and conceal the evidence in the wreckage of a crashed car and plane with hanging parachute, all set afire.
The hippie band self-styled as above takes them captive. Cannibalism is the practice, Roland dies in a raid but there is no time to disembowel him. Corinne is exchanged for a prisoner but returns to her captors, who give her the flesh of English tourists to eat ("from the Rolls"), with a little pork (whence perhaps Luna in Sleeper).
The "mariage pop" in a Triumph that ends en route by colliding with a tractor provokes a direct confrontation of young snobbery and rustic Marxist-Leninism. All of the participants pose for a group "fauxtograph".
Dumas' Joseph Balsamo hijacks their car, declaring "God's an old queer," the actor in La Chinoise declaims à la tricorne. Emily Brontë discourses upon a stone, Robert Burns cribs lines pasted on his tartan. "What a rotten film," says Roland at this sylvan encounter expressly compared to Charles Dodgson. He tries to hijack a car himself (The Bicycle Thief), the driver defends it, "Laissez ma japonaise!"
Sympathy for the Devil
Where the contending war lords and the lords
Of money pay to form the public taste
For their derivative sonorities.
Nemerov
The Left and Right meet as far extremes, the black flag and the red ascend with a dead girl on a camera crane, making whatever image you please (one plus one makes two).
Against this, in counterpoint ("a revolution of destructive force calls for a revolution of creative force"), The Rolling Stones assemble "Sympathy for the Devil" about these matters, from Shelley's Na-na-na to a structural framework and variants filmed over days like watching Chaplin at work or Le Mystère Picasso to finally achieve the song.
Un Film comme les autres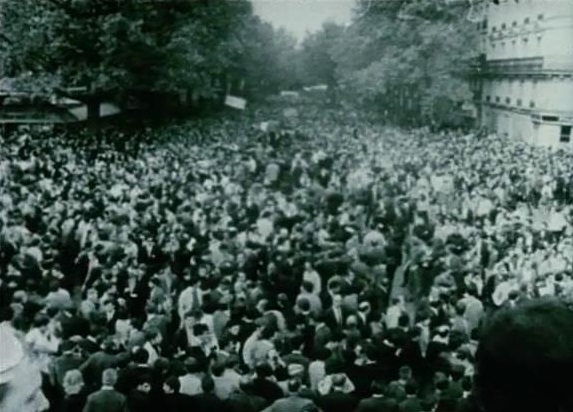 "High school students for the first time have been pitted against the police."
Les révolutionnaires de soixante-huit, cp. Grands soirs & petits matins (dir. William Klein).
"The Case of the Stuttering Student Activist".
"If our story is not believable today, it may be tomorrow, thanks to scientific research, which is the way of the future, and no one would dare to put it in the realm of legend." One might infiltrate Renault, take a job there, turn out cars that have loudspeakers "explaining the situation," cp. Éloge de l'amour.
The class struggle. "That depends on what you mean, I mean, there's an enormous intellectual work to do in the middle classes."
"That depends on what you consider poor conditions."
Godard sits and chats with them, asking what they think, so to speak, "a discussion between people hidden in long grass." (Richard Roud)
Vanity of writing books, "implementation" is what you want, that takes "tout le monde." Actuality footage, voiceover readings.
"In 48 hours, the factory, I don't know in what time frame, a certain time frame, the factory was capable of transforming into a factory for making tanks," cp. Invasion USA (dir. Alfred E. Green).
"How to know, how to know what vision assaulted you in the night? White or black, Harlem or Dallas?" (cf. Klein's mr. Freedom).
"C'est triste à pleurer... the struggle is an event which is a cultural phenomenon itself... history, which threatens this twilight world, is also the force which could subject space to lived time... if the intellectuals had an apprenticeship, why can't they profit the same way?... my brother-in-law earns 30,000 francs a week."
"Do you have to pay to join the party?"
"No, it's just ideas. You say you belong and that's it."
"It's about knowing to decipher immediately what belongs by its form to idealism, that is, the discourse proper to it after a series of transformations designed to put brute dumb force to work in a field, to work in a field that instead of giving them situated, provisional, scenic sanctions, detours them poetically, steals them from contradictory dispersion, synthesizes them, sublimates them, gives them always a bourgeois head. This head, rather than creating the false stench of culture and the rot it comes from, only wants to lift itself up using a movement which Is not its own. It dreams of sexually exploiting the proletariat, that is, to take back in words what it has given in force. The link between revolutionary intellectual practice and the proletariat's struggle should be thought of at this level of depth: a deadly war waged by idealists and materialists."
"The filmed image belongs to those who watch it as well as those who make it."
Jonathan Rosenbaum, "perhaps the emptiest and the most talkative of all of Godard's films to date."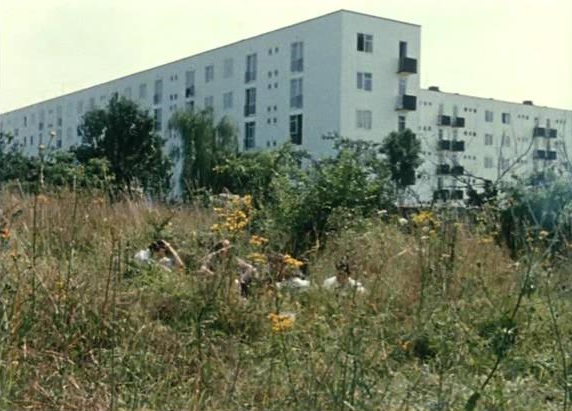 Le Gai savoir
In case anyone had missed the point of La Chinoise (some had), the actor and the country girl are given an hour and a half on French television. They utter every sort of claptrap about the anagrammatic Frenchies and Robinson Crusoe ("a Fascist, consider Friday"), East and West, Mao ("Knows All"), the Sorbonne ("shall it be given to students, workers or police?"), "bourgeois philosophy", Dreyer-Bresson-Bergman-Antonioni, "The Gaullist Dictionary" (a children's alphabet, "R stands for Rabbit, but not Revolutionary"), Freud and Marx, John Ford, "revolutionary student struggles", "reac-Zionists", etc., etc., and, of course, etc.
An ambiguous voice analogous to Alpha 60 presents some material, images appear, and all along a certain amount of sense is revealed. "Chance has structures, like the unconscious... nothing in the world develops evenly... the true revolutionary is guided by feelings of love." Juliette Berto's Bardot pout, abstracted of allure, suddenly laughs, "eternity and infamy go together, therefore back to zero... in my memory I am experiencing with you the zero degree of love," l'amour et la mort, "art is the necessary solution," le gai savoir is a cat about to be waylaid by mice, "confrontation risks cooptation," finally, like Borges' poetaster, "we've discovered nothingness."
The comic deadpan of the stance is akin to Ken Russell's Whore, and the revealed drama as touching as Salome's Last Dance. Missing the joke, many critics have overlooked the drama. There is a no man's land as well, gags like a "Minister of Civil War" and "newscasters sodomized by the Minister of Information, their favorite."
But these are students, after all, their plan for world domination is actually a successful plan of study. To absorb things, understand them, and then invent.
Vladimir et Rosa
Precisely what it says it is, a Marxist analysis of the Chicago Seven or Eight. The comedy was lost on Canby of the New York Times, but fell entire into the lap of the Dziga Vertov Group, where it is dandled handsomely in red tinting ("so as to avoid the appearance of bourgeois, imperialist films").
Pravda
Or, my Tung in your tail, o Chinoise! Trouble in the Works, Pinter's revue sketch, has much the same spirit and virtuosity.
You take the thing, whatever it is, rather as it comes (you do), and, because you parlay-voo, no problem.
British Sounds
The MG factory. A girl. A commentator. Employees talking shop. Protesters rewriting Beatles lyrics ("You say U.S., I say Ho"). Fists through paper Union Jacks.
Communist jabber laid over the images (conservative jabber from the commentator).
Le Vent d'est
A sequel or continuation of Pravda in which the mise en scène is recognizably that of Renoir's Partie de campagne, overlaid with wind from the East.
Schick After-Shave
Essence of Shagsbeer, soothes the savage breast.
A television commercial by the Dziga Vertov Group.
Lotte in Italia
The punning title suggests a stravaging fräulein, aber no, chock-full to the gills with eleganza scienza e violenza she can offer you nothing but "work and struggle", work and struggle elle vous propose, the Marxian Venus.
Letter to Jane
An Investigation About a Still
Uncle Jean and Père Gorin take apart a still like revenooers after the goods. It's Hanoi Jane in L'Express and everywhere (photo by Joseph Kraft), the tragic mask gets a peekaboo at the Commie revolt, it's a welter of entertainments literarily perceived, photographically expressed, and variously misunderstood.
Numéro deux
The Case of the Costive Spouse, among other things.
Really it's about being behind the eight-ball, and the vantage point is primed for observation, giving a thoroughly effective analysis of the great divide in modern culture, looked at in this way.
The satirical understanding of left-wing tropes is very rich, and of course it's no use whatsoever, because the game as played isn't the one, or else the problem isn't defined that way, necessarily.
Vincent Canby's review in the New York Times is remarkably perceptive and quite useful.
Baldessari and Warhol have the double images that make a picture.
Truly a losing proposition, "mais regarde le monde et regarde mon pantalon."
Ici et ailleurs
Primary documentary footage of fedayeen training camps (1970), with secondary illustrative material from various sources, all of which is sifted to one speaking image, a refugee camp, and assembled as a film that is more or less a critique of itself.
Thus are the two questions put, how to organize time in a succession of images that replaces space, and how to make your own picture (Première Question, Deuxième Question).
Popular Fronts, Lenin, Hitler. "The Soviet or American capitalist system", the documentary filmmaker with a wealth of images.
"In moments of imaginative stultification, or of panic, there is always someone assuming power." A discourse of sounds, "a certain sound takes power and is nearly desperate to keep it," represented by an image. Revolutionary struggles around the world, "a sound so loud it drowned the voice it sought to express."
A little Fatah girl amid ruins, declaiming a poem by Darwish, "I shall resist", with gestures dating back to 1789. All of which tends to conceal "a certain silence", represented by another image.
France/tour/détour/deux/enfants
Between truth and fiction there is television. Parody interviews of children, histoires.
The twelve half-hours are assigned various rubrics, "dark", "light", "chemistry", "geography", and so forth.
Chairman Powell of the FCC didn't speak of "the Nation's transition to digital television," he said "television's over."
Sauve qui peut (la vie)
Every Man for Himself, or Slow Motion, "un film composé par Jean-Luc Godard". The fat lady sings at the superdeluxe hotel, the mistress heads for greener pastures, a variable career. The poem about work. A steady vacillation.
Marguerite Duras imagines herself as a truck full of cinder blocks. Merles invade the cities. City Lights, movie whores.
A classic study of the prostitute, body and soul. An ad for the love nest is answered by the featured hooker, she'll take it.
Back by degrees to wife and daughter, wham, he's struck down in the street by the hooker's protégée, with live orchestral accompaniment. Little girl back home to mother.
Vivre sa vie, Une Femme mariée, Le Petit soldat... À bout de souffle. Godard's "second first film", an adjunct of despair, to all appearances.
A clarifying tendency is apparent anyway, a compte rendu of several strands and themes, after a decade in the trenches of the Cold War, wherever they are.
The title is a forewarning, Boulez's "take two aspirin", just ahead of a fast countdown to the composition's four numbered movements, "The Imaginary", "Fear", "Business", "Music".
Scénario du film Passion
"A factory girl is sacked by her boss. She falls in love with a foreigner, come to make a film. Then the boss's wife also falls in love with the foreigner. He, for his part, cannot find a subject for his film, although there are dozens around him." (tr. Tom Milne, for Channel Four).
Isabelle Huppert, Michel Piccoli, Jerzy Radziwilowicz, Hanna Schygulla.
Because the producer wanted "une histoire".
Passion
The title is Dreyer's definition of the cinema, "my only".
Problems, light and money are two, Hollywood has Sternberg and Boris Kaufman for the first, Metro and Fox for the other, if you want them and if they agree. Actresses can also be troublesome.
The metaphor is a factory. "Attention à mon japonaise!" (cp. Weekend).
Le Mépris for the double bill.
"May well be the sort of film that, in the future, will make up a small but solid portion of videocassette sales" (Vincent Canby, New York Times). "Whether it will grip new audiences is chancy" (Variety).
Lettre à Freddy Buache
The 500-year-old city of Lausanne.
Prénom Carmen
Someone put it to Berlioz, was he pleased with the Beethoven quartets he'd just heard? Berlioz replied, "I don't listen to Beethoven to be pleased."
"Ah, Carmen!"
A very abstract modern rendering.
It robs a bank, Joseph the gendarme falls in love with it, it speaks and sometimes ocean waves are heard.
Uncle Jean Godard is a lunatic, it's his niece and wants to make a documentary.
Do it like Dillinger, pretend it's a movie.
That way Uncle Jean gets financing as a by-product, what you call a plan, he's all washed up.
Thus the video generation, who haven't invented anything, not even blue jeans.
A glorious film (Golden Lion, Venice). "Et mon boulot?"
Godard reads Buster Keaton and Variety.
"Mal vu mal dit", he types in the asylum.
"J'inscris?", his secretary asks.
He is supposed to direct the hotel robbery, it goes amiss. "Everything lost but a sunrise."
"Je vous salue, Marie"
A very formidable technique for the presentation of the spiritual idea. A sequence of great shots, the script full of meditations on the problem, the soundtrack of ambience and music, a great labor.
Banned in Rome, screened in New York and Los Angeles before being picketed off by certain sodalities. Not since L'Âge d'or in Madrid, perhaps...
The work is of supernal beauty. Galilee has not looked better since the feet of the Master trod upon it. The charming philosophical disquisitioning, if you will, is capped with a finale more Biblical than De Mille, even.
It is true, for the benefit of the fellow who asked if Night of the Living Dead has any naked females in it (because his wife would object), there is some nudity. "I would like," says Dali, "to know what the Virgin's ass hairs would have looked like."
Détective
Yet another attempt to formulate the desideratum of Le Petit soldat (with elements from Une Femme mariée, also Pierrot le fou and La Chinoise). Whether the fight is fixed or not, the purse is won by stepping into the ring. Tiger Jones' manager is forty million in the hole, a gangster known as the Prince wants it, Mr. & Mrs. Chenal want it, she is the manager's lover.
Tiger looks forward to knocking himself out, "a champ always fights himself," but at the last minute he skips out with the Princess of the Bahamas. Mrs. Chenal wants to go there and open a bookstore with her lover.
Detective Prospero and his nephew are investigating the death of the Prince two years previously in this very hotel, the Hotel Concorde Saint-Lazare.
The Grisbi method is indicated. The kinship with Ken Russell (Hitchcock/Lang) parallels here Salome's Last Dance in a gag finish ("it was death by misadventure!"), a hit man saw the hotel register inverted and went to 666 instead of 999.
After all, "we're going back to the Middle Ages, fast." Mr. Chenal's "presque tout" at the start is a rememoration of the wristwatch advertisement in French theaters, the brand is put on a rail in front of a speeding train, it "résiste tout", says the announcer, the train smashes it, "presque tout!"
Cocteau and Stroheim, X the Unknown, Lord Jim. "How can France take a leading role when all the French are minor players?"
"The realm of language is absolute, how does commentary govern?"
From here on, a Herman G. Weinberg is badly needed for the subtitles, which not only do no justice to the texts but positively give here (if one is not rather Mabused), "the ladies' room" for "une femme de chambre".
The red-white-and-blue neon rooftop AGFA sign is a sufficient reminder of Donen's Charade, and there is a very pretty homage to Paris artists' ateliers in the light and ambience of the hotel amidst upper floors looking out on the city.
Meetin' WA
A parody of a director interview, the subject is suggested beforehand in a sketch, etc., then the questioning with an interpreter. Gentle misunderstandings go not much of anywhere in particular, the great meeting of minds ends the way they all do on the circuit, unenlightening.
Soft and Hard
"Give me a box of matches and a pencil and tell me to make a film with that, and I would be quite happy."
King Lear
Power and virtue, Lear with his rifle facing the sea, behind him the body of Cordelia.
Thus the image, as will appear.
Kozintsev, Patrick Magee (Godard, also a Swiss film director), Golan (by report), Mailer the incipit, Ringwald's "no thing", Meredith's terribilità, Sellars' soup-slurping, plus a voiceover cast for more of the play and Virginia Woolf, and Woody Alien for a sonnet from Noo Yawk.
Nouvelle Vague
Boudu sauvé, noyé, Boudu sauve-t-il des eaux. The game of doubles in "The Case of Mr. Pelham" (Alfred Hitchcock Presents). Countess Torlato-Favrini. The death of privacy, of privacy in death (Simone Weil?) "Again (de nouveau) they offer us futurity."
The immoral State licenses certain human propensities (Les Carabiniers). "We may consider as dead the society we lived in, history will look upon it as a time full of charms."
"Were you ever stung by a dead bee?" (thus in the English subtitles), the Grablegung of memory, Heaven or Hell, "a first chance to say things for the last time." Eliot's feeling of too high a price paid.
"London, New York, Geneva in one night," an image of this, "l'éloge du crime", with a sense contrariwise of "what are seasons to us?" Half-a-life looks at one entire as double.
"Credit and debt lead to disaster," cp. "the collapse of the ancient world". On the other hand, "we've bought Warner Communications". The web of business is so taut, "with 3 percent you can think but not speak."
"Beirut is Stalingrad again," the Naked Maja is found in a Lebanese basement. "Islam rests on civilization, not on debt." Inimical to love are, "a certain security, a certain distraction." Trauermusik, a certain rapprochement, "where past and present commingle in the same river."
De Rerum Natura, "Eins, zwei, drei, die Kunst ist frei." The camera tilts from quay to clear water, pans across rowboat to speedboat in a tour de force of immediacy. Boudu's Temptation of St. Anthony. The Long Goodbye, Veni Creator.
"Je," famously, "est un autre." Ecce Homo. The famous lateral tracking shot outside lighted windows there and back as they go out. Verklärte Nacht. Te Deum.
The Countess's turn to flounder, saved by Boudu's twin, the CEO. Omnia vincit amor. Consummatum est.
The subtitles fail to mention any part of the screenplay that has been rendered in Italian.
Allemagne 90 neuf zéro
After the Cold War, problems of translation.
All that is under one's feet, in bed.
Lemmy Caution, a strange adventure of.
Je vous salue, Sarajevo
The jackboot and the city street.
Les enfants jouent à la Russie
If it weren't everything but a film containing some images in an ideal montage, then it would be "the seagull in an American cuckoo clock" or Anna Karenina on the tracks.
Hélas pour moi
The curious phenomenon of existence put out by its own laws and those of others, yet still existing.
This entails a certain amount of conundrum, to convey the intransmissible (Alphaville). A certain volonté, also.
Failing which, or having accomplished it, everybody goes home, as in the Hasidic joke at the opening.
Deux fois cinquante ans de cinéma français
The filthy rubric, "Celebrating the Moving Image", comes up right away, Godard and Miéville demolish it.
The young know nothing, worse, they know rubbish.
A theory of film is propounded, and then something like its essence is projected.
JLG/JLG
autoportrait de décembre
my eclogues I'd write chastely and thus
lie down next the sky like astrologers
neighbor of steeples to dream and hear
their solemn hymns borne off by the wind
my chin in my hands from my high mansard
I'd see the singing chatting workroom
pipes steeples the city masts
and the big skies you dream of eternity in
sweet it is in fog to see it born
a star in the blue a lamp in the window
rivers of coal rising to the heavens
and the moon pour out its pale enchantment
springs summers falls I'll see
and winter when it comes with one-note snow
I'll shut up all my doors and windows
to build my fairy palaces at night
then I'll dream horizons of pale blue
gardens fountains weeping on alabaster
kisses birds singing night and day
everything that idyll has of childishness
disturbance storming vainly at my window
won't raise my brow from off my desk
for I'll be plunged in that delight
evoking spring with just my will
pulling a star of day from my heart and making
my hot thoughts into warm atmosphere
Charles Baudelaire, "landscape"
Histoire(s) du cinéma
If you don't know what cinema is, go to an editor's worktable and pick up a few scraps of film lying around, run them through the Moviola and see. A couple of feet of film will teach you more about it than anything, and that's what this is, bits of film put together out of well-known sources and unfamiliar ones, not in the discrete rhythms of Russell's The Planets (a similarly instructive film) but superimposed, dissolving, titled, voiceovered, slowed down or farced with stills, with just the eye of an artist whose hand is on the Moviola.
La monnaie de l'absolu is primarily under the sign of Welles' F for Fake, with additional material provided by the Marx Brothers in Duck Soup. It's full of lying and half-truths, corrected or not by an onscreen title. An anecdote about Erich Pommer, founder of Universal Pictures, is punctured when the screen points out it was Carl Laemmle. No sign is given to contradict the stated notion that Lot's daughters were turned into salt.
Hindemith's Temptation of St. Anthony turns into Bartók, the story of Balak is told, where so many died, but how many and in what manner is disputed.
In the same way, a faux account of Roma, città aperta leads to a phony apotheosis of the Italian cinema mirroring an Oscar highlight reel.
Une vague nouvelle is a much more personal narrative, not anecdotal but evocative of the state of mind in those who bear the moniker. Godard goes so far as to say the ideal of cinema they had was one of absence, which required a forceful response to fill the void, and he says it more eloquently. The burden of resentment against everything is voiced out of Woolf, and there is the Frostian idea of night settling in for a long stay, a total and complete victory, only to find itself stabbed in the back by daylight (and this again is more eloquently put).
Le contrôle de l'univers is an homage to Hitchcock, which honors him in effusion, as well as by epigram. He and Dreyer alone, we are told, are able to film a miracle. The allusion is to Ordet, certainly, and what you see is the moment after the prayer in The Wrong Man, when the right one turns up.
Some critics find or profess to find Godard's Histoire(s) depressing or gloomy, and that is a side he explains as a necessary element of chiaroscuro or any lighting whatsoever. It's in the game.
The consequence of this is a lengthy tale or histoire of debilitating presence by the cinema before, during and after one's life, beyond which is the word NÉ (that is, BORN) on the screen.
Gaumont's sacrifice of The Red Balloon on the altar of Amblin's Moloch prefaces each episode, although, paradoxically, American distribution has been lacking. Les signes parmi nous culminates in a series of recitations, Blanchot, Dickinson, Borges (who has the last word), etc. Simone Signoret's face, the word L'AMOUR, and then DES HISTOIRES. A multitude of signs is the ideal (like Cassavetes' Minnie and Moskowitz), without explanation.
A story is told onscreen from Ramuz, about a peddler who came to a village and was beloved by all for his tales. It rained and rained and rained, he told a tale about the end of the world, and when the sun came out they sent him on his way. The cinema, says Godard, is that peddler.
Clio the muse of History is acknowledged. "Si je ne Mabuse," says Godard.
For Ever Mozart
Nothing succeeds like success. Marivaux out of the Sunday supplements, Musset, what odds? Camus' granddaughter tramps to Sarajevo for a production, what a grand idea. Tanks and self-propelled guns guard the place, offenders dig their own graves and are neatly covered over.
Cinema, Le Boléro Fatal, the casting session from Brooks' The Producers. "After Mozart," writes Boulez, "there was a danger that European rather than local music might be lost, until Rossini..." The transition from stage to screen is by way of Sympathy for the Devil's last view of the dilemma, torn between factions.
Alas, the financing is filched, the negative in the can is hastily printed and screened, audiences whinge and walk out for Terminator 4.
Mozart himself sits down to play a concert (the reader of Shakespeare is Shakespeare himself, says Borges, one way or another). The film director sits down on the stairs outside to listen.
Mozart simply wrote it all down, it came to him the way it comes to us. Another composer's labor might be represented in the vagaries of performance, like watching a bad print of a film.
This might be the point, there is a mixed metaphor of a kind in the theatrical intention, the cinematic venture misses the boat, what remains is neither representation nor observation but inspiration. "He proves God by exhaustion."
"The car Camus was killed in drives on to Sarajevo." The question elegantly posed by Goytisolo pertains to an analogy between Europe in the Thirties and the Nineties. Hugo is called in to bear witness that hacks and scribblers are as good as assassins. Rimbaud knew that, Parnassians. "The poor will save the world without recompense. They don't know what to charge for it."
"Sarajevo, putain de l'occident," a bit of graffiti. The sock-and-buskin crowd go to the wall. "Oh, what we take up the ass."
The director is Vicky Vitalis, a memory of Guido in 8½. "Didn't Cocteau say the camera—" "Exactly." The cameraman is B. Kaufman. She Wore a Yellow Ribbon, the famous anecdote, "now we're on schedule."
"That's what I like in a film, a saturation of magnificent signs bathing in the light of their absent explanation." The New York Times critic had the temerity to cite that. After all, it's On ne badine pas avec l'Amour instead of Le Jeu de l'Amour et du Hasard, only because the bookstore doesn't have the other item in stock. Two hundred miles from Sarajevo, Vitalis vamooses in a Russian truck from Five Easy Pieces. The attack on the actors takes place at a typical Western location, a waterfall where they have stopped to rest and bathe and wash their clothes. Vitalis sips a beer during the catastrophe, the Red Cross is there.
It's a real question for the producer if there is enough water at his shorefront location, otherwise the exterior shot will appear fake (his assistant director or production assistant later turns pages for Mozart). "Acting masks or mars the text," says Vitalis at the helm. "How can anyone speak of the truly infinite?"
Not the International Brigade, but "international brigands". A remarkable still-life in the concert hall, the painterly buffet.
Adieu au TNS
It is reported that Godard sought a position in Strasbourg and was refused.
Combien de lettres, combien d'images,
Combien de livres, tous bien écrits,
Furent envoyés malgré l'orage,
Mais ne reçurent en récompense
Qu'absence, silence, indifférence.
De l'origine du XXIe siècle
It dates from the end of the XIXe, visibly.
The Old Place
The gag is that MOMA poses a certain question, Godard and Miéville must answer it.
Lisa Nesselson of Variety plumped down for nature, "nobody emerging from a dark auditorium in the Palais des Festivals onto the Cannes beachfront could argue with that."
Perry Seibert (Rovi), "occasionally entertaining, insightful, and profound".
Éloge de l'amour
"And they say Daumier's no painter."
This Cantata for Simone Weil has three main advancements. It exhibits a refinement of grammar to the degree that one can speak of punctuation in half-a-dozen places, and even distinguish a period, a comma, an exclamation mark, etc., articulating a virtually seamless, ideally fluid editing, above all of the sound.
Grammar and sound editing, third is a vast or ample reserve of quotation brought to book in three ways, the direct attributed quote. "I don't seek, I find." "Picasso?" "Picasso." Next, the unattributed quote, from The Man Who Shot Liberty Valance or Husbands, say. Finally, and most remarkably, the tacit or vacated allusion, as to Frankenheimer (The Train) at the outset, much later to Wilde on American cities, and running throughout a variant of Eliot,
                ...I rejoice, having to construct something
Upon which to rejoice.
"Every thought should recall the ruin of a smile" (cp. Borges on Whitman), even at the service entrance of a history bought or cajoled from experience.
What is suggested by the color sequence ("pushed" digital video) is, at first, 2001: A Space Odyssey, then more clearly films that have another association (Passion, Through a Glass Darkly, and the television series As Time Goes By). This sequence, which by the principles of Citizen Kane syntax is also not a flashback, though it takes place DEUX ANS AUPARAVANT and IL Y AVAIT DEUX ANS DÉJA (something like Pinter's Betrayal), could be said to affirm the central thesis (love as a structural principle), it throws a dash of salt spray into the wounds.
The rehearsal scenes are an homage to Woody Allen. The Theory of Love presented is akin to the stance of the poet and the Emperor of China. The three ages pose an interesting void (young and old being the subject of a Spielberg Associates, Inc. takeover, adults remain unaccounted for). Text and song are distinguished, rather as the end of The Conversation expresses itself. The swamp of Yugoslavia is sketched impressionistically. "It's interesting that History has been replaced by Technology, but why Politics by Gospel?" The modern-day Esther of Balzac exposes herself in front of the Hotel Inter-Continental. René Revel, Gardien de La Paix laid low by the Nazis, is rememorated (provoking a shorthand résumé of Godard's position on individuals in wartime, comparable to his vision of the Holocaust as an affair of railroad typists), as well as Étienne de la Boétie's Discours sur la servitude volontaire. The Confrérie de Notre-Dame...
A battered rowboat christened LA FRANCE LIBRE recalls Fellini's E la nave va. "Washington is the real director of the ship," says an American diplomat named Sumner Welles, Jr., "Hollywood is only the steward."
"Trade follows films."
The discussion of Americas is a blind to obscure the real question, which America is real, the regime, the commercial presentation, or that other one?
"America has no history, and so it seeks those of others: Vietnam, Sarajevo." This is a theme of recent fiction (see William Golding).
A short piece of film appears to be Adolf Hitler examining concentration camp bodies.
Sight and picture. "A picture, the only thing capable of denying nothingness, is also the sight nothingness has of us."
The Orchestre Rouge. ARCHIVES DE L'AMOUR. Origines et Péguy.
France in the European Union? It belongs with Britain and the United States.
"Rompez, vagues!"
"The measure of love is to love without measure" (St. Augustine).
Dans le noir du temps
Ten Minutes Older: The Cello
Last things, last minutes of things, even Jesus Christ dies on the Cross.
Notre musique
The atrocious Holiday Inn at Sarajevo, Marcel Ophuls doubtless somewhere about. Mahmoud Darwish is interviewed by a young Israeli, she sees a race of noble savages in the restoration of Stari Most. Judith, Judith Lerner.
Olga Brodsky, on the other hand, attends the magic show Godard gives à la Welles, see this photograph, ruins? Richmond 1865. Champ contre champ is our music, Hawks knew nothing of this. Bernadette's Virgin of Cambrai. These are jokes, gags, fakes. Olga goes to the movies in Jerusalem, and dies there "in the cause of peace" shot by snipers as she threatens to explode her book bag, which has nothing but books.
Realm 1, Hell. "War is hell."
Realm 2, Purgatory. Sarajevo's public library, gutted. A pile of "a few thousand battered books." The Rencontres, Goytisolo and Bergounioux among them, Judith and Olga.
Realm 3, Paradise. "The streets are guarded by the United States Marines" (Marine = Navy, in French that is, therefore they wear sailor suits), cf. Jack Arnold's Bachelor in Paradise. Olga there, where the waves of passion lap at the feet of the blessed.
"The apex of all literature," Borges calls the Divina Commedia. "I am a hedonistic reader." Air Bosnia from Zagreb flies in the director for his prestidigitation, "Le texte et l'image". The ridiculousness of writers and men of action who "don't know what they do or write what they know, look at Mao" (Bergounioux).
"To see your fellow man turn against you inspires a deep-seated horror."
"If anyone understands me, then I wasn't clear" (Olga, quoting, her death is from Eliot, Home Olga).
The camera is downstream on the Neretva to look up at Stari Most rebuilding (a flash of video records the destruction of it before).
Paradise is verdant, as Nabokov pictured it ("I like that mountain in its black pelisse / of fir forests... // Shall we not climb thus / the slopes of paradise, at the hour of death, / meeting all the loved things / that in life elevated us?"), and rather like the bibliophiles in Truffaut's Fahrenheit 451. One man is reading David Goodis's Street of No Return in French. Olga shares an apple.
"Death is the impossibility of possibility, or the possibility of impossibility. Thus, 'I is another.'" The title might well refer to Rimbaud, "savant music is lacking to our desire."
The friendliness of Sarajevo is an effect achieved by repeating a shot or jumpcutting for déjà vu. In a minute or two, you have the feeling of having spent an afternoon or a day there, the city looks instantly familiar after a while. Actually, it looks like any number of cities, and rather better than Albert Brooks' Hell, Los Angeles.
Rooms dominated by a TV with a news or stock crawl, the examination chamber of Cocteau's Orphée with the pile of books from Ray Bradbury not set afire. Goytisolo in the library, "with such a revolution of destructive force, there has to be a corresponding revolution of creative force." Brando's Indian. Darwish, "does a culture with great poets have a right to rule over a culture with none?"
Bergman's dilemma is answered by a theme from Aria (Godard at the Rencontres). Eyes open, seen, eyes closed, imagined. Champ contre champ, the victor makes fiction, the vanquished make documentaries. "We're unable to free ourselves, and we call that democracy" (Hélas pour moi).
A shot of Godard the visiting lecturer in an airport lounge area with a very highly reflective floor, seated before shops and neon signs, etc., resembles the lunchtime café in À bout de souffle, which Losey remembered in The Romantic Englishwoman, and serves for the scene in which Olga has sent him a CD with her picture on it.
The subtitles are habitually hit-or-miss. Surely it was Bohr, not Borg, who visited Elsinore (spelled "Elsinor" here) with Heisenberg, setting up the shot/reverse shot of an "ordinary" castle and a very legendary aspect. "Was you ever bit by a dead bee," someone is asked, but it comes out squared off yet again (Nouvelle Vague has the same error).
Une catastrophe
"With such a revolution of destructive force, there has to be a corresponding revolution of creative force."
Film socialisme
Evidently a comprehensive satire, sc., Socialism Film, a companion piece to the Dziga Vertov Group canon.
les trois désastres
3x3D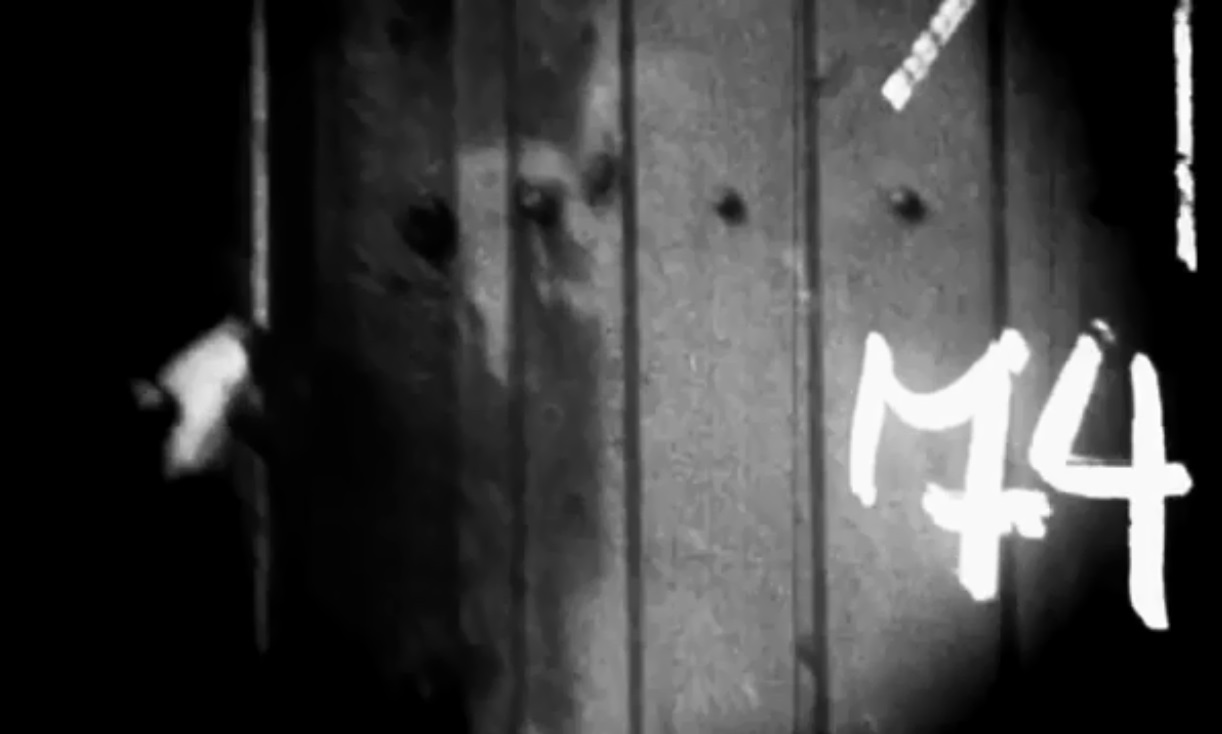 "The time has come to fight" (Eisenstein).
Adieu au langage 3D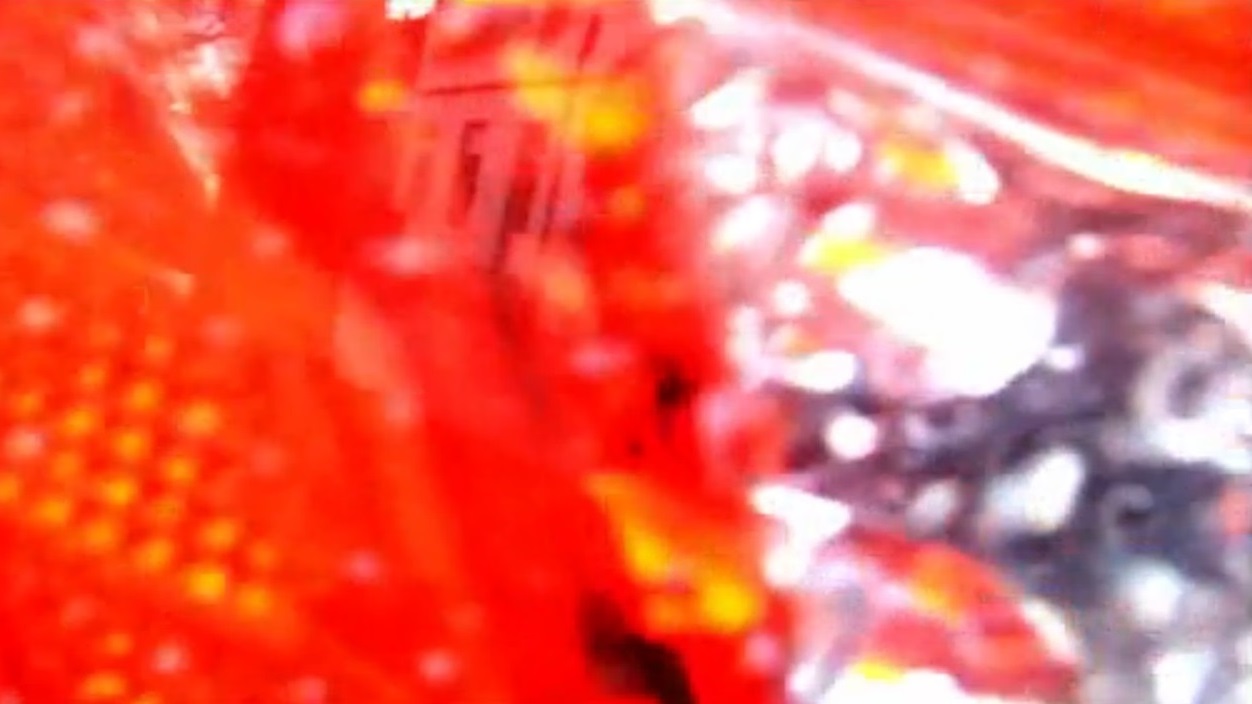 The pleasure of the machine, tabulating the visual field. The famous joke in Notre musique, "I couldn't think of anything to say..." Solzhenitsyn, Marche slav. "Hitler's second victory," Warhol's Flowers (Daisies) Rain Machine so to speak en face (the Wolfen-view of Michael Wadleigh), which manages to suggest somehow Which Way to the Front? (dir. Jerry Lewis). Guitry's logjam in Quadrille, Riemann's "une ligne de zéros le long de la mer," Mary Shelley's "demon whose delight is in death and wretchedness." Cf. George Pal's tom thumb for Petit Poucet.
The title ("Ah dieux... Oh langage") recalls Harold Pinter's Mountain Language, an element of his great culminating masterwork, the radio play with music Voices.
Cf. after all Schick After-Shave...
Message de salutations
Prix suisse
remerciements
mort ou vif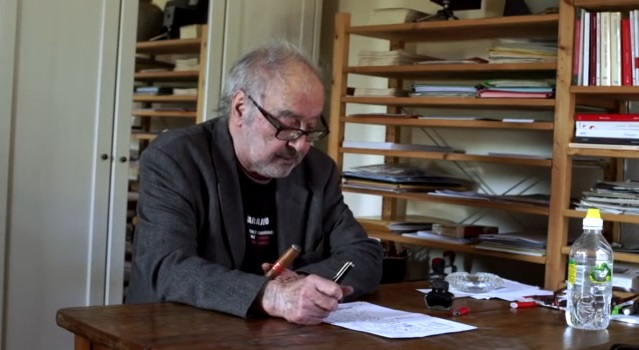 "Mais le cinéma c'est autre chose," cp. Adieu au TNS.