The Jayhawkers!
"The country of Kansas."
Missouri Red Legs raid the place, the new Napoleon moves in to provide protection. Arturo Ui has the same idea.
A beautifully-constructed masterpiece on the theme. A key basis for Michael Garrison's The Wild Wild West.
Chandler's Hitlerian inflection of the harangue in one small town along the trajectory to Abilene is quite authentic, "this will be our land, our home, OUR KANSAS!!" Parker falls for the allure of "big ideas" ever so briefly, one of the beauties of the screenplay.
A Frenchwoman on the prairie bears witness.
Chandler again, "be not alarmed, my friends, for I come not to rob but to protect, not to burn but to build, not to hurt but to help. While others are destroying themselves, we will build our land strong and beautiful, safe and beautiful! I will build hospitals for your sick, schools for your children, new roads, new churches, a new way of life!" Gian Maria Volonté might have modeled his work for Leone from this.
Halliwell's Film Guide, "unconvincing but rather unusual".
Buona Sera, Mrs. Campbell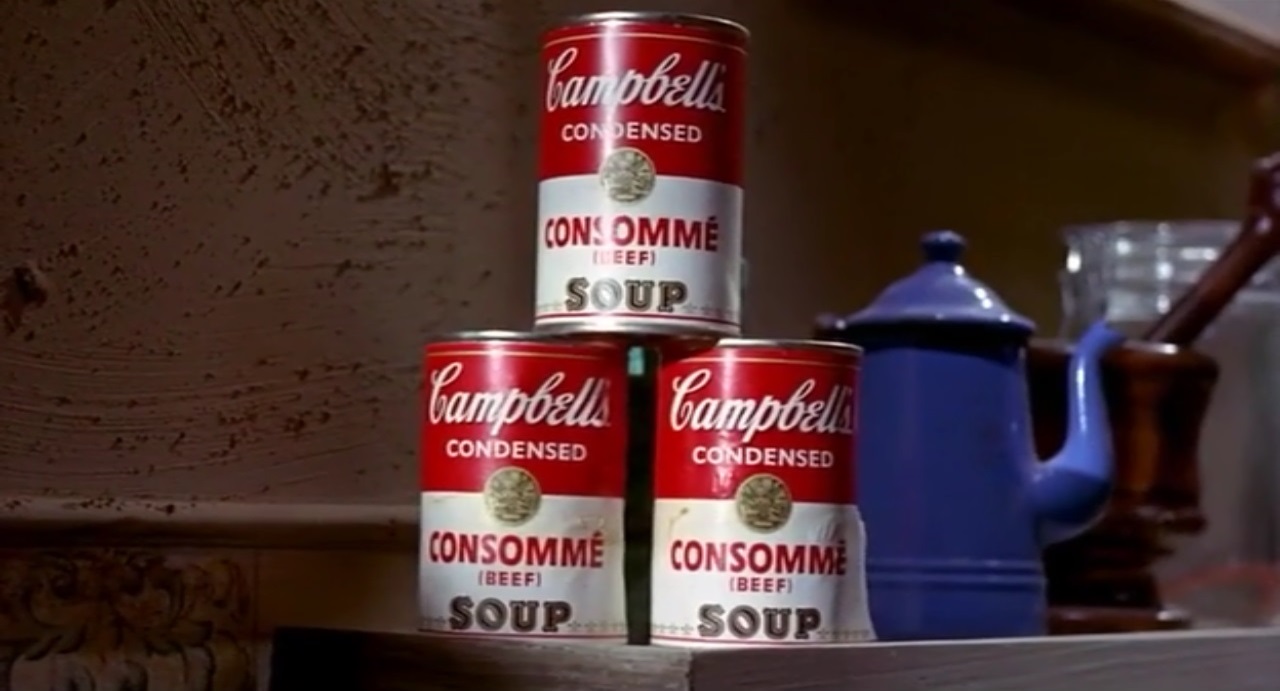 The men of the 293rd Squadron, their part in the liberation of Italy. Question of a girl on her way to Brazil with a married academic out of Paris, putting a stop to that, it means being a father to the girl twenty years later, even. Time and space, what are they but inconveniences to an effort so heroic even their wives acknowledge it, in the end?
The main structure is appreciably from The Man in the Gray Flannel Suit (dir. Nunnally Johnson), counterbalanced with a survey of Italian films from Anna di Brooklyn and Marriage Italian Style and Two Women (dir. Vittorio de Sica) to Era notte a Roma (dir. Roberto Rossellini) and Superstizione (dir. Michelangelo Antonioni). Secondary material is provided by Cat on a Hot Tin Roof (dir. Richard Brooks) and 2001: A Space Odyssey (dir. Stanley Kubrick) for the silent view from under a hair dryer in a talkative salon. Cp. A Bell for Adano (dir. Henry King) and Boeing Boeing (dir. John Rich), variously.
Howard Thompson of the New York Times, "did have possibilities." Variety, "Lollobrigida, no comedy actress, is one here." Roger Ebert (Chicago Sun-Times), "a charming reminder of what movie comedies used to be like." Tom Milne (Time Out), "formulary but mildly amusing until it gravitates to sentimentality." Richard Luck (Film4), "ridiculous if analyzed". TV Guide, "most of the humor is based on the men dashing in and out of rooms to keep from being spotted with Lollobrigida, but some genuine character study is accomplished by examining the old soldiers' personalities through their wives and families." Halliwell's Film Guide, "outstays its welcome and lets its invention peter out."
The Prisoner of Second Avenue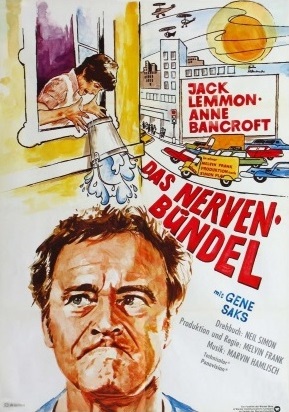 "Elevators drop us from our day," and then they throw water on us... Capra's nightmares are integral to the theme, especially Meet John Doe and his Book of Job, It's a Wonderful Life.
The close work on Wilder's The Seven Year Itch has a pivotal metaphor as its basis, the Temptation of St. Anthony (cf. H.C. Potter's Mr. Blandings Builds His Dream House).
A.H. Weiler of the New York Times, "less than an overpowering study". Variety, "the film is more of a drama with comedy, for the personal problems as well as the environmental challenges aren't really funny, and even some of the humor is forced and strident." Molly Haskell (Village Voice), "let them eat croissants!" Judith Crist (New York Magazine), "who would want more?" TV Guide, "not one of Simon's best plays, nor... one of his better screenplays." Time Out, "little more than routine jokes". Film4, "the real reason to watch this is..." Catholic News Service Media Review Office, "uneven... director Melvin Frank pumps up all the life possible in a script hinged on situations that are not very amusing and wisecracks that are only occasionally witty." Hal Erickson (All Movie Guide), "a lesser but still entertaining Neil Simon work." Craig Butler (All Movie Guide), "doesn't quite satisfy as a piece of writing." Halliwell's Film Guide, "gloomier-than-usual".
Walk Like a Man
In which Howie Mandel dies for our sins. A Melvin Frank film, by the author of Where's Poppa? (dir. Carl Reiner).
To be sure, the first two-and-a-half minutes, laid twenty-eight years in the past, are perfect. Frank's idea of the present steps onto the scene in the person of a lady environmentalist, spot-on. The unexpected tempo of the work is the secret of its hidden laughter, not all absconded, you might say.
A child whose gold-crazed family are as wolves to him grows up in the wilderness among literal wolves, there you have the genius construction. The foolish female studying "nomadic instincts" and the like brings the blighter back alive, a one-third heir.
The demands of the satire are very severe, a brilliant cast is outshone by the cat. Lee Holdridge contributes the worst music he can think of. Soupy Sales meets Fang (played by Soupy Sales) is distantly suggested by the comedy of rehabilitation ("ain'ts to me, nots to you!"). The heir howls in church like a canine Eliza Doolittle, an in-law quaffs her Bible deeply, throwing her head back for great gulps.
The wolf comes home to hunt, in other words. He learns to jog, to use a computer, to dance something like the Mouse. "Attempts to give the Kaspar Hauser myth a new twist," says Time Out Film Guide, nothing "can put meat on this very dry bone." A trip to the mall is "fun" for Bobo, escalators, buying clothes. "Are you a homo?"
"No, I'm a Bobo." Glass elevators, Martin Lawrence Galleries. "I have to make a pee-pee." Mazursky's Scenes from a Mall, Nichols' Wolf. That dummy from the Information Center gives her left arm. Teddy Ruxpin...
Goodbye to all that. Cock a leg all over that. Bobo, cousin to Ernest T. Bass. "What? Shit! Wait..." Stephen Elliott takes the stage for the final scene, a formal dinner with the in-law's father, a psychiatrist. The competency hearing that follows is really by way of a coda.
Not exactly cynosure with the critics, the whole pack fairly sniffed at it, fangs bared, without a doubt.
Essentially a remake of Panama & Frank's The Court Jester, "birthmark" and all.