Bowery Blitzkrieg
Loss of the Golden Gloves to racketeers.
This is something for the East Side Kids, it costs blood.
Some of the funniest gags thereabouts, witness the apple cart.
The Corpse Vanishes
Fox is inspired for most of this film, and produces frissons that have nothing to do with genre. It may be he had just seen Dreyer's Vampyr, or perhaps he was struck with the essence of Lugosi, in a close-up, taking it all in. At any rate, this hour or so, before Dr. Foster tells all (Fox goes out for a smoke in this scene, and only comes back to film the girls, before the ingenious finale works things out) is unanalyzable moviemaking of the richest, a wonderful sustained inspiration. Dr. Lorenz speaks to the Countess, then he ascends the staircase from lower right to upper left as she turns and walks right to left, the camera tracks on her as he rises out of sight, then she opens a side door in the staircase and disappears into it. Is it the fluid rhythm of this, or the tempo? Foster and Patricia are conversing in close reverse shots, under the dialogue you begin to hear a train bell, they're at the depot, waiting for the train, Fox cuts to it, at a sharp angle, coming into the station. What is there in all this, but something more than the sum of its parts?
Amid echoes of Julian's Phantom of the Opera and Whale's The Bride of Frankenstein, a humorous reflection of Hawks' His Girl Friday.
Let's Get Tough!
A rollicking film with a vaudeville turn yet, that keeps Fox on the go every minute and keeps emerging with new material all the time, featuring a haunted-house transition and a surreal conclusion at the conventicle of the secret society of saboteurs.
Smart Alecks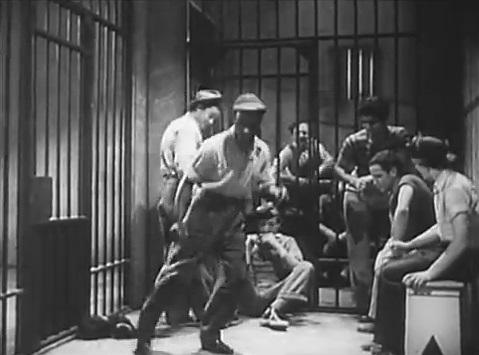 "And they call that the better half."
"Better half, there's two o' them!"
A member of the club goes bad for a "sack o' potatoes" and some lettuce.
"This guy eats like Hitler was in Brooklyn."
"Hello gorgeous, ya like to join my ball team?"
Homage to Wyler.
TV Guide, "the usual wisecracks". Leonard Maltin, who misunderstands the plot, "undernourished entry." Hal Erickson (All Movie Guide), likewise, "second-rate entry".
Bowery at Midnight
This is where Lang's Dr. Mabuse meets Buñuel's Viridiana in one of those surprising developments that revise a whole way of thinking, like the discovery that Méliès and Keaton are linked by Griffith. Fox relies on straight propulsion to carry him through the horrors on an even keel, and the excellent script has beautiful humorous touches.
'Neath Brooklyn Bridge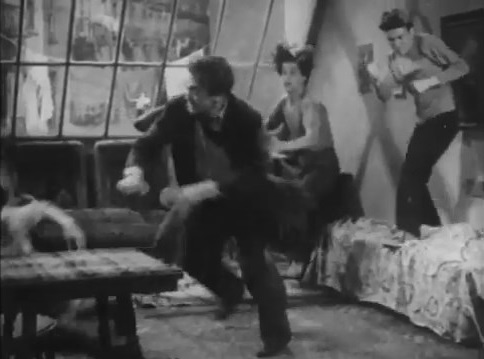 "It's an architecterial masterpiece."
The dominion of crime, a silent witness.
"Whadda you do, make those notes in shorthand? You do it awful fast—so, you been drawin' PICTURES all these years?"
High hats, "war profiteers", soup to nuts. A source of Hogan's Heroes in the girl emerging disguised from the trapdoor in the clubhouse ("that rule has been retrieved for the temporary time").
Kid Dynamite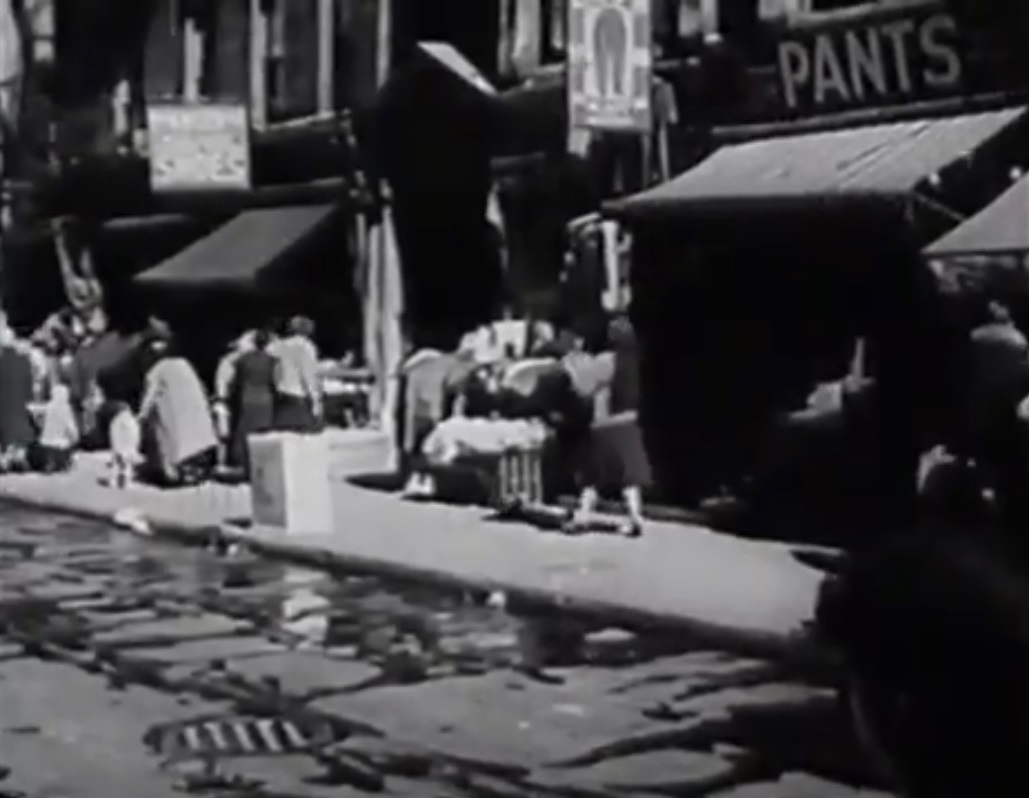 East Side vs. West Side, in current conditions. "Look, this time go in and give him a right cross, a left cross, then give him a Japanese uppercut!"
"A Japanese uppercut?"
"Yeah, a double cross." The other guy don't play fair, and you ain't supposed to be playing anyway, says Mrs. Lyons. A great, elastic study of the war, with one of the great fights on film, and a jitterbug contest. "You mean to say those Nazis just walked in and snuffed out a whole town just like that?" Muggs has the villain's part on the Hawks Scarface theme but finally joins the Navy to fight alongside Glimpy (Marines) and Danny (Army).
Cf. Edgar G. Ulmer's Tomorrow We Live, George Sherman's X Marks the Spot.
Leonard Maltin, "rambunctious". TV Guide, "so-called comedy".
The Great Mike
A bold, exciting film, because Fox out of doors relies on natural compositions that build up easy, sonorous implications of rhythm. Only Fritz Lang in Scarlet Street in the studio has this kind of eye at this time. The freshness lasts right into the sound stage, and puts this film all told a good ten or fifteen years ahead of its time, as well as among the best of its time.
Pillow of Death
A film that can only by understood backwards, starting at the end. This has proven too difficult for critics in any event, if you call Bosley Crowther a critic.
Then the wartime allegory, set up early on, becomes quite clear. The odd jumble of assortments more or less noted by critics in after times is a feature of style akin to Max Ernst.
The staggering boldness of the compositions, the dreamlike apparitions of matter-of-fact bodies, the upending of stylistic understandings principally to do with the occult, these are things beyond the ken of scribblers.
Fox exhibits a swirling vigor of style at the outset, before settling in among the jewel-like settings which are quite capacious, as customary with an Inner Sanctum mystery.
The Gay Amigo
The great director of The Great Mike is, not surprisingly, greatly at home among horses and sunlight. The serenity of his flawless technique just floats along in tracking shots, and is based on a thorough knowledge of the whole range of equine films.
Cisco and Pancho are philosophizing on the U.S./Mexican border, "sometimes what you do not see is more there than what you do see." Before they know it, they're mistaken by a U.S. Army patrol for members of a terrible Mexican gang. However, The Cisco Kid has learned those aren't Mexicans at all, but Americanos in disguise.