Sweet Charity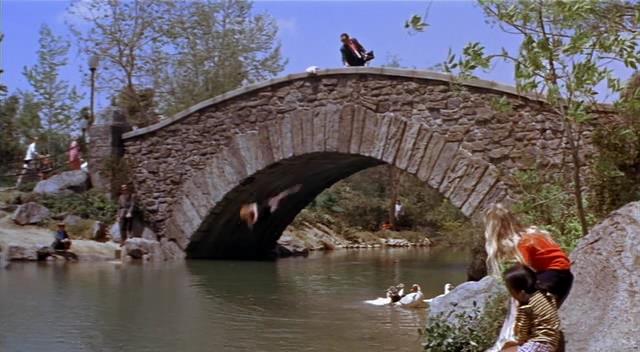 "Occupation?"
"Social Consultant."
"Where?"
"The Fandango Ballroom."
"Dance hall hostess!"
By Peter Stone out of Neil Simon, from Fellini, Pinelli & Flaiano, music Cy Coleman, lyrics Dorothy Fields, cinematography Robert Surtees, choreography by the director.
Screwed, tattooed and tossed in the Central Park lake "for 427 measly bucks." Studies of the girls, a wall of sirens, "fun, laughs, good times."
"Do you know how many guys are running around this city carrying pocketbooks?" New York, the soul of the place is strictly from Charity. Cukor's My Fair Lady, Fellini of course, Vadim's Barbarella, "I'm the only person here I never heard of." The director-choreographer goes to town over a mountain range of satirical inscapes, which is why Godard admired his work from the start, Ken Russell evidently a fan, he really gets somewhere with his dances, also his settings and everything else. "Do you like Brahms?"
"Huh?"
"The music." Even more, "the things I say for money." Indeed one of the hardest-working directors in the business, always something new, in the tradition of Henry Hathaway and George Roy Hill, going back visibly through Funny Girl (dir. William Wyler) and West Side Story (dir. Robert Wise), even How to Succeed in Business Without Really Trying (dir. David Swift) and The Producers (dir. Mel Brooks) and Hello, Dolly! (dir. Gene Kelly) that same year.
The Italian movie star, Oscar the actuary and the Rhythm of Life Tabernacle ("I'm on a mailing list, the Church-of-the Month Club")...
The decisive position of the artist, who from a certain standpoint is anciently and proverbially "for sweet charity", that taxi dancer ("bowdlerized", says Halliwell, "accords ill with real New York locations").
She's the bells of St Peter's in Rome,
she's tissue paper on a comb!
Vincent Canby of the New York Times, "a long, noisy and, finally, dim imitation of its source material." Variety, "a terrific musical film." Film4, "witty, energetic, often very sexy and always memorable." Tom Milne (Time Out), "Fosse starts on the wrong foot... no masterpiece." TV Guide, "Bob Fosse, making his film directorial debut, couldn't convey the verve he injected into the play to the movie version." Hal Erickson (All Movie Guide), "wholly undeserving of its bad reputation." Halliwell's Film Guide, "its threads of plot come to nothing," citing Rex Reed, "platinum clinker".
Lenny
A fictional character, also Honey, Sally Marr, Artie Silver, Milton Berle in disguise, etc.
The genius almost entirely abstracted for another creation, bright young thing takes Jewish comic, fall in with bad lot they, Aunt Mema or Jack Paar zonked on a stool, giving out with the business.
Perrine was widely honored for a key performance, "I love you, Fat Boy."
"Why do you always have to be so fucking hip?"
So this is another construction, another understanding.
"Oh, I'm a fuckin' fad? Thirty!"
This really happened, of course, to Jack Paar.
It's The Jack Paar Story, and from that surrealistic displacement all the aperçus are brilliant, the sympathetic Chinese restaurateur, the interviewer from TIME, etc.
"Monogram Pictures presents Rotten Together, starring Fay Wray and King Kong!"
"You think it's funny!"
"Yeah, King Kong's mother!"
If Oprah Winfrey ate Chicago, Fosse immortalized it.
"I can't work this shithouse. My stomach is killing me."
"Much more fancily edited and photographed but no more profound than those old movie biographies Jack L. Warner used to grind out about people like George Gershwin, Mark Twain and Dr. Ehrlich" (Vincent Canby, New York Times).
Variety interpreted the character as "one of the precursors of social upheaval." Time Out Film Guide follows Canby.
Halliwell's Film Guide refers to "the obscene comedian" and cites Pauline Kael at The New Yorker, "for those who want to believe that Lenny Bruce was a saintly gadfly who was martyred for having lived before his time," a view intimated by Canby as well.
Or else he says, echoing Osborne's Luther, "I can't work this shit out," opinion is divided.