Welt am Draht
World on a Wire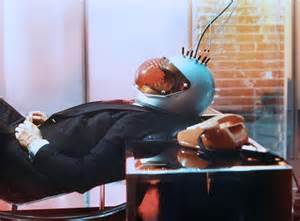 The director's "echo" of Godard's Alphaville and something of a magnum opus in its own right.
A reading of the film in color, "a reproduction in miniature of our society... a tiny universe identical to ours."
The Third Man (dir. Carol Reed), "it has to look like an accident so the other units don't suspect." The vanishing act of 1984, public and private.
"I think, therefore I am. Right?" Contingencies of the real (cf. Fleischer's Soylent Green). "Siskins must be a bigger gangster than I thought."
Delusion? "That's a good name for the baby" (auf Englisch), cf. Kubrick's 2001: A Space Odyssey, Krish's Unearthly Stranger.
A.O. Scott of the New York Times, "too slow and diffuse to count as a lost masterpiece." Roger Ebert (Chicago Sun-Times), "I don't believe we're expected to be shocked by that possibility... I'm not convinced Fassbinder really cared." J. Hoberman (Village Voice), "a bit of a slog". Joshua Rothkopf (Time Out), "the discovery of the season." Jason Buchanan (All Movie Guide), "mind-bending".
Angst essen Seele auf
There is a complicated little setup to this love story, and Fassbinder's handling of it is half the style. Deutschland, whatever it is, is all in the hands of a widowed middle-aged cleaning lady. Her husband was a Polish laborer during the war, they both were Nazis, "everyone was, or nearly." She meets a Moroccan guest worker younger than herself, they fall in love and marry.
The gag material around this is most impressive and drily delivered. The Arabs in Munich keep to themselves after the PLO catastrophe, she takes him for their wedding dinner to an Italian restaurant favored by Hitler before he became Chancellor, "I've always wanted to eat here." It's expensive.
It's Fassbinder's Othello, rationalized beyond reckoning so as to be almost unrecognizable. Perfectly filmed in formal shots setting off the detailed color cinematography.
Despair
Behind Hermann Hermann is a Russia "lost", before him in his adopted country is the rise of Fascism. It's 1930 and so on, Wall Street's collapse impinges on his chocolate factory. His wife is unfaithful with a bohemian artist cousin.
Hermann tries to do a murder, a merger, but the bankrupt chocolate maker tells him, "keep your fucking shekels."
Hermann finds a sort of human road apple and kills him attired as himself, to collect the life insurance and live with the wife somewhere else, Switzerland, far from the cousin and the rest.
The police aren't fooled, there is no resemblance between the dead man and the passport photo in his pocket.
The direction is especially remarkable for its striking period representation freshly contemporary. Bogarde's evocation of a Nabokovian character begins with an aural impression of the author. Stoppard's screenplay is typically lucid, a sort of running telegraphy sent among the orchestral dimensions of the filming to bear the straight line with no fuss, but with several amusements along the way.
Die Ehe der Maria Braun
The pornocracy (Metropolis).
Die Sehnsucht der Veronika Voss
The pornocracy (Sunset Boulevard, The Long Goodbye).
Lola
The pornocracy (Le Mani sulla cittą, Der blaue Engel).