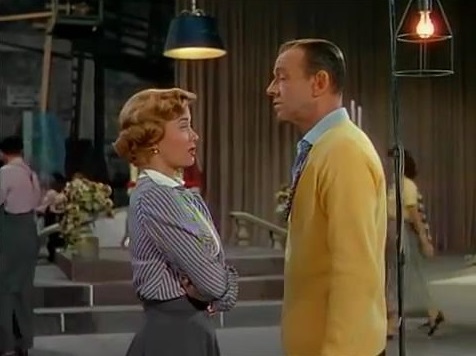 A tale of two cities, Every Nite at Seven in New York, Every Night at Seven in London.
Bosley Crowther of the New York Times, "the best that we can say is that it has one swell number in it." Variety, "two of the numbers are sock enough to almost carry the picture by themselves." Leonard Maltin, "pleasant". Dave Kehr (Chicago Reader), "doesn't cohere quite as well as his best work." Geoff Andrew (Time Out), "lively Technicolor musical". TV Guide, "a lovely bit of frou-frou." Hal Erickson (Rovi), "brilliance and virtuosity." Halliwell's Film Guide says "journalists congregate... thin musical..."
Andrew Sarris (The American Cinema), "intermittent flashes of inspiration."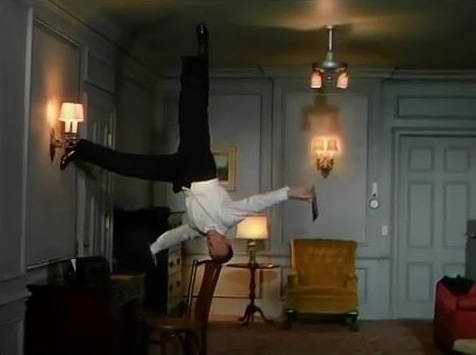 Love Is Better Than Ever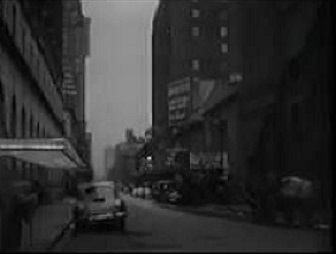 Echt New York, Broadway.
"See? That's why I turned agent, no straight men left."
Case of the academics, a dance teacher wants to buy a routine from two clients, male twins, in New Haven (cp. Footlight Parade, dir. Lloyd Bacon). Seaton has Teacher's Pet for this, and how (Altman has the negotiating agent in McCabe & Mrs. Miller).
"If there's anything I like, it's a gal with a mother in Texas" (cf. Sidney's Anchors Aweigh).
The class of Terpsichorean toddlers is one of the very most sublime jokes in Donen's bundle, and his ease with a joke is remarkable, Kathleen Freeman as the costume lady uses a pincushion on her wrist like Lionel Atwill at his darts in Son of Frankenstein (dir. Rowland V, Lee) quick as a wink. "I'm here for the American Dancing Instructors of America convention."
"I'll keep your secret."
Stevens' Woman of the Year is very nicely adumbrated.
"Everybody goes to 21, you gonna be different, you gonna start a whole new world?" Just like home, 21 is, Gene Kelly eats there, and the Copacabana is right out of Singin' in the Rain, most amusing (cf. Mackendrick's Sweet Smell of Success), "because, you see, although we're glamorous and beau-teeful, we're just intelligent girls at heart."
Donen proved here, as later in Surprise Package, too fast for critics to follow, and a good deal ahead of his time, thus Bosley Crowther of the New York Times, "foolish little fable... watery nonsense... insufferable... we regret the necessity to note that it manifests no improvement in either movies or love," get him, will you? Necessity! Strictly from famine, the B.C. "we"! "Movies or love," he says, "M-G-M made this picture, and we regret" etc. "But heaven deliver the heedless..." (it opened "at the Trans-Lux Fifty-second Street Theatre", see Mackendrick). Leonard Maltin, "forgettable froth". TV Guide, "lighthearted romantic comedy... a good script is marred by uneven direction and leads who are not always up to the energy of the project," there's cant for you, cantering.
"So five hundred times I had to write, 'I will not step on my father's laughs.'" Even more, "make up your mind, that stale convention or are you gonna live?"
Sports of all kinds, "a comic they call him," exiting the Zephyr Club, just around the corner from Lindy's, "he really pitches a tent, doesn't he."
The upshot is The Children's Hour, or rather These Three (dir. William Wyler), anyway a compromised reputation or the semblance of one, mothers pull kids out of the Anastacia Macaboy Dancing School.
Preston Sturges' The Lady Eve for the counterwooing, and Charade for the big finale.
Larry Parks founds his agent on Robert Montgomery arguing sanity with reaches of Hope, Benny, and Silvers ("not on ya life"). Elizabeth Taylor builds steadily on the out-of-town girl to a fine comic understanding.
Halliwell's Film Guide bears this Donenesque blunder, "only moderate production values are brought to bear on this wispy plot which shows no signs of development."
Seven Brides for Seven Brothers
It's a thrilling film, not only because it builds to the famous barn-raising dance and fight to close the first part, followed by a long buildup to the punchline of the second, but also by reason of Donen's great technique.
His sang-froid with CinemaScope lets the frame cut off Jane Powell just below the chin standing next to Howard Keel before the wedding (with a slight perspective suggesting an angle of futurity).
A.H. Weiler of the New York Times thought it wiser not to ask, but it's all explained in the exposition. Back East where it's civilized a man can take his time courting a girl, but who can spare time on the farm in Oregon when there's trees to be cut (the bridegroom can land one within an inch of where he wants it) and land to be plowed (twenty acres in a day, if he puts his mind to it)?
Donen uses a sound stage for "Wonderful Day", the mountains go out of focus when Powell sings, a breeze stirs the leaves and flowers. His long takes can be motionless like the farmhouse interior as the brothers are introduced, or circular in a characteristic motion (slow and back around) like "Lonesome Polecat", or just plain ferocious as when he leaves Keel up a tree to frame Powell in a window ("When You're in Love") and returns to him afterward, all in one shot.
"Goin' Courtin'" is done in three shots, the brides' song in two, "Lonesome Polecat" in one.
The set decoration is noteworthy as one department (the M-G-M orchestrations are another, with banjo) of a solidly realized picture down to the smallest details. The disorder and refuse in the farmhouse are quickly seen and quickly mended, these honest farmers who dance up a barn (and fight it down again, goaded by vicious townsmen) are not exactly the "hix" fondly lauded by reviewers of the time.
Deep In My Heart
A theory of criticism.
As distinct from a work of biography.
An artist is present in all of his works, they constitute his biography.
The perception of this is criticism.
Sigmund Romberg, seen through the prism of Singin' in the Rain.
Bosley Crowther of the New York Times was a colossal ass who found Jose Ferrer in the great central number "labored and humorless" (cp. The Last Tycoon, dir. Elia Kazan).
Halliwell's Film Guide praises the script, funny the writer knows from. Sarris, "virtually a complete disaster."
Funny Face
The photographer's art.
Opposed to it is something called Empathicalism, a philosophy to Frenchmen.
Aspects of the theme are from Minnelli's An American in Paris and Curtiz' White Christmas ("Choreography"), Indiscreet and Resnais' I Want to Go Home are very useful analyses.
Nabokov's "Ode to a Model" is particularly apt.
Kiss Them For Me
A perennial theme for Donen, servicemen at home (On the Town, It's Always Fair Weather, but also Damn Yankees), treated to a scouring limit that is transcended the way shellshock or combat fatigue is numbed over and left behind, in fact it's like just what it says it is, the better part of a week in San Francisco away from Navy flying in 1944.
Critics had no comprehension of this at all, whatsoever.
Indiscreet
It must be properly analyzed to be seen at its true measure, critics have never done that but found the film laudable and "thin", the play "fluff". The complex structure can be seen to combine the husband and the lover in Lubitsch's That Uncertain Feeling as one, that accounts for the overall form in which a deceptive lover is snared and landed, and the admirable tessitura of London and international society (the lover lectures on "hard currency" not bound to another, takes a job with NATO in Paris while he conducts his love affair with a West End stage actress, and finally delivers a "monetary pact" in New York).
The result of all this is one of the most beautiful color films ever made, a preoccupation of Donen's, and this has not been noticed either.
Once more, with feeling!
Scientific American and Nature periodically try to explain art as a neural function or some such nonsense, that's half the film.
The other half is the board of trustees, God bless them.
Cassavetes' Too Late Blues is on the same beam, per Duke Ellington.
Liszt and an uncredited Berlioz have a hand in this.
Surprise Package
An American mobster with his hand in everything is deported to a Greek isle with nothing, there the King of Anatolia exiled by the People's Republic lives comfortably on the crown jewels, the gang sends a moll instead of the dough.
"I read it in a book."
"What book? I know your whole library, you got Robin Hood and Peyton Place!"
The mysterious formulation of Dassin's Topkapi is partially accounted for by this Runyonesque fantasy so exhilarated by its location it might by turns be Born Yesterday or The Lady from Shanghai at any moment (it opens like Goldfinger's mob confab).
"Love is a surprise package," says the song by Sammy Cahn and James Van Heusen.
Bosley Crowther of the New York Times pronounced it "chaff" and "witless". So Halliwell's Film Guide, "flat and feeble".
A heist is in order. "Aw, I'm sorry. Is that the only crown ya got?" Cf. Frankenheimer's The Train.
It might be Huston's Beat the Devil or Renoir's Le Carrosse d'or, which is how it ends.
The joke is see you in C-U-B-A.
The Grass Is Greener
The man of money (half a crown) intrudes upon the private apartments of a National-something-or-other "stately home" (Coward) and takes the Countess to London and the Savoy.
The Earl objects, there is a duel.
Wilde and some others figure in the script, which is acted by a nonpareil cast.
Charade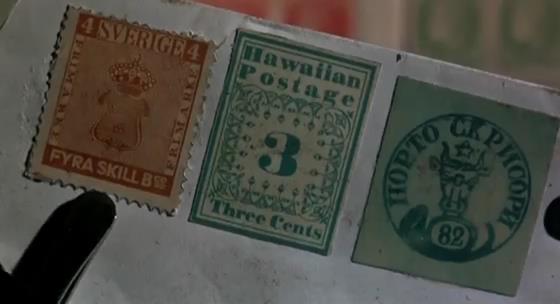 Consequences of an assassination, its motive (the MacGuffin), "and twelve Princess Grace commemoratives..."
Alfred Hitchcock (The Man Who Knew Too Much, To Catch a Thief, The Lodger etc.) and Robert Siodmak (La Crise est finie at the Comédie-Française, where the title signifies "Happy Days Are Here Again").
The mirror of Arabesque.
Bosley Crowther of the New York Times, "an interesting element in the picture is Henry Mancini's offbeat score, which makes the music a sardonic commentator. I'll go along with what it says." Robert B. Frederick (Variety), "has it made." Pauline Kael, "high-style kitsch." Time Out, "mammoth audience teaser." Dave Kehr (Chicago Reader), "perfectly crafted". TV Guide, "charming". Halliwell's Film Guide, "satisfying sub-Hitchcock nonsense," citing Arthur Knight, "sinister".
Arabesque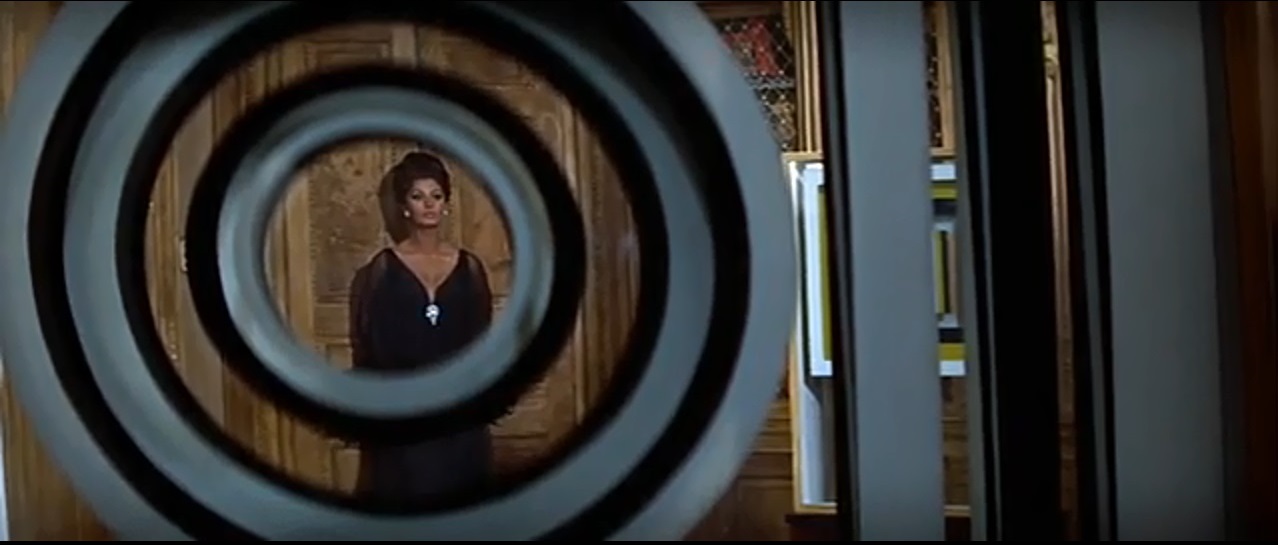 It takes an Oxford don to solve for x, the year before Losey's Accident.
A visit to the eye doctor, a new prescription.
The Hittite inscription that isn't one but a mere goosing, the prime minister who isn't one but a dead ringer, for purposes of state. A great work of art on the subject, closely related to Charade, intricately wrought on themes of Hitchcock (Foreign Correspondent, Marnie etc.) and Welles (The Lady from Shanghai, Mr. Arkadin etc.) to convey a sense of art for art's sake (Binder, Dior et al.).
Profound score by Henry Mancini. A British picture (Challis cinematography, Dempster camera), Anglo-American at least. The swans do not "fly high in the kingdom of Vesta" but swan about on the river Isis.
Grace Glueck (New York Times), "apparently goes on the theory that in a chase movie the plot should only be used as a framework, for visual entertainments." Variety, "fault lies in a shadowy plotline and confusing characters." Tom Milne (Time Out), "very sub-Hitchcock." Dave Kehr (Chicago Reader), "not quite the tour de force". Film4, "convoluted and often ridiculous." TV Guide, "mindless, absurdly complex". Judd Blaise (Rovi), "airy, intentionally superficial comic adventure." Halliwell's Film Guide, "utterly forgettable" (citing the Monthly Film Bulletin to much the same effect, also Sight and Sound, and Robert Windeler in rebuttal, "a strikingly visual chase and intrigue yarn").
Two for the Road
This has a real, functional surrealism tied to Albee (Everything in the Garden) in its latter scenes, which is prepared in the American tourist couple and daughter. The wife's affair is also signally betokened by the husband's highway fling, this is the way in which his career advancement and her pregnancy are understood (Clayton's The Pumpkin Eater is the major precedent).
The theatrical device of intertwined cars and hitchhikers is a suture from the playing space of Miller's After the Fall, a continuous fluid structure is obtained by way of Welles' flashback organization in Citizen Kane.
A subtle taste for Antonioni, the refined study of Hitchcock in Charade and Arabesque, the screenplay by Frederic Raphael, and the actors, give an account of marriage prefiguring Nabokov's Ada in certain respects.
The four motifs wind through France on a walking tour of architecture and a girls' choir bound for a music festival, a roadster holiday at a venture, a trip to Greece with an old flame's new family, and a business trip to St. Tropez.
The plug-in Venus from It's Always Fair Weather, "Chantilly Glaces!" on sale in that city, the patron as Old Man of the Sea, and everywhere a swiftness of invention brought to immediacy by the stylistic conception, make for a masterpiece of the highest water.
A spoof of Americans abroad takes the measure of Tati's postman obliterated by American efficiency, and Melville's Parvulesco aghast at American female dominance.
Various hurdles are dispatched with a sense of time configured as momentum, and this is to be understood as an imaginative principle at work, the meaning of surrealism.
Cat on a Hot Tin Roof (dir. Richard Brooks) figures in the Americans' spoiled daughter. On the road that leads to Cap Valéry, her father is "the largest pocket of untapped natural gas known to man."
Bedazzled
A C. of E. catechism, Michelangelo painted it for the RC, Cook & Moore & Donen filmed it.
The opening (and closing) "spin" motif was paid tribute by Robert Altman in Prêt-à-Porter.
One point of departure for the devil's tricks is a Twilight Zone episode starring Luther Adler, "The Man in the Bottle", written by Rod Serling and directed by Don Medford.
American audiences used to get this sort of thing every Sunday morning from Insight, but not on this lavish, sumptuous scale, with some very elegant ideas on color cinematography by Donen.
You have love envisioned from the standpoint of the unrequited working class, the frustrated intelligentsia, and the rich but deceived. You have the gratuitous nightmare of the pop star, featuring the title number as not sung by Peter Cook. You have the sex life of a cicisbeo. At last, you have the gorgeous flummery of the nunnery.
Interspersed are really classic bits on the seven deadly sins, what are known as "quick takes" (Envy is a bitching queen, Lust is Raquel Welch).
Staircase
The two parties in this terribly undervalued comedy are hairdressers for the far outer reaches of London, each facing a moment of truth. Charlie (Rex Harrison) is up before the judge on a charge of willful impersonation of the female, to wit Mrs. Whatsit launching a battleship, in an ad lib revival of his cabaret act, or perhaps the bleedin' young copper what pinched him has still further evidence of incitement to depravity.
Harry (Richard Burton) has gone completely bald, which as Charlie gleefully points out simply won't do in the tonsorial line.
They care for their mums, Charlie's is silent, voracious, institutionalized, and calls him a Sodomite to his face. Harry's is vociferous, arthritic, incontinent, and cries when he leaves the house.
The litterstrewn park with Coney Island sunbathers, two having it off after a sudden rainshower, the litterstrewn street, Charlie's pickup of an evening, tears, recriminations, courage for the new day.
The Little Prince
Only a film director can grasp the full import of the experience symbolized, and those who are familiar with that experience by report.
He draws an elephant inside a digesting snake, it's taken for a hat, charming, exotic, disgusting or tiresome.
His plane crashes in the desert. A series of illustrative episodes describe his difficulties, but the thing is a constellation.
Lucky Lady
After the rare cri de cœur of The Little Prince, Donen strikes back at the Philistines.
The great John Held, Jr. cartoons are endpapers of the high life, the film depicts its furnishings. A note from Truffaut's Jules et Jim supplies the partnership, deflecting George Roy Hill's Butch Cassidy and the Sundance Kid (also, a critic has noted The Sting).
Tijuana bar money comes from running wetbacks, there's a fortune in contraband. Rumrunners rise high, tangle with a near-psychotic Coast Guard skipper, and beat the East Coast mob in the battle of San Nicolas Island.
Altman took a turn at this as homage in Popeye, with another view.
The dullness of the underworld is plainly depicted in Seiter's Borderline.
Movie Movie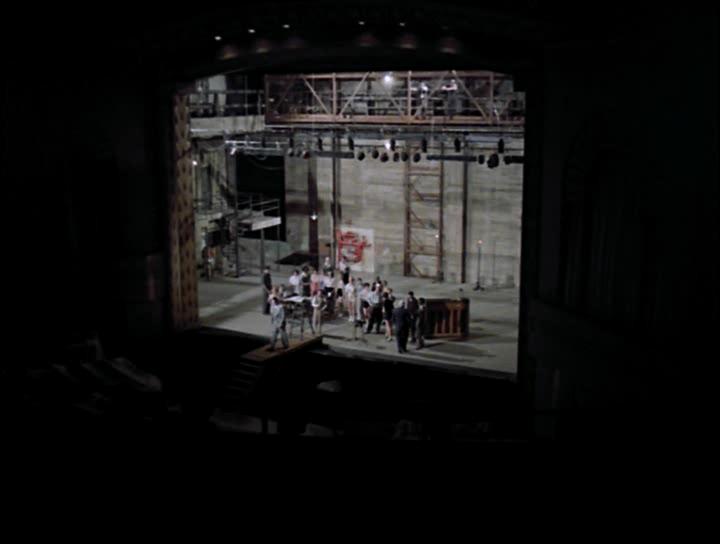 Donen's masterpiece by Gelbart & Keller on the Depression and the war years twice over, from Body and Soul (dir. Robert Rossen) and 42nd Street (dir. Lloyd Bacon), with Zero Hour ("his plane was his mistress") in between, the trailer.
What it was all about, a great work of analysis. "Gee, Simpson, if you're what orphans are like, there oughta be a whole lot more of 'em."
"Kitty, I've been around a long time, and you can take it from me that Broadway—is a queer racket."
A certain note is sagely adduced from The Boy Friend (dir. Ken Russell).
Vincent Canby of the New York Times, "it seems so effortlessly funny that I suspect that the real intelligence and discipline that guide the project will be overlooked." Variety, "the conception is a mess, and it shows." Time Out, "dire script... flat performances... pointlessness..." TV Guide, "you have to know a lot about the movies upon which this is based to glean the most out of the humor." Dave Kehr (Chicago Reader), "the screenplay relies too heavily on facile non sequiturs, but Donen has the shape down pat: squared off, symmetrical, and wholly self-contained." Craig Butler (All Movie Guide), "ultimately just a silly exercise." Halliwell's Film Guide, "pretty patchy... golden moments..." citing Richard Combs (Monthly Film Bulletin), "swallowed in its own idiocy."
"Age before beauty," says George Burns, "after you."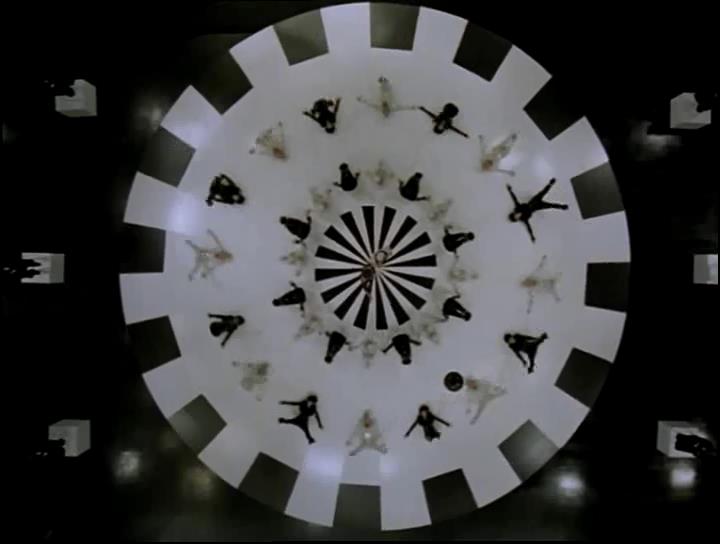 Saturn 3
The entire film exists to posit a single image, that of a man who straps on explosives in order to destroy a robot.
A remake of The Grass Is Greener and much imitated.
Blame It on Rio
The problem as stated is from Matisse, it builds to a climax of farce and is reconciled per Mozart, the equation is "emotion recollected in tranquility".
The narrative structure is derived from Bergman by way of Allen, and the keynote is the "I Left My Hat in Haiti" number in Royal Wedding. That complicated "stage" piece is directly transposed into a "realistic" cinema format in one shot dollying right onto a street musician.
Above all, a masterpiece of lighting, at a time when several directors (Rafelson, Mulligan) were discovering the implications of cool colors briefly propounded by Huston in a single shot of The Man Who Would Be King. The structure presents a certain problem of harmonization. This is resolved in subtle color combinations, organized as a scale of pure colors modulated through shade, with glints of pure sunlight sometimes in the background (or highlighting the foreground), and cool shaded colors predominating.
The range of his palette gives Donen an opportunity for analysis and representation of Rio colors, and he uses it to full advantage. His compositions grow in subtlety and complexity, giving very deep and very fresh color combinations.
The coda adds a little sauce to this variation on a theme, with a gag about being young twice.
Love Letters
Donen's color harmonies are of the deepest and rarest. The beauty of that is, television's always had a hard time coping with color composition (compare the gentlemanly chiaroscuro of black and white), and this is an ABC production.
Prokofieff: Sonata #7, Op. 83, 3rd Movement: precipitato
Split-screen, various angles of attack, a group of monitors, exhaustively realized up against Stravinsky and Bartók, adequately.
Mischa Dichter, "five cameras... one take."