Ludwig der Zweite
König von Bayern
Das Schicksal eines Menschen
Dieterle is on the spot, as it were, where Visconti is ex post facto.
The monument is raised to the savior of Wagner, or rather a toast.
A "streng historische" film by intent, and without tendentiousness by design. It is a question, says Dieterle, of understanding a personality better in this latter day. He presents the facts, does no analyzing, lets the Ministry and the people speak for themselves, variously, he plays the role himself for Universal, a greatly advanced film.
Her Majesty, Love
A Pinter revue sketch that opens at the Berlin Cabaret and continues in the offices of the Von Wellingen Ball Bearing Foundry, a family firm run by "a lot of old ladies male and female and some of them both."
Dieterle in Hollywood, echt Berliner (cf. Max Ophüls' Lachende Erben), board of directors and all that go right into Capra's Broadway Bill with advantage, a musical (cf. Ophüls' die verliebte firma.).
"Are we going to have a directors' meeting or—are you going to crack nuts?" Perfect Hollywood, the style, Ben Lyon heading the cast. The directors vote, the scion walks...
His engagement is announced to jazz Wagner from the Cabaret orchestra. "I think you're a little bit tipsy, ahhh? Never mind, it's a very good omen for marriage, I was half stewed when I proposed to your mother." The father-in-law has a barber shop, was in vaudeville, W.C. Fields more than sublime, sire of Will Geer, circus man as well, daughter tends bar at the Cabaret, "believe me it helps," father of Archie Rice, "you must come and see us some time."
The firm will meet all terms the scion proposes, so long as he doesn't marry the girl, infra dig, the soul of virtue, Hungarian, Marilyn Miller, sonnez la cloche, "a real girl, and you are nothing but a lot of—a lot of—ball bearings!" Thus the man of sense marries her, where the sensible man signs her away, but it's the man out of his senses who keeps her, and she is now a baroness.
Mordaunt Hall of the New York Times, "Wilhelm Dieterle, the director, wins top honors in Her Majesty, Love, a breezy little affair which was wafted into the Winter Garden last night, Mr. Dieterle's direction of The Last Flight revealed him as a stylist, but here he accomplishes even greater wonders by his joyous manipulation of the camera.
"The scenes of this film swing swiftly along, with hardly a pause, yet through Mr. Dieterle's magic touch nothing is confused. He darts here and there, blends in flashes with quick dissolves and impresses one as being a producer who could make a poor story interesting and a good story a masterpiece... Mr. Dieterle also shows himself to be a wizard with the microphone and it is really astounding how he keeps his camera going from place to place... one cannot but hope that some day Mr. Dieterle will be rewarded by a narrative more worthy of his artistry and fertile brain."
Variety, "Marilyn Miller and Ben Lyon doing a tango on the cabaret dance floor... turns out to be the picture's high point." Leonard Maltin, "unbearable". Jonathan Rosenbaum (Chicago Reader), "perhaps most notable for..." Time Out, "few belly laughs but much charm." TV Guide, "a flat, inept musical comedy". Mark Deming (Rovi), "Fields' juggling routine provides the high point". Halliwell's Film Guide, "heavy-handed", citing Clive Hirschhorn, "exceptionally dismal".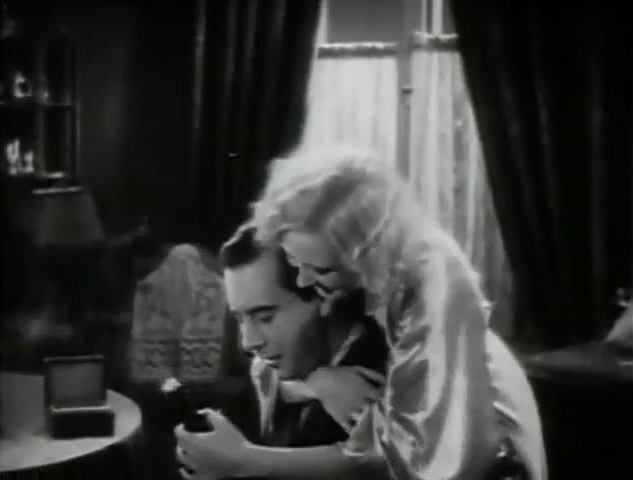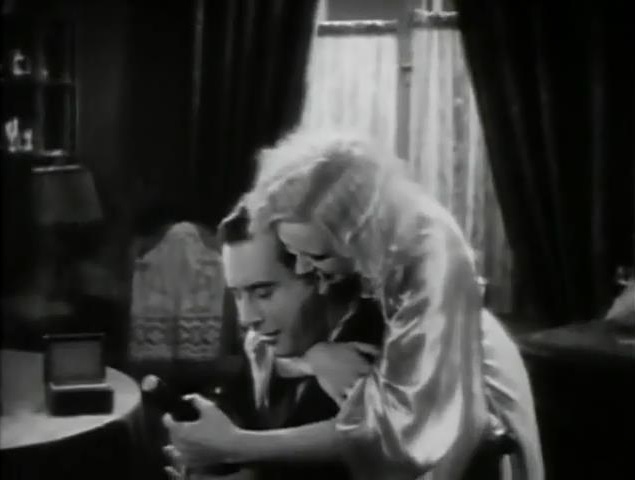 Jewel Robbery
The sublime technique has a cushion, Keighley as associate director.
"Untouched and in the suburbs? Oh, no! No, that doesn't intrigue me at all."
The banker under another guise who purloins the finest and bestows it on a lady of highly romantic imagination.
"Show me your jewels, will you?"
"Of course," replies the robber.
"I hope it's been a lesson to you."
A.D.S. of the New York Times found that "William Dieterle's direction has the proper daintiness and wit," but "Kay Francis, who can be a good actress, is a definitely bad actress opposite Mr. Powell," and that is what makes horse races.
"The Warner Brothers answer to Trouble in Paradise" (Dave Kehr, Chicago Reader).
"Lubitsch-like bauble... breathlessly paced, witty and charming" (Leonard Maltin).
"Imitation-Lubitsch romantic comedy" (Hal Erickson, Rovi).
"Good sparkling fun" (Halliwell's Film Guide) "in the shadow of Trouble in Paradise."
The Crash
A woman's vanity and a man's weakness make up the sum, the opposite of these put paid to it.
Dieterle, very far advanced in technique, between Siodmak's La Crise est finie and Capra's Broadway Bill.
Mordaunt Hall of the New York Times, "scarcely a stimulating piece of work... sadly amateurish... on the surrounding program there is a Laurel and Hardy comedy, which elicited loud laughter by the slapstick work of these two comedians." Variety, "a weak picture... makes dull entertainment... an ambling narrative... ends about where it began, at both of which points it is indefinite and in the meanwhile it meanders vaguely... seems reasonable to look for the picture to bring indifferent returns and go down in the records as an in-and-out... picture is a medley of inconsistencies... audience reaction gets to the point of bored indifference... the fadeout is a triumph of inconsistency... the surroundings are flawless, but nothing happens in them to pique interest or capture sympathy or even provoke hostility." Leonard Maltin, "plodding". Sandra Brennan (Rovi) could not follow the plot, "she destroys her husband because she is bored with her lover and wants to start fresh in Bermuda." Halliwell's Film Guide, "dim... poor..."
6 Hours to Live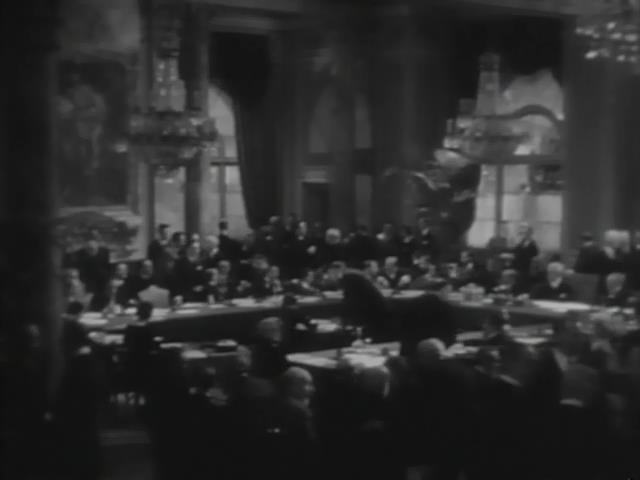 At an international trade conference, the delegate from Sylvaria is murdered to prevent his lone dissenting vote.
He is revived like a rabbit from a scientist's hat, with reference to Whale's Frankenstein.
His striking speech electrifies the opening scene. "The trade policy you suggest would wipe my country off the map. It would deliver her helpless into the hands of those who covet her. It would mean—more idle men, starving children, women selling their bodies for—for bread."
Thus an adumbration not only of Sartre's Les Jeux sont faits (dir. Jean Delannoy) but Albee's Everything in the Garden as well.
Annus mirabilis, six films that year.
Mordaunt Hall of the New York Times, "the impossible is at least made interesting". Sandra Brennan (All Movie Guide), "off-beat sci-fi film." Halliwell's Film Guide, "fanciful hokum", citing Variety, "should bring picture into the money."
Scarlet Dawn
Ken Russell in Dance of the Seven Veils and David Lean in Doctor Zhivago have incorporated the material as far as possible, "out of this madhouse, this cemetery that once was Russia!" Mamoulian's We Live Again takes another long view, Chaplin's The Immigrant is assuredly the basis.
Mordaunt Hall of the New York Times was nothing but convinced this was a masterpiece manqué, "not up to Guy de Maupassant's fine style."
Leonard Maltin, "fairly interesting oddity."
Halliwell's Film Guide, "heavy-going romantic drama", citing Variety per Hall, "fails to arrive."
Grand Slam
The author of genius versus the hack or ghost writer, the title comes from bridge.
The genius asks, "must one use a system? Can't one use one's own intelligence?"
"NO," the other players exclaim. William Blake, therefore. Einstein on chess was probably the inspiration, Dieterle is just the man for the job, therefore.
And this is Stravinsky's advice to young composers, "take a year off and make a million dollars."
The Stanislavsky Method of Contract Bridge is Church-endorsed and has no rules for husbands and wives to fight over, as proven in tests.
An intensely amusing masterwork on "the modern pastime" from the Liederkranz Club to all points west.
"America's Bridge Sweethearts" go bust, the ghost goes to press.
"They'll never think of Brooklyn, the saps."
The Swedish champion is a plain allusion to the literary in a film about cards (cp. Catch-22, dir. Mike Nichols).
The world stops, time stops, everything stops as he plays the challenger at a New York hotel (cp. Rich and Famous, dir. George Cukor).
"I belong not to any clubs! Clubs is for sissies, I'm a pinochle player!"
The world and time and everything resume when "the Bridge Sweethearts are reunited!"
Mordaunt Hall of the New York Times sided with the overdog in a blunt and noisy review, "blunt satire and noisy slapstick."
Halliwell's Film Guide has "able spoof" (and Variety, "should be enough to show a profit").
Fashions of 1934
The essence of crime, a long joke about evading the altar in one ludicrous scheme after another, and that's only one side of it, Dieterle's masterpiece.
Golden Harvest Investment Corporation (New York, N.Y.) goes broke, what other racket presents itself but haute couture knocked off from Paris?
California ostriches, a phony Russian duchess, a phony U.S. Senator and Oscar Baroque the couturier lead to the classic revelation in the City of Light that high fashion descends from the Old Masters and can therefore be forged.
Busby Berkeley handles the stage revue called Elegance, the latest creations are revealed behind double scrims at Maison Elegance, a progress from painting to picture.
Variety had no idea, this was "predicated on a false premise," therefore. M.H. of the New York Times allowed himself to be carried away.
Dave Kehr (Chicago Reader) speaks of "below par... strange casting" etc. Halliwell records it as "slight".
Fog Over Frisco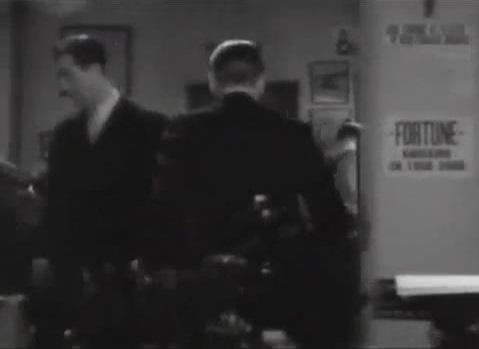 "Why, boys, this is a New Deal, ain't it?"
Stolen securities go West to Bello's, frequented by a stepdaughter of the rich and plaything of the mobs, blonde Bette Davis meets Douglas Dumbrille there well before My Little Chickadee (dir. Edward F. Cline).
A root and source of Hitchcock's Marnie (cp. a Stranger Among Us, dir. Sidney Lumet). "I have a strong hunch we haven't scratched the surface yet."
Case of the missing sister...
The city is an evident inspiration, though Dieterle's exquisite technique is already seen before his location shooting comes into play.
"Clean your feet!"
"I didn't step in anything."
Mordaunt Hall of the New York Times, "what Fog Over Frisco, the new film at the Warners' Strand, lacks in the matter of credibility, it atones for partly by its breathless pace and its abundance of action." Leonard Maltin, "snappy melodrama". TV Guide, "when Jean-Luc Godard named his homage to Hollywood Breathless, he must have had this film in mind." Dave Kehr (Chicago Reader), "breathlessly paced". Geoff Andrew (Time Out), "no masterpiece, but a fascinatingly brisk thriller". Hal Erickson (All Movie Guide), "still manages to leave viewers breathless." Halliwell's Film Guide, "very entertaining despite its plot inadequacy," citing Variety, "another racketeering story," Robert Forsythe of New Masses (where he wrote of Mae West "who so obviously represents bourgeois culture at its apex that she will enter history as a complete treatise on decay"), "the shallow content of ideas makes you want to scream," and William K. Everson, "its speed is artificially created".
Madame Du Barry
"Will no-one bring me a woman who knows nothing of politics?"
All parrot and lapdogs in bed. Du Barry Was a Lady, says Del Ruth. "I don't like the idea," (war with England) "let's forget it."
Famously, she is doing to France "just what it's doing to me."
Reginald Owen, the more English the more French he. Dolores Del Rio discovered by Osgood Perkins, unalterably opposed by Verree Teasdale and Henry O'Neill, Victor Jory in opposition turned friendly, Maynard Holmes and Anita Louise the Dauphin and Dauphiness, Marie Antoinette, "poor little redhead," Dieterle everywhere, one of five films he directed that year, a chef-d'œuvre, cinematography Sol Polito, score chiefly by Mozart.
"A nice way to start a regime."
Andre Sennwald (New York Times), "fails rather definitely to come alive".
Variety, "a Hollywood idea of Versailles."
Leonard Maltin, "superficial".
Hal Erickson (Rovi), "romp."
Halliwell's Film Guide, "unpersuasive".
Just the feminine version of Ludwig der Zweite.
The Firebird
Vexations of the author, parrot-actors (the ex-wife claims her alimony), the paterfamilias who saves his daughter from Tolstoy's Resurrection by burning it forthwith, and so forth, and this is Vienna. "As for The Firebird, it's fit only for savages." Now you know where you are, but a step from Friedkin's Jade. Hindemith had to rebuke the players once for adopting such views.
"How can anyone write under these conditions?" Stravinsky took lodgings in a piano factory.
"He was terribly conceited, and always telling lies." What says the daughter? "They don't mean to let me grow up."
Andre Sennwald of the New York Times, "it is difficult to become aroused".
Hal Erickson (Rovi), "all but forgotten today."
Dr. Socrates
End of Red Bastian and his gang in Big Bend, Oh.
The local folks is "a mite standoffish" with the title character, a Chicago man.
"Bastian's men have been terrorizing the middle west," Federal agents move in.
The doctor's philosophy holds him in good stead.
Andre Sennwald of the New York Times saw "a bit of minor league melodrama" and expressed his wish "that the Warners locked up their armory for the season," like John Leonard bidding Norman Mailer curb his genius (Variety, "seems a minor effort"... TV Guide, "a most minor effort"). Leonard Maltin, "enjoyable... offbeat".
Halliwell's Film Guide, "good star melodrama" (citing the Sunday Times, "rapid, strong and exciting").
Screenplay from W.R. Burnett, cinematography by Tony Gaudio, a rich sendup of small town life.
Dieterle's signature is Dr. Ginder spilling the silver service at the last.
Hal Erickson (Rovi) has the plot wrong, beginning with "a prominent physician".
Edwin Lawrence has the comeback in Important News with Chic Sale.
Dr. Ehrlich's Magic Bullet is a chemical basis for the treatment of disease, Pasteur is a chemist, the two films run parallel.
Antisepsis (childbed fever), inoculation (anthrax in sheep, rabies in dogs and wolves and men), stolid opposition in the Academy.
He wears himself out in this, beard and pince-nez are noted by Ferrer in Huston's Moulin Rouge.
A portrait of a scientist, or as Frank S. Nugent put it in the New York Times, "a monument to the life of a man."
Halliwell quotes Variety famously, "probably limited b.o., but a creditable prestige picture," which recurs in Kazan's The Last Tycoon.
Satan Met a Lady
A very beautiful and probably unique masterpiece (B.R. Crisler in the New York Times expressed his view that it was "a farrago of nonsense" and a work of insanity, there's criticism if you like) in the Germanic style, a little like Fritz Lang's Die 1000 Augen des Dr. Mabuse in some ways, a little like John Huston's The Maltese Falcon in others, from the same source.
Crooks think Roland's horn was crammed with Frankish gems by the Saracens to silence it, Ted Shane of the Shane & Ames Detective Agency falls into the case when his partner is murdered.
Many films get up this head of comic surrealistic fervor and élan from time to time, Dieterle sustains it throughout, continuously, and probably the source of the joy is just how dumb crooks are (a theme common to Huston and Lang).
"An inferior remake of The Maltese Falcon" (directed by Roy Del Ruth), Variety thought, and so did Jonathan Rosenbaum in the Chicago Reader ("perversely rewritten", says Halliwell).
Tom Milne in Time Out Film Guide came very close to appreciating its limitless virtues.
Another Dawn
An outpost in Mesopotamia. "Now that's what I call a democratic orderly. Sleeps in your bed and snores at you... Kipling should have immortalized Wilkins."
A beautiful construction on the theme of love and duty, the hero's madness, "who only stand and wait."
Korngold is justly praised by Hal Erickson (Rovi), the rest he calls "this dreary exercise".
Leonard Maltin, "well-paced adventure story".
Time Out, "flimsy fare indeed."
Halliwell's Film Guide, "absurdly sudsy melodrama."
The Life of Emile Zola
Dieterle's Zola, whose peculiar genius is to size up a situation in a trice, without reflection, and act instantly upon it.
Cézanne (in a striking self-portrait sat for by Vladimir Sokoloff) is the emblem of his conscience when the Dreyfus affair is brought to his attention as a successful author championed for the Académie by Coppée.
Critics at the time grasped the achievement (Time, Variety, New York Times), so did Pare Lorentz and John Grierson, more recently critics such as Tom Milne in Time Out Film Guide ("well-meaning pap") and Dave Kehr in the Chicago Reader ("utterly, magisterially bland") have taken a different view.
Blockade
A vision of the pastoral landscape, Spain.
"The Spring of 1936".
Dieterle sifts the rhetorical position with great speed, having Ivens' The Spanish Earth in view, and quickly arrives at the facts of the matter.
Opposite to this are "adventure, money, love." He has the curious pivot of a passport photograph for this, there is an art in obtaining a true likeness. Spain is expressly compared to a work of art, for the benefit of one who understands such things.
Variety missed the mark by a long country mile, "a plea against war," it said, that "pulls its punches."
Tom Milne (Time Out), "totally spurious."
Mark Deming (Rovi) essentially parrots this error.
"Now there's an example of war psychology. Of course in my opinion this whole war is psychological."
A work of genius, to be sure.
The prayers of the people.
It is all too much for a mercenary spy, too much entirely.
Frank S. Nugent could not follow it, nor Otis Ferguson, as cited in Halliwell's Film Guide, likewise (the famous notice of impartiality is a mere blind).
The sewer, before Reed and Wajda. The observed sinking of the S.S. Fortuna is almost certainly remembered by Fellini in Amarcord and E la nave va.
The great score by Werner Janssen was nominated for an Oscar, also the story but not the screenplay by John Howard Lawson (Rudolph Maté's cinematography is "mentioned in dispatches" but not Alexander Toluboff's art direction).
Hitchcock gives the denunciation of Gallinet his raremost praise by incorporating it entire (suitably embellished) in Foreign Correspondent.
A court-martial for the traitor, out of Beethoven's Fidelio.
Before Hitchcock, before Chaplin, a direct appeal to "the conscience of the world."
Juarez
The immediate spur is the Spanish Civil War, it animates the drama in a most cogent way until the scene drifts back beyond the events and the American Civil War to the American Revolution, which is where the screenwriters wanted it.
The expository dialogue that states the drama was ignored by critics at the premiere and has hardly fared better since. Therefore, Bette Davis and John Huston reportedly have their jokes about Paul Muni stealing the picture with the help of his wife (according to Davis) or his brother-in-law (according to Huston), because every critic has remarked that Brian Aherne's performance overshadows Muni's, even though that is not the case at all.
The character of Juarez is further explicated by Dieterle in The Hunchback of Notre Dame. The gnomelike statesman with his democratic gnomons is a mighty performance by Muni, even stationary in a carriage outside the headquarters of a rebellious vice-president, most remarkably so, behind his heavy makeup and deeply ensconced in his equipage.
Aherne gives one of the most beautiful performances in the cinema, and when you add Davis's Carlota (and Claude Rains as Louis III with Gale Sondergaard as Eugénie) you get a film easily twenty-five years ahead of its time.
Korngold shows what he is made of at the prince's investiture, he raises the diapason to a level that he himself surpasses before the scene concludes.
The triumphant vulture observed by Carlota is the emblem of KAOS. There is an implied criticism in Maximilian's "manifest destiny". The Emperor and Empress ride in a closed carriage through Mexico like Kubrick's Barry Lyndon and his bride. The film opens with news of Gettysburg and ends in 1867.
Carlota's prayer echoes Werfel's vow at Lourdes. Bertolucci has a great use of the material in The Last Emperor. The Republic of Mexico is beset by a foreign power that aims to restore the central authority, with the Church's blessing. An absolute monarchy extends an offer of "united opposites" to Juarez as prime minister, he refuses in a memorable speech.
Meissonnier paints Louis' portrait astride a dummy horse. Davis's Carlota betrayed by France (in the face of the Monroe Doctrine) finds her voice at a pitch much favored by Kurosawa for royalty (The Hidden Fortress, Ran). Juarez's exploit at the human barricade reappears in Boorman's Beyond Rangoon.
Carlota plunges into the dark of madness like Monroe Stahr in Kazan's The Last Tycoon. Corked wine feels the seasons of its vintage, it's said, not of its pouring.
The Hunchback of Notre Dame
Variety objected that the production "overshadows to a great extent the detailed dramatic motivation of the Victor Hugo tale", stepping on it, as it were.
Frank S. Nugent (New York Times) entirely rejected it as "a bit too coarse for our tastes now."
Quasimodo translates his name, "as shapeless as the man in the moon," the moon of prayer.
Phoebus is slain by Frollo, the High Justice.
Esmeralda and Gringoire the poet depart together.
It is neither too coarse nor too refined, for it has the nobles' petition and the Court of Miracles.
The King is wise and good, as far as it goes, and so is the Archdeacon, for that matter.
Dr. Ehrlich's Magic Bullet
Huston or Kurosawa is the great analyst, in Freud or The Quiet Duel.
One of the screenwriters is Huston, Wolfgang Reinhardt is the producer of Freud as well.
Kurosawa shows the result of the disease left untreated, in direct relation to the war.
Praises from Frank S. Nugent in the New York Times and Variety are panegyrics, quite appropriately so for a masterpiece of this order, add those of Halliwell's Film Guide citing Pare Lorentz, "a superb motion picture."
A Dispatch from Reuters
Dieterle's wit runs even to hilarity, but the gentlemen of the press did not find profundity in it, Crowther (New York Times) objecting to the service de pigeons as perhaps beneath his dignity.
Jefferson's liking for Newspapers even above Governments is dramatically realized even unto Aachen, where Julius Reuter is a democrat and a champion of the free press (his wife says yes by return pigeon).
William Carlos Williams' famous lines on the news were not yet composed, they complete the equation.
Capra took up the pharmacist's mistake in It's a Wonderful Life, Welles the poeticizing and dilatory assistant in Citizen Kane (he is Bensinger the poet of The Front Page).
the devil and daniel webster
The word is Scratch, loan sharks, the bankruptcy laws and the Grange. Critics like to see Faust in it ("Benet isn't Goethe," said Variety, which saw it early on as Here Is a Man, "it's mostly symbols and morality play"), the orator's successful plea before "a jury of the damned" is founded on an American's right to his own soul, "don't let this country go to the devil" (Tom Milne considered this "a little portentously patriotic" in Time Out Film Guide), but it comes down only to selling your soul for a pot of Hessian gold and the luck of the devil ("you'll never be President," says the Devil to Daniel Webster, "I'll see to that"), a fleeting proposition.
Bosley Crowther (New York Times) thought "it should have been directed by someone who has understood New England."
Halliwell's Film Guide gives it the highest praise (under yet another title, all that money can buy), with reference to Welles' Citizen Kane from the same studio.
Tennessee Johnson
On its way to the trial in the Senate, it passes through the inspired opening sequence that dawns on Rosenberg's Cool Hand Luke and Montgomery Clift (by way of Van Heflin's inspired performance) and Ritt's Stanley & Iris (Dieterle gives a short account of Mr. Bernstein's story in Citizen Kane from Thomas Ford).
This is closely related to the theme of Ludwig der Zweite and the devil and daniel webster as well. It will surely be remarked how far in advance of Cukor's Born Yesterday it appears and yet less than a decade lies between. In the meantime there is Capra's Mr. Smith Goes to Washington, and Ford's The Man Who Shot Liberty Valance.
Not only Clift but Brad Dourif, a comprehensive performance... drawing from 1860 onwards precisely on Welles as Kane.
A loyal Tennessean who fights for the Union. The defense of Nashville. Reconstruction.
Lincoln's Vice-President. The material is directly transmuted as Kismet.
Frankenheimer has the confrontation with Thaddeus Stevens as a crucial preparation for Seven Days in May.
"It's like walking into Ford's Theatre knowing what's going to happen," says a gallery spectator. The abolitionist Stevens is carried in to prosecute on the shoulders of two black porters. Exclusion of witnesses, as in Inherit the Wind.
"The issue of Union or Disunion." Return to the Senate.
T.S. of the New York Times, "a fine and absorbing biography", he was ready to fight it over again, "may not be inspired drama."
Leonard Maltin, "sincere... glossy".
TV Guide, "the Hollywood treatment... slightly above-average".
Halliwell could divine none of this, citing James Agee on "Dieterle's customary high-minded, high-polished mélange".
Kismet
Dieterle is ready for you on the set of the royal palace.
How the Caliph came to marry the daughter of the King of beggars, whose charming lies beguile a Queen in old Bagdad.
The hand of fate, the title. "And why not? If a king isn't a king he's just a yahoo!"
Inspired score by Herbert Stothart. Songs by Harold Arlen and E.Y. Harburg.
"My rose will bloom for some camel boy. He'll never know how sweet she is."
"Eah, guess he has been drinking too much."
What would you have, Satyajit Ray on a fairy tale? Colman in his element, everybody in their element. "I wonder what this barbarian wants to have traveled so far" in 1944, to see the Grand Vizier.
P.P.K. of the New York Times dozed off before the end, but "otherwise it is a lavishly staged, fast-moving and generally enjoyable picture."
Truffaut notes the assassination attempt in La Mariée était en noir.
Dancing? "It's the flower on the mountaintop!" Which is precisely the point of Peter Brook's Meetings With Remarkable Men. It's a fair bet that Ray saw this before making Jalsaghar, Kurosawa before The Hidden Fortress for his clowns.
And when the German cinema comes to Hollywood for its life, it answers Lang's Metropolis with Dietrich in gold like something out of the Ballets Russes. Stothart evokes Strauss, Wilde's incense is brought, Russell has Salome's Last Dance.
Halliwell's Film Guide, "hollow and humourless". For the splendiferousness of this, Colman lays on a touch of Barrymore, all in fun (but cf. Crosland's The Beloved Rogue), Newton as well, he practically invents O'Toole.
Lubitsch has a Bagdad like this (Sumurun), Lotte Reiniger an adventure (Die Abenteuer des Prinzen Achmed).
The play, arranged by John Meehan, a great and able masterpiece.
"Ridiculous, beggars don't disappear from Bagdad."
Cedric Gibbons, Charles Rosher (Technicolor), Irene and Karinska.
Whether Salome dies or is converted is the dramatist's coin, as one-sided as Bob le flambeur's. It is observed that fairy tales are all that ever truly comes to pass.
Before the divan, the case of the woodchopper's ass and the "overly smart barber".
Magic, "thus demonstrating to the All-Highest, that nothing in the world is real." The dramatic construction, we may well believe, proved too mystifying for the critics.
"Rather a dead beggar in Bagdad than a living monarch of the wilderness."
The choral triumph just precedes Sir William Walton's in Henry V.
I'll Be Seeing You
The construction is after the manner of a joke. Why is a woman in prison like a GI neuro-psychiatric case? Because it's World War II, they have each other.
Crowther (New York Times) told everyone to go and see it, "warming", then true to his creed as a "critic" picked several bones to look busy.
Time Out Film Guide labels it "mainstream melodrama", whatever that is, and that's what Halliwell's Film Guide says, though Punch had the beginnings of a very dim little idea there's more to it than meets the eye of a critic.
The construction is quite specific, a boss falls from a window after assaulting the girl, the soldier with a Purple Heart and South Pacific battle ribbons lies on his bed seeing the ceiling light descend upon him like a bomb.
It's Christmas time and New Year's, each is on a furlough.
Crowther vouched for the authenticity of the homey setting, Uncle's house.
Love Letters
Here precisely is the theme of Grand Slam, a G.I. writes them for another in Italy to a girl in England, the beau is killed, the writer looks her up, not far from his childhood home.
The tone of the war in a prismatic perspective, young men and women mostly, parents looking on, carelessness and foreboding, the Italians something else again.
No-one home at Meadow Farm, Longreach, Essex. "OFFICER MURDERED, WIFE HELD", says the London Journal.
There is another girl... amnesiac, at the scene of the crime.
In the second half of the film, this one meets the writer.
Thus it opens the way Journey into Fear (dir. Norman Foster) ends, on Joseph Cotten writing to the lady.
"Sentimental twaddle", wrote Bosley Crowther of the New York Times in one of his most despicable reviews, but do not despise him, he managed on the same day to find Renoir's The Southerner admirable.
They are one and the same, of course, Victoria Remington and Singleton... "Canti", she says in the Italian dub, after citing Mark 8:36, "e giardini."
Wedding in a bomb-damaged church (cp. Mrs. Miniver, dir. William Wyler).
The influence of Welles is palpable and well-studied.
The kinship to Hitchcock is particularly close.
The postman, the bridegroom's written hand, cause her to reflect uneasily.
The Bible she writes her name in leads to a shiny new motorcar. "Oh, guarda la macchina! La macchina nuova!"
It takes her home, though she doesn't remember (here the gag resemblance to the literary amnesia in LeRoy's Random Harvest might be noted).
"Una strana calligrafia..." A film of miraculous technique and great style.
The truth of the murder is revealed to her mind in the Constable landscape (cp. The Paradine Case, dir. Alfred Hitchcock).
Variety just noticed "sheer brilliance."
Similarly Time Out Film Guide (Tom Milne), "a really rather ravishing experience."
On the other hand, "oddly unexciting" in Halliwell's Film Guide, "depressive".
This Love of Ours
From Pirandello, two pirouettes on a theme of caricature applied to the Occupation of France. Dieterle takes his time, a good long time, to deliver the goods.
They come at the child's birthday party in the last scene. One is the mystery guest, a music student blind before an operation, the other a rapt chess game tiresomely kibitzed.
That is all, as it used to be said during the war. That's enough, was the reply.
Critics (Variety, New York Times, Halliwell) did not perceive it.
Portrait of Jennie
Portrait of Jennie is a very nervous film, with a kind of horreur sacré at what it wishes to reveal, namely the progress of an artist from the "winter of the mind" through the various stages ("the bitter steps") to nothing less than the Metropolitan Museum of Art.
Dieterle saturates the film with themes of Debussy to achieve a dislocation from the audience response in the critics' minds. The critics have a love/hate relationship with this one.
Richard Donner's Twinky is one of many echoes. Powell & Pressburger's I Know Where I'm Going! is in turn an influence.
The tidal wave sequence is answered by La Nouvelle Vague in the person of Godard (Éloge de l'Amour).
The optical effects in the lighthouse scene anticipate Hitchcock's Vertigo.
There is no tower or refuge, only the Faun's veil, an old scarf.
Rope of Sand
A vividly realized picture of the Union of South Africa, and thus closely related to Losey's The Go-Between.
T.M.P. of the New York Times refrained from making foolish remarks and merely described it as "a robust exercise in muscular cinematic gymnastics." Halliwell did not contain himself and, likewise avoiding analysis, came forth with "ham-fisted adventure story which suggests at times that a violent parody of Casablanca was intended. The stars [Lancaster, Henreid, Rains, Lorre, Calvet, Jaffe] carry it through."
Vulcano
The point of departure is Flaherty's Man of Aran.
Maria lives there, Maddalena is sent back from Naples by the police. Both are sent to Coventry.
There is an underwater crew for the swordfishing, a documentary crew for the pumice harvesting, and the dramatic crew.
An Italian film produced and directed by Dieterle, which must be acknowledged as an extraordinary piece of good fortune, he made three other films that year.
Maddalena prays on her knees outside the church she is debarred from entering, God descends to her, there is no other way to describe it as filmed.
Question of a treasure trove aboard a sunken ship in these parts, involuntary memory is a deep sea diver, Beckett says of Proust.
Leonard Maltin, "slowly paced dramatics".
Hal Erickson (Rovi), who has the plot wrong, "a standard 'smoldering passions' yarn."
The lesson is sedotta e abbandonata, as the phrase is. A Vulcano girl has never been to a cinema, what's it like? "Dreams on canvas," as Dali would say. Tuna fishing with nets, the tonnara, an image of the trap (cf. Hawks' Tiger Shark).
By a remarkable coincidence, Rossellini's Stromboli was made at the same time.
The Magdalen does a good deed for Mary, ahead of Salome.
Death of a mascalzone. Fiery end of Maddalena...
Bosley Crowther of the New York Times tells us how it came to be made and that it is "a heavy and turgid entertainment... very picturesque and tempting... seems enacted and contrived... an artless, antique film" (he saw it dubbed in English, as Volcano).
Paid in Full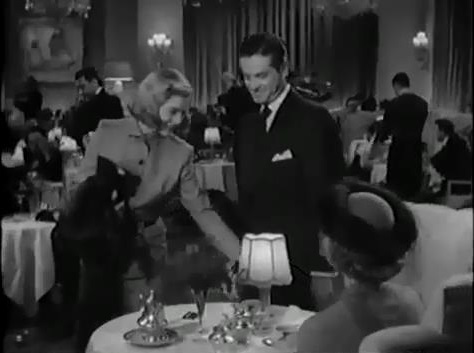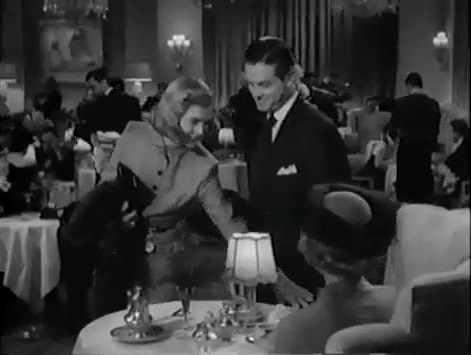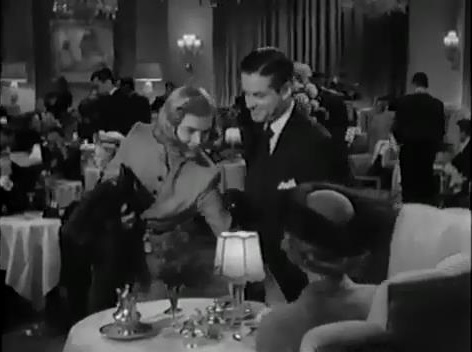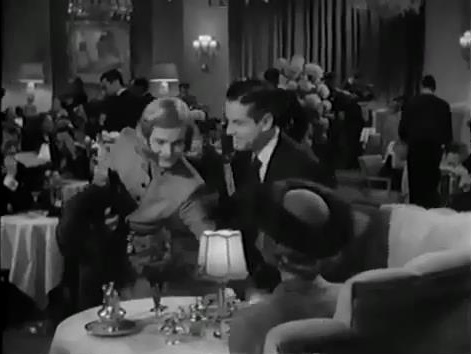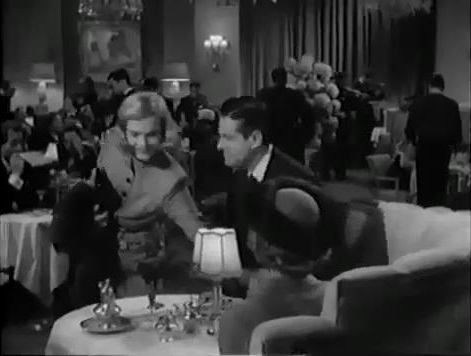 A firm basis for Vertigo (dir. Alfred Hitchcock) in the department store model dropped by a rich matrimonial target and landed by the man in the advertising department loved in vain by the girl at the drawing table with a view of the city.
Dieterle follows the line of the work himself in September Affair, here the tune is by Victor Young and Dean Martin sings it on the restaurant jukebox, "You're Wonderful" (lyrics Livingston & Evans). Question of the wrong horse for the jockey (cp. The Great Dan Patch, dir. Joseph M. Newman). The tale of Happy Sam. "Just shows you, when you think everything's lost, the good things are just coming your way."
"That's all Ben wants out of life, someone to talk to, a laugh once in a while, and a reasonable profit."
Death of the idol, breakdown of the idolater, "a new nation conceived".
New York Times, "a plodding work largely lacking in genuine drama or conviction." TV Guide, "a good waste of time." Leonard Maltin, "turgid soaper". Hal Erickson (Rovi), "doesn't always play well today." Halliwell's Film Guide, "stolid, contrived tearjerker."
September Affair
One of the wonders of the cinema. "Forgive them, for they are young, in love, and they are Americans."
They see Naples and die in the Corriere, a misprint.
Rome, Naples, Pompeii, Capri... the history of Rome in the opening sequence, L'Oro di Napoli (dir. Vittorio De Sica), the life of Ancient Rome, the world of Capri...
A hugely concentrated style of filming, exact, on the mark, yet at the same time very easy to suit the theme, stopping to put Walter Huston's record of "September Song" on the phonograph and listen to it, the leading man of Dodsworth (dir. William Wyler).
Costumes by Edith Head, piano Leonard Pennario, two cinematographers.
"There it is, the beautiful city of Florence..."
Robert Browning has "Parting at Morning" to resolve the thing with a pirouette.
A terribly recondite passage has the Hitchcockian conductor and cymbal crash at Carnegie Hall repaid in The Man Who Knew Too Much with the foreign agent's resemblance to Dieterle's Italian engineer.
The peculiar economy of the structure is similar to Another Dawn.
Bosley Crowther of the New York Times was averse, nay, a poem, "rambling drama... hopelessly silly story... simple... this banal adventure..."
Variety paid attention and noted the plot.
The Catholic News Service Media Review Office, "slick tale... pulls out all the emotional stops... strictly a formula affair... rings hollow."
Leonard Maltin, "trim romance".
Time Out notes certain aspects of the construction and refutes the charge of emotionalism.
Hal Erickson (Rovi) could not quite follow ("respective spouses") but finds it "consistently good to look at, even when the pacing flags and the dialogue becomes too verbose."
Halliwell's Film Guide, "turgid", citing Penelope Houston, "essential superficiality."
The war, too, her passport is from London, she hasn't been home to the States since 1938...
Dark City
The writing is intricate overall and fragmentary from scene to scene, it conveys a whole biography between two poles, the clarion call of war and the other one of peace.
"People act different when there's a war on," peace has its orders and duties as well, the film is a postwar analysis of the shift.
Ted Post's Hang 'em High picks up Ed Begley and the recrimination theme with a rare understanding, otherwise Dieterle seems to have gone unrecognized here.
The Cornell man who served in England drifts into the Chicago underworld loosely as a card hustler, one of his colleagues rigs a game, the victim hangs himself, vengeance comes from an older brother. The nightclub singer belts out her lyrics in vain until the mess, not without psychological implications on top of everything else, achieves its result. Extricated, one has "other plans".
Red Mountain
The man in an honorable profession who wakes up to find he's serving Gen. Quantrell for "a whole Western empire".
An excellent analysis is given in The Jayhawkers! (dir. Melvin Frank).
Subtle but vertiginous camerawork shows Dieterle's hand.
"I'm a soldier. I do what I'm told." 1865, the war is over in the East.
"The Confederacy is dead, we have loyalties only to the living."
The remarkable opening shot, one of the finest in the cinema, replaces a pair of forelegs with boots and spurs at the Assay Office in Broken Bow, Colorado Territory.
Franz Waxman at a critical juncture is just ahead of Leonard Bernstein in On the Waterfront.
Dieterle repeats the opening shot with a difference, four legs and a corpse.
Quite the classic Western, for all that "it just doesn't make much sense," according to Bosley Crowther of the New York Times (Halliwell for once does not follow Crowther). The Catholic News Service Media Review Office has "convoluted... predictable... contrived."
Boots Malone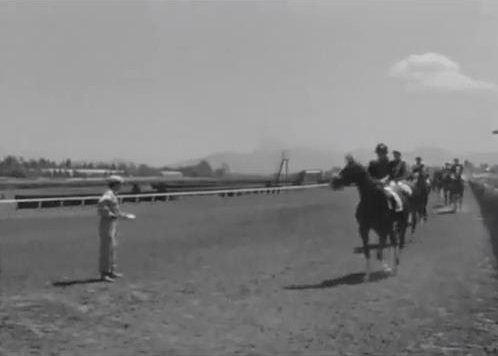 The author of Salty O'Rourke (dir. Raoul Walsh) takes it around the track again to work out the equation more analytically, further abstracting the Runyon in the direction of Ritt's Hud (music Elmer Bernstein), drawing in more of Capra's Broadway Bill (or Riding High), and with Stanley Clements once again, what gets a good horse, a great horse even, to the finish line.
"My blood, poured down the sewer, wasted on a spoiled rich runt."
"I'll miss him too."
Bosley Crowther of the New York Times, "hews close to a line of frank reporting and dramatic plausibility." Variety, "good emotional moments and sentiment without being maudlin. This handling also is reflected in the direction by William Dieterle." TV Guide, "crammed with authentic racetrack lore." Hal Erickson (Rovi), "a satisfying horse-race drama, though one might expect a little something extra". Halliwell's Film Guide, "dullish... bogged-down... repetitive and unsympathetic".
The Turning Point
The syndicate is back in a "fine midwestern city", it deals elegantly with a cop on the take who turns against it, he dies a hero.
An investigation brings to light a securities firm with all the records, the syndicate smuggles them out and blows the whole building up.
A highly–placed underling brings in a torpedo from Detroit to gun down a reporter at the fights.
By this time, investigators have the goods.
H.H.T. of the New York Times saw Kefauver in it, nevertheless "sober but uninspired" was his judgement.
Salome
A Galilean princess (Rita Hayworth), who is to be queen, a dutiful daughter in love with a Roman commander ordered home by dint of his Christian views, at the last one amongst the crowd to hear the Beatitudes.
Basil Sydney's stolid military governor Pontius Pilate in Jerusalem is an absolutely perfect portrait, so is Cedric Hardwicke's Tiberius Caesar. Alan Badel's John the Baptist is the middle term between Maurice Schwartz's pious religious counselor Ezra and the Messiah. Stewart Granger's Claudius seems about to hatch from his armor, a new creature. Charles Laughton's Herod is played down very quietly until he runs in fear to Ezra's chamber after the deed is done, still its full majesty is ultimately matched by Judith Anderson's Herodias, infinitely cunning.
Bosley Crowther took it for a sex show in his New York Times review. Halliwell's Film Guide has "distorted biblical hokum".
The idea is to convey, amidst a carefully refined array of provisional models (ancient and modern, Roman and provincial, Jewish and heathen), the sudden drastic conversion of the princess following on her brief meeting with the prophet in his prison cell, at the sight of his head on a platter ordered by her mother.
The King dashes off to Ezra, the Queen leaves the throne room laughing, Claudius and Salome attend the Sermon on the Mount.
The Dance of the Seven Veils, beautifully photographed by Charles Lang, is intended to win the Baptist's freedom, Herodias makes a side deal first.
Elephant Walk
A psychological representation overlooked by reviewers.
"Hardly a work of art" (TIME).
Bosley Crowther dismissed it entirely in his New York Times review.
"Leisurely-paced romantic drama" (Variety).
Several critics (Judith Crist, Jonathan Rosenbaum) were grateful for the stampede.
"Grade A fiction for ladies" (Halliwell's Film Guide).
A superb cast in a work of genius.
Magic Fire
A magnificent and very able analysis of the œuvre, even in a clipped overview necessitated by studio cutting of as much as an hour, according to report.
The life and work are seen as congruent, the latter especially vivid for its understanding conveyed in the barest means, a minute or so of a re-created first production each time.
The author is that of Juarez.
And so we have Dieterle's Richard Wagner, somewhat compressed as he was in life by straitened circumstances much of the time, and thought to be a monster by some, from Rienzi to Parsifal, a great artist.
The title is given from the Ring to signify the catalytic powers of the artist.
Halliwell's Film Guide finds this "remarkably boring" and dispraises the Republic Trucolor as well (cinematography by Ernest Haller).
The Life, Loves and Adventures of
Omar Khayyam
He will not have a boughten slave to his mistress but the true one that is the focal point of his existence, verses and astronomy and calculations supply him with adventures enow in "the time of the Assassins."
It is hard, a hard thing, wormwood and gall, to read the vapid reviews by Bosley Crowther in the New York Times and by Variety, and later on Halliwell's Film Guide.
Others noted one of the greatest films ever made and acknowledged it in Dr. No straightaway.
The mystery of the hashishin, the setting forth of an accurate calendar, the composition of poetry that made Crowther gawk, a philosophy of life worth living, the whole monumental gizmo went by the critics like a burp, the poet has a verse or two for that as well.
Quick, Let's Get Married!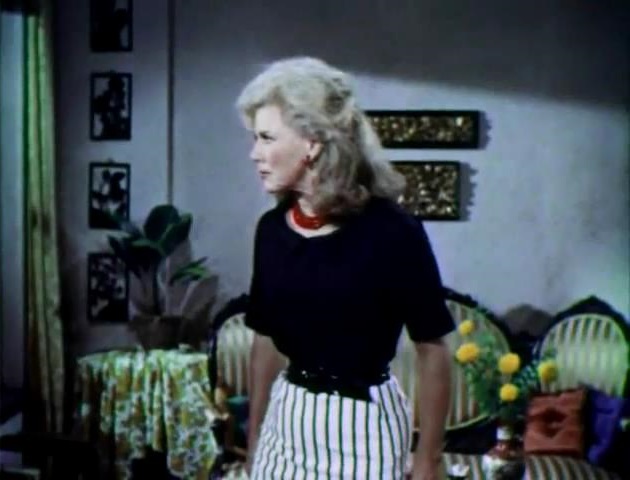 The collapsed church with its statue of St. Joseph, concealing a treasure.
The puttana knocked up whose Beppo dreams of New York on his lonesome or not, even.
A typically profound Dieterle formulation, from Allan Scott.
The madam has a career for her, the mayor of Tolino a thief who proposes architectural repairs gratis with half a map only, the rest "lost somewhere in the pages of the books that haven't been read yet in the Vatican Library."
Rosenberg's Cool Hand Luke for the dialogue with the saint (whence The Confession as a title), The Marx Brothers for the curious structure, the canniness of small-town American life for the Italian.
A damn defective dam is yet another image of the catastrophe. "Pia Pacelli, you've been greatly blessed," says the thief in the night to the transfigured puttana.
"Incredible! I always thought this whole thing was solid."
"I've been a pretty good man, uh, at least as good as any politician can be."
"Have faith," the empty saint replies, "make restitution."
"A village redeemed," un peu engloutie.
TV Guide, "a completely forgettable bomb".
Cf. Irving Pichel's The Miracle of the Bells.