Girl with Green Eyes
The major analysis is by Richard Donner in Twinky, the minor by Mike Nichols in Working Girl.
Neither is anything to the purpose in a great Irish joke about a "cosmopolitan" writer with a French name, member of "the Trinity pack", plunked down on a farm outside Dublin, he meets a shopgirl and begins an affair, her priest-ridden folks object forcefully, his grass widow in New York sends him a plane ticket, directed with genius by Davis, "a curious blend of folk caricature and nouvelle vague artiness" (Sarris in The American Cinema, who further says, "Desmond Davis has been sliding downhill since").
Smashing Time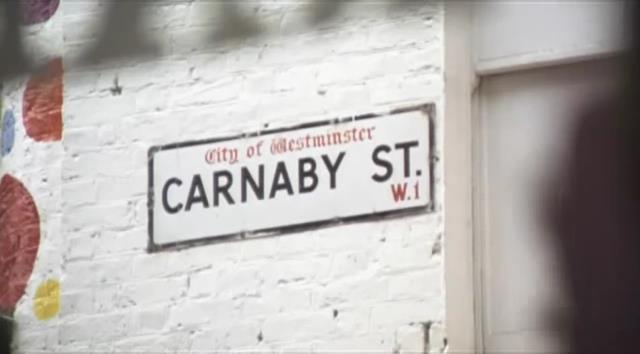 Two girls from the North make the scene in London, "you, lookin' s' hopelessly square and unwith it and that, I ask you."
Just before Midnight Cowboy (dir. John Schlesinger) and just after The Great Race (dir. Blake Edwards) for the great reckoning in a small room with aerosol sprays and squeeze bottles.
Pilloried in the papers by a critic-photog strictly from Bow bells, "switched-on" robot statuary with a Sten gun, the lot.
Cf. the world ten times over (dir. Wolf Rilla), Cool It, Carol! (dir. Pete Walker), and to be sure Antonioni.
"I don't like that fella, he makes me quite glad I'm just a pussy."
This is of course right up Edwards' street, he returns the compliment in The Party. The great cameraman achieves with Manny Wynn a perfect match in color for Rilla's monochrome (Larry Pizer). A rare musical in which the songs are voiceover commentary on the action.
Tushingham and Redgrave take the town, with Michael York, Ian Carmichael, Anna Quayle, Murray Melvin (looking ever s' much like Shelley) et al.
The fab world of English kitsch, everything "Jabberwocky", Too Much, "every layabout in Chelsea."
"'er! With 'im!!" Pie fight at Sweeney Todd's, a homo retro établissement, Sarris on Edwards, "the last spasm of action painting in the Western world," a fashion to die for.
Demolition for larks, "are you the fella on the telly?" Creative recording in the hired studio (cf. The Patsy, dir. Jerry Lewis), hired publicity etc.
I can't sing but I'm young,
can't do a thing but I'm young.
I'm a foo-oo-ool
but I'm coo-oo-ool
—don't put me down!
"I've even had tea with the Prime Minister, still nobody takes me seriously." The whole scene centrifuged, fuses blown and all.
"The idea... should have been resisted at all costs" (Andrew Sarris, The American Cinema).
Bosley Crowther of the New York Times, "apparently well-intended". Variety, "an amazing memory of Hollywood film." Roger Ebert (Chicago Sun-Times), "quickly becomes tiresome." TV Guide, "nothing more than slapstick, and worn-out slapstick at that." Britmovie, "hilarious satire". Craig Butler (All Movie Guide), "an engaging romp". Halliwell's Film Guide, "no style or sympathy."
Measure for Measure
Vienna lace cuffs and the folly of foibles put to rest and somnambulating, a variant of King Lear. The tortuous declaration of love in high places, a clown's censure, the fragmentary features of a total disorganization of any society, wrought to judgement by a nicety-knowing playwright, and dealt with any discretion advised by the Beeb by Peter McEnery, Frank Middlemass, Tim Pigott-Smith, Kate Nelligan, and Kenneth Colley as the great Duke.
Clash of the Titans
The humorous title describes a device learned by Perseus from the Stygian Witches, that of beheading Medusa in order to destroy the Kraken threatening Andromeda. The screenplay is carried out by Davis as cinematic representations of Greek myth seen as thought made into language.
It is, in fact, a companion piece to Jason and the Argonauts (dir. Don Chaffey). The great Ray Harryhausen displays his art of stop-frame animated sculptures in scrupulous depictions of a two-headed dog, giant scorpions, Medusa herself (a particularly dreadful creature, well-prepared in concert with Davis), the winged horse Pegasus, etc.
Davis exhibits genius in the casting, Ursula Andress as Aphrodite, Maggie Smith as Thetis, Claire Bloom as Hera, Laurence Olivier as Zeus, etc.
Ordeal by Innocence
There is a certain relationship to Robert Montgomery's Your Witness. A seaside view of England similar to Murder Ahoy (dir. George Pollock) and Break in the Circle (dir. Val Guest), with a pleasant jazzy score by Dave Brubeck.