The Benny Goodman Story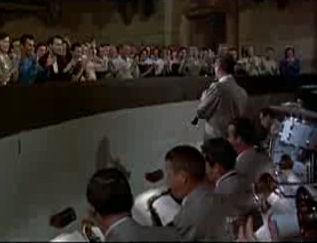 "No, no Benny, not you, not that ragtime, don't be that way."
From Kid Ory he learns his business, after a good classical education. "You don't learn about music in high school, Pop."
Mozart and me. Increments of a career that's steady work illuminated by certain occasions. The lever of dance music.
"Eleven fellas sitting there, not making a sound" (cf. Kazan's The Last Tycoon).
Palomar, Paramount. Carnegie Hall (dir. Edgar G. Ulmer).
Bosley Crowther of the New York Times, "something we devoutly would advise you to avoid." Variety, "of the same stripe as Universal's previously socko bandleader saga, The Glenn Miller Story [dir. Anthony Mann]. Both have bespectacled bandleaders with titles, both are Aaron Rosenberg productions." Leonard Maltin, "typical Hollywood gloss". TV Guide, "has the standard rags-to-riches history of so many musical personalities and, despite Davies' often inventive and intelligent script, truth can get tiresome. Davies also directs with as much aplomb as he can muster, but it's uphill..." Dave Kehr (Chicago Reader), "vain attempt". Hal Erickson (Rovi), "tends to be more a series of musical highlights than a biography." Halliwell's Film Guide, "sentimental biopic".