Yellowbeard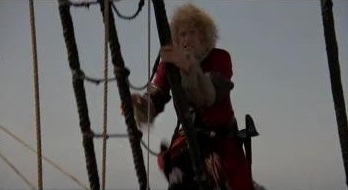 "If there's one thing I've learned in life it's that learning things never taught me nothing, and books is the worst," his wife (Madeline Kahn as Irene Handl) tells their bookworm son, a gardener by trade, "last time I read a book? I was raped, so let that be a lesson to you."
After twenty years in prison, Yellowbeard (Graham Chapman) escapes to plunder the Spanish Main again, and there you have the curious structure of the film, practically guaranteed to get as little understanding as Kimmins' Bonnie Prince Charlie and for much the same reason, "sounds anti-British," cf. Relph's Rockets Galore.
Homage to Mel Brooks (History of the World: Part I) at Lambourn Hall, Beryl Reid as Lady L, "Lambourn! Stop that man pissin' on the 'edge. It's imported!" Spike Milligan explains, "de fat one on de frone is de Queen. She's not well today, so I should kneel upwind 'o her. And de fin one is Lady Churchill, she's de breens o' de outfit." Peter Bull, Susannah York.
Homage to Robert Altman (Buffalo Bill and the Indians, or Sitting Bull's History Lesson), "where's my piratin' outfit?"
Lord Lambourn (Peter Cook as Roland Young), "I imagine being in the Navy you must know quite a lot about the sea and what's in it."
"Bugger off, you evil git! Oh, evening, Doctor, I was just saying good day to Mr. Pew," John Cleese as Blind Pew, who can hear a lit candle burning.
"Three farthings for a lump of shit," there's criticism for you. "Society's to blame," Michael Hordern as Dr. Gilpin.
Homage to Woody Allen (Everything You Always Wanted to Know About Sex), "I shouldn't bother, love, they're fairly strict on this one." James Mason captain, Kenneth Mars mate. Eric Idle of the Secret Service, Peter Boyle and Marty Feldman pirates, Cheech & Chong rich Spaniards, Bernard Fox nailed to the deck, Ferdy Mayne Mr. Beamish, Nigel Stock an admiral, and Bernard McKenna as Askey.
Chong as lisping El Nebuloso, Cheech his servile minister ("Your Assholiness"), Mars his equally servile torture expert. Here at last is Long John Silver as nature made him, "I'm gonna make ya eat both yer own buttocks!"
To his son admiringly, "with your 'ead on my shoulders, we could wreck civilization."
Screenplay Chapman, Cook & McKenna, cinematography Gerry Fisher, score John Morris, main title Ed Ruscha.
Robert Ross (Monty Python Encyclopedia), "a badly-written, rambling mess... there is a general feel of desperation to the humour, bad taste for bad taste's sake and reams of unconvincing gung-ho action."
Lawrence Van Gelder of the New York Times, "offers an occasional chuckle." Roger Ebert (Chicago Sun-Times), "a chaotic mess." Catholic News Service Media Review Office, "leaden, stultifyingly unfunny". Film4, "bit of a misfire... a genre curio." Time Out, "a tedious piece of period-comic trash". Sandra Brennan (All Movie Guide), "the darned thing just wasn't funny." Halliwell's Film Guide, "spoofy saga", citing Kim Newman (Monthly Film Bulletin), "atrocious... haphazard... generally embarrassing".